6 Ways I Saved in September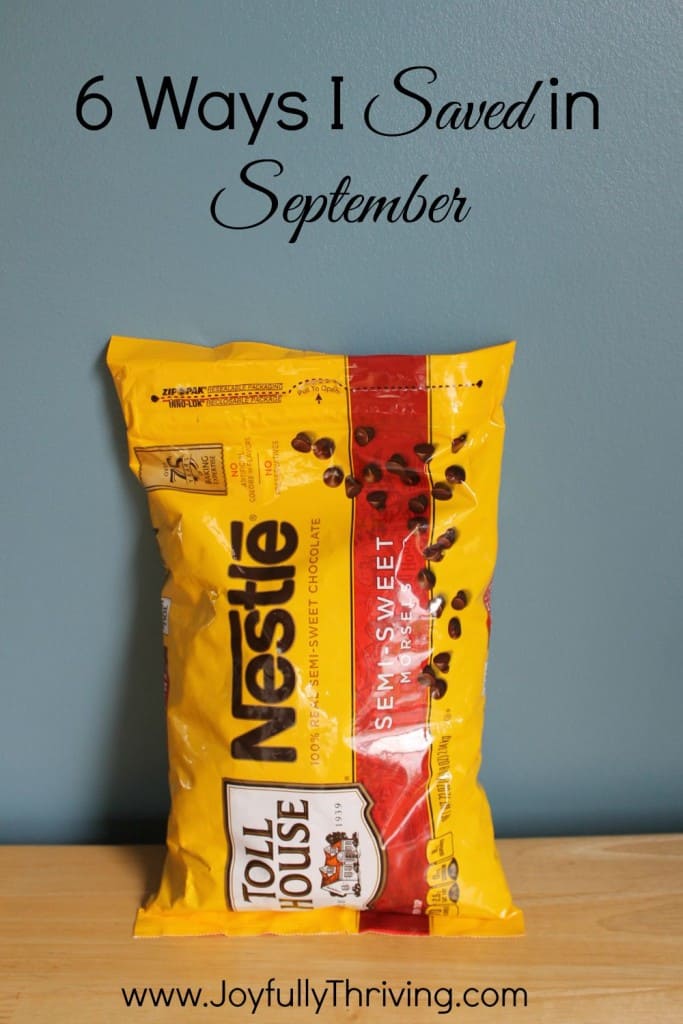 In the desire to live frugally, sometimes we overlook the little things we do to save money. I don't want to do that because all savings add up! Here are 6 ways I saved in September.
1. I used Giving Assistant whenever I shopped on Amazon to earn 5% cashback on all my purchases. As I mentioned in my recent post about 3 little known ways to save on Amazon, this is my new favorite way to earn money back when I shop on Amazon. I purchased some baby blankets on sale as well as some groceries through Amazon this month and used Giving Assistant every time. It's so simple and I added a couple dollars to my Giving Assistant account. You can read more about it here, and then I highly encourage you to sign up and start using Giving Assistant when you shop on Amazon. It's wonderful!
2. Speaking of Amazon, I used $10 in Amazon credits to get some free grocery items with Prime Pantry. I did have to pay $5.99 in shipping but I had gift cards that covered that total so it really was a free order. You can see what I bought on Amazon here. Did you know that I share my grocery shopping trips every week to highlight the best deals? Check in on Fridays to see what I've spent and saved that week.
3. I stocked up on chocolate chips and yeast at Sam's before our free membership expired. My chocolate chip stockpile was running low (sigh) so I knew it was time to restock. I am a chocolate girl and I always have chocolate chips in the fridge and freezer! Chocolate chips are one of the things I only buy name brand and Sam's has a great price on Nestle chocolate chips. I can get a large bag that equals 6 regular size bags. The price breaks down to only $1.50 a bag which far surpasses most chocolate chip prices at the grocery store. I bought 2 big bags of chocolate chips, not expecting to be shopping at Sam's anymore.
4. I called in about the new Mom's offer and got a new free membership for this year to Sam's Club. Just when I thought we weren't going to be shopping at Sam's Club anymore, I can still stock up and shop there occasionally! I have my new membership number (that is already active) but still have to stop in the store to get my actual card. I hope some of you other new moms were able to take advantage of this deal! I know it got very popular (probably more so than Sam's expected) and that some of you had difficulties getting through. My apologies, as I try diligently only to post deals that I have verified myself.
5. We celebrated my husband's birthday with free birthday food at Red Robin and Buffalo Wild Wings. It's nice to get completely free food for your birthday! Red Robin gives you a free burger and Buffalo Wild Wings a free snack size pack of any wings. Since we had gift cards for both those places, both of us ate for free during Andy's birthday month!
6. I redeemed $10 in Amazon gift cards from Bing. I mentioned this tip earlier in the week, but Bing is my favorite way to earn free gift cards. I search on them daily and earn enough to redeem a $5 Amazon gift card from them every month. I wait and cash out every other month or so. As soon as I get my Amazon gift cards in my email, I apply them to my Amazon account so they are ready for Christmas shopping!
What did you do to save in September?