A Peek Inside our Family Vacation
My family and I just returned from a 17 day road trip spent driving 3844 miles through 7 states to see 22 different relatives. Yes, that meant we spent 64 hours in the car as a family of four – with an active 2 year old and a nursing 3 month old.
Amazingly? Everything went smoothly and we had a great time! I'll be sharing more about how we planned for this road trip and what we did to keep our kids content in the next couple weeks. For now, let me give you a peek inside our family vacation.
We decided early on that we would take an early vacation this year. As soon as my teacher husband finished up his end of the year meetings, we hit the road the next day. I planned ahead and packed one compact but full bag for Nathan with lots of activities and books to keep him busy. Our dot stickers were a big hit! We also used some gift cards and bought a portable dvd player for the car. We used in sparingly but it was definitely handy! I also sat between Nathan and Emma's car seats which helped. Emma is quite a happy traveler if she can see me. This also allowed me to hand Nathan toys and read to him, too.
We started with a long drive down to my Aunt and Uncle's in central Georgia. This was our longest travel day (about 14 hours) so we were glad we got it over with right away. We were only there 12 hours, but we had a good couple hours to visit, comfy beds to sleep in, and we even got to visit another Uncle's new pizza place!
After lunch and at naptime, we drove south to Oveido, Florida to visit my Grandparents. My Grandpa Lehenbauer had a stroke right before Nathan was born and they moved to Luther Haven (in Florida) when he was only a couple months old. We miss not having them a couple hours away in Ohio so it was good to see them again! Both Grandpa and Grandma were thrilled to meet Emma and see Nathan again. Now, Emma has met all 7 of her living grandparents! We are very blessed to have so many of our grandparents still living.
While in Florida, we stayed with another Aunt and Uncle. This is an advantage you have when both your parents come from families of 7 kids – and many of them are in church work throughout the United States! We took the kids to the ocean for the first time with one of my cousins, attended church with Grandpa and Grandma, and just enjoyed visiting.
Then, we hurried out of Florida before the tropical storm hit and drove through rain to Fort Sumpter. My husband, Andy, is a history teacher who loves exploring our great country. We are enjoying showing it to our children as well! Unfortunately, it poured rain throughout our visit. Thankfully, the ferry over to the Fort was covered and we had big umbrellas. I put Emma in my wrap carrier so she stayed cozy dry while the rest of us got pretty wet.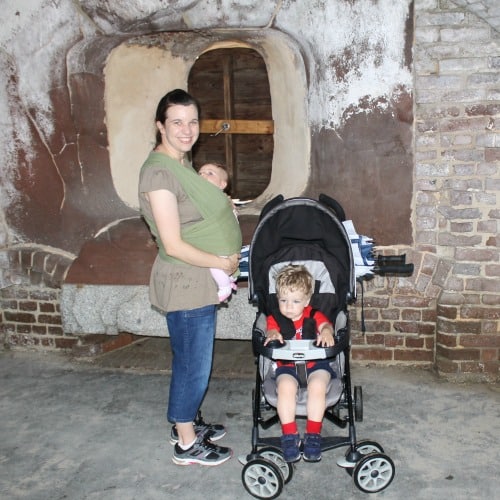 Still, it was amazing to see and as we told Nathan, "A real adventure!" We dried off by checking out a local restaurant that was featured on Diners, Drive-Ins and Dives. I highly recommend the Tattoed Moose if you're ever in the Charleston area! We rested up in a hotel before heading out again in the morning.
The next week was spent in the Smoky Mountains where we had rented a cabin with Andy's parents, sister, 2 brothers and sister-in-law. It was a huge cabin so we all had our own rooms, plus a kitchen and own bathrooms. It was nice to be able to put the kids down at night and come up and visit more.
While we were in the Smokies, we hiked up Clingman's Dome, explored Gaitlinburg, drove through Cade's Cove, and went white water rafting and tubing (well, everyone else did that while the kids and I stayed back at the cabin). We took turns cooking meals and ate out a couple times as well.
No, we didn't see any bears (to my mother-in-law's great disappointment) and Nathan thought the cabin was great "but they forgot the toys!" We spent a full week together at our cabin and by the time we all settled in, in was just about the perfect length of time. It was the first time Andy's family has ever done something like this and we had a great time! We were all sad to leave.
Nathan didn't want to leave his Aunts and Uncles, but since we were going to see another Aunt and Uncle (my sister, this time) and cousins, he rebounded. We drove south to the Atlanta area to see my sister and her husband and their four kids. Nathan was excited to play with his cousin, Mateo (who's just 5 months younger), and they had a lot of fun together. We took the two oldest girls with us and checked out the Atlanta zoo one hot morning. We made it to the pool twice and Nathan learned how to kick and float, with the help of his puddle jumper, of course. Emma even got in on the swimming, too!
All too soon, it was time to leave and we headed on our back to Indiana, with a detour for Nathan to be the ring bearer in a family friend's wedding. We were a little nervous about how this would go since Nathan is still only two. He ended up running down the aisle, giving the pillow to the groom, and running back out to Daddy. At least he did what we asked! We stayed long enough to attend a bit of the reception and after eating cupcakes, we put the kids in pajamas and headed home again.
We had a wonderful time! In addition to all the people we saw, we managed to stop at 6 different historic sites along the way, which made my history loving husband very happy. He and Nathan explored while I nursed Emma in the car so I can't tell you much about the sites, but the boys enjoyed them!
We consider our vacation of 2016 a memorable success! All 3844 and 64 hours of it. Do you have any big vacation plans this summer?