Two Books Every Mom Needs to Read
I'm an avid reader and always have been. That said, I don't make book recommendations lightly. It is rare for me to make blanket statements like "Everyone will love this book!" It does occasionally happen and so I'm here to boldly state that fact with not one but two books that I firmly believe every mom needs to read – especially new moms.
Being a mom is hard. Oh, it's wonderfully rewarding and a rich blessing but it's also a day to day challenge. For that reason, I appreciate sharing the journey with Christian moms who attest to the challenges and joys of motherhood.
I've read a lot of parenting books – both before I had kids and after. Some are helpful and some not so much. There's nothing wrong with reading the parenting books for help but I've learned that more than advice, I need encouragement as I parent. This is another reason I've fallen in love with these two books.
This post contains affiliate links but I absolutely, positively love these books, regardless of the links provided. You can read more in my disclosure policy.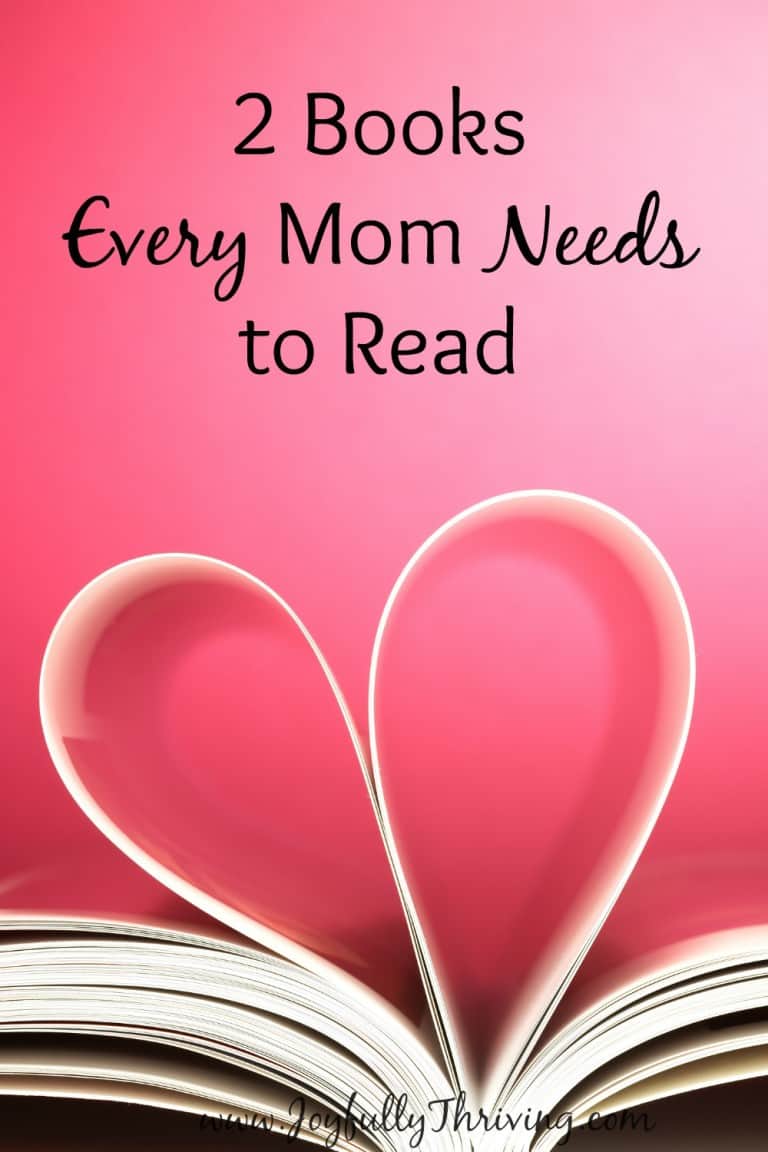 When my son was born, I read Surprised by Motherhood: Everything I Never Expected about Being a Mom by Lisa-Jo Baker. Lisa-Jo was eighteen and growing up in South Africa when her own mother died and she swore she would never have kids. Little did she know how God would change her life and bless her with a wonderful husband and 3 kids of her own! In this book, Lisa-Jo shares her story and her discoveries about motherhood. Namely, she discovered three things.
Motherhood is hard.
Motherhood is glorious.
Motherhood is very hard.
This book is a brilliant reminder that being a mom isn't about following perfectly all the parenting advice books. Rather, being a mom teaches us about ourselves even as we're teaching our children and how there is "wonder to be found in the daily merry-go-round of dishes, laundry, and tiny humans."
Even though I longed for motherhood for many years before it finally happened, I needed this book. Surprised by Motherhood taught me so many things. First, it taught me that, "A mother continues to labor long after the baby is born." I often read sections of this book while nursing and holding my sleeping infant. I was already learning that the work of being mom is never done.
As I laughed (and cried) through Lisa-Jo's stories, I took to heart her reflection that, "Next time, I'd do motherhood differently. I'd just revel in the daily, sleep-deprived merry-go-round and eat a lot more chocolate cake." Some days, you really do just need to eat some chocolate and keep moving forward. Life doesn't stop so neither do we.
Finally, I really appreciated Lisa-Jo's reminder that while being a mom is an important life role, we can still have dreams outside of motherhood. It took me awhile to truly realize that I can absolutely love being a mom and still have other dream. Our story isn't done yet! As Lisa-Jo wrote, "God builds all the courage and calling of a lifetime into a storyline big enough and rich enough to encompass kids, passion, work, creativity and dreams that don't end in the labor and delivery ward."
All moms need to read Surprised by Motherhood for the honest and heart-felt encouragement Lisa-Jo provides. I didn't think I would be this moved by another mom book until recently.
Right before my daughter was born, I read Hope Unfolding: Grace-Filled Truth for the Momma's Heart by Becky Thompson. The introduction drew me in instantly as I was in the midst of third trimester exhaustion and caring for our 22 month old, wondering how I was going to adapt to life as a mom of two little ones.
Becky wrote, "Every day you wake up and try your very best. You love, give and pour our your life for the ones who call you Momma. But no matter how much you offer, there are still days you feel as though you come up short. You wonder, Am I loving these babies enough? Is this ever going to get easier? Why does it seem like I am the only one who cannot balance it all?" It was as if she looked inside my heart and knew the questions I pondered even before I gave words to them!
Becky is excellent at doling out stories with powerful reminders all throughout Hope Unfolding. As she talked about the dishes stacked in her sink, I looked over at mine in understanding. I loved how Becky said, "We have to stop thinking that anything less than perfect is a failure. We have to choose grace for ourselves and our abilities. Because the minute we decide we're going to stop being defined by what we don't get done and instead take pride in what we are able to achieve, grace lets truth win and unnecessary shame gives way to hope." Perfection isn't the goal of motherhood. Rather, we need to give ourselves grace – and cherish the grace God gives us daily. When we do so, it's easier to let others into our real lives.
I appreciated Becky's gentle reminder that our lives look different from everyone else's for a reason. We are the moms we are to our kids for a reason. As she said, "Everything you have been through has been preparing you to be this momma to these kids and this wife to this husband." It's a powerful reminder that we don't have to parent the way other mother's do because of who we – and our kids – are.
Hope Unfolding is a wonderful reminder that sometimes we just need hope…and maybe a long, uninterrupted nap.
If you are a mother – especially a new one – give yourself the gift of encouragement. Read these two books. They are truly worth buying and marking up and re-reading. Listen to what these two moms have to say to you. Remember that we are not in this motherhood journey alone! We are good moms who love our children, even on those hard days when nothing seems to go right. Give yourself grace.
You can read Lisa-Jo's blog here and Becky's Scissortail Silk blog here. Both ladies continue to encourage me on a regular basis, speaking words that my God knows my heart needs to hear. If you're looking for more books that I recommend for all women, here are 20 more books that encompass a variety of genres. I received Hope Unfolding for free from Blogging for Books but the absolute love of the book is all mine.