Buying clothes for your family – especially when you are on a budget – can be a challenge. When you have children that are growing quickly, clothing can be a large portion of your budget. Would you believe me if I said it doesn't have to be costly?
I have long bought my clothes at bargain prices but as our family grows (with a son and a daughter now), I've learned quite a few tricks about shopping for clothes on a budget. Yes, it takes some time and yes, it takes a bit of planning. That said, the savings are well worth it!
I'm also a firm believer in buying quality clothes that will last – and I have learned that you can still do this on a tight budget! I have certain brands that I like to buy both for myself, my husband and our kids. I stretch our precious pennies further by buying these clothes for 90% or more off retail prices – simply by shopping at different places than typical.
Here are 9 ways I shop for clothes on a budget for our family – with some additional tips to help you save even more.
This post contains affiliate links. You can read more in my disclosure policy. 
1. Thrift Stores
Thrift stores are the bargain shopping choice of many. The advantage to this method are that you can find great deals but it does take time. Every thrift store is arranged and priced differently. Some thrift stores arrange by style of clothes (pants all together) while others arrange by size and I've even seen others arrange by color. It takes work to sort through racks in a thrift store but the hidden bargains that you can find are amazing! I have bought name brand clothes (with tags still on them) for only $1, like the Petite Sophisticate lined skirt below.
Save More: Your savings at thrift stores can be stretched further by watching for sales and coupons. Many stores (such as Goodwill or Salvation Army) run sales where certain pieces of clothing are marked down on certain days. Inquire about sales at your local thrift store to stretch your money even further. Also, be sure to try out various thrift stores in your area because pricing can vary greatly among thrift stores!
2. Consignment Sales
If you have young children, consignment sales can be a good way to score bargains. We have a church nearby that runs a large Moms Resale every fall and spring. I bought our bouncy seat for only $3 at one of these sales! If your city has a Moms of Multiples sales, be sure to check those sales out for more than one choice of many items. Be aware that some consignment sales are better organized than others. Be sure to check ahead of time if you need to pay by cash or check or bring your own bag. Do a google search for consignment sales in your city and check some of them out. You may become a regular at these seasonal sales!
Save More: Some sales mark everything down at the end, offering $5 or $10 bags for as much as you can fit in it. Check ahead to see if this option is available. The savings opportunity may make it worthwhile for you to wait to shop.
3. Garage Sales
Another method of shopping for clothes on a budget is shopping at garage sales. Again, this method works best for baby and children's clothes, but I have stumbled across some bargains for myself on occasion. The nice thing about garage sales is that most items are priced very reasonably. You can often purchase clothes for only $0.25 or $0.50 – which is saving you so much money off retail! I like to go garage sale shopping when it is a neighborhood sale to use my time wisely. Scan Craigslist or your local newspaper on Thursdays or Fridays to see what garage sales are going on for the weekend.
Save More: Try offering (a reasonable) bid for clothes, especially if you are interested in buying a large quantity. For example, if clothes are priced at $0.50 each, ask if you can buy 3 for $1. The worse that can happen is that they say no! Be sure to read my 7 prep steps for successful garage sale shopping to make your trips go smoothly.
4. Thred Up
If you like garage sales, then you need to check out Thred Up. Thred Up is like an online garage sale – that you can shop from the comfort of your own home. The nice thing about Thred Up is that it is easier to sort through bargains than at a thrift store. You can sort by style, color, size and even price. Plus, you can do it all from your couch! Thred Up has clothes for men and women as well as children. The inventory contains to change. Plus, Thred Up offers free returns so if something doesn't fit, you aren't out anything! That makes it so much less risky to purchase a good bargain. When you sign up for Thred Up here, you can also get $10 to spend on your first order. That's already a free shirt or two, depending on what you buy!
Thred Up also offers you the option to sell your clothes for more credit. Simply request a clean out bag (postage paid) and load it with clothes. Send it off and wait for your offer. If you were just planning on getting rid of the clothes anyway, this is a good option to earn some shopping money for what you had intended to do originally.
Save More: Don't delete Thred Up emails but use them to watch for a sale. Shop at Thred Up when there is a sale – with free shipping! That will stretch your dollars even further. Plus, if you find out you love Thred Up as much as I do, you can refer your friends and receive credit to shop more. Yes, this is my Thred Up referral link that I've included in this post.
5. Schoola
Schoola is similar to Thred Up, except that they send a portion of proceeds to schools. While Schoola started out as mainly children's clothes, it contains to expand and now includes many women's clothing options. My latest order with Schoola was of several casual (but nice) tops for myself, as well as some nice play clothes for my son. When you sign up for Schoola here, you get $20 to spend on your first order. Watch for free shipping and you can get several things for free with $20 at Schoola!
Save More: Again, watch for Schoola emails and shop when there is a sale with free shipping! It happens fairly regularly. And then, if you discover you love Schoola too, share your love of it with friends to earn shopping credits of your own.
6. Craigslist
Craigslist isn't just for furniture anymore. Children's items and clothes are regularly listed on Craiglist. If you have a young child and are comfortable buying in lots (a large assortment of clothes at a set price), give Craigslist a try. Be aware that some people may care for their clothes differently than you, so look for pictures before you buy.
Save More: As with garage sales, you can also suggest a lower price! It is up to the seller if they accept it or not. When you are done with a certain size of clothes, you can sell them on Craigslist, too!
7. Ebay
This is an area that I have yet to venture into but I think it's worth a mention. Ebay continues to expand their market. You can bid on clothes – both used and new – or purchase them instantly with a "Buy it now" option. If you are looking for a specific brand of clothes, Ebay may be a good option for you to save money off the retail price.
Save More: Shop for lots of clothes to save the most money. Many sellers will group several like items into one listing to save you money. This is where you will often times find the best deals.
8. Clearance Racks
Of course, what frugal shopper doesn't love clearance racks? It's the first place I shop at stores! Shop clearance racks at the end of the season and buy a size up for children. This will save you a lot of money if you do this with winter coats and swimsuits. It takes a bit of planning but the savings are worth it! My best deal? I once bought a $180 winter coat at Kohl's for only $17.40 off the clearance rack at the end of the season! It happens. Just watch for mark-downs.
Save More: Watch for clearance weekends at stores like Kohl's where they will often discount their clearance even further (40% off previously reduced prices). Also, some stores (again, Kohl's being one of them) will allow you to use coupons on clearance which saves you even more.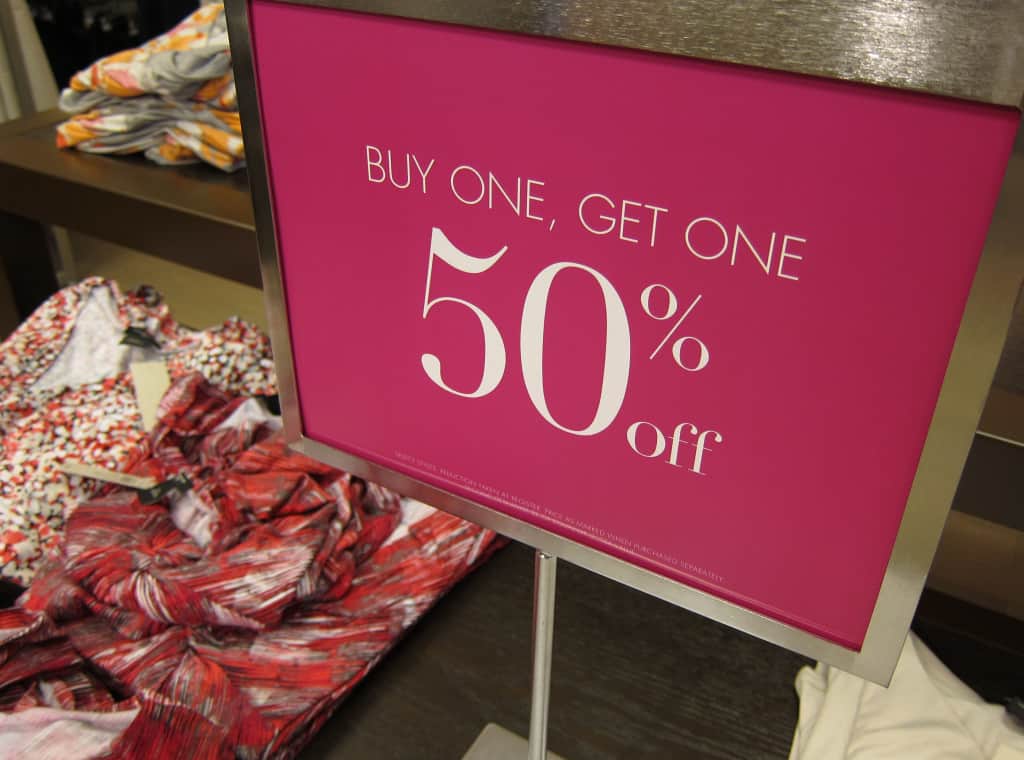 9. Hand-me-downs
Finally, hand-me-downs are the ultimate source of savings on clothes! This is one that you can't really seek out but it's worth noting. Be open to hand-me-downs! I've been the recipient of many wonderful hand-me-downs – especially for our children. I am always so thankful for friends who are willing to share like this! In return, I also try to pass on hand-me-downs that we've received with others when I can.
Those are 9 ways to shop for clothing on a tight budget – and stretch your hard earned dollars even further. I hope you gathered some new ideas. Don't forget to get your free $20 at Schoola and $10 at Thred Up – and have fun shopping for free! What frugal clothing ideas would you add to this list?