Do Not Worry About Tomorrow…Especially in Pregnancy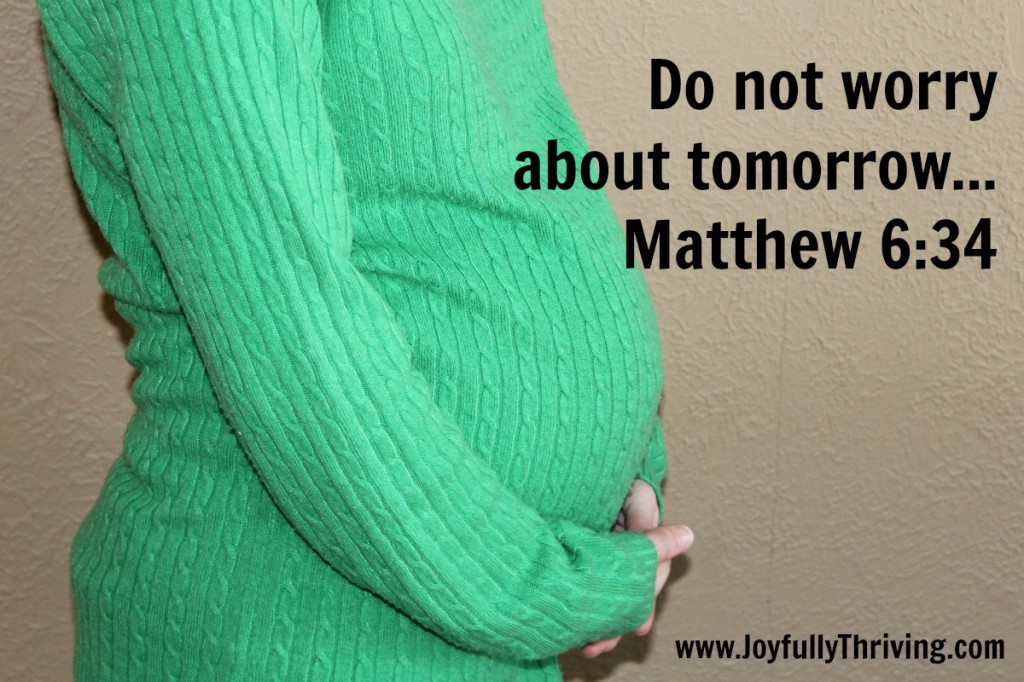 Matthew 6:34 has long been a verse that I need to hear – over and over again. I am learning this still holds true (maybe even more so) in pregnancy. I should know better – and this is probably part of being a Mom – but I'm already learning how easy it is to worry, especially about your baby.
You see, my baby appointments have been going fine until just a couple weeks ago when two minor concerns arose. It was then that we learned the baby was breech. My doctor wasn't concerned and told me there was plenty of time for the baby to flip yet. Still, at my last two appointments, the baby hadn't flipped head down yet. My doctor kept telling me not to worry, but it's easier said than done – even as a Christian.
In addition to that, for as big as I look and feel, the baby was measuring small. My weight has fluctuated up and down throughout the last two months of pregnancy, even though my eating habits haven't changed. My doctor took the first small measurement without any concern, but when it happened again, I saw him pause for the first time this pregnancy. That made me worry a bit. He ordered a growth ultrasound which we had on Friday at my 36 week appointment.
I worried while waiting for that ultrasound until I realized that the outcome wouldn't change anything. God already knows what is going on and He is bigger than all my worries. At the ultrasound, we were pleased to discover that the baby had flipped head down and was measuring a solid 7 pounds already. I cried a couple tears of quiet joy and said thank you to God, even as the ultrasound technician continued her measurements.
Once again, God reminded me that my worries don't change anything – only He does! God loves this baby even more than I do and our lives are in His hands. Our baby will arrive in God's timing and in God's way and in God's size. Now…what are you worrying about right now and how can I pray for you?