A Peek into our Travels and Thanksgiving
I hope you all had a truly wonderful Thanksgiving! I took an unexpected blogging break last week to spend time with family. This is one of the reasons I love blogging – because it allows me to spend time with my family. Normally, I plan ahead and juggle things but last week? I needed to focus on being at home. Why? Let me give you a peek into our November.
Our November started with lots of planning and packing. I was presenting an early childhood sectional at our Lutheran Churchworker's Indiana District conference and also speaking about my new (part-time) role as social media coordinator for the district. I am one of those people who enjoy speaking in front of others, so I enjoyed the long day I spent in Indianapolis at the conference.
The next evening, Nathan and I boarded a plane to fly south to visit my parents in San Antonio, Texas. It was Nathan's first time traveling – and he did great! We ended up taking 6 planes over two weeks and I was amazed every time at how well he did, especially since he was riding in my lap most of those times. We were fortunate that he got his own seat on 2 of the airplane rides and that was lovely. I was very thankful to have very pleasant seatmates who didn't mind sitting next to a 19 month old. I was also thankful that I managed to get the two of us, plus our travel bags, a very full suitcase, a car seat and a stroller, everywhere we needed to be – on time!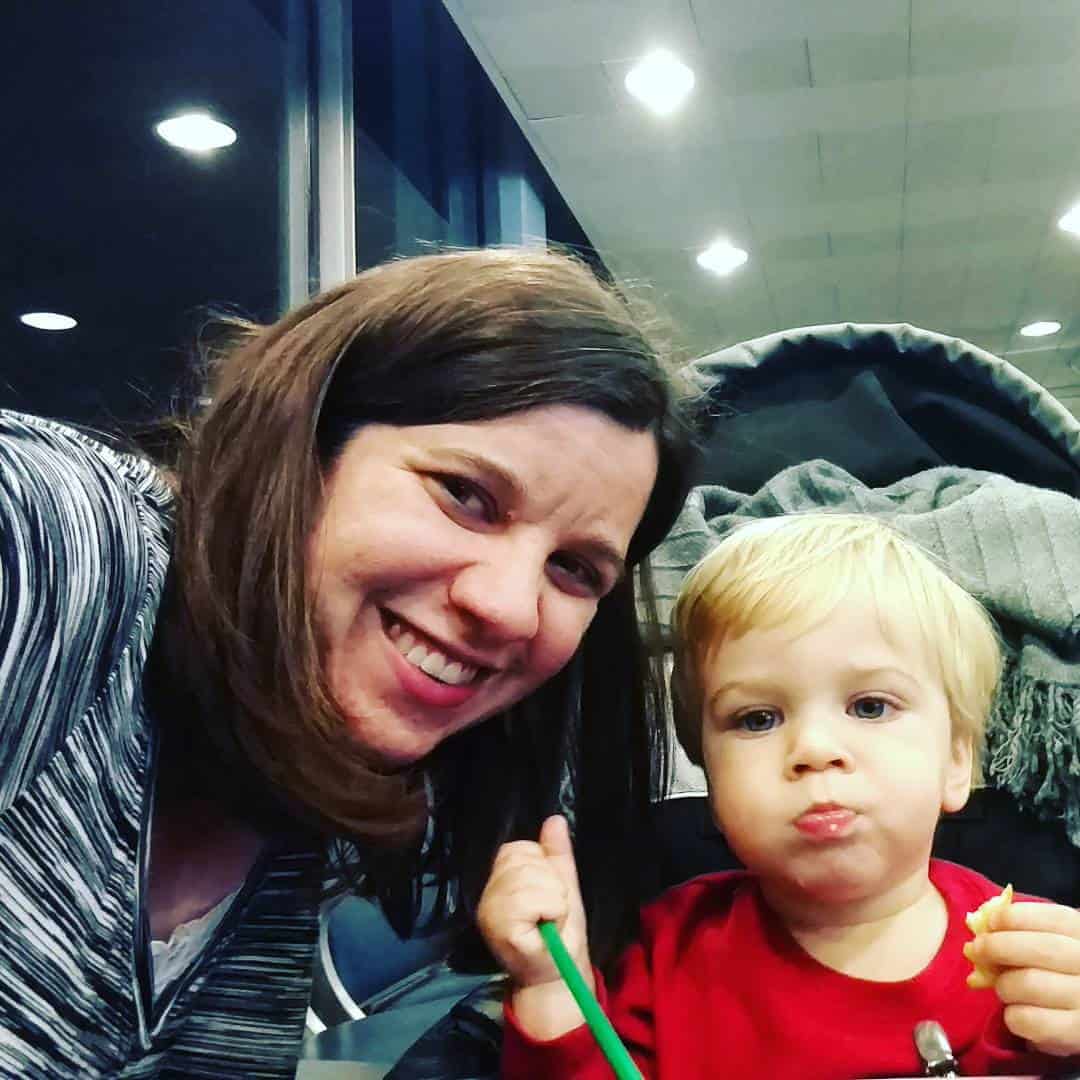 The main reason we visited San Antonio was to attend the wedding of Larissa, a member of the congregation where I grew up and whom I used to baby-sit. My sister, Mikaela, was one of her bridesmaids so she flew down from Michigan with her son, Zeke. The two cousins had a great time playing together – even if our mornings did start around 5am or so, due to the time zone change. Nathan's first question every morning was, "Zeke! Where are you?"
Larissa and Josh's wedding was lovely but the boys favorite part was the ride on the fire truck that we got to take after the wedding. My parents loved having 2 of their daughters and 2 of their grandsons home for the week. I enjoyed worshipping at Crown of Life again, the church where I grew up, too. Can you tell these boys are cousins?
We had a low-key visit with 2 little boys keeping us busy. We read lots of books, went on walks in the 75 degree weather and just enjoyed being together. We did venture out one day to the new San Antonio Doseum. We all enjoyed it – moms, grandparents and grandsons. The boys especially enjoyed the Little Town area that was geared for children under 5. Nathan loved filling his cart with groceries and pushing it around.
All too soon, it was time to head North – to Lincoln, Nebraska. My dear friend and college roommate was getting married! Nathan and I flew to Lincoln (via Minneapolis) and rented a car for our long weekend there. We stayed with college friends and their 2 little girls. I enjoyed catching up with Ryan and Lisa and Nathan loved playing with Kylie and baby Lexie. It helped that we had just seen then this summer so Nathan remembered them somewhat.
It was a low-key wedding weekend but I was so glad I could be there to celebrate with Grace! Chris (her husband) is a long-awaited answer to our prayers. He is already an amazing husband to Grace and to the 2 children Grace adopted from an orphanage in Bulgaria. I didn't know anyone else at the wedding but I was honored to serve as a bridesmaid and give a toast to celebrate their new life together. Thankfully, I just fit into the dress Grace bought me, too! Another week or two and this growing baby bump of mine wouldn't have fit!
Nebraska was much colder than Texas but no snow. The snow did hit the Midwest while we were gone so it was touch and go with our return flights. As wonderful as all our travels were, by the time Sunday afternoon rolled around, Nathan and I were more than ready to get home to Andy! Andy was ready to have us home, too. There were lots of delays and cancellations in O'Hare but things were clearing up by the time we flew in. We made it home late Sunday night. We were all so happy to be reunited as a family of 3!
Monday found me unpacking, doing laundry and going to the grocery store to get ready for Thanksgiving! I jumped right back into piano lessons as well since our Christmas recital is just around the corner. My brother, Joel, arrived from St. Louis on Tuesday night to spend the week with us. Andy's siblings were all home as well from Nebraska so my mother-in-law hosted Thanksgiving. I simply brought the mashed potatoes, cheesy creamed corn and pumpkin pie that Joel and Nathan made.
We spent most of Thanksgiving, Friday and Saturday at my in-laws, eating, visiting and exploring some of the local Christmas sights. We looked at a large Christmas village set-up at the hospital where Nathan was born. We drove around to look at the Fantasy of Lights near the Zoo. We visited the Festival of Trees at the Embassy Theater (while Uncle Chris stayed home to watch the Nebraska football game). Then, when Nathan's bedtime rolled around, we'd put him in his pajamas and head home for movies and visiting with my brother.
Our November has been a very memorable one. Nathan and I are still adjusting to being home again and we're both ready to settle into our regular routines again. I told Andy that I feel like I've been running all of November from one thing to the next! I'm ready to try and slow down to savor this Advent.
Nathan's in a bit of a clingy, Mommy phase so we'll see how productive I can be this December when he wants to be held and cuddled lots. Thankfully, our normal bedtime schedule is back on track after Nathan's 18 month sleep regression and afternoon naps are still happening. Whew!
How was your Thanksgiving celebrations? Did you travel to see friends or family? I hope you enjoyed the peek into our travels and Thanksgiving. Oh, and if you want to see more of what we're up to on a daily basis, feel free to follow me on Instagram!