Turning Around a Rough Day
Oh my. Nathan and I had quite the day on Friday. It started out just fine. We were at home for the day which is always nice. I had agreed to baby-sit a teacher's son for the morning and he played with Nathan very nicely. Well, as nicely as a 1 and 2 year old can play together!
My usually cheerful little boy, on the other hand, was quite grumpy. Nathan has officially entered the stage of whining when he doesn't get his way. Sigh. I spent the morning running interference between the boys and trying to keep them both happy. Nathan was clingy and whiny the whole morning.
We're transitioning from two naps to one but Nathan decided he didn't want to nap at all on Friday! He took a power 15 minute morning nap and then fought me for an hour and half on his afternoon nap. I tried everything! We read stories, cuddled together, got up for a bit and laid down again, rocked…nothing worked. Naptime, as all you fellow Moms know, is my one time of day to accomplish things without an extra pair of hands pulling at me. This day was become longer by the minute.
By mid-afternoon, Nathan was now exhausted and still whiny. I had developed a headache and was about at my wit's end. This day which had started out nicely had worn me out. It was, simply put, a rough day. I didn't want the day to continue like that because I didn't want to be grumpy back to Nathan. Who ever wants a grumpy day? I resolved to turn my rough day around.
I started by texting my husband and telling him (briefly) about the rough day. Andy, sweetly, replied and said he'd use a gift card and bring home a pizza for dinner so I didn't have to cook. He also said he's take Nathan for a bike ride so I could have some peace and quiet. That gave me something to look forward to.
Next, I took some ibprofuen for my headache, poured myself a Diet Coke and ate (some more) chocolate. I am a firm believer that chocolate helps any situation!
I quickly prayed for some patience and picked up Nathan again for some cuddles. We sat together on the couch and read some more books. He momentarily ceased his whining and I was able to appreciate the moment we had – without thinking back about the rough day.
Shortly after, Andy arrived home with the pizza and took Nathan off my hands for a bit. The peace and quiet was lovely. They were back sooner than I expected because our tired baby had been lulled to sleep by the bike ride. Here's the picture I shared on Instagram.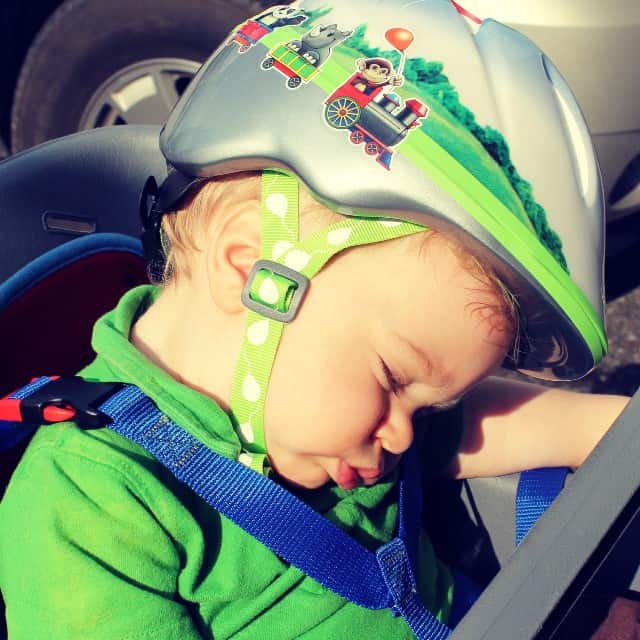 I was able to smile at the sweetness of the moment as I lifted Nathan out of his bike seat and got him into his pajamas for bed. Sometimes night comes just when you need it most. Now I had a sleeping baby, a quiet night to work, and a wonderful husband keeping me company. My rough day had been redeemed.
All it took was some determination on my part, a quick prayer, some chocolate and an appreciation for the gifts of the day I had been given. I don't like grumpy days but they are a good reminder that I can always choose thankfulness. Have you had a rough day recently? How do you turn those days around?