A Biblical Version of Guess How Much I Love You
Have you read the classic children's book by Sam McBratney, Guess How Much I Love You? If not, please do! It's the tender story of Big Nutbrown Hare who is tucking his Little Nutbrown Hare into bed. They go back and forth about how much they love one another, each time trying to show how they love one another even more than the other.
This post contains affiliate links. You can read more in my disclosure policy.
I have long loved this children's book and as I read it, it struck me how much this story illustrates God's love for us. We (just like Little Nutbrown Hare) love our Heavenly Father so much but God (just like Big Nutbrown Hare) always loves us more. We can't truly grasp the depth of God's amazing love for us.
Several years ago, I started selling a Biblical version of Oh, the Places You'll Go by Dr. Seuss. It has become a popular graduation gift for many, with Bible verses that correspond to each page in the story.
I decided to create a Biblical version of Guess How Much I Love You, with corresponding Bible verses on each page that illustrate God's love for us. I think this would be a great book for baby shower's and little children, as we want to teach them of God's love from the very beginning. It would also make a unique Valentine's gift or a special gift to anyone that you love.
I started by looking up all the Bible verses with love in it (686 verses, to be precise). I then combed through the verses to find the ones that related best to the story – and highlighted God's amazing love. This Biblical version of Guess How Much I Love You combines God's enduring Word with a classic children's story. I am so delighted with the way it turned out! I used the New International Version (NIV) but if you have a different translation you prefer, feel free to use that one.
I wrote a Bible verse about love on each page of the story. I tucked many of them into the illustrations like this.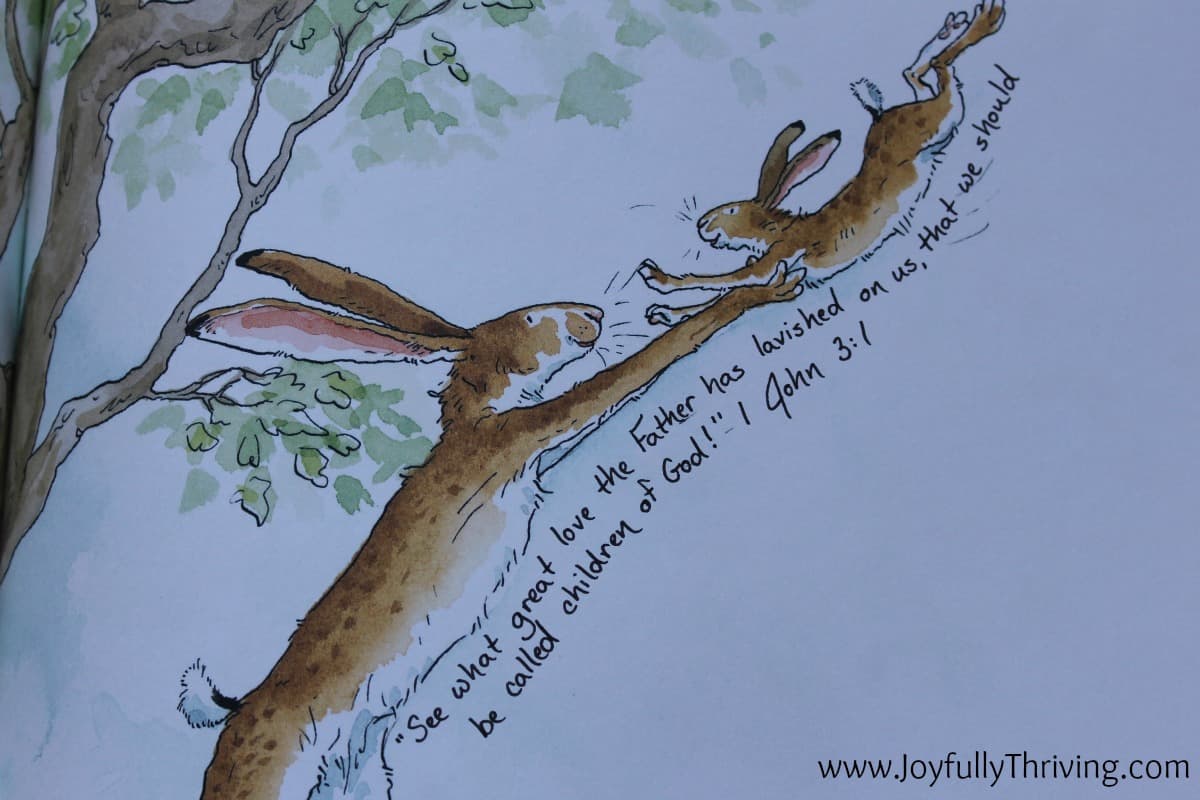 Or like this. I had to include Romans 8:39, because it's one of my favorite verses on the depth of God's love.
You could easily do this yourself by choose. There are so many great love verses!
If you would like to create a custom version of "Guess How Much I Love You" using the same Bible verses I have used, I have a download available for purchase that includes all the verses I used.
The pdf download includes the beginning phrase of a specific page, as well as the Bible verse used on that page. There is generally one Bible verse for each open set of two pages. You can write the verse on either of the pages. Look at the pictures to see what I mean. I think it looks nicest when the words are incorporated to the pictures, as I showed in some of the images.
Because I know that people prefer different versions, this book download includes the Bible verses for the book in 5 different versions. These download versions include ESV (English Standard Version), NIV (New International Version), KJV (King James Version), NRSV (New Revised Standard Version) and NLT (New Living Translation). You get all 5 translations as part of the one download to choose the translation you prefer.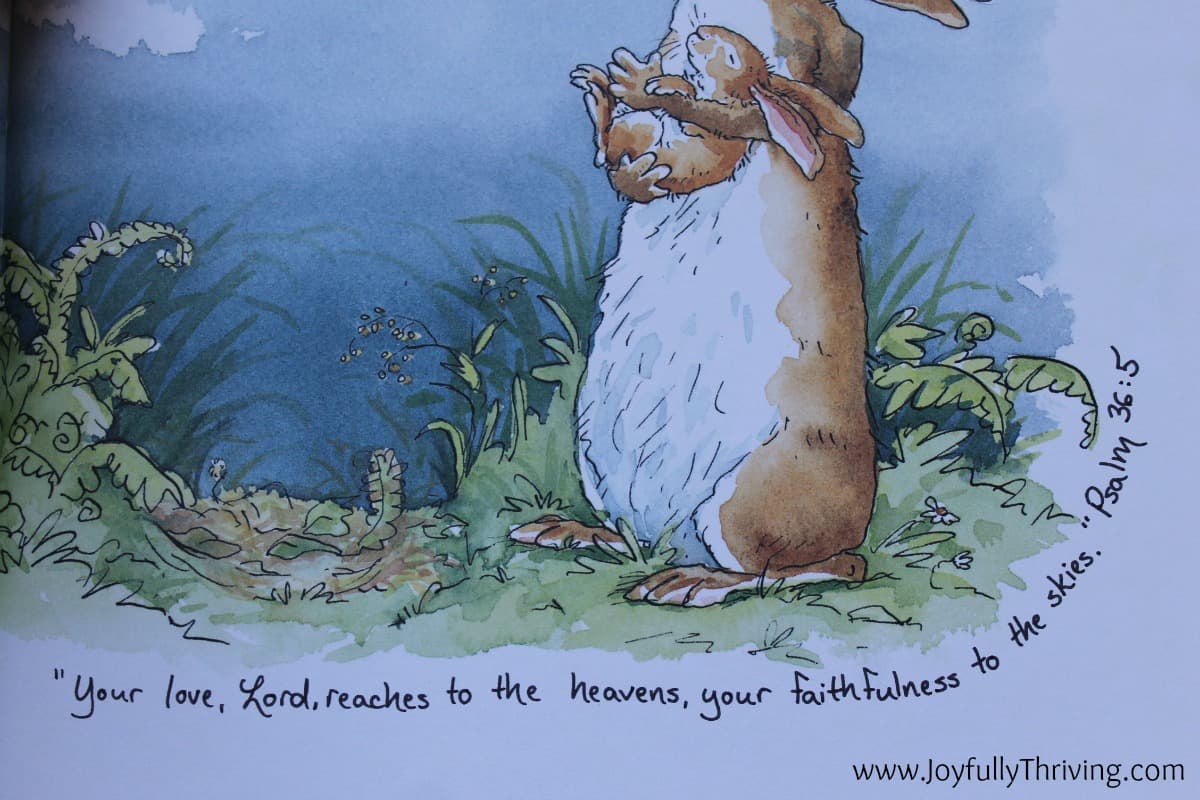 I use this hardcover anniversary edition of Guess How Much I Love You to create my custom books. It's simple and classic with lovely matte pages.
I recommend you use an acid-free pen like this one, much as you would use for scrapbooking. This ensures your Bible verses will not fade on the pages. All the above pictures are of books that I have created. As you can see, I just use a simple (and neat) manuscript handwriting.
If you prefer to purchase a pre-made copy of this Biblical version, I would be happy to create one for you. This special books are available for sale in my Etsy shop here. They make a beautiful new baby or adoption gift!
I love incorporating God's Word into children's literature. You can see all the custom Biblical versions of children's books I have created so far in my Etsy shop.
Once again, if you want to purchase the download with all the Bible verses I used for Guess How Much I Love You, you can buy it here. Happy book creating!