Christian Version of The World Needs Who You Were Made to Be
Learn how to add Bible verses to a special children's book and make a Christian version of The World Needs Who You Were Made to Be by Joanna Gaines. This is a truly special book gift.
If you're looking for a unique and special Christian gift, I have just the thing for you! I am so excited to share my newest book project with you. It is a Christian version of The World Needs Who You Were Made to Be!
You see, I've been adding Bible verses to "Oh, the Places You'll Go" for years. It is a wonderful graduation gift, and I have given it to so many people. I know people who give it for confirmation gifts, and adoption gifts too.
I also have Bible verses for "Guess How Much I Love You." This is my favorite book to give for baptisms and baby showers or birthdays. Since every page has a love Bible verse, it also works as a "just because" gift.
Last year, I was so excited to create Bible verses for "I Wish You More." The beautiful simplicity of the book make it a great birthday or graduation gift. As a former early childhood teacher, I actually think this is the perfect Pre-Kindergarten or Kindergarten graduation gift.
Now, I am so excited to share a new custom Christian book with you – one that just might rival the classic Dr. Seuss for the spot as best graduation gift. It is "The World Needs Who You Were Made to Be" by Joanna Gaines.
I know you know Joanna Gaines. She has the fun Fixer Upper show with her husband Chip. She's started the Magnolia Market, and has several cookbooks. She has even written two children's books! I admit that I don't really care for her first children's book about Gardening, but this one? This one is perfection!
The World Needs Who You Were Made to Be is a sweet story telling of children who are, with their own unique gifts and abilities, building balloons.
The illustrations are beautifully done, and show children (of different ages, races and abilities) building their own unique balloons throughout the story. It is concept that works perfectly with the story, and gave me lots of great places to write Bible verses!
If you are unfamiliar with the story, please go read The World Needs Who You Were Made to Be! It is such a beautiful story. It has become one of my new favorite children's books for the simple sweetness of the story. I showed it to a friend recently, and she agreed that likes it even more than Oh the Places You'll Go! I tend to agree.
For those of you who haven't seen one of my Christian books before, what I do is take a beautiful children's story, and I add a Bible verse to each page that compliments the story. It is my way to enrich a story and make it a truly priceless book, while sharing more Scripture with children.
I hand-write each Bible verse in acid free pen, so it will not fade. Then, I ever so carefully, write the Bible verses tucked into the illustrations of the page. Here is one such example – where I knew instantly what Bible verse I had to use!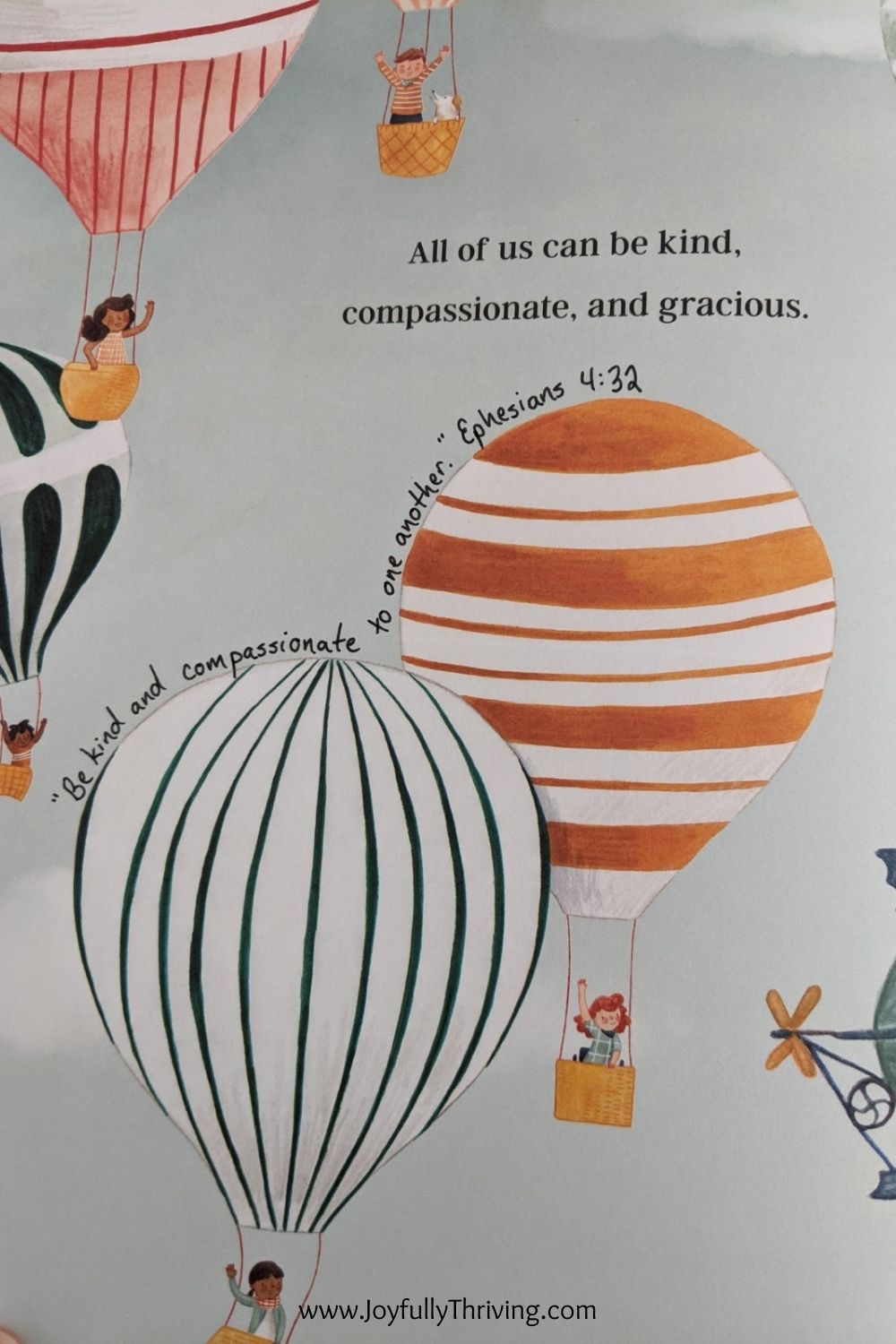 The last page of the story goes back to the title and reminds us that "The world needs who YOU were made to be!" It really is such a great story, for kids and adults alike.
Once again, I think this would be a great Christian graduation gift – but it would also work for birthdays, confirmation, adoptions, baby showers, and so many other occasions!
If you want a Christian version of this special book, there are two options.
First, I have books that I have already written available for sale in my Etsy shop. All are brand new, hardcover books, that are personally handwritten in acid-free pen by me – with a Bible verse of every page of the story.
The other option is if you want to write the Bible verses yourself. I have a digital download in my Etsy shop that shows you all the Bible verses I used, as well as what page to write them on. It also includes the Bible verses in 5 different translations (New International Version, English Standard Version, King James Version, New Revised Standard Version and New Living Translation) for you to choose from. I also included instructions on how to go about writing the Bible verses.
I am so excited about this new book, and I hope you will be too! It is a treasure, and I look forward to sharing it with many. I pray, as I do with all these Christian books, that it will be a blessing to many.
I absolutely love incorporating God's Word into children's books. You can see all the custom Biblical versions of children's books I have created so far in my Etsy shop. If you have any suggestions for books you'd like to see with Bible verses, feel free to leave your ideas in the comments, and we'll see what I can do!