A Biblical Version of I Wish You More Book
Looking for a Christian version of I Wish You More? Learn how to add Bible verses to the I Wish You More book to create a priceless Christian book gift.
Incorporating Scripture into children's books is one of my favorite things. I love taking a classic children's book and enriching it with Scripture. It doesn't work with just any book and it takes time to make sure the Bible verses match the story.
I've been adding Bible verses to "Oh, the Places You'll Go" for years. The next book I worked on was "Guess How Much I Love You."
After many requests when this title kept coming up, I am so excited to share my newest Christian book version with you!
It's the Biblical version of "I Wish You More" by Amy Krouse Rosenthal and Tom Lichtenheld.
I am absolutely delighted with how perfectly each page came together! I thought my previous custom books were wonderful, but this one? I Wish You More is my new favorite.
This post may contain affiliate links. You can read more in my disclosure policy.
This is a beautiful short story of encouragement. It's the type of book I could read with my preschoolers and still give to a senior graduating from high school. If you haven't read it, you need to read it. I couldn't believe I had never heard of it until recently!
I spent a lot of time looking through Scripture to find Bible verses that fit exactly with each page. Now, not only does the text have a simple and beautiful wish for your child, but with this added addition, there is a Scripture encouragement on each page as well! I am so happy with how it turned out.
What I love most about this book is that every page begins with the phrase "I Wish You More…" and ends with a specific wish.
For example, there is the page that says "I wish you more we than me." That needed 1 Corinthians 12:26 about community and how the body of Christ cares for one another.
On the page that says "I wish you more treasures than pockets," I knew Matthew 6:21 needed to go there. "For where your treasure is, there your heart will be also." Beautiful treasure words that fit perfectly!
I went through the entire book and fit Biblical wishes and prayers and encouragement, with every single page of the story. Then, I tucked the Bible verses into the illustrations, much as you see above. Or like this.
From the first time I read this book, I knew how it would end. The final page says "I wish you all this…and more." As a Christian, I knew I wanted to end with Romans 8:37, "In all these things we are more than conquerors through him who loved us." Isn't that the Gospel truth we all need to hear?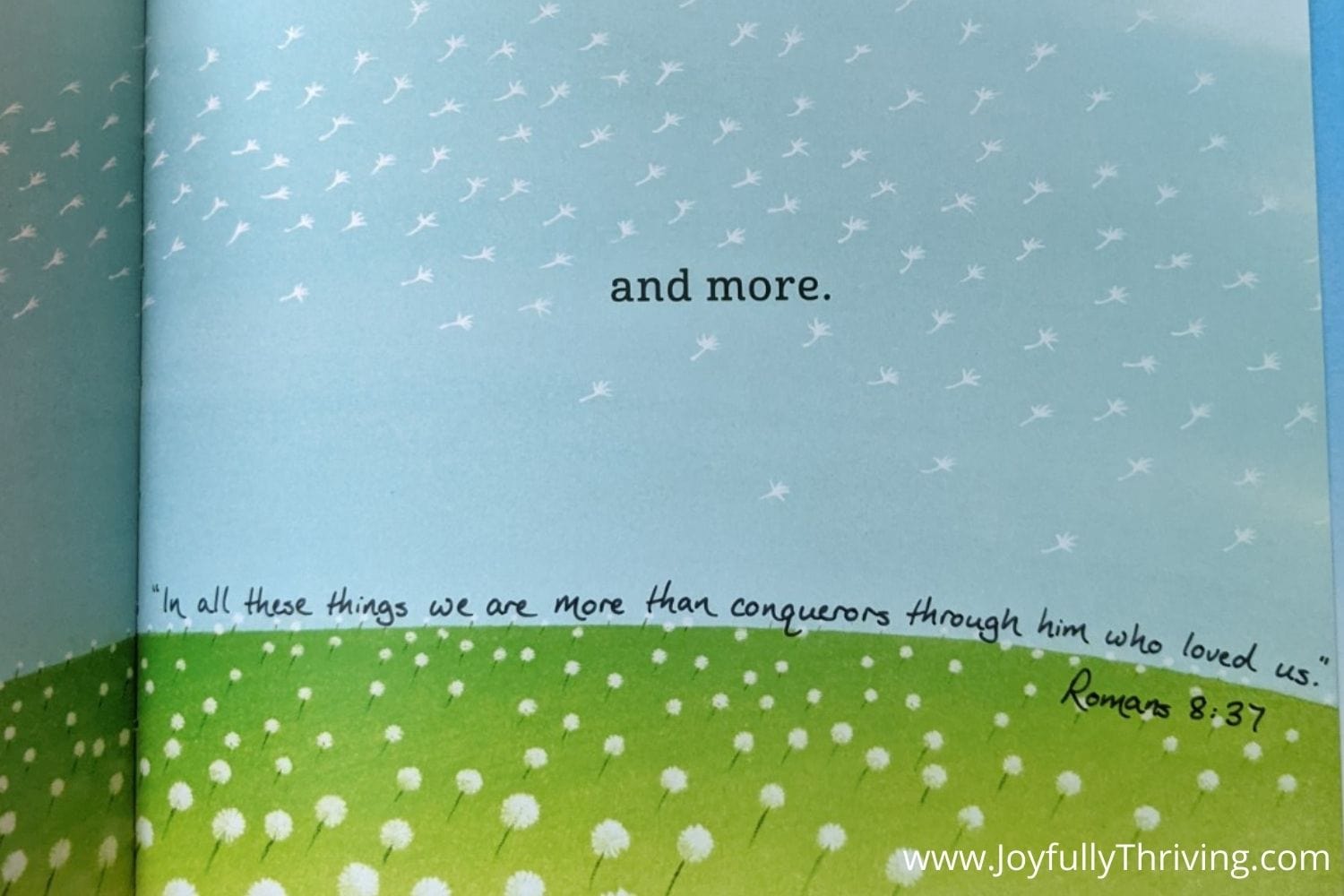 One of my biggest hesitations when writing this book? It was figuring out how to write nicely on glossy pages.
I spent hours researching and tried several different pens that promised not to smudge (they all did!) before I finally found an acid free permanent marker that worked perfectly. If you are going to create this book, save yourself the aggravation and order these Ultra Fine Bic Intensity Permanent Markers.
These markers will not smudge and are acid free so your text will not fade in years to come. They do not leak through the page either. I have been very pleased with how nicely they write and how quickly they dry – without any smudges! I will use these permanent markers on any glossy pages in the future.
Here are direct links to all the pens and the exact editions of the books I use when creating custom, Biblical books.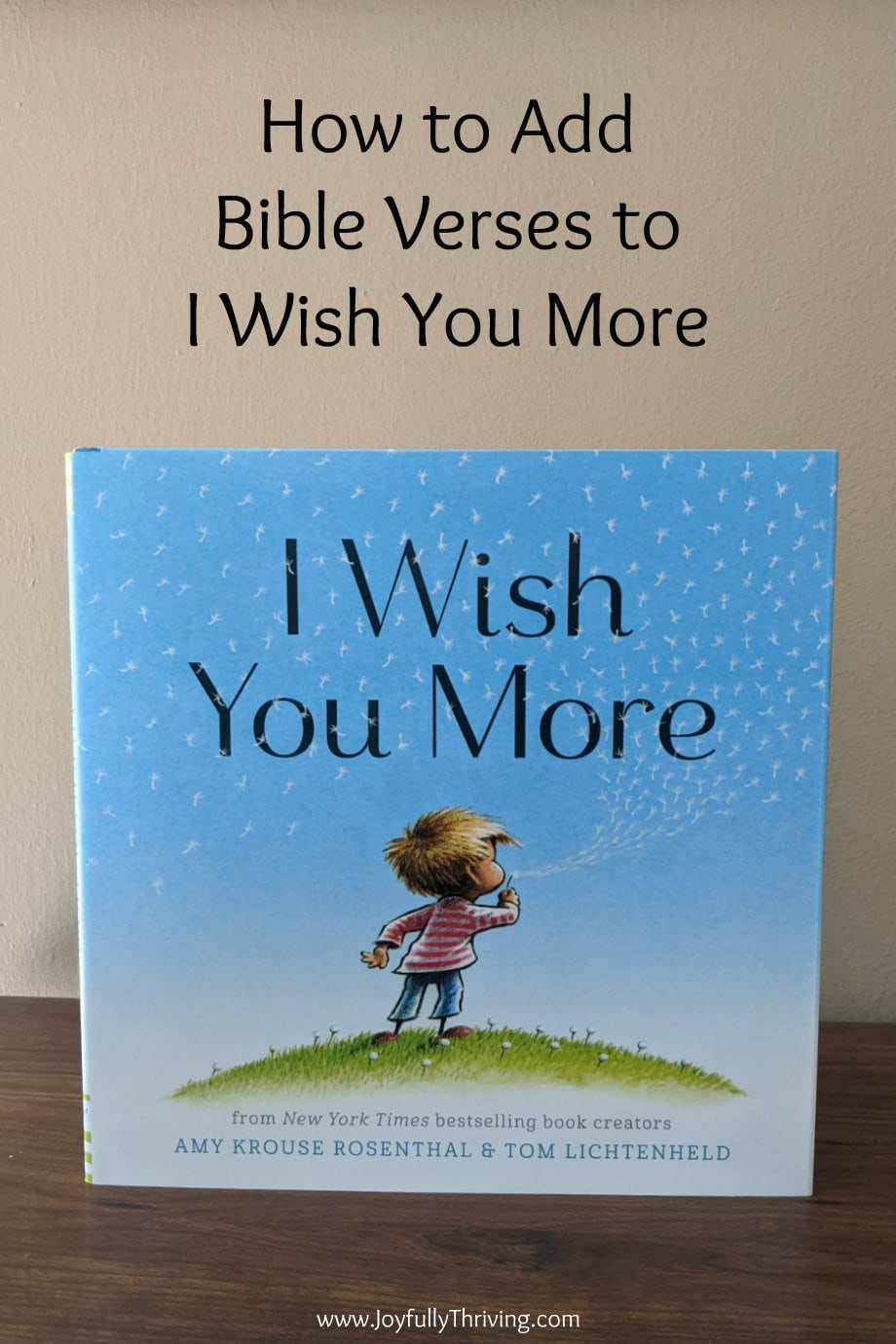 When it comes to these books, I think it is a perfect new baby gift or a birthday gift. Simple as the book is, it would also be a beautiful graduation gift.
Interested making or buying this book? There are two options.
1. You can write a Biblical version of "I Wish You More" yourself.
If you would like to create a custom version of "I Wish You More" using the same Bible verses I have used, I have a download available for purchase that includes all the verses I used.
The pdf download includes the beginning phrase of a specific page, as well as the Bible verse used on that page. There is generally one Bible verse for each open set of two pages. I Wish You More has pictures that lend themselves very nicely to adding the Bible verses.
Because I know that people prefer different versions, this book download includes the Bible verses for the book in 5 different versions. These download versions include ESV (English Standard Version), NIV (New International Version), KJV (King James Version), NRSV (New Revised Standard Version) and NLT (New Living Translation). You get all 5 translations as part of the one download to choose the translation you prefer.
2. You can order a custom copy of "I Wish You More" that I have already written for you.
If you wish to order a custom made book with the verses already written in the book, you can order one right now in my Etsy shop.
My Etsy shop is where I sell all of my Christian versions of custom books, if you are interested in this one or another.
All books are brand new, hardcover books with the verses written in English Standard Version (ESV). The cost includes free media mail shipping, and most books ship within 2-3 days of purchase.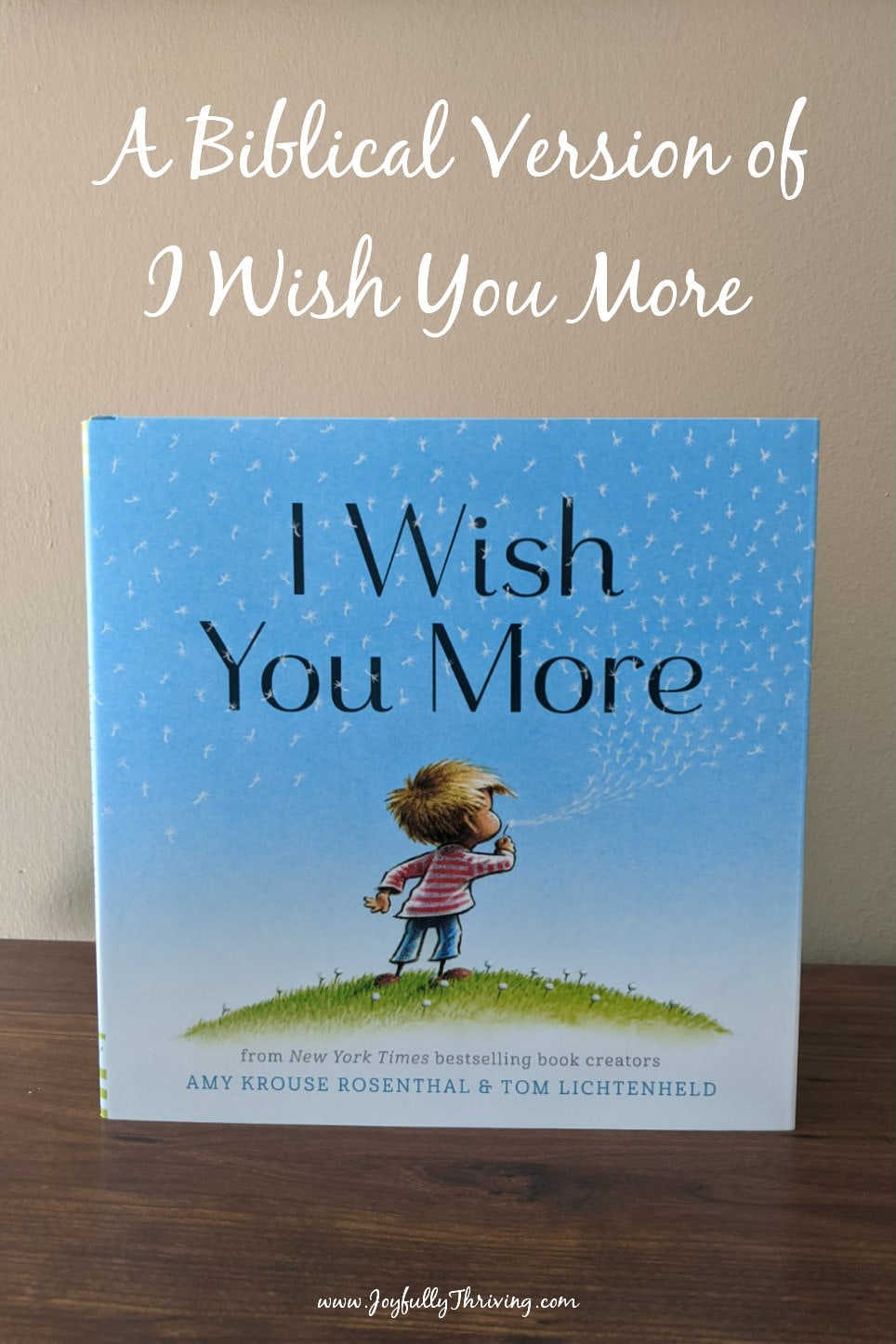 See all the Christian children's books I have for sale in my Etsy shop here.
If you have questions, feel free to comment below and I will be happy to answer them! I pray that this book will be a blessing, an encouragement and a priceless treasure to many.
I wish you all this…and more!
Interested in More Christian Children's Books?
Here are two more Christian book options for Oh, the Places You'll Go by Dr. Seuss and Guess How Much I Love You by Sam McBratney.