When Your To Do List is Never Done
This is a topic that I keep coming back to day after busy day so I expanded upon an old post with some new thoughts. It's a constant challenge of mine, as a working from home wife and mom. I hope you find some encouragement in these honest musings of mine and realize that you are not alone. Because there is hope when your to do list is never done.
The day started out well enough. I was full of good intentions and motivation. I woke up an hour before the kids (as has become my best new habit) and wrote a custom book on the couch, cozy under warm blankets.
All the kids actually slept past 6 o'clock so I had time to work a bit and plan my day in my bullet journal before breakfast time. The kids woke up and I made the requested oatmeal before getting all 3 dressed and sending Nathan off to school with Daddy.
After Nathan left, Lily took her morning nap while I got ready for the day. Emma played quietly while I made my shopping list, straightened up the kitchen, and started a load of laundry. We even had time to read a couple books while Lily slept.
When Lily woke up, we headed out to shop at Kroger and got everything on our list. We finished shopping right on time to go pick Nathan up from PreK.
We came home and I fixed the kids a simple lunch of turkey, cheese and grapes – all of their favorite things lately. I unloaded the groceries and ate my lunch standing as I worked.
After lunch, we played a bit and read books and soon it was quiet time. I have to say that coordinating quiet times is one of the best things a Mom can do! I put Lily down in her crib, Emma went to rest on the playroom couch, and Nathan happily turned on an audio book as he went to play in his room.
In the quiet of the house, I sat down at my computer and took a deep breath.
As soon as I sat down, it hit me. Why is there always more to do? I had been productive but there was still so much left to do!
This post may contain affiliate links. You can read more in my disclosure policy.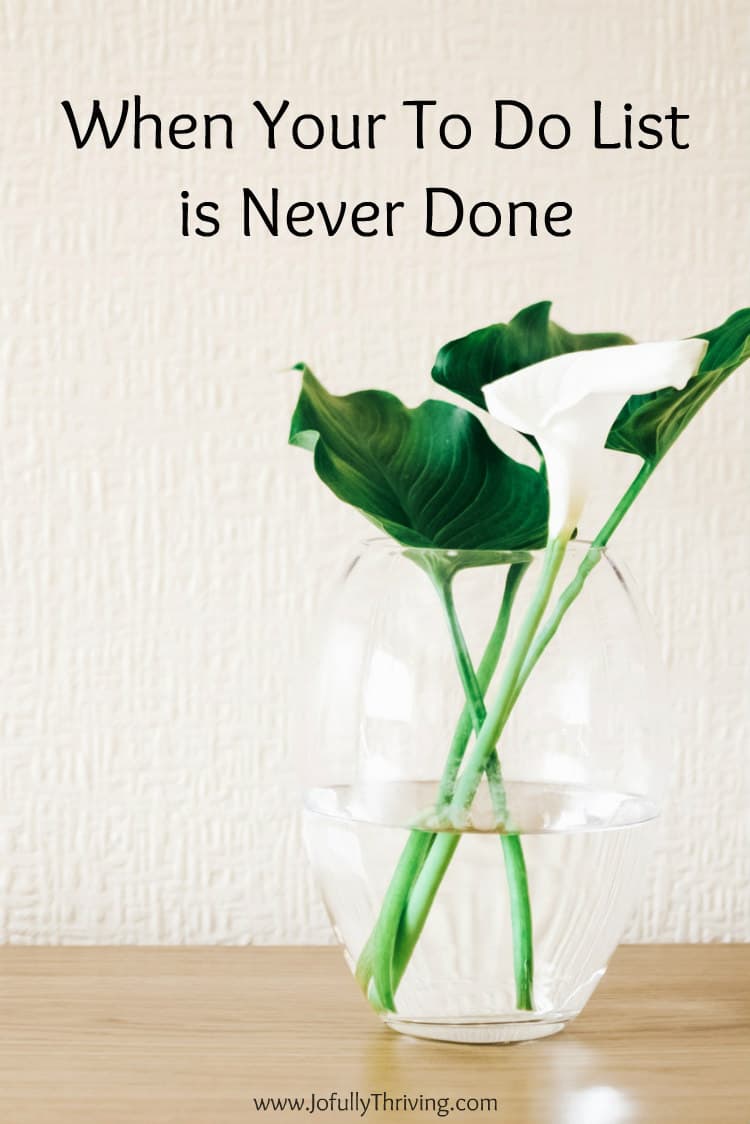 I was quickly overwhelmed. Why? Well, I realized this. No matter how productive we are, there is always something else left on the list. 
Do you add to your list faster than you cross things off? I know I certainly do. Sometimes it's reasonable but sometimes I'm overly ambitious and my to do list grows as a result.
Why is that? Why are our to-do lists so long?
Yes, the bills must get paid and the meals must get made, but do we (as women – wives – moms) bring this on ourselves?
Who expects us to accomplish all these things? Is it us – our spouses – God? I know I expect much more of myself than anyone else expects of me. For better or worse (and sometimes it's a mixture of both), that is is simply how I am.
So, I let myself sit for a bit and then I took a deep breath. I started thinking about my to-do list again – and came up with these three questions.
What needs to be done today?
What should be done today?
What do I want to do today? 
I needed to go grocery shopping and write a custom book order. I did both of those. I should work on a blog post and write another custom book but those tasks will still be there tomorrow if I don't get to them. I want to do some fun projects with the kids and read more in my book club book.
I realized that I spend so much time focusing on what needs to be done that I'm not really considering the other questions. Not everything really does need to get done all at once. Why do we place these expectations on ourselves? Once again, why do we let our to-do lists dictate our lives?
Don't get me wrong because I'd be lost without my running list of all the tasks for the day, week and month. It's why my bullet journal is full of so many lists. I would absolutely be lost without my bullet journal! I need those lists to keep me focused. What I don't need is to have my life run by my to-do list.
We can only do so much every day. There are only so many hours available to us. We need to use them wisely but we also need to realize our time has limits. If you didn't get to it today, just move it off to tomorrow. Sometimes you need to do that and it's okay.
Not only that, but we need to take time to celebrate all we have accomplished! Doing three loads of laundry may not seem like something to celebrate but it is! You accomplished something. Whatever you did, take a moment to celebrate it instead of focusing on what you didn't do. As soon as you switch your view, some of the stress of the list vanishes.
I wish I could say that's the magic solution. But it's not! And I know that or else I wouldn't keep struggling with this topic. Every mom I know struggles with this exact same time management concept. Some days are better than others. Some days you may cross 8 things off your to do list and other days you might only cross off one. Either way is okay.
For now, I want to leave you with this thought. You are not alone. Your to do list may seem like it's never going to get done. I get that. So what can you do?
Do what you can today and leave the rest for tomorrow.
Finally, remember God's promise in Matthew 6:34, "Do not worry about tomorrow, for tomorrow will worry about itself. Each day has enough trouble of its own."
I'm clinging to that verse and accomplishing what I can today. The rest will be left for tomorrow and I'll worry about it then. That's all I can do. How about you?