Free Printable Stock-Up Price List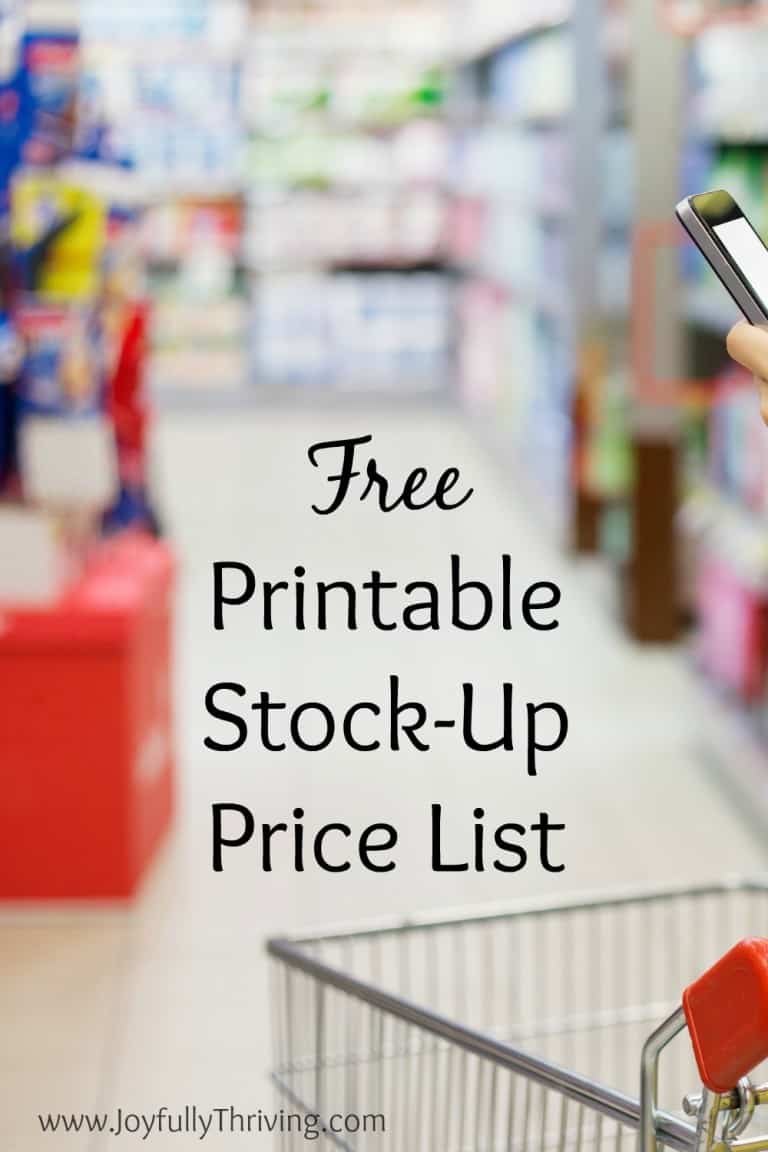 As I was shopping for deals last week, I realized how excited I was to stock-up again on baking supplies and canned goods. Why? It's that time of year when the deals abound. It's also because I have well learned this fact. To save the most, it's about knowing the best time – and price – to stock-up.
I've talked before about the 10 items I always keep in my stockpile. These are some of the things for which I always watch for deals. I carefully watch for sales and stockpile these items when I find them at their rock-bottom prices. Now, I know some of you are asking, how do I know when to stock-up? How do I know when the prices are at their absolute lowest?
Well, I am here to tell you and help you out! I spent a substantial amount of time analyzing my receipts and tracking the sales. I looked at the sale cycles and figured out what was my price point. I wanted to have a definite point of reference for when to stockpile. The result is what I have to share with you today!
I am pleased to share with you my own personal Stock-Up Price List. These are the prices I aim for with and / or without coupons. Many times, I combine sales and coupons to reach these prices, but I can and do find these prices on sales alone. These are the prices at which I am happy to fill my pantry.
So you know, these prices are based on the Fort Wayne area where I live. Some of you may find lower (or higher) prices depending on where you live. It is a factor of geography. Also, I mainly shop at Meijer and Kroger, but compared prices at Walmart, Aldi, Save-a-Lot, Meijer and Kroger to reach these price points. The Fort Wayne market does accept coupons but we no longer have any doubling or tripling. When the stores were tripling coupons, my stock-up prices were lower. Now, by shopping sale cycles and using face-value coupons, these are my new stock-up prices.
In this stock-up price list, I share the prices I aim for on over 50 of the most commonly purchased items. The items are divided into 7 categories – toiletries, refrigerated items, produce, meat, canned goods, cleaning / paper supplies, and baby items. I kept the list to one page so it is easy to print out and store with your coupons. I keep my stock-up list in the front cover of my coupon binder for easy reference.
It is my hope that this stock-up list will be a help to you in your grocery shopping and frugal living journey. Go ahead, go ahead and download your free stock-up price list and start watching for those great stock-up opportunities!