How to Apply for a Thrivent Action Grant
Have you ever applied for a Thrivent grant? Yes? Good for you! I am so glad you are taking advantage of this seed money for special projects. No? Well, then, I am here to explain how easy it is for all Thrivent members to apply for a Thrivent action grant.
Let me preface this by saying – I am not a Thrivent representative nor am I receiving any compensation for writing this post. This is my personal understanding of how the process works, after having applied for and received several grants. I am simply a frugal Lutheran who hates to see free grant money go to waste by the many Thrivent members who are not applying for Thrivent grants each year!
If you are Lutheran and a Thrivent member – yes, I'm looking at all you teachers, church workers and fellow church members out there – you need to know about Thrivent grants.
This is my attempt to explain the process clearly so more Thrivent members apply for Thrivent action grants!
This post may contain affiliate links. As an Amazon Associate, I earn from qualifying purchases. You can read more in

my disclosure policy.




What is a Thrivent grant?
A Thrivent action grant is a $250 grant given to fulfill a need within your community. From the time of application, you have 120 days to lead a fundraiser, service project or education activity within your school, church or community.
Who can apply for a Thrivent grant?
Any Thrivent member can apply for two $250 grants each calendar year. (Benefit members can apply for 2 grants and associate members can apply for 1 grant.) That applies to every Thrivent member. If you and your spouse are both Thrivent members, you can each apply for two grants – for a total of four in your household. Note, you must be over the age of 17 to lead an action team.
The most common way to be a Thrivent member is by holding a policy or product with Thrivent. For example, my parents purchased a life insurance policy for me when I was a baby through Aid Association for Lutherans (which is now Thrivent). Later, I increased that life insurance policy and also opened a Roth with Thrivent. I had a fabulous Thrivent rep, Libby, when I was single in Ohio. She did a great job helping me prepare for the future and I am very pleased with how my Roth is growing, slowly and steadily, 12 years later.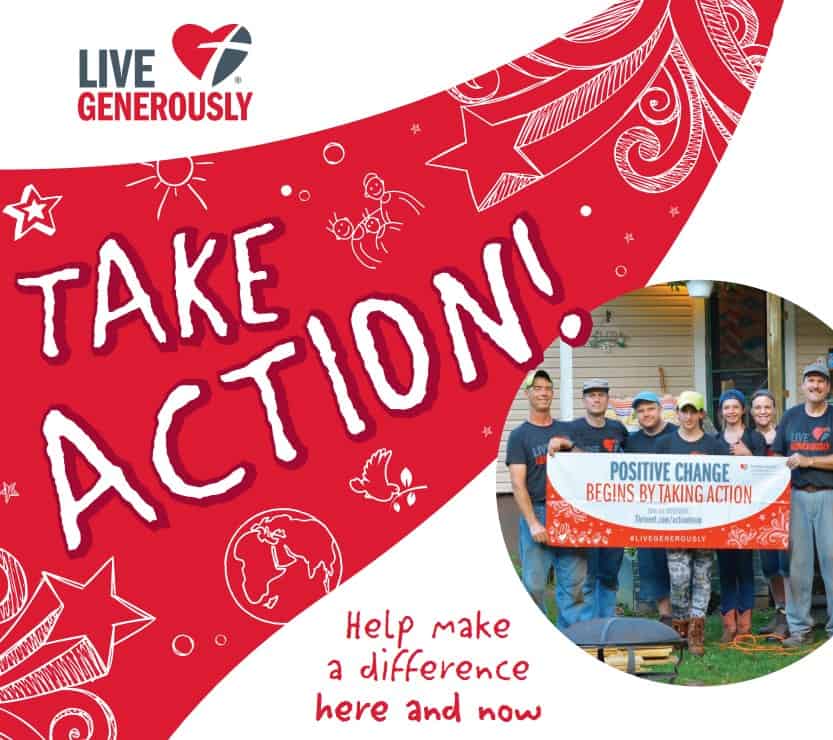 What types of activities can be applied for with Thrivent grants?
So many activities can be covered by Thrivent grants! As their website explains, the grants are intended to be used for one time fundraisers, service projects or education activities.
Some ideas that my husband and I, and my family members have used for grants include:
Purchasing Resurrection Eggs to give free to families who attended a Lenten workshop at church on how to use Resurrection Eggs within their family
Hosting an appreciation room for workers at the Lutheran grade school state basketball tournament
Covering food and meals for a weekend of Family Friendly Partners network meetings
Buying the food for a teacher appreciation meal (I really loved this recent one! I bought all the fixings and cooked the meat for taco soup and sent a bag home with all the teachers at my husband's school so they could all have a night off from cooking. What better way to show appreciation for hard working teachers?)
Purchasing crafts for Vacation Bible School
An adoption fundraiser to purchase books that were auctioned off to raise funds for an international adoption of 4 kids
Buying supplies to start up the Box Tops program at our school and purchasing classroom incentives for the program
Purchasing bilingual Bible storybooks for an inner city mission
Creating care packages for the homeless – mainly socks, underwear and tee-shirts
Making fleece blankets with a home school group to donate to a women's shelter
Buying serving dishes for the school fish fry fundraiser
You can view more ideas from current and past Thrivent action grants on the Thrivent Action Team Hub here.
There are endless ways to use a Thrivent grant! It is important to think of this grant as seed money, to supplement any cost you may occur. Sometimes the grant will cover everything but sometimes it may supplement your cost.
I encourage friends to think of needs within their church and school and how they can supplement that need with a Thrivent grant. What fundraisers is your school hosting? What outreach activities is your church planning? Is there a need for a parenting class at church / school? Be creative and come up with an idea!
If your idea focuses on fundraisers, service projects or education activities, it most likely will be approved.
When in doubt? Go ahead and apply! You always have the chance to reapply for a new project if (for some reason) your project is denied. I have had 1 project denied and 8 approved. It is easy to apply and be approved. Once you have your idea, it is time to go ahead and apply.
How do I apply for a Thrivent grant?
It really is simple to apply for a Thrivent grant. The process takes about 5 minutes.
1. Visit www.thrivent.com/actionteam.
Click here or go directly to www.thrivent.com/actionteam to begin the application process.
2. Log in with your user name and password.
This is the hardest part if you don't know your information! If you don't recall your user name or have never set one up, you can request your information via the links on that page. You can also call in and speak with someone to get your information. Just follow the prompts on that page. I know this is what holds most people back! Just make the call and get your user name so you can apply for your Thrivent grants. It's worth $250! It's worth the inconvenience to get your name set up once and for all.
3. Apply for your grant.
Simply follow the prompts to apply. The entire application process only takes 5 to 10 minutes. Some of the details you will need to provide include:
Date of your project
A short title and project summary
Explanation of what the grant money will be used for
Number of volunteers involved (I always estimate low)
Whom the grant will benefit (Individual, church or school)
4. Select any free materials you wish to use.
Thrivent has a great variety of free promotional materials for you to use with your grant. Every year, Thrivent has a different colored "Live Generously" shirt. They really are amazingly soft shirts, and I think I have one in every color now.
Thrivent also offers name tags, stickers, thank you cards and notebooks and pens. You are able to see what is currently available as part of the application project. Just select anything you would like to use for your project, but you do not have to select anything.
5. Submit your grant and wait for approval.
When you are finished filling out the form, click submit and wait to hear if you approved. You should receive a response via email within 5-7 days. I have heard back as fast as 2 days. If you are approved, your kit is automatically mailed to you. If you are denied, you will not receive a reason why you are denied. You can start from scratch with a new application on the same project (from a different approach) or apply again with a new project. Again, if you follow the guidelines above, most projects are easily approved. I simply don't want you to be surprised by the slim possibility that some projects are denied.
6. Wait for your Thrivent Action Grant Kit to arrive in the mail!
Depending on what promotional materials you ordered, this can be a large envelope or a box. Your $250 Visa check card will be attached inside a notebook with instructions on how to activate it.
Thrivent summarizes the process in this handy pdf printable guide.
What do I do after I receive my Thrivent grant?
Now comes the fun part – using the grant and leading your project! Thrivent has made it very simple and gives you the seed money on a Visa check card that can be used anywhere Visa is accepted. I have used the cards to shop in grocery stores, craft stores, and online. You simply have to hold onto your receipts after the project is complete, in case Thrivent wants to see them. At this point, I have not had my receipts ever requested by Thrivent but it is always a possibility.
Since you can apply for a grant within 120 days before the project date, you may hold onto your card before you do anything. That is okay! It is always better to apply early rather than too late. Lead your project when it is time and have fun doing so! If your project date changes, that is also okay! Thrivent understands. Just note that when you report.
When you are finished leading your project, you must submit an official report to Thrivent online. Thrivent will send you an email reminding you to report on your project. Just log back into your Thrivent grant page and look for the button that says, "Report on your project."
Again, this is a very short form that takes all of 5 minutes to complete. Names of other participants are required, and pictures are encouraged (but not required). Answer the couple questions and give a short summary of your project for Thrivent. Click submit and you are finished with this particular grant!
I hope this post has made the process of applying for Thrivent grants less intimidating. If you have any questions, please ask in the comments. Remember, I do NOT work for Thrivent but I will do my best to help because I'd love to see your school and church benefit from this great grant opportunity!
If you found this post helpful, please share with other Thrivent members you may know and help spread the word about Thrivent action grants!
Have you applied for a Thrivent grant before? If so, I'd love to know what you have used your grants on!