Free Printable Summer Bucket List for Kids
With summer upon us, we are all looking for simple and fun ideas to do with our kids. This is one of the reasons I love bucket lists – especially printable summer bucket lists that are easy to use with kids of all ages!
I have previously shared a simple printable summer bucket list for families. Our family loves crossing things off our bucket list each summer.!
You can download the free summer bucket list I created on that blog post or download a blank checklist to create your own family summer bucket list. Both summer bucket lists are available in one download here.
Now that Nathan and Emma are getting older, my kids have definite ideas about what they want to do in the summer. So I decided to create a printable summer bucket list for kids that they could create on their own.
This post may contain affiliate links. As an Amazon Associate, I earn from qualifying purchases. You can read more in

my disclosure policy.




This printable summer bucket list is made for kids to draw the pictures of 10 things they want to do over the course of the summer. I thought 10 would give us a variety of activities without being too overwhelming.
I would talk through some ideas with your child before turning them loose with the list. I want to encourage ideas that are fun for kids but don't take a lot of extra planning on the part of the parents. Also, ideas that are free or don't cost much money are always good. You don't need to spend lots of money to create special memories!
Some easy and fun summer bucket list ideas for kids include:
Stay up late to watch a movie.
Get ice cream at a local ice cream place.
Have a picnic outside.
Go on a family walk.
Go swimming.
Run through the sprinklers.
Watch a parade.
Pick a frozen treat at the grocery store.
Make s'mores.
Visit the library.
Plan a whole day's worth of menus.
If your kids are older, they can write the words for themselves. I created a simple summer bucket list for older kids to use too.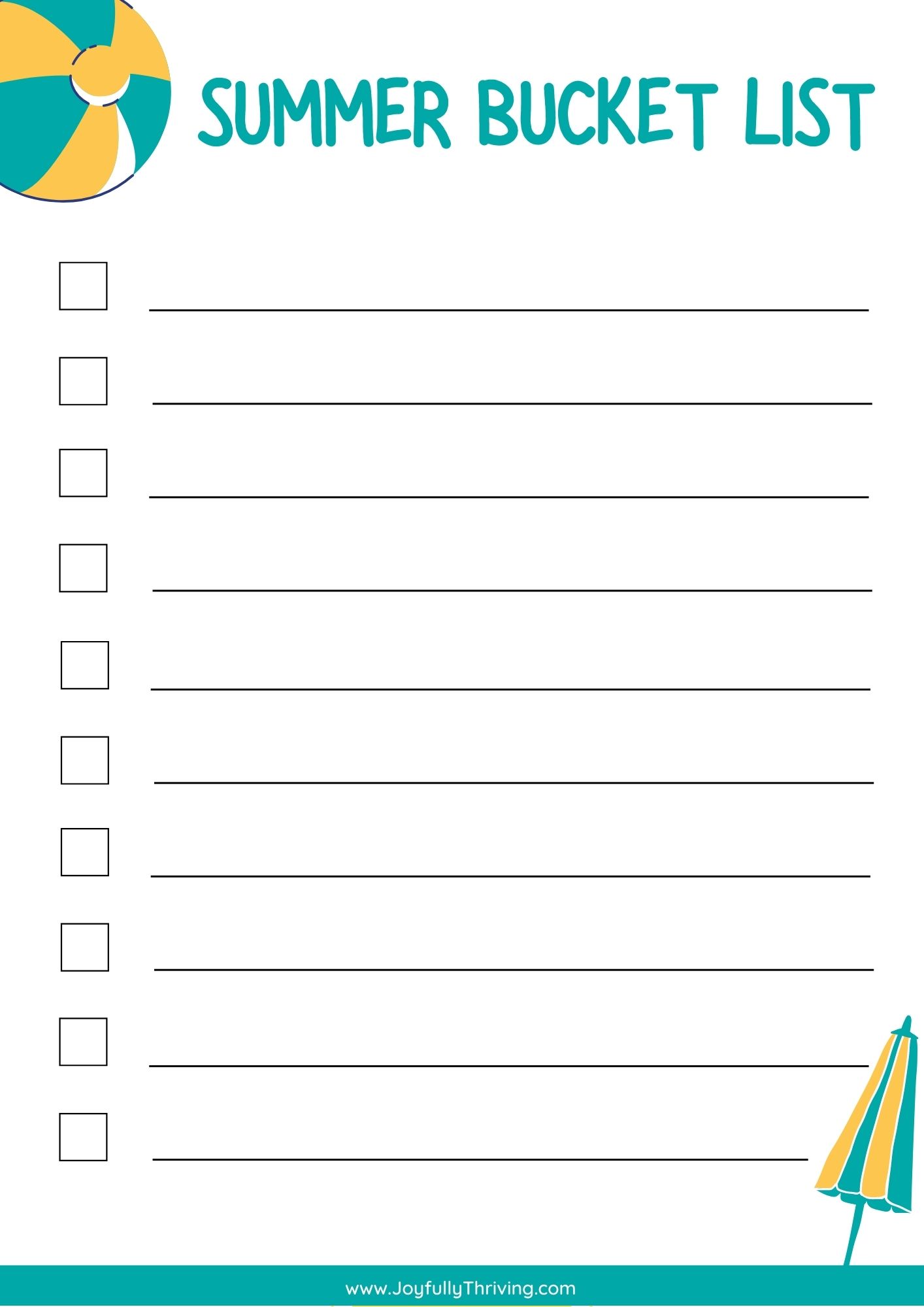 Nathan and Emma have been talking about all the things they want to do this summer since a month or more before summer started. When I gave Nathan this blank bucket list, he was so excited to fill it out! Here is what Nathan (at age 5) put on his summer bucket list.
Obviously some of these will overlap, because we will go swimming when we are on vacation and staying in a Holiday Inn. I love that one of the things we wanted to do were sleep in his closet! He has a good sized closet with plenty of space to camp out so we checked that off the first week of summer already. I hope simple things always make him happy!
I don't know what your kids will put on their summer bucket list but it is a simple and fun way to get their summer fun ideas.
I'd love to know what your child puts on his / her bucket list – and what you put on yours, too!
Looking for more summer ideas? If you are traveling this summer, be sure to check out this list of road trip activities for kids of all ages.