I am one of those people who enjoys grocery shopping. Call me odd, but I love the hunt of finding a good deal and saving my family money. One of my favorite places to find grocery deals is at Kroger because there are so many ways to save at Kroger. While Kroger prices may be higher than other stores, I find great deals there each and every week that save our grocery bill dramatically.
Want some proof? I share my weekly grocery shopping pictures as a way to hold myself accountable to my monthly grocery budget. I currently have a budget of $240 for our family of 4. Here are some real pictures of Kroger trips in the past couple months. This Kroger trip pictured below cost me $14.39.
Or how about this one? This Kroger trip cost me $20.65.
Those are just two of my recent Kroger shopping trips. (You can view all my shopping trips in pictures here.) Not every week is as amazing as those, but it's not hard to save dramatically at Kroger.
As you can see, the tables are full of name brand groceries that I am getting for a fraction of the cost! It doesn't take me hours of planning or clipping coupons to achieve the savings you'll find here. Yes, you need to plan a bit but it's easy to do so with these following ways to save at Kroger.
To help you save at Kroger, I want to share 9 ways to save dramatically at Kroger.
This post may contain affiliate links. You can read more in my disclosure policy.
1. Use your shopper's loyalty card.
This should go without saying but if you shop at Kroger, sign up for and use your loyalty card. This is how you get the sale prices and discounts. Make sure you have all your information updated in your profile to receive occasional coupons in the mail.
I encourage you to also sign up for Kroger Community Rewards. This allows Kroger to donate a percentage of what you spend shopping to the organization of your choosing. You don't pay anything to participate in this program so search for a school / church / charity of your choice and add it to your account.
2. Clip digital coupons.
Whether you clip paper coupons or not, Kroger makes it easy to save with digital coupons. I used to use a lot of paper coupons but now, almost all my coupons are digital ones. Login to your Kroger's account and look the digital coupon list. Once you find it, click on the coupon to add it to your account. Now you don't have to worry about forgetting your coupons because they are loaded to your Kroger card and will come off at checkout.
There are two ways to think about clipping digital coupons. You can log in before every grocery trip to clip coupons for the items that are on your list. Another option is to go through the entire digital coupon list once or twice a month and clip any coupons that you might possibly use. I tend to do the second.
3. Claim Freebies.
Did you know that Kroger regular offers digital coupons for completely free products? Be sure to scan through your digital coupons to clip those coupons when they appear!
4. Shop the markdowns.
Of all the grocery stores I have shopped at, Kroger is by-far the best at markdowns. When you shopping, look for Kroger markdown tags hidden in the regular aisles. They are a yellow and orange tag that looks like this.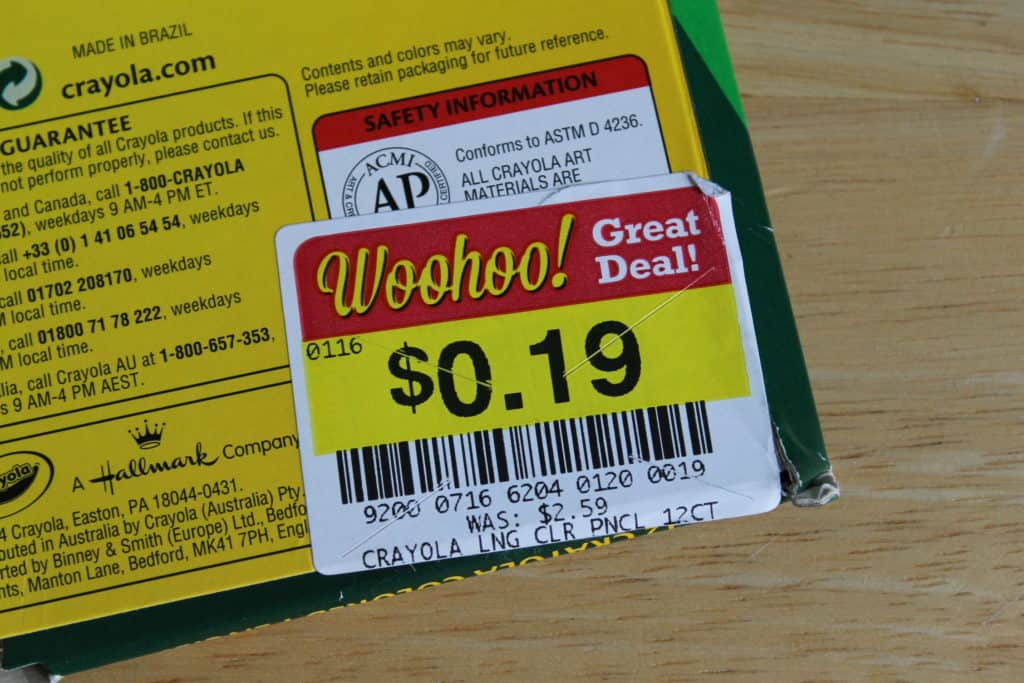 You can find them on perishables such as bread, dairy, meat, and produce as well as products that don't expire! For example, I have found Greek yogurts marked down to $0.29 a container (normally $1.19) and Olay facial wipes at only $0.19 (normally $10.99). You never know what you might discover so just keep your eyes open as you shop!
In addition to markdowns hidden in the regular aisles, some Kroger stores have an entire clearance section. Look around your Kroger to find that section and make sure to visit it each time you shop. You never know what savings you might find there! Just remember that these mark downs (often called manager's specials) vary by store and change every time you shop.
5. Use Fuel Rewards.
For every dollar that you spend at Kroger, you earn one fuel point. When you earn 100 fuel points, you earn $0.10 off a gallon of gas. You can earn up to 1000 points for $1 off a gallon. The points accumulate by the month and don't roll over.
Watch for special promotions to earn fuel rewards. During the summer, you can earn double the fuel rewards if you shop on the weekend. It's a digital coupon that is loaded to your card and can be reused all summer. If you buy gift cards at Kroger, you can earn bonus points – anywhere from 2x to 4x the face value of the card. The next tip is my favorite way to earn fuel rewards.
6. Answer receipt surveys.
Receipt surveys are an easy way to earn extra fuel reward points. Many times, the bottom of your receipt will have a code that says "Answer a survey for 50 bonus fuel points." It takes only minutes and earns you a bonus 50 points each time you do it. There is a time frame of 7 days between surveys. However, if you time it right, that means you can answer 4 surveys every month for an extra 200 fuel points ($0.20 off per gallon). When added to your shopping totals, this can really add up!
7. Shop the sales.
Kroger is one of my favorite grocery stores. While their regular prices are higher than the grocery store, Kroger sales are amazing! I shop the sales at Kroger and do the rest of my shopping at Meijer. If you do one thing to save at Kroger, shop their sales. In addition to regular sales and loss leaders, they often run promotions such as "Buy 5 items, Get $5 off". These are fantastic times to save at Kroger! Shopping the sales is one of the easiest ways to cut your grocery bill without using coupons.
8. Stack sales with coupon app rebates.
To save even more money at Kroger, start using a coupon app. I use several but Ibotta is my favorite. (You can read more about why it's the best coupon app here.) Ibotta is simple to use and allows you to stack your sale and coupon savings to save even more. In some cases, thanks to Ibotta, I actually make money on some of my purchases!
For example, if Creamette pasta is on sale for $0.49, I can use a $1/2 off coupon to get 2 boxes for free. Then, I can earn an additional $0.25 for the any pasta rebate at Ibotta. That's a real example from Kroger! The deals do change at Ibotta every week but I can always find at least one rebate to redeem on every shopping trip.
If you haven't joined Ibotta yet, now's a great time to do so. Plus, when you redeem your first rebate, you'll earn a bonus $10! That's a great way to earn some extra free money for grocery shopping. You can read more about how Ibotta works here.
9. Follow Kroger deal sites.
One of the best Kroger sites I have discovered is Kroger Krazy. Everything on this site is related to deals at Kroger. I check it on a regular basis and have discovered many a bargain, thanks to them. Kroger Krazy does the hard work of finding the deals and listing the coupons you need to score the best price. Check it out! Kroger Krazy will help you take your savings at Kroger to the next level.
These are 9 ways I save dramatically at Kroger. How do you save at Kroger?