Nathan's 1st Birthday Celebration
It's taken me awhile to gather my pictures from Nathan's 1st birthday celebration and share them with you. In doing so, I realized there are several aspects of the party and food and books to tell you about so the sharing will take place over a couple days this week with different posts. Today, I'm going to focus on the set-up and decorations.
When I started gathering ideas for Nathan's party, one of the first ideas I stumbled upon were the infographics. I loved the idea and set to work creating my own on Canva. It wasn't that hard to do and I love the way it turned out! I printed them as 4 by 6 pictures and mailed them as his party invitation. The invitation included our address and an RSVP portion at the bottom, which I cropped off later so I could display a larger 8×10 print at his party. The only thing that changed was he did get his third tooth before his birthday! Otherwise, everything else stayed the same.
I wanted to display the photo books that I had created during Nathan's first year. We bought a sturdy 6 bin bookcase from Target to hold (and hide) Nathan's toys in our family room. The top was the perfect place to display the Shutterfly books I've created. The flowers were given to me after I directed our school musical, "Cool in the Furnace" the night before and were the perfect touch.
I use Shutterfly to scrapbook now and I am always pleased with how these books turn out! I had a 8×11 book that I created about my pregnancy with Nathan that includes all my weekly belly pictures. I used a special Shutterfly theme and updated it regularly throughout my pregnancy. I was very happy with the way it turned out!
I also created 8×8 books of his birth and baptism. We took Nathan's 3 month pictures at Portrait Innovations and got the cd of his pictures. I took the cd and put all of the pictures in another 8×8 book so we had them bound together. I didn't put any words in that book – just pictures – but I'm glad I did that. All of these 8×8 books were free, thanks to the wonderful free product coupons. Now I just have to finish his 12 month book!
Nathan's 12 month book features the close-up monthly pictures I took of him for the past 12 months. I took a picture of him each month – on a different blanket we'd been given. The pictures got a bit more challenging as he grew older when he didn't want to lay on a blanket. Still, I'm happy I did this! I wanted to display those and had planned on putting a garland together. However, other preparations took precedent and it was 15 minutes before the party started when I realized we hadn't put the pictures up yet! I gave my sister some painter's tape and she arranged them in month order on our coat closet door so everyone could see them as they walked in. It was simple and served the purpose. Isn't it amazing how much babies change in 12 months?
We set up three card tables in the dining room and covered them with plastic tablecloths. That made clean-up so easy! We also had our big dining room table set for eating. Each card table got a book and coordinating stuffed animal as it's centerpiece. These were just a couple of Nathan's favorite books. Since I was (am) an early childhood teacher, I had matching stuffed animals. I had the Clifford set (from Kohls) from before I began teaching.
The spotted leopard from "Put Me in the Zoo" was a shower gift from Nathan's Aunt Kara. I already had the book from Kohls.
Finally, the Llama set was from Scholastic, which my husband bought with bonus points. Andy thought Nathan needed a stuffed Llama since he loved the books so much!
I took this picture from our Valentine's Day photo shoot and added some text via PicMonkey. It's a great (free!) photo editing site that I use regularly. I had two free 8×10 prints from Shutterfly so printed this off for the cake table.
For the birthday cake, I used a recipe for a layered cake that I found online at Completely Delicious. The cake was good but nothing that special, in my opinion. However, we did all like the chocolate butter cream frosting and I would make that again. Nathan did too! I made a layered cake for the guests and Nathan got his own little cake. I also made Little Blue Truck cookies and Number 1 cookies. I bought a number set of cookie cutters on Ebay so now I'm set for every year if Nathan wants number cookies! I never did find a truck cookie cutter so I made my own template and cut the cookies out with a knife. More about that with the upcoming party food post!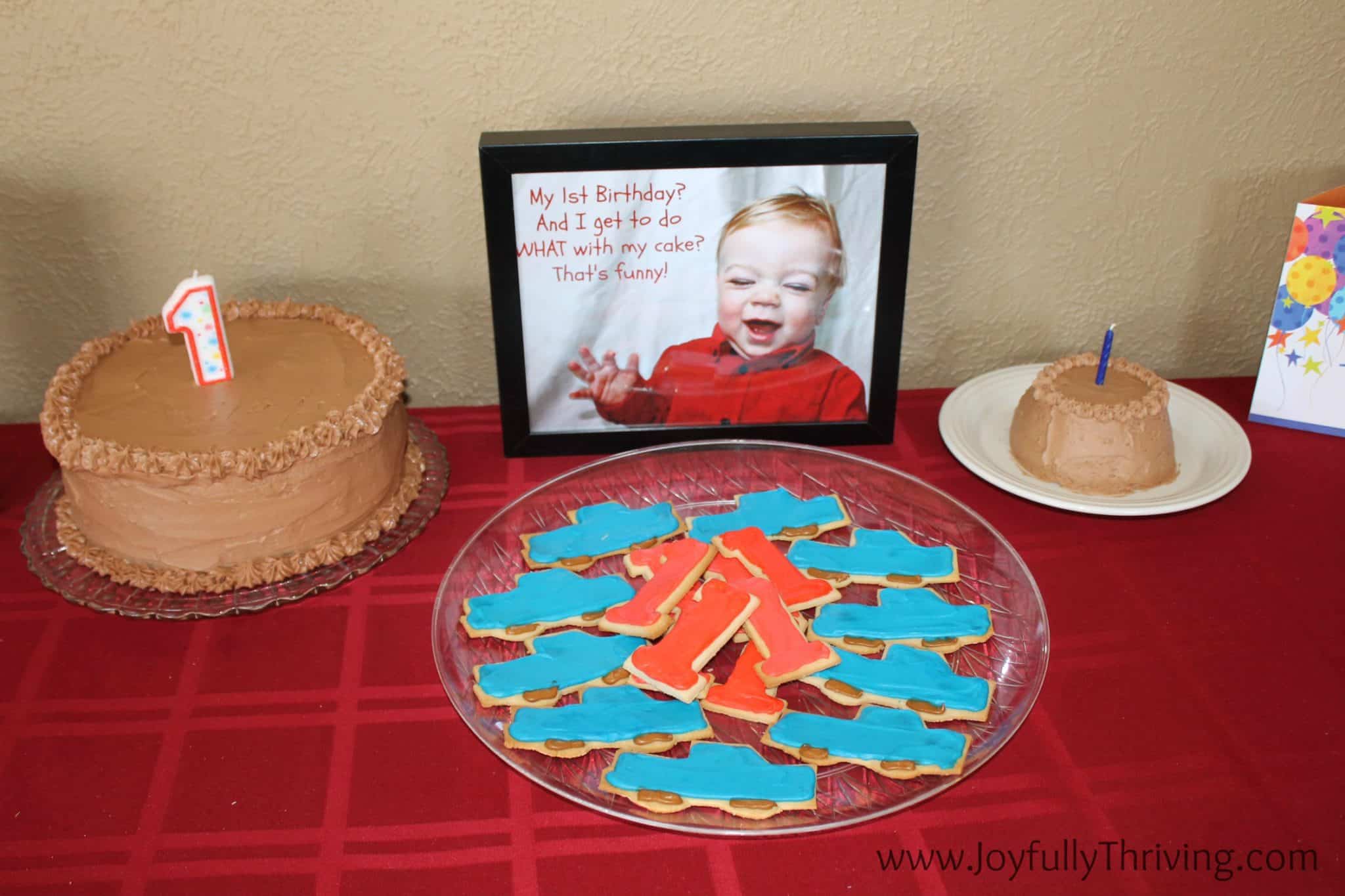 Oh! How could I forget the decor I worked on the most? Again, I had seen the idea on Pinterest and decided to make a festive birthday balloon wreath for our door. The site that shared the idea said it would take 144 balloons. I don't know about that…because several trips to the store for more balloons and floral pins later, my wreath took 550 balloons! I am happy with how it turned out. It took longer than I expected but we finished it the night before the party. This is now our official family birthday wreath that is coming out anytime there is a birthday!
There you have it. That is how we decorated for Nathan's first birthday party. There were streamers and balloons from the ceiling that Andy put up, but we didn't get a good picture of those. Come back tomorrow to see the book themed food I prepared for the party!