Lessons from the Newborn Days
When I was pregnant, I read lots of books and blogs, all full of advice for pregnancy and parenting. There was so much information about having a healthy pregnancy and countless opinions available on labor. The same is true with parenting and caring for a baby, but there were many things I didn't know until I did it.
This was a list I began months ago when I was in the midst of caring for my newborn, Nathan. Amazingly, my little, tiny baby will turn one in a week. The past year has flown by. As I look back over the past year, I thought it fitting that I share this list now. These are a couple things I wished others had told me – or the things I wish all mama's of newborns would know.
You don't get a medal for having a baby without an epidural. My friend, Allison, wisely told me this piece of advice. If you want to labor without an epidural, that is certainly your prerogative. The same can be said of your decision to have an epidural. I wasn't planning on having an epidural, but when my labor sped up too rapidly (with contractions every minute when I was only 4 cm) for the doctor's comfort (and mine!), I opted for an epidural. I was glad I did! My sisters have amazingly labored without epidurals. We all ended up with healthy babies. This is just one of the many difference of opinions but every laboring mama gets to decide for themselves.
Enjoy your time at the hospital with nurses available at any hour of the day or night. Yes, the constant interruptions can be annoying to some but I chose to be thankful for their constant checking up on me. Ask your questions. Accept the advice they give. And be sure to take home the "free" things they give you – like bottles, diapers, pads, and formula.
If someone offers to bring you a meal, graciously take them up on the offer. It may not be a meal you'd typically cook for your family, but the time spent out of the kitchen is lovely! Even if you have meals in your freezer and feel ready to cook, still accept the gift of a free meal for what it is. A thoughtful gift!
Your baby will take all your time. Find a comfortable spot because you will be spending majority of your days (and nights) feeding your baby. Remember that the typical two hours of a newborn baby's feeding schedule are from the start of one feeding to the start of the next – so it's really only an hour and a half break (or less) between feedings. The time between feedings does lengthen as your baby grows. There will come a time when you can do things other than feed your baby.
Learn to appreciate any amount of sleep you can get. It's been said to sleep whenever the baby sleeps. Sometimes that is possible but sometimes it is not. If this baby is your first, sleep when they sleep! Otherwise, still try to grab a nap when ever you can. After waking up multiple times through the night, and with an early rising baby who still likes to wake around 5, I found those early morning naps (around 8am) to be just what I needed before getting started on my day. It's also important to go to bed earlier in the newborn days because you will be up before you know it with your baby. And most importantly, remember that someday, you will sleep again!
Whether you breastfeed or use formula, you need to keep your baby well-fed. I planned to nurse and, thankfully, was able to do so for the first 12 months of Nathan's life. I never anticipated using formula, but due to his unexpected start in the NICU, he did take a bottle. After a week or so, Nathan was a primarily breastfed with only an occasional formula bottle, but I learned not to feel guilty about using formula. That said, just because your baby starts on formula doesn't preclude you from successfully nursing. On the flip side, a little bit of occasional formula won't hurt your baby if he / she is hungry! Nursing was the more frugal and convenient option for our family, but I have many friends who have transitioned to formula with their babies just fine.
Stock up on free formula deals before the baby is born. Even if you are not expecting to use formula,you may find you need it. For that reason, accept all the freebie samples that come in the mail, as well as from your doctor, and save them until after the baby is born. If you don't need them, then you can easily give the formula to a friend who needs it for her baby or donate to a local pregnancy crisis center. You will save a lot of money (for you or someone else) by collecting these formula freebies.
You will question what is normal for your newborn. Should he breathe like that? Is that congestion typical? Are all babies this gassy? Is she eating enough? Is he sleeping enough? Especially if this is your first one, there will be questions. Call your Mom. Ask your doctor. Text your friends. And (cautiously) Google, if only for your own assurance. This is normal to wonder what is normal.
Plan to accomplish only one or two things a day. It may be as simple as showering and unloading the dishwasher. Or perhaps doing a load of laundry from start to finish. Keep your plans simple and you'll be much happier at what you accomplished. This one was a hard one for me since I was used to accomplishing a lot during my days. You are still accomplishing a lot but most of that is tied to the care of your baby.
Learn how to use a baby wrap. I am convinced this relates directly to the previous lesson. You get more done when you have free arms. A baby wrap / carrier makes that possible. There are countless options! I was given a Baby K'tan and Nathan loved it. I loved it, too! He spent a lot of time in that wrap as a baby. It was a lifesaver in the grocery store and even made our walks to the post office more enjoyable.
Take lots of pictures. There will come a day when you're not snapping as many pictures as you do in those first days. Keep your camera nearby and take pictures of all those moments you want to remember. Sleeping, tummy time, bath time, in the bassinet, in the car seat, with the pacifier, and of course, take pictures of all the people who come to visit. If you are a video person, do the same. Nathan used to make this sound like a little puppy whenever he started to nurse and I wish we had recorded that sound. Oh, how we laughed!
Write down the firsts and the little (and big) events you want to remember. This is where I didn't do as good of job as I planned. It's hard in the sleeplessness of newborn days to keep track of all these things. I wish I would have kept a calendar attached to the fridge where I could jot little notes. I have little notes all over the place but didn't stick with any one thing….and it's already hard to remember the specifics of all those little moments I was so delighted by.
You are the Mama that God chose for this baby. No one else can take your place. Trust your instincts. Follow your heart. You will do things different from your Mom, sister, friends and neighbors. It's okay. Don't be offended by well meaning advice. You'll choose to follow some and ignore the rest. Do what works for you and your baby and your family. Do what you and your husband believe is best for your baby!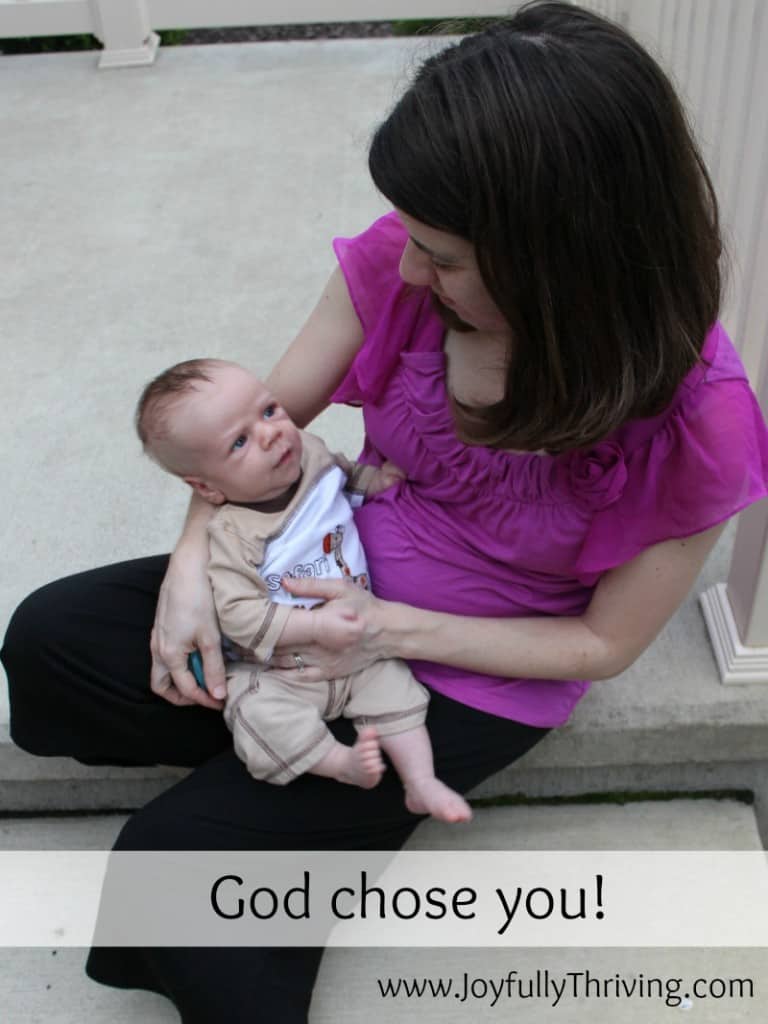 Cherish these days because they will be over before you realize it. All too soon your baby will be sitting up and crawling and walking and the memories of these newborn days will fade. I love the quote about time spent raising children, "The days are long but the years are short." This is most certainly true for life with a newborn.
Those are a couple pieces of advice from a mother who is past the newborn days with her (gasp) almost 1 year old son. What pieces of advice would you add to this list?