When You Can't See Your Calling Because of the Laundry Pile
Let's do real life together, shall we?
I love being a wife and mom. It was always my heart's desire. Now that I'm several years in (9 years married and 4 years with kids), the reality can be overwhelming. Because, let's be honest? Being a mom is hard. Being a wife is hard.
Sometimes you spend the day tackling four loads of laundry…only to do more loads of laundry the next day when accidents happen overnight and the baby has another blow out. (This is the Instagram moment that started these musings.)
This laundry? And all the other baskets waiting to get done? This laundry is part of your calling. Being a mother is about serving your family in countless (and often unnoticed) little ways.
It's easy for moms to lose sight of why we are doing what we are doing. There is always laundry to be folded, grocery shopping to do, meals to be cooked, errands to run, kids to be chauffeured and thousands of more things that make up our to-do lists.
That is when we need to be reminded that being a mom is a calling. Being a mom is our vocation and the most important vocation in that. And sometimes? Yes, sometimes, we lose sight of our calling because of the laundry pile.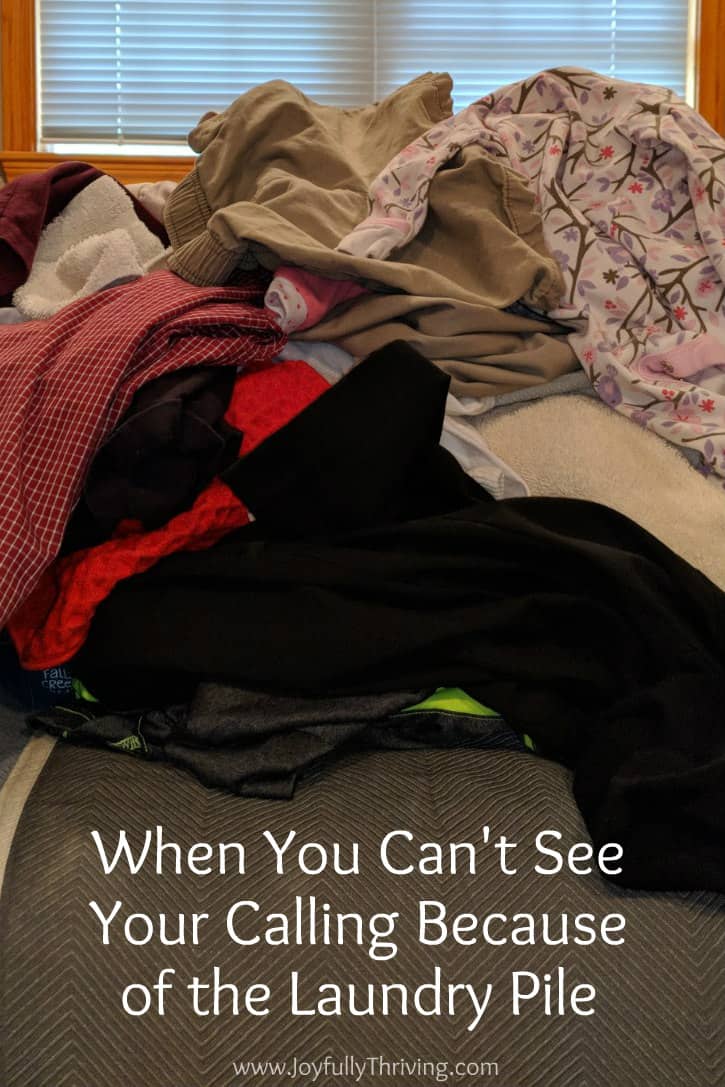 Give yourself grace, Mama.
Give yourself grace, and tell yourself these two important truths.
My worth is not measured by my to-do list.
My family is not judging me by all I accomplish.
There are days when lots gets done and there are days when nothing gets done. Both days need to be appreciated for what they are – a day when mom is simply living life with the family God has given her.
God is right beside you – every moment of every day – as you serve your family in the (often) mundane. 
He sees you when you feel unseen.
He is holding you when you feel overwhelmed.
He understands even when you don't understand yourself.
So, meet God in the laundry room today and do the next thing, faithful Mama's.