The Best Busy Mom Planner (Or Why Every Busy Mom Needs a Bullet Journal)
Are you a busy mom? Do you want to get organized but are wondering how to get started? Have you been overwhelmed in your search for planners for moms? I hear you! That is why I have share the best busy mom planner you can possibly find.
Let me give you a glance in my life right now. I have a happy 5 month old who loves to be held by Mom and Mom alone, a talkative 2 year old and increasing stubborn little girl, and a 4 year old little boy who is independent and determined. I am definitely a busy mom of three little ones. I am a mom, wife, blogger, piano teacher, and homemaker.
I love my children and I love being a mom. But here's the reality. Moms have enough on our minds that it is impossible to remember everything we need to remember. This is why we need a planner specifically for moms.
This post may contain affiliate links. As an Amazon Associate, I earn from qualifying purchases. You can read more in

my disclosure policy.




We are busy moms with much to do every minute of every day. We need master lists and schedules to help us stay organized but where do we find a good planner for moms that has everything we need? I understand completely.
I struggled with this same issue for years until I stumbled upon this concept called a bullet journal and gave it a try. I was amazed at how well it worked. My bullet journal honestly changed my life.
A completely customized Bullet Journal is the very best planner a mom can find.
What is a bullet journal?
If you are unfamiliar with bullet journals, it is a completely customized planner that you create page by page. A bullet journal allows you to start with a blank journal and turn it into the planner that you need it to be.
You go page by page. There is no hurry. There are no skipped pages. You make lists. You add calendars. You meal plan. You include budgets and travel itineraries and saving goals and kid milestones. You can include anything and everything in a bullet journal.
What do you include in a bullet journal?
Like I said, you can include anything and everything in a bullet journal. That is the beauty of a bullet journal! There are no more lose pieces of paper floating around because you have a place for everything.
I've been frustrated by planners in the past because there are so many pages that I don't use but not anymore. You only put in your bullet journal the things you need. If I try something and it doesn't work, I don't have to do it again. There are no skipped pages taunting me in my bullet journal!
My bullet journal is where I keep my daily to do lists, my project lists, my lists of clothing sizes for the kids and dozens of other lists that keep me from forgetting everything – all inside ONE planner. You can include:
Daily to do lists
Weekly lists
Monthly goals
Birthdays
Books to read / books read
Movies to see / tv series to watch
Menu plans
House project lists
Clothing size lists
Christmas card lists
Holiday menus
Gift ideas
Monthly budget
Saving goals tracker
Items to buy
Vacation plans
Quotes your kids say
Goals tracker
House cleaning checklists
Passwords
Restaurants to try
Weight loss tracker
Bucket list
Memories
And so much more!
I started my bullet journal two years ago, not sure if it would stick, but as I get ready to start my third journal, I am more in love with it than ever!
And here's the other amazing thing about a bullet journal. Because you set it up yourself, it can be exactly what you need. It's not a one-size fits all generic planner. A bullet journal is a completely customized planner that fits your own busy life.
And it's super cheap. All you need is a blank notebook and a pen, and you can start bullet journaling right away!
How do you start a bullet journal?
You take a deep breath and you just start.
I admit I was overwhelmed when I started my bullet journal. I'm a perfectionist and didn't want to get it wrong. (Any other moms relate to this?) I love the freedom of creating my own customized planner but the freedom can also be overwhelming. It took me a awhile to figure everything out but once I did, I was hooked.
You see many beautiful bullet journals online and it is paralyzing at times. I had to give myself permission to try anything and make mistakes.
As a result, I have a very minimalist bullet journal. I use one black menu and stick to simple headers. I don't draw many doodles and I rarely color. This is what works for me and you can do what works for you!
After bullet journaling awhile, I came across the Brainbook. The Brainbook is the book I wished I had when I started bullet journaling. The Brainbook is the ultimate how to bullet journal guide! Oh, how I wish this had been around when I wanted to start my bullet journal! It would have made my life so much easier.
The Brainbook tells you what supplies to use, how to set up your first pages and gives you pages and pages of ideas for layouts to include in your bullet journal. The Brainbook gives step by step advice on how to set up the perfect bullet journal that is everything you need it to be.
Kalyn Brooke, the Brainbook author, is a master bullet journaller and an excellent teacher. She explains every step of a bullet journal in easy to understand terms and makes it exciting to get started.
Here's the other great thing about this. You can buy the Brainbook for one time cost of $17 – which is way less than most planners. Then, other than a notebook (mine costs less than $10 a year), you are set for life! You can create the perfect planner for not much money out of pocket at all. The frugal mom in me absolutely loves this aspect of bullet journaling!
Want to see inside my bullet journal? Here's how I set up my bullet journal, complete with lots more pictures inside.
What do you need to create your own bullet journal?
Buy a simple spiral notebook. (This is the one I use and I absolutely love it, choosing a cute new color every time.)
Find a good pen around the house or invest in a nice set to use for your bullet journal. (I buy these pens by the box. They are cheap, acid free and very nice to write with.)
Create your own bullet journal that is made by you – for you.
I am mom who absolutely loves my bullet journal and am convinced it is the best planner for moms around.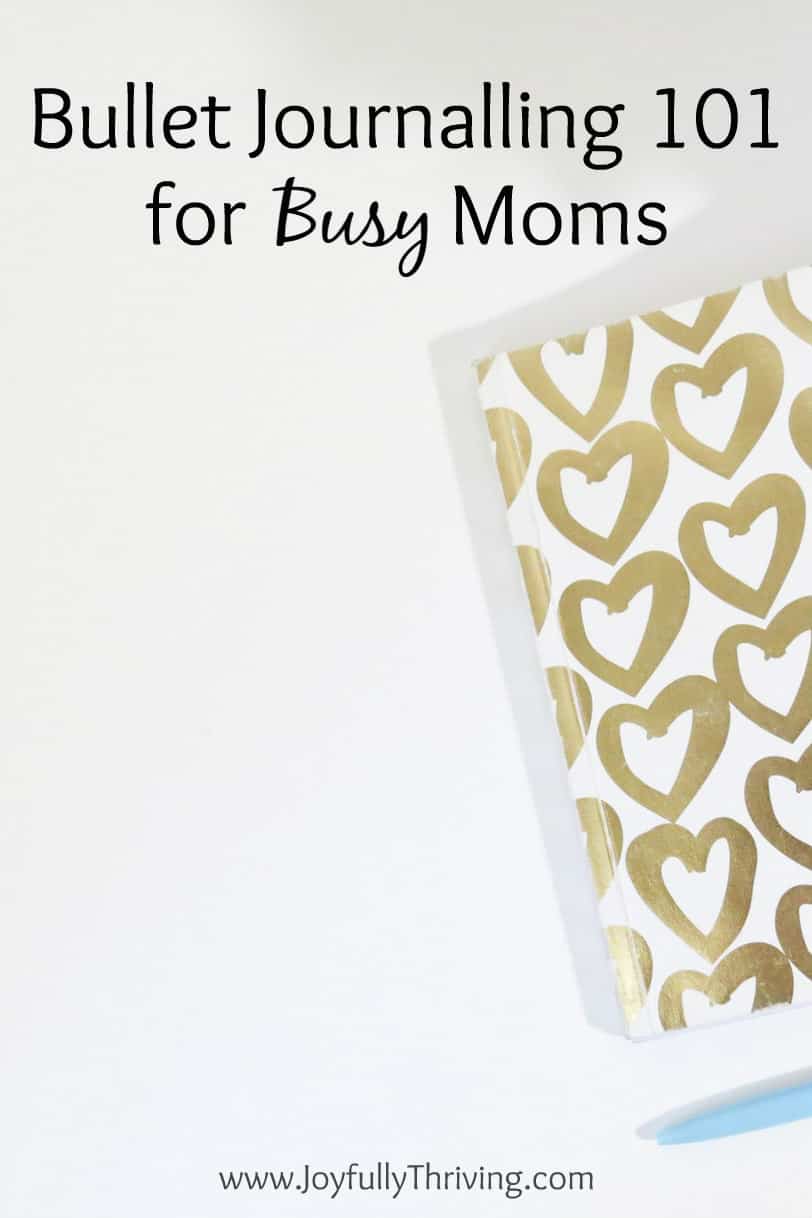 Don't let the fear of setting up a bullet journal hold you back from starting. The Brainbook will quickly eliminate those fears, answer your questions and get you excited about your bullet journal.
If this busy, perfectionistic, not super artistic mom can create a bullet journal that organizes my life, I am confident that you can too!
Now tell me, what would be the best aspect of a bullet journal for you?