A Biblical Version of Oh, the Places You'll Go
Looking for a Christian gift version of Oh, the Places You'll Go? Learn how to add Bible verses to "Oh the Places You'll Go" by Dr. Seuss for a priceless book treasure.
When I was a senior in high school, I received a hardcover copy of Oh, the Places You'll Go by Dr. Seuss. It's a classic, and one that I think many graduates receive. However, in all the years of reading this book, I haven't read any quite like mine. Why, you ask? It's simple. My copy of the book has Bible verses that correspond to the story handwritten on every page to create a Biblical version of Oh, the Places You'll Go.
My gift was from Steve and Anita Mueller. Years ago, they were members at our church in San Antonio. I remember going over to their house during late church, so we could play while my Pastor Dad preached and my organist Mom played for another service. Eventually, the Muellers moved away but we kept in touch enough that Mom and Dad wanted me to send them a graduation announcement. When I received this book from them, I was touched to see Anita's beautiful calligraphy on every page of this story – from the inside cover to the very end.
This post may contain affiliate links. As an Amazon Associate, I earn from qualifying purchases. You can read more in

my disclosure policy.




The Bible verses correspond perfectly to the text. On every page, incorporated into the pictures, I discovered Bible verses such as this.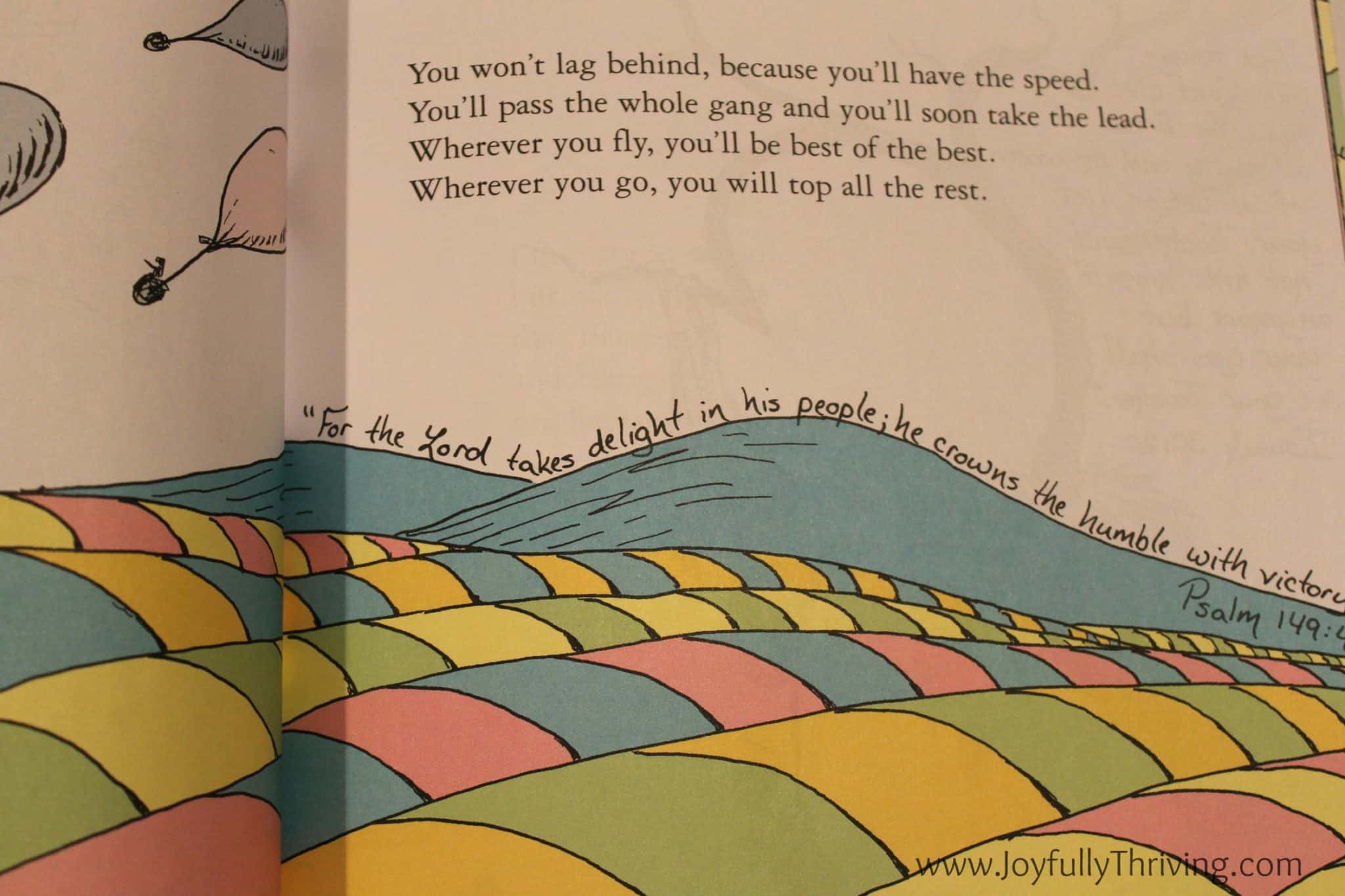 Or hidden between waiting people like this.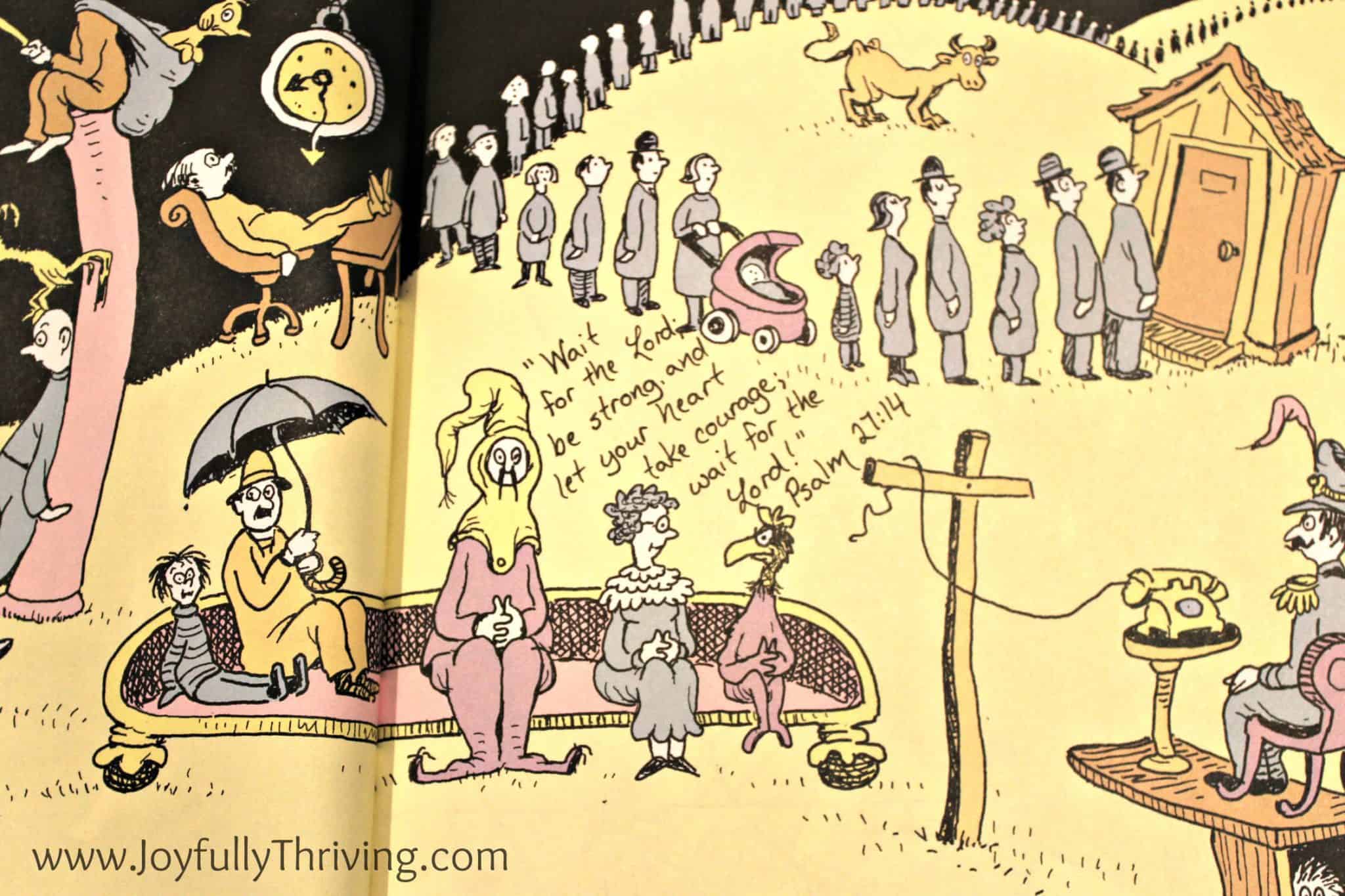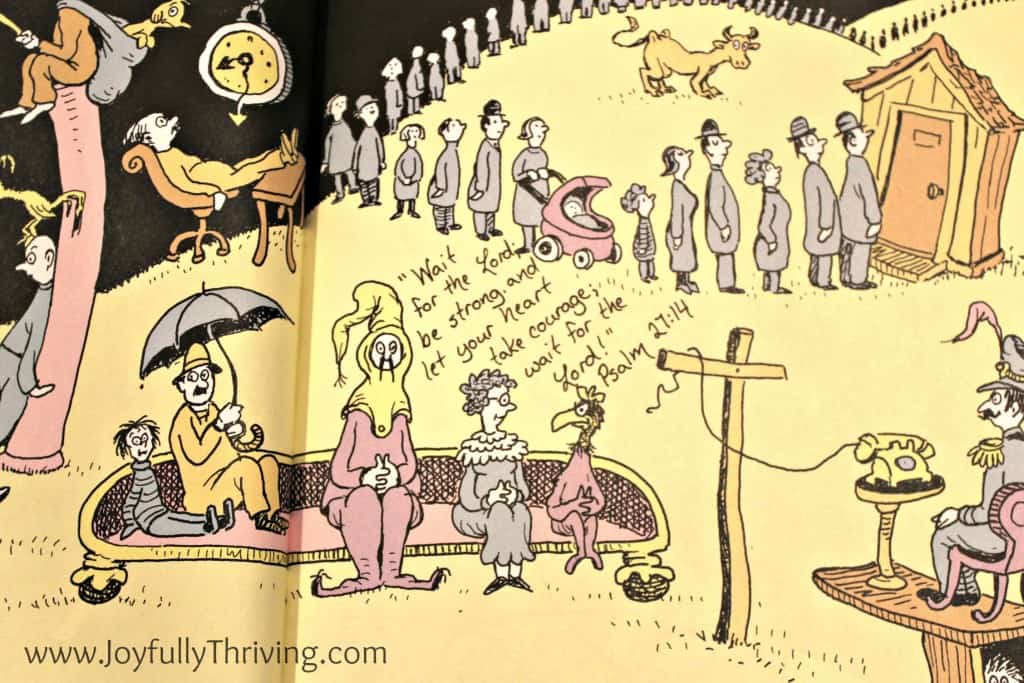 What amazed me about this gift is the thought and the time that was put into this gift.
Oh, the Places You'll Go is a great book for graduates, but the addition of matching Bible verses makes this a perfect book for Christian graduates.
I have read this book to my students at the end of the year. I, myself, have created this gift for graduates because I cannot think of a more touching graduation gift. In fact, I just made this book for some of my first Kindergarten students who graduate from eighth grade this week.
When I have shared this book with others, they always express amazement at the idea. I don't know where Anita got this idea, but I know that I have yet to see it anywhere else. For that reason, I am sharing this Biblical version of Oh, the Places You'll Go with you today.
I changed and adapted some of the verses from what were originally in my book, but each Bible verse compliments the story perfectly. Most of the Bible verses are in English Standard Version (ESV) with one or two in New International Version (NIV) when the wording fits better. You could certainly use a different version, if you prefer.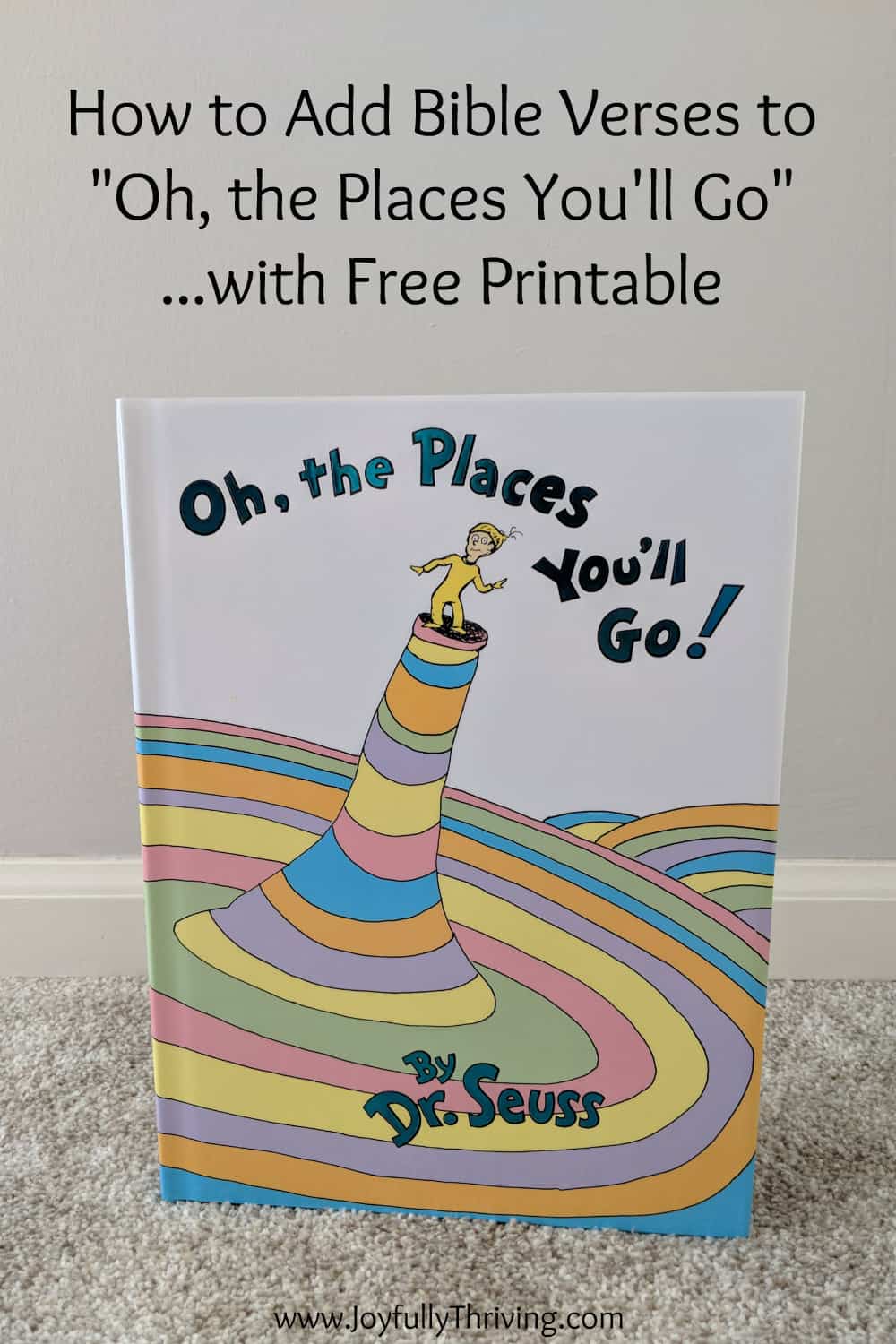 I typed a list of all the verses, as well as the beginning words for each page. There is generally one Bible verse for each open set of two pages. Does that make sense? You can write the verse on either of the pages. I think it looks nicest when the verses are incorporated into the pictures, as I showed in some of the above images.
I recommend you use an acid-free pen like this one, much like you would use for scrapbooking. These acid-free pens are the ones I use, and they are quite reasonably priced too. This ensures your Bible verses will not fade on the pages. Anita created my book in a simple calligraphy. All the above pictures are of books that I have created. As you can see, I just use a simple (and neat) manuscript handwriting.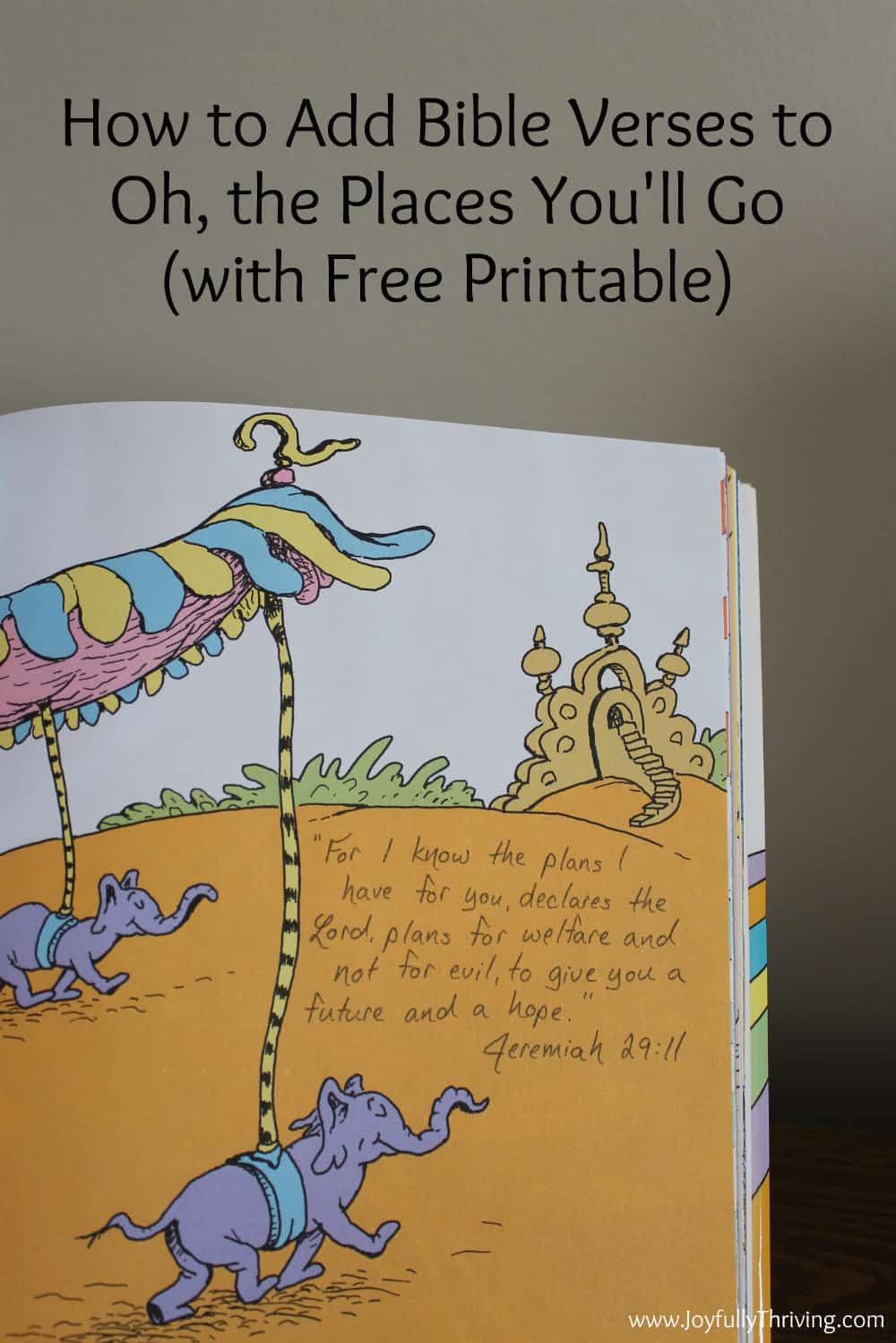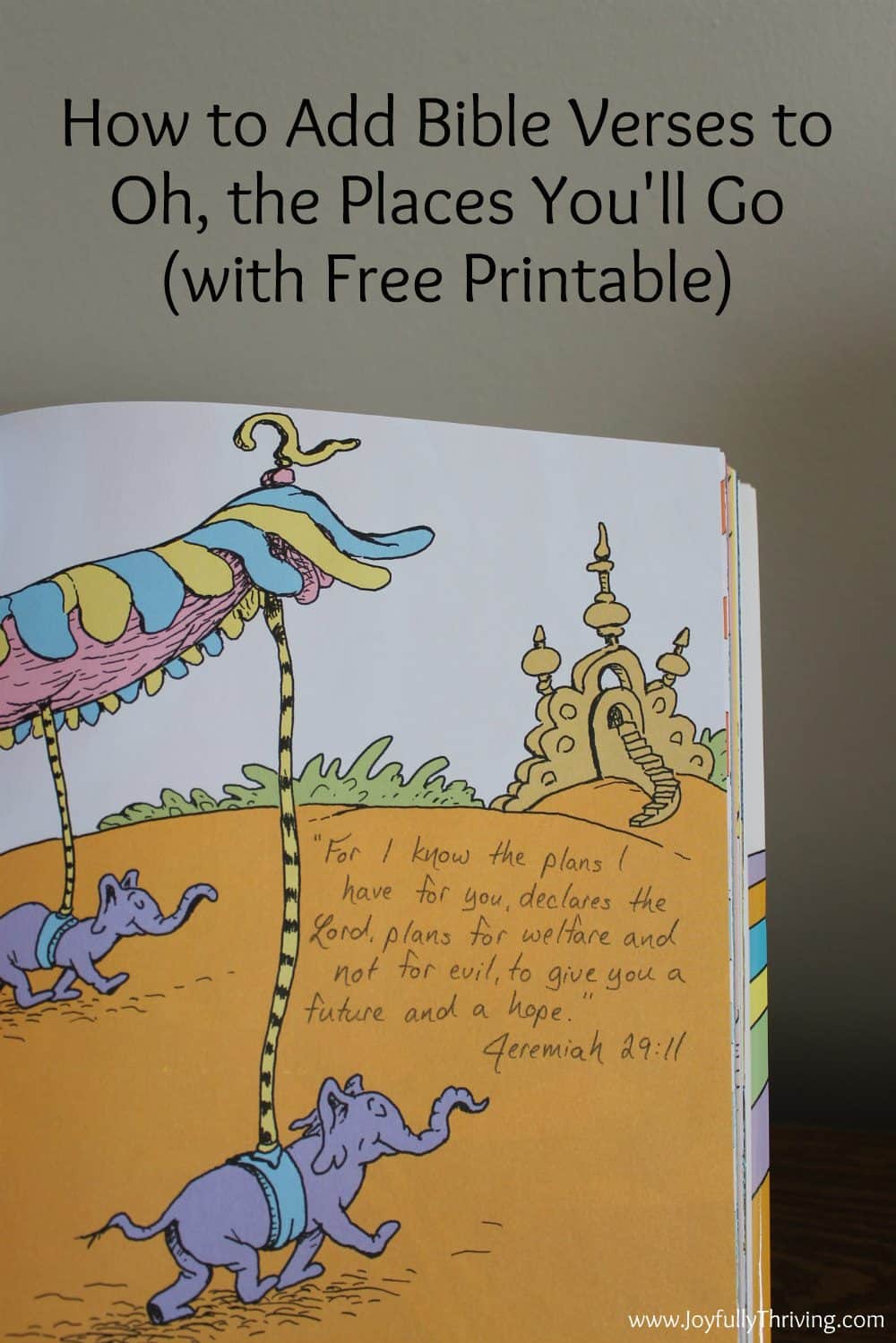 Feel free to print and use this pdf file of all the Bible verses (link in sign up box below) to create your own special Biblical version of Oh, the Places You'll Go! If you use different Bible verses, I'd love to hear which ones you use! I pray that this gift will be a blessing to many – just as it was to me.
You can also purchase an updated pdf file of all the Bible verses – with pictures – to show you exactly where I write each verse on the page. If you want the extra guidance of exactly where and how to write the verses, this download is for you. You can purchase this download for $7 here.
If you wish to order a custom made book with the verses already written in the book, you can order one (or more) in my Etsy shop.
More information on this custom book is also found here.