Alaska Cruise Tips – 21 Things I Wish I Knew Before My First Alaskan Cruise
My husband and I recently returned from a wonderful cruise to Alaska. We took the trip (without our three kids) to celebrate our 10th anniversary. We thoroughly enjoyed our first cruise – especially since it was to Alaska with lots to see and history to discover. Having never cruised before, we read a lot of Alaska cruise tips for months before we traveled. 
You see, we had been saving since our wedding for a big trip like this. (Alaska was one of our 15 savings accounts and a great way to save for a special event like this.) We researched a lot online before we booked our cruise, and researched even more Alaska cruise tips before we actually left. We felt pretty well prepared but there were still some things that we had to learn on the ship. There were actually several times we looked at each other and commented how we wished we had known that. This is how this list of Alaska cruise tips began.
I'm sharing this list of Alaska cruise tips to help others who are getting ready for their Alaskan cruise! Some of these tips may apply to all cruises and some are specific to Alaskan cruises. Either way, I hope it helps someone else get ready to cruise.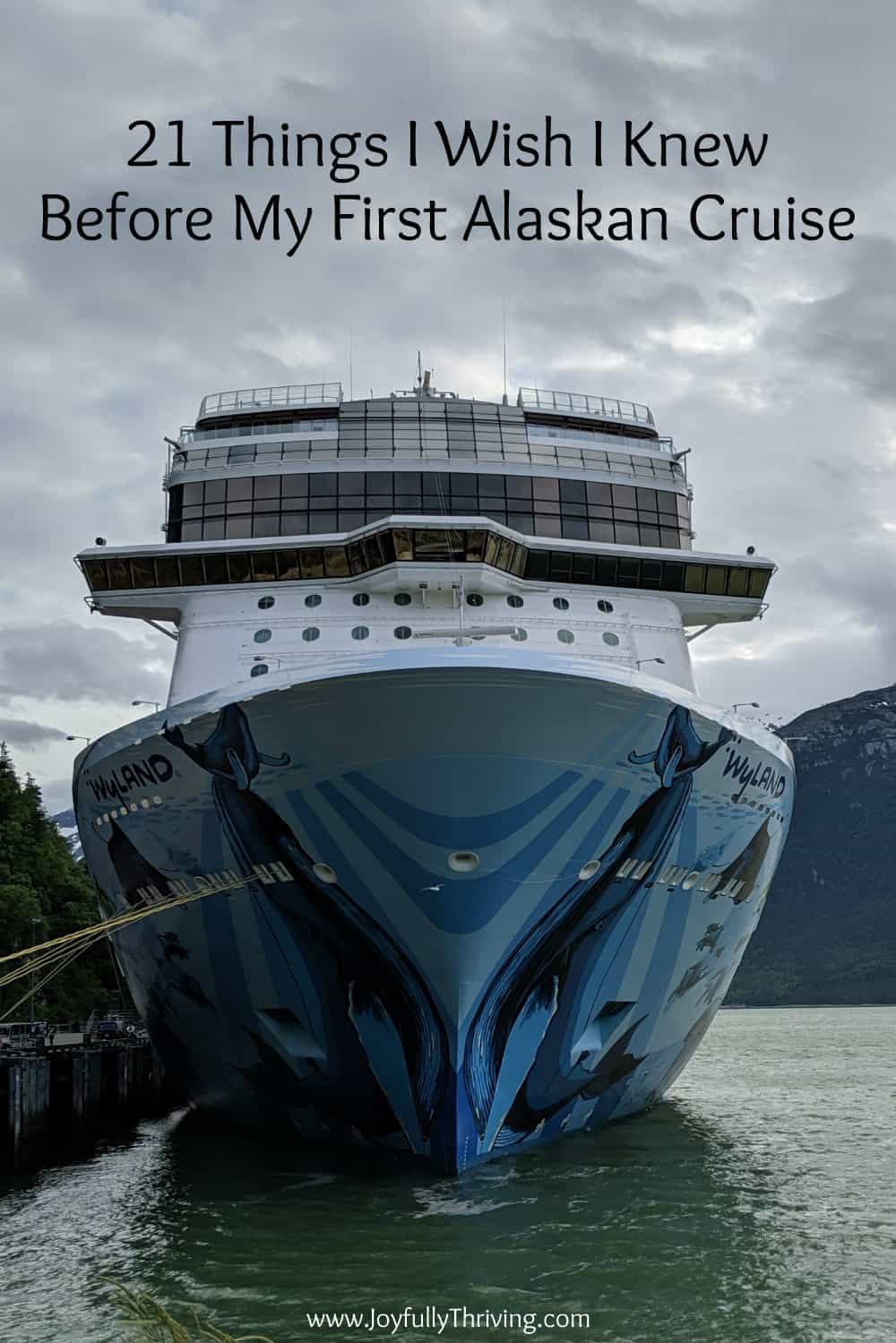 Here are my most important Alaska cruise tips. Otherwise entitled, 21 things I wish I knew before my first Alaskan cruise.
This post may contain affiliate links. You can read more in my disclosure policy. 
1. The ship will seem overwhelming at first but you will figure it out. 
When we first walked onto our ship (the Norwegian Bliss), Andy and I were both overwhelmed. We expected more information than we received. We got a map of the ship at check in and the staff welcomed us aboard, but that was it. It took us a couple days of wandering around but we learned the ins and outs of the ship faster than we anticipated. Just plan to be overwhelmed at first and give yourself time to figure it out.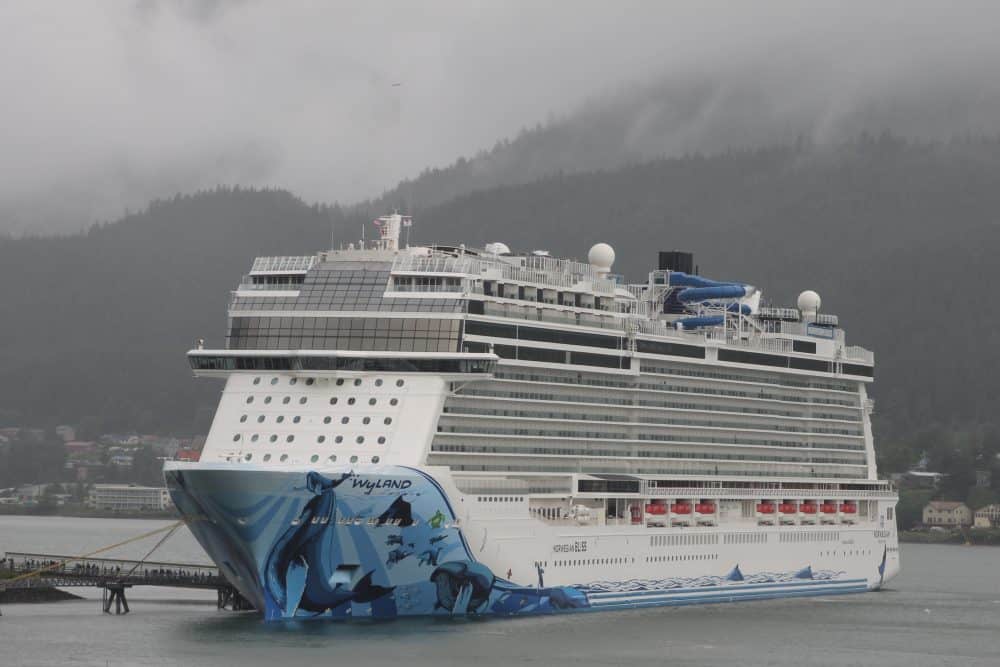 2. Inside staterooms are a good deal.
We booked a guaranteed inside stateroom (with the possibility of an upgrade) to get the best deal. Not only did we save money, but we found our room was very comfortable and well designed for two people. There was space for our suitcases under our very comfortable bed, as well as a closet with shelves and a decent sized bathroom. It did not feel cramped at all. The other upside to an inside stateroom is that you don't have windows. Since the sun sets so late and rises so early (around 4 am in the summer in Alaska), our inside stateroom was always nice and dark to sleep. We were very thankful for that.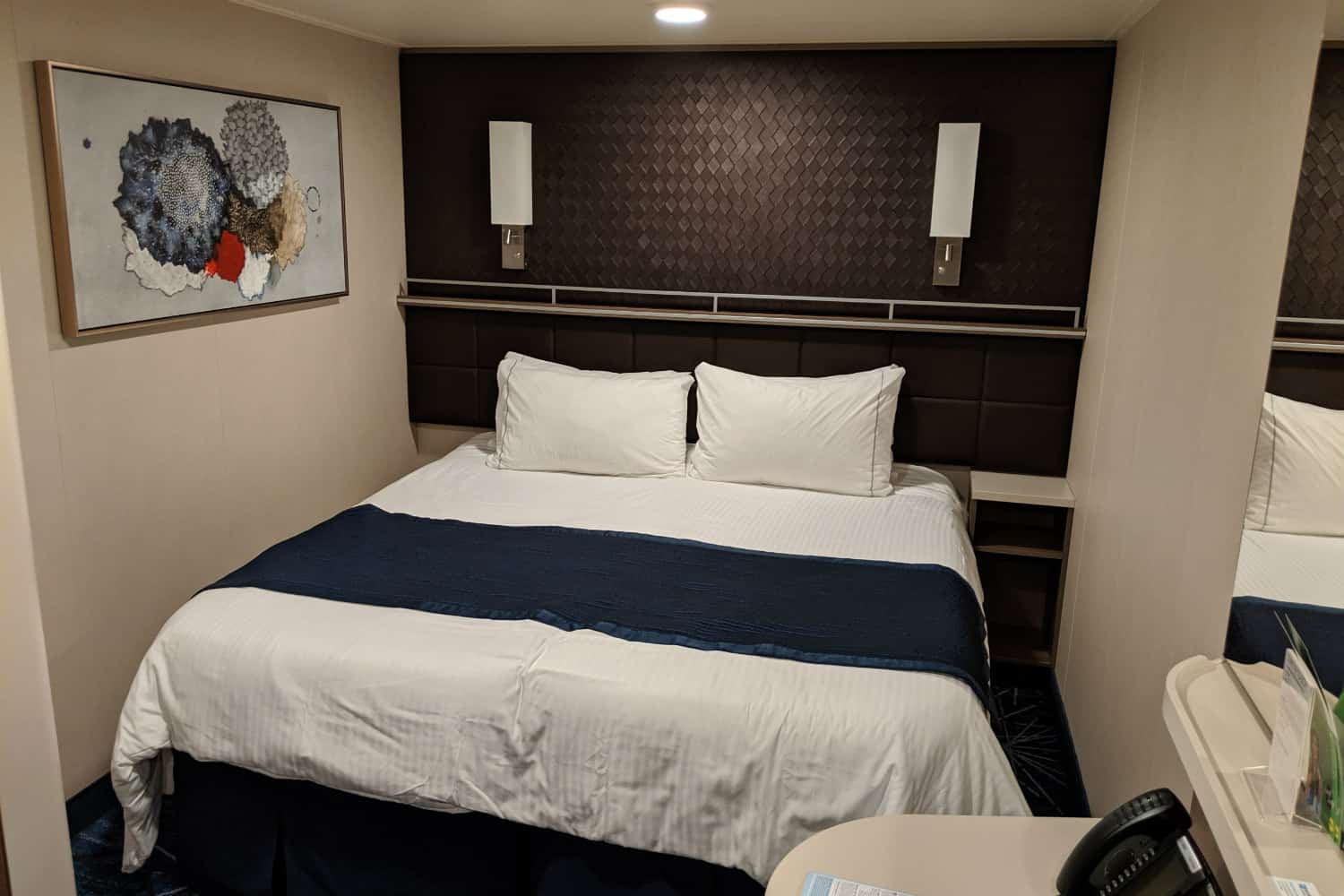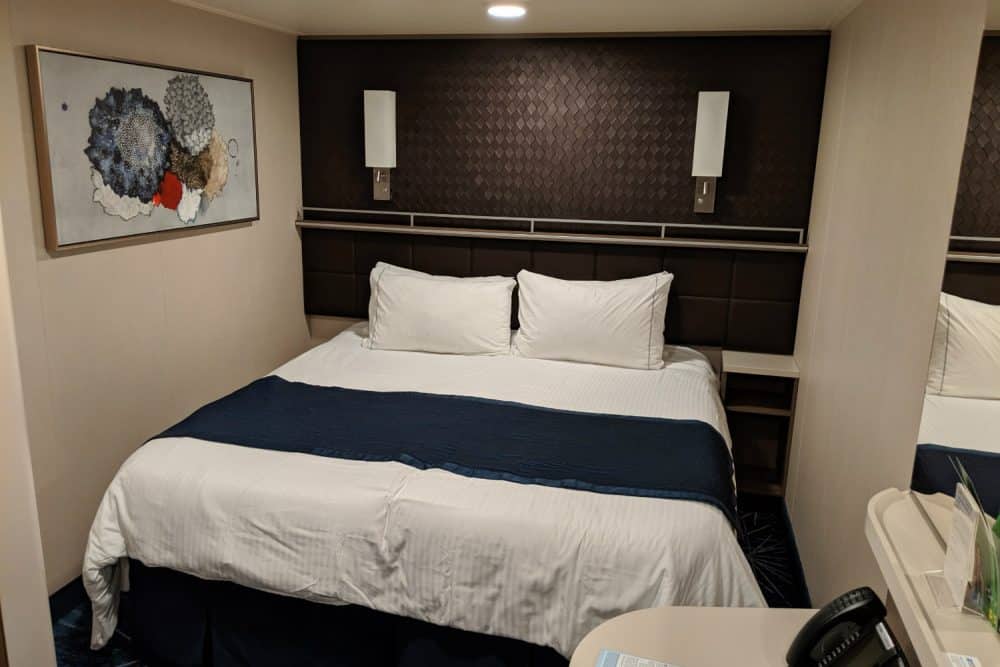 3. Your cruise card is everything and links to your tv.
When you board the ship, you will be printed a credit card sized cruise card for your trip. Your card is how you access and pay for everything on the cruise. Do not lose it! You need it to check into all the restaurants (even the free ones), to open your room (obviously), to turn on your room lights, and to pay for anything you purchase on the ship. Your card will allow you to use any free or purchased credits you have for your cruise. After that, it is linked to your credit card so you don't have to carry a wallet around the ship. On our Norwegian cruise, the rooms had a Smart TV where we could see a running summary of charges, activities and credits.
4. You don't need a lanyard for your cruise card.
I saw the advice to buy a cruise lanyard (like this one) for your card so many times when researching for our cruise. We decided not to buy one and I'm glad we didn't. Honestly? Less than 15 percent of people on our cruise used a lanyard. You do need to have your card with you at all times but it is very easy to put the card in your pocket. It is also much less noticeable. If you are a girl and don't have pockets in your outfit, just give your card to your spouse or carry the card with your book. I would not recommend buying a lanyard unless you really want to wear a necklace with your card the entire trip. I would possibly recommend it for grandparents who are cruising. Otherwise, I think you will be fine.
5. You don't need a power strip or water bottle.
These were two more items I saw regularly recommended for purchase. We did not purchase a power strip and managed just fine with the 3 outlets in our room. None of the outlets were in the bathroom but they were by a large mirror in our room. We had two phones (which we used for pictures), two Fitbits and a Kindle to charge, plus my hair straightener. I never wished for more outlets. If you do think you will nee more outlets, make sure you purchase a cruise-approved outlet since it can not be a surge protected one.
A water bottle was mentioned as an important purchase and I did purchase one. However, I did not really use my water bottle on the cruise. You can take your glasses out of any dining room on the ship and it was easy to stop by the buffet for a drink anytime we needed one. Even when we were off the ship, I did not take nor did I need my water bottle. If you have strenuous hiking excursions planned, perhaps you want a water bottle. Otherwise, save the space and money from skipping this purchase too.
6. Pack Dramamine – just in case. 
Walmart has a generic box of motion sickness pills for less than $2. It is worth the money to pick up a box, just in case! We definitely noticed the motion of the ship, even though we had a relatively calm trip. There was one night the waves got higher than usual and I ended up taking one pill before bed. It is a cheap $2 insurance policy and a useful thing to pack, but you are not out much if you don't need it.
7. Check your cell phone coverage before you go.
It is important to know what your cell plan covers before you leave. Most cell phone plans include Alaska so you can use your phone as normal when in port and on land. When you are cruising, be sure to set your phone to airplane mode so you do not occur roaming charges. My husband debated on the internet package but we saved our money and touched base with the kids when we were on land, every day or two. It was nice to disconnect for awhile.
8. Print brochures ahead of time.
Wanting to make the most of our time in port, I researched every port city before we left. I printed any important directions or brochures before we left and put them in our cruise binder. Many cities have brochures available online and I printed those off. Skagway and Ketchikan had walking tours that I printed off. My husband printed maps of the cities so we knew how to get around once we docked. We also noted where all the visitor center locations were so we could pick up print copies of the brochures. In a couple cases, they were out of the walking tour brochures and other things we wanted. It was very useful to have our print copies from the moment we got off the ship. 
9. Be prepared for 30 to 90 degrees on your cruise, sun and rain.
Alaska is very unpredictable. We actually had beautiful weather on our mid-June cruise, which we are told is unusual. We had one rainy day in Juneau and a couple foggy hours at sea. Otherwise, we had sunshine and beautiful days to see Alaska. To be prepared, I packed 4 different coats – a tee-shirt type light jacket, a fall weather jacket, my heavy winter down coat and a wool shawl wrap. I wore every coat I packed.
We discovered that the coldest times were at sea with the wind coming off the water. When we were on land, I went without a jacket sometimes. My husband wore shorts a couple days. I wore jeans or leggings. It is difficult to know exactly what to wear so pack an assortment of clothes, plus various jackets, and you will be fine. We also packed our umbrellas and needed them in Juneau!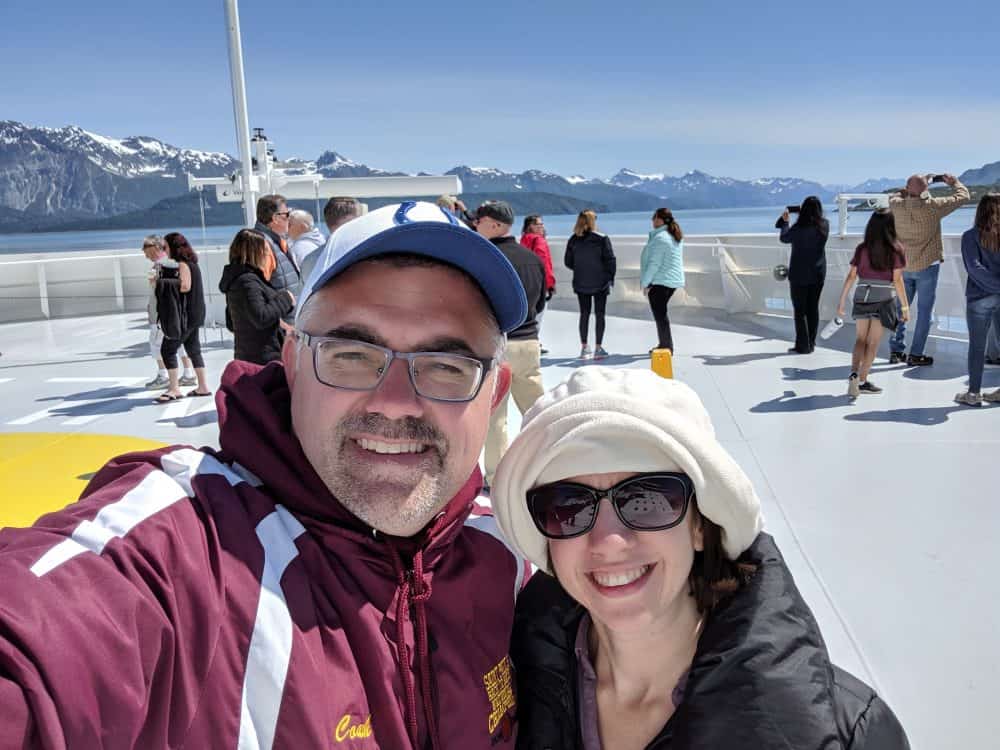 10. Elevators will get crowded. Be ready to take the stairs.
With thousands of people on a cruise ship, there are many times the elevators will be crowded. Plan on taking the stairs and you won't have to wait for elevators. It also helps you burn off calories from the delicious food you will be eating!
11. You will walk a lot – on and off the ship.
I am a walker but I was surprised by how much we walked on our cruise. Our highest walking day was 30,000 steps in Skagway – and that was after we sat on a train for 3 hours in the morning! Even when we were on the ship all day, I easily hit 10,000 steps without ever stepping foot in the exercise room.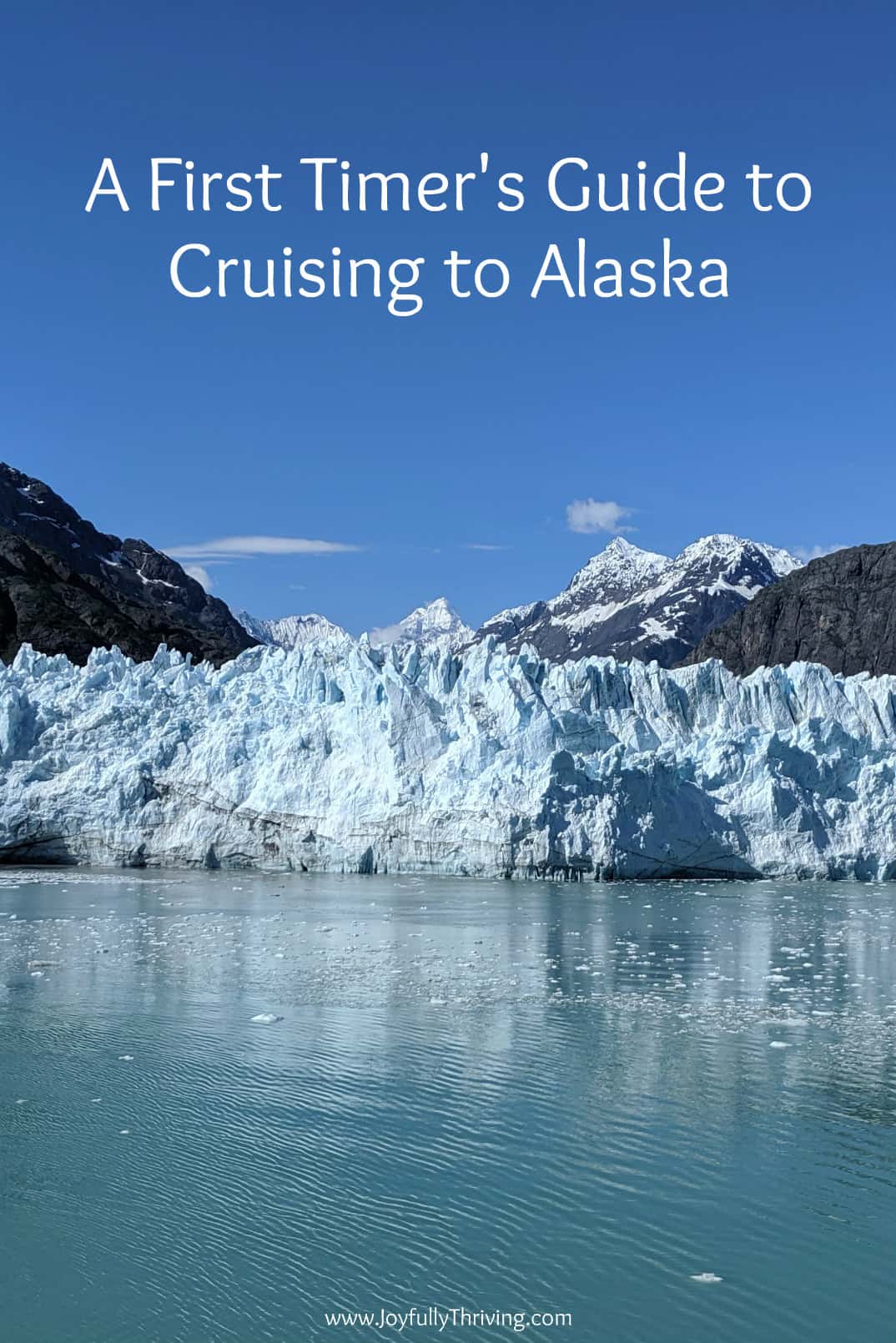 12. The dress attire on Alaskan cruises is pretty casual. 
We read much on this topic before we boarded our cruise. Knowing that we needed various coats for Alaska, we didn't really want to waste room on formal clothes. I wore nice slacks and a dressy top one evening, and Andy changed into dress slacks and a polo that night too. That was as dressy as we got and we never felt out of place. We saw only a handful of people dress in formal attire at night. Most were dressed in jeans and leggings and nice tops. Alaska cruise attire on the Norwegian really was cruise casual.
13. Sign up early for shows and ship activities.
We were assigned a boarding time of 11 am for our cruise. Somehow, we were some of the first on the ship and the very first ones at the sign up desk for activities. Before you get on board, make sure you know what activities you plan on doing. We knew we needed to sign up for Andy to ride the go karts on our ship. Because we were the first ones there, we had our pick of times.
We had signed up online to see Jersey Boys but because we waited until just a couple weeks before our cruise, the only spots left were at at 10:30 pm show. We signed up, but then learned we could line up as stand by for the 7:30 show and easily got in. It was an excellent show and worth the wait! Still. Lesson learned. Sign up for whatever you can online as soon as you book your tickets. Then, make your first stop once you board, to sign up for any other activities or dining experiences you want.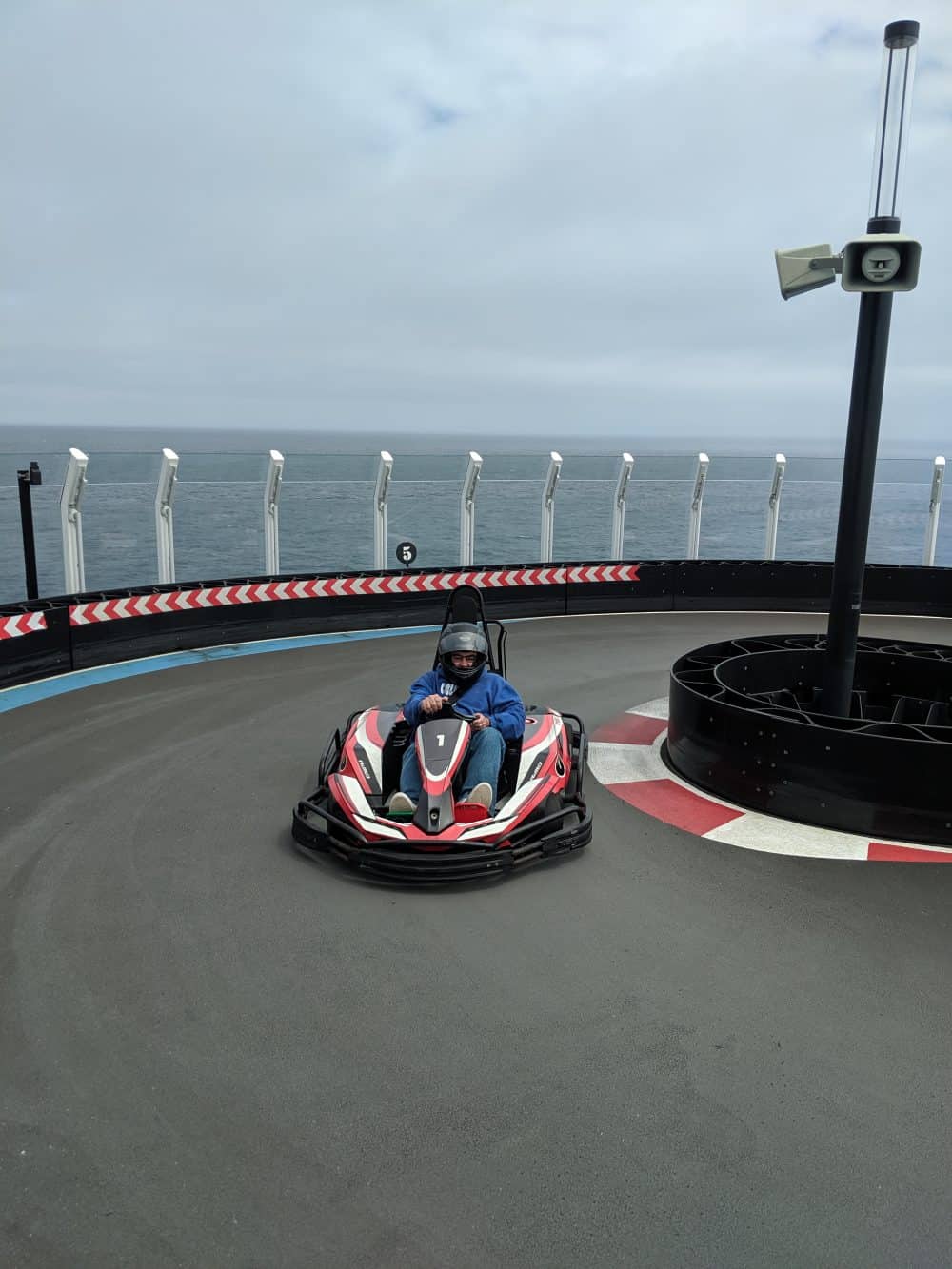 14. Get up early for the best seats and views.
One of the most popular spots on the Norwegian Bliss was an Observation Gallery at the front of the ship. It had floor to ceiling windows for amazing views. There were also comfortable lounge chairs to relax and watch the scenery float by. As you can imagine, this spot was very popular!
On one at sea day, we were up early after breakfast and managed to snag two lounge chairs, where we spent the morning relaxing and reading. It was amazing! You certainly don't want to hog seats or save them empty for hours (as some people did) but if you are up early, you will have the most choices of best seats to enjoy the beautiful Alaskan views.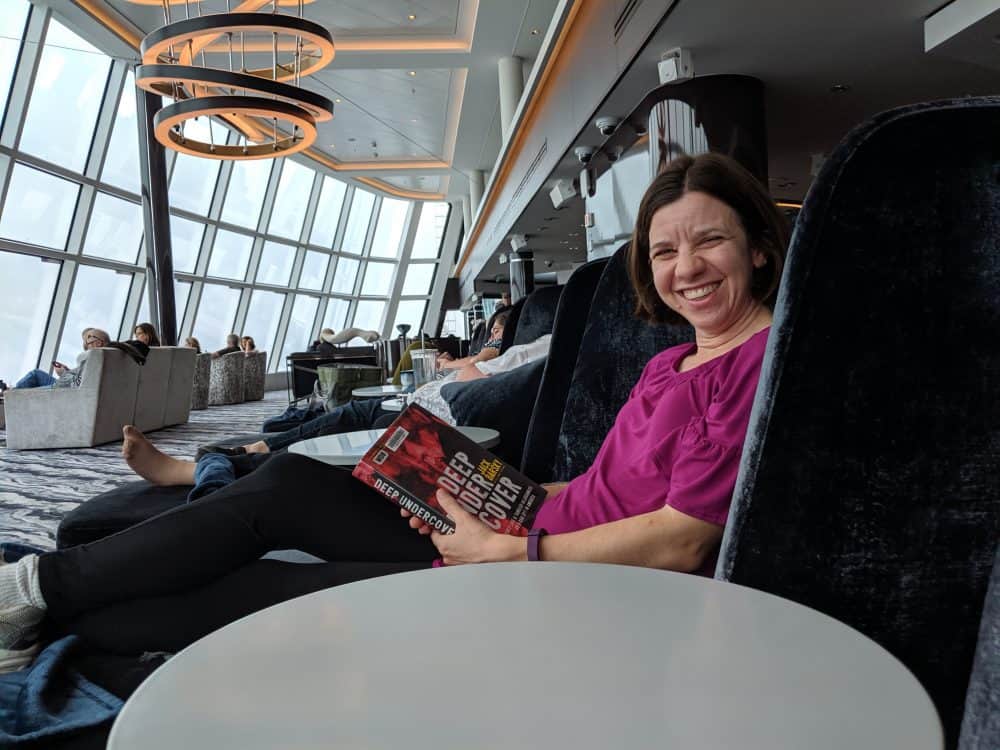 If all the areas seem crowded, keep exploring the ship! Some spots will get more crowded than others. Keep looking around. Our third day, we discovered a bar that was completely deserted in the morning. We were able to enjoy the peace and quiet and even spotted several whales that morning! We moved seats almost every day as we preferred the quieter areas. It is completely possible. Just keep exploring the ship and you can always find some good seats!
15. The time change will throw you for a loop.
When you cruise to Alaska, you will have to change time zones. Not only will you change from your time zone, but parts of Alaska are another time zone over from the United States. Traveling from Indiana (Eastern time), we had a 3 or 4 time hour difference for the cruise. It wasn't terrible but it did throw us for a bit of a loop. Since it was just my husband and myself traveling, we decided to embrace it and keep an earlier cruise schedule. We were always up by 6 or 7 (Alaska time) and went to bed by 10:30. Granted, that was still late in Indiana but not nearly as late as some people kept. Whatever schedule you decide to keep, just be aware that the time change will take a bit of adjusting to during your cruise. 
16. Eat early for best views and service.
Since we were used to Eastern time, we kept that schedule and were usually the first to lunch and dinner. It meant we had the choice of seats and almost always early enough to be seated by a window. If you want great views as you dine, consider eating early. We had good views and good service without having to deal with crowds.
Also, we decided the buffet was a great option for breakfast while we preferred to eat at the sit down restaurants for lunch and dinner. Breakfast was never crowded at the buffet and they had good food options. I loved their cinnamon raisin French toast while my husband liked the Belgian waffles. We both enjoyed the bacon! Lunch and dinner were crowded at the buffet and it was more relaxing to sit at our own table and have food brought to us. If you do eat the buffet, be sure to find an empty table first and then go get your food. It's much easier than wandering around with full plates.
17. There is plenty to eat without paying for extra dining.
Every cruise ship will be different but the Norwegian cruise line had 5 restaurants included in our dining plan. After that, we could pay extra to eat at another 15 (or more) restaurants. Frugal travelers that we are, we decided to forgo the extra dining and save money. There were plenty of food choices at the included restaurants! The menu at the main restaurants changed daily with some items staying the same.
We did have some free credits that we had received so we tried one of the restaurants (Q – Texas Barbeque) the last night. It wasn't that great. Nothing special that made us wish we had paid more money for specialty dining. In fact, it just made us more glad that we had saved on our money in this area.
18. Be prepared to share port cities with 2-4 other cruises.
We knew there would be other ships in all our ports but didn't realize the impact until we docked. The ships arrival and departure times are staggered but you will see other cruise ships along your route. We noticed it most in Skagway which is a town of 800 people year round. On our cruise day? There were 12,000 people in town. Amazingly, it never felt overwhelming but it is something else I wish I had known.
19. Skagway has the most and best excursion options.
Hands down, Skagway was our favorite stop! We spent 14 hours in Skagway and made the most of them all. We started our day with a 3 hour train ride on the White Pass and Yukon railroad. It was our most expensive excursion but I am so glad we did it. It was fascinating to learn Gold Rush history as we traveled the same route so many of those people did.
After a very enjoyable train trip, we spent the rest of the day wandering around Skagway. The National Parks Service has a great (free!) museum with lots of information about the Gold Rush. We also took a free walking tour with one of their rangers. We enjoyed lunch at Skagway Brewing Company, which was worth the wait. Their Spruce Tip beer was a unique blend!
Later on, we did a short hike to Yukutania Point (beautiful water views) and a much longer than expected hike to see the old Gold Rush cemetery (I would skip this one if I had to do it again). This was also our favorite town for shops, although sadly, by the time we went back to buy something at the Christmas shop, it was closed. We learned so much about the Gold Rush during out stop in Skagway and it only made us want to learn more. Make the most of your time in Skagway. You'll be glad you did!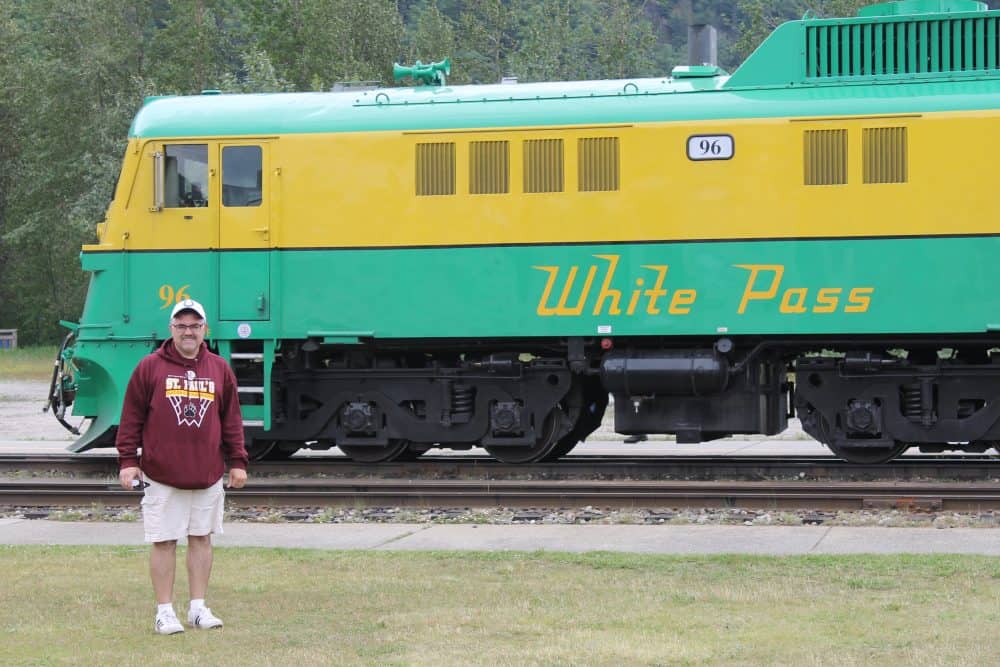 20. If you have a port in Ketchikan, book an excursion.
Ketchikan was our shortest port day, and it was our least favorite. It had a very touristy feel that we didn't really care for. We did not book an excursion in Ketchikan (to save money). If we did it again, we would book an excursion in Ketchikan to give us something to enjoy. We did enjoy walking around the town but easily saw all there was to see in under 5 hours. We were back on the ship early – in time for lunch.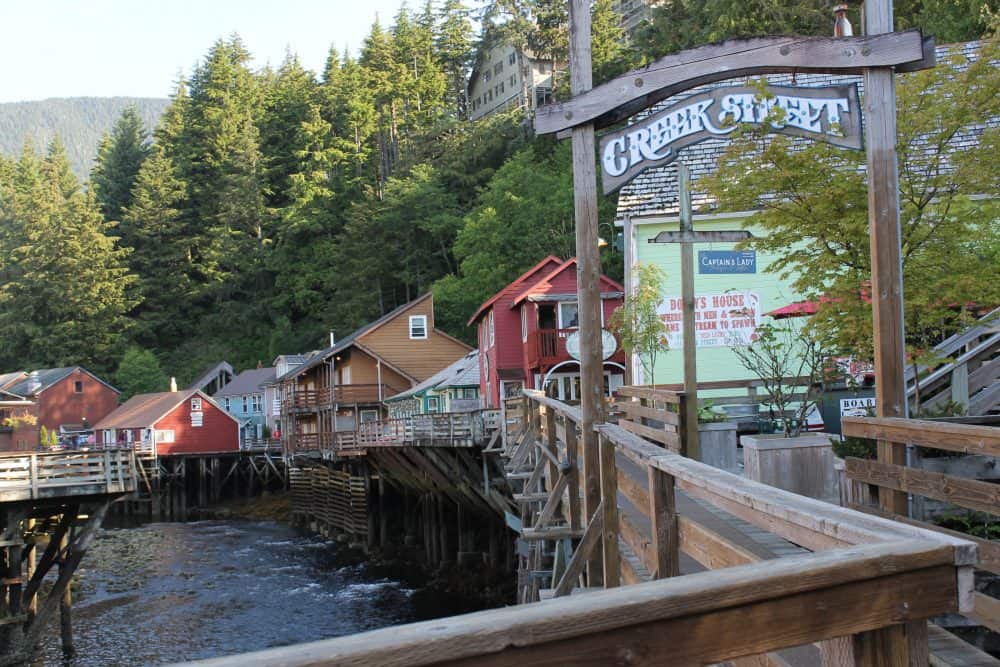 21. You can cruise on a budget and have a marvelous time!
While an Alaskan cruise is not cheap, it does not have to be incredibly expensive either. We were able to cruise for a week to Alaska (flights, hotel, airport parking, cruise tickets, food, excursions and everything) for right at $5000 for 2 people.
My best two tips for saving money on your Alaskan cruise?
First, book your cruise through Rakuten.
Rakuten is a free online program that earns you cash back. When we went to book our cruise, I noticed that Norwegian's prices on their website were exactly the same as at Priceline. I started at Rakuten and booked through Priceline – and earned $177 cash back, simple as that, just for taking 5 minutes to research and one extra click. Plus, Priceline gave us a free $200 in cruise credit which Norwegian wasn't offering. Both were great perks! You can sign up for Rakuten here. (I use it for all my online shopping and baking hundreds of dollars back every year. More about how I use Rakuten to make money shopping online here.) This tip may not work for all the cruises but it is definitely worth comparing prices to see if it works for you too!
Second, if you are flying to get to your cruise, consider signing up for an airline credit card. 
I am a firm believer in not carrying debt and only use credit cards if I can pay them off each month. That said, United (one of the most popular Seattle airlines if you are cruising to Alaska) has a great credit card program! They offer a $0 fee for the first year (and it is easy to cancel the credit card after your flight, if you so choose). Plus, it gives you free baggage fees – which at $30+ per bag, per flight – saved us $120. In addition to that, it gave us two free United club passes where we were able to pass an enjoyable 2 hours in the Seattle airport, enjoying complimentary snacks, beer and wine as we waited for our flight home. That was another $100 plus value. Our credit card also gave us a free upgrade on our flight out up to business class – another $100 value without paying any extra.
But the best perk of the United credit card? When we spent $2000 in the first 3 months of opening our account, we earned a bonus 40,000 miles to our United account! We simply booked our flights on the credit card and the remaining cruise balance and quickly met that amount for our free miles. These miles don't expire and translate to at least one free flight – depending on where you are flying. With perks and savings like this, it made signing up for the United credit card a no brainer and a great source of savings. I highly recommend looking into the United credit card (or a similar airline credit card).
You can sign up for the United credit card (with the bonus 40,000 mile offer) here. 
To learn more about saving money on your cruise, check out exactly how we did it with this post – 10 Simple Ways to Save Money on a Cruise. 
I hope these tips help you enjoy your Alaskan cruise! If you have any questions, feel free to ask in the comments and I will do my best to help!
Have you ever been on a cruise – to Alaska or elsewhere? If so, what tips would you add to this list?