My Favorite Things List – Free Printable Gift Ideas for Teachers
17 years ago this August, I began my teaching career. I will always remember my first class of Kindergarteners at St. Mark's Lutheran School in Milford, Ohio. It was a small class, but they were so precious! The children and their parents made me feel so welcome. It wasn't usually the big gestures but it was the small ones I remember most.
I remember a mom taking the time to ask me what kind of soda I liked and bringing me a drink at the beginning of my afternoon session. I remember homemade goodies appearing on my desk more than once. And I still have the handwritten notes of appreciation from parents and the pictures from my students. Little things mean so much.
This post may contain affiliate links. As an Amazon Associate, I earn from qualifying purchases. You can read more in

my disclosure policy.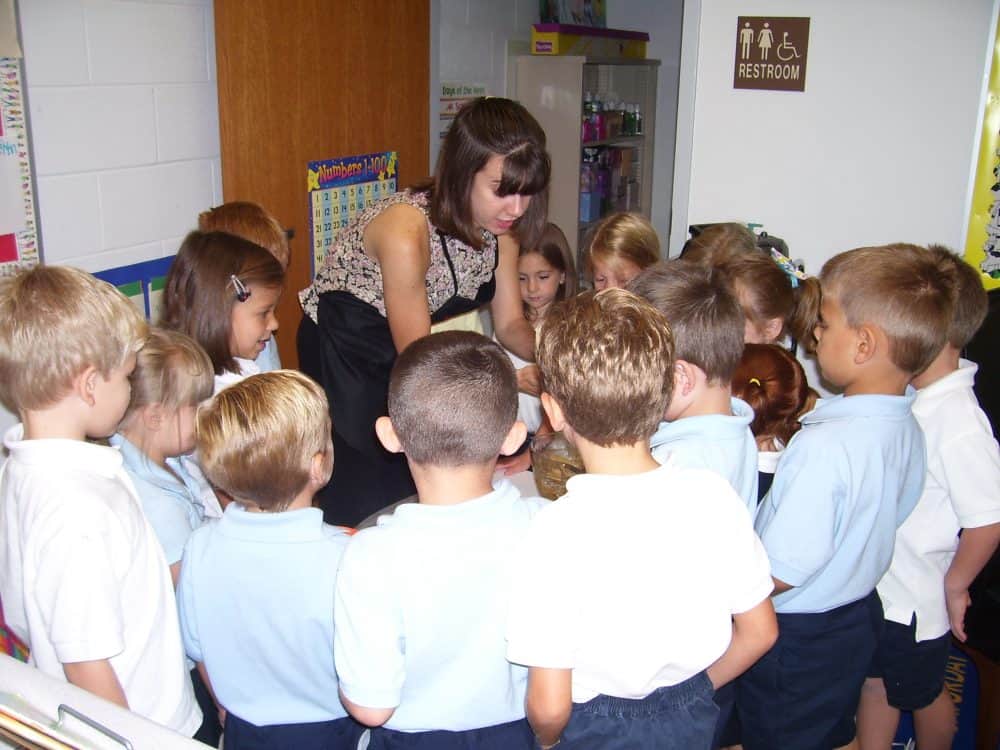 I haven't been in the classroom for 7 years now. I loved my decade in the classroom but now, I love my role as a stay-at-home mom. It's a little different this year since my second born is heading off to Kindergarten. My role is truly reversed. I'm no longer the Kindergarten teacher but the mom sending my child off to Kindergarten. How did this day get here so quickly?
Now that I am on the other side of the classroom door, I want to be a mom who takes the time to show my appreciation for teachers – all year long! For this reason, I came up with a simple note to give to the kid's teachers.
I'm calling it "My Favorite Things List".
The idea is simple.
Print this one page survey. Then, give this list to your child's teacher before the school year begins. The teacher fills it out and returns it to you.
Use this favorite things list to shape your gift giving throughout the year.
There are lots of simple things and bigger things on the list. I tried to include things that would give me gift card ideas as well as things I could make or bake for the teachers. I like to bake but many of these things can be purchased.
What busy teacher wouldn't love suddenly being surprised with her favorite meal? Or a gift card to her favorite restaurant? Saving her a night of cooking after a long day teaching our kids is a great way to show appreciation.
Of course, a surprise chocolate bar or healthy treat some day delivered to school also means a lot.
You don't have to spend a lot of money to show your appreciation to your child's teacher.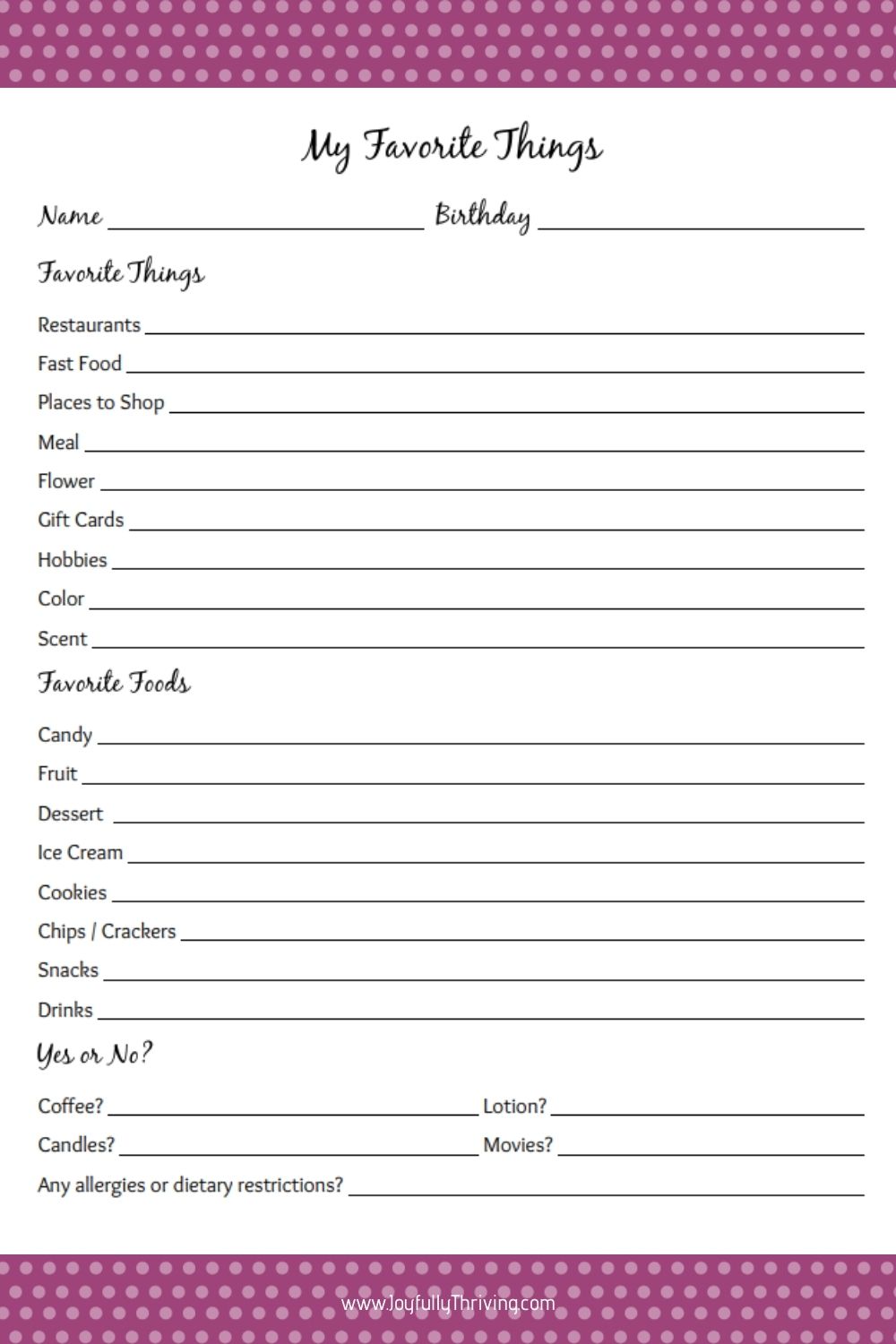 I also included a yes or no section because often people assume all teachers drink coffee. Many do, but I didn't – nor does my teacher husband. I never minded candles but I received so much scented lotion I could never use it all. I included movie theaters because not everyone is a movie theater person, so it might be nice to ask that. Of course, allergies are always helpful to know too.
If one mom asks the teacher to complete this list, it might also be a nice thing to share with other moms from the class, especially if they are looking for teacher gift ideas. Maybe a good idea for a room mom?
The other nice thing about this my favorite things printable is that it really could be used for anyone! You could use it for a coworker at your office or staff person at church. You could use it for a favorite babysitter or even a friend when you need gift ideas. You could even use this among all the siblings and siblings-in-law before Christmas to gain some new gift ideas. The options really are limitless!
I kept the list general and created as a black and white pdf file so anyone can quickly use it. Want to use this with your child's teacher? Or someone else? Please do!
I'm excited to give this to Nathan's teacher at our home visit on Monday, and I look forward to using it for many teacher's to come.
Have you ever used a list like this before? What's your go-to teacher gift idea?
Other Favorite Things Versions…
If you want a more colorful version of this Favorite Things printable, I have 6 different Teacher downloads available as a set here. 
If you are looking for a Christmas version of the Favorite Things list that can be used for Secret Santa gifts, or just as a Christmas Wish List among friends and family, here is a Christmas Favorite Things list with 8 different formats here.