10 Simple Ways to Save on a Cruise
Last year at this time, Andy and I were just starting to talk seriously about talking our first ever cruise – a cruise to Alaska. We had been saving since our wedding for this someday event, and Andy convinced me that our 10th anniversary was the perfect time to take a cruise. We did it and had a marvelous week long cruise to Alaska.
Of course, we wouldn't be us if we didn't work at stretching our hard earned pennies. We were able to take a week long cruise to Alaska for under $5000. This included our flights, airport parking, cruise tickets, cruise insurance, excursions, hotels and all food that wasn't included in our cruise.
I'm sharing this dollar amount because I didn't see a lot of specifics when I was researching our Alaskan cruise and I want to help others who are saving for their own cruise. It may still seem like a daunting number but I promise you that it is indeed possible to cruise on a budget.
This post may contain affiliate links. You can read more in my disclosure policy.
Here are some simple and practical tips for how to save money on a cruise. 
1. Start a savings account for your cruise – as far in advance as you can.
This is one of the most basic but most important cruise savings tips. Set up a savings account specifically for your cruise and set it up today. Whether you are cruising this summer or don't know when you will be cruising, having money set aside for a big trip like this one makes it so much easier to cruise on a budget.
We set our Alaskan cruise fund up as one of our 22 (yes, we really do have 22!) savings accounts. Whenever Andy or I got a monetary gift or made some extra money, we put it in this cruise savings account. Of course, you can also set up automatic deposits into your savings account as well. Whatever you do, the sooner you do it, the better!
For more information on all our savings accounts and exactly how it works to have so many savings account, read why we have 22 savings accounts. 
2. Be flexible with your cruise dates and cruise ships.
There are two parts to this that I hope everyone knows! Playing around with your cruise dates can greatly change the price. We considered cruising in July for our anniversary, but by going 3 weeks earlier in June, our tickets were almost half price! We also needed to find dates that worked for Grandma and Grandpa, since they were watching our 3 kids while we were gone. Look at different dates and see how your price may increase or decrease.
The same is true of different cruise lines. We were specifically looking at Holland and Norwegian for our Alaska cruise – but the ultimate decision for us came down to price. Norwegian was cheaper so that was where we booked. This can change by cruise so unless you are extremely loyal to one cruise line, be willing to look at different cruises. It can save you a lot of money too.
3. Book an inside stateroom to save money.
We heard complaints and rave reviews from other vacationers about inside staterooms. We decided to go ahead and book an inside statement room and were very glad we did. We actually booked the cheapest room available (which was even priced lower than an inside stateroom) because it allowed the cruise to assign your room rather than you picking it yourself. Booking an inside statement room was well worth the savings! Our room wasn't huge but it was comfortable and more space efficient than we imagined.
For an Alaskan cruise, we were especially thankful we had an inside stateroom because the sun stays up so late and rises so early. An inside room with no windows made sure our room was always nice and dark whenever we wanted to sleep. No, you don't have a balcony because we could simply walk out to any deck when we wanted to enjoy the views. The only time we were really in our room was to sleep so why spend more just for a window or a balcony? We didn't feel the need and greatly appreciated the savings.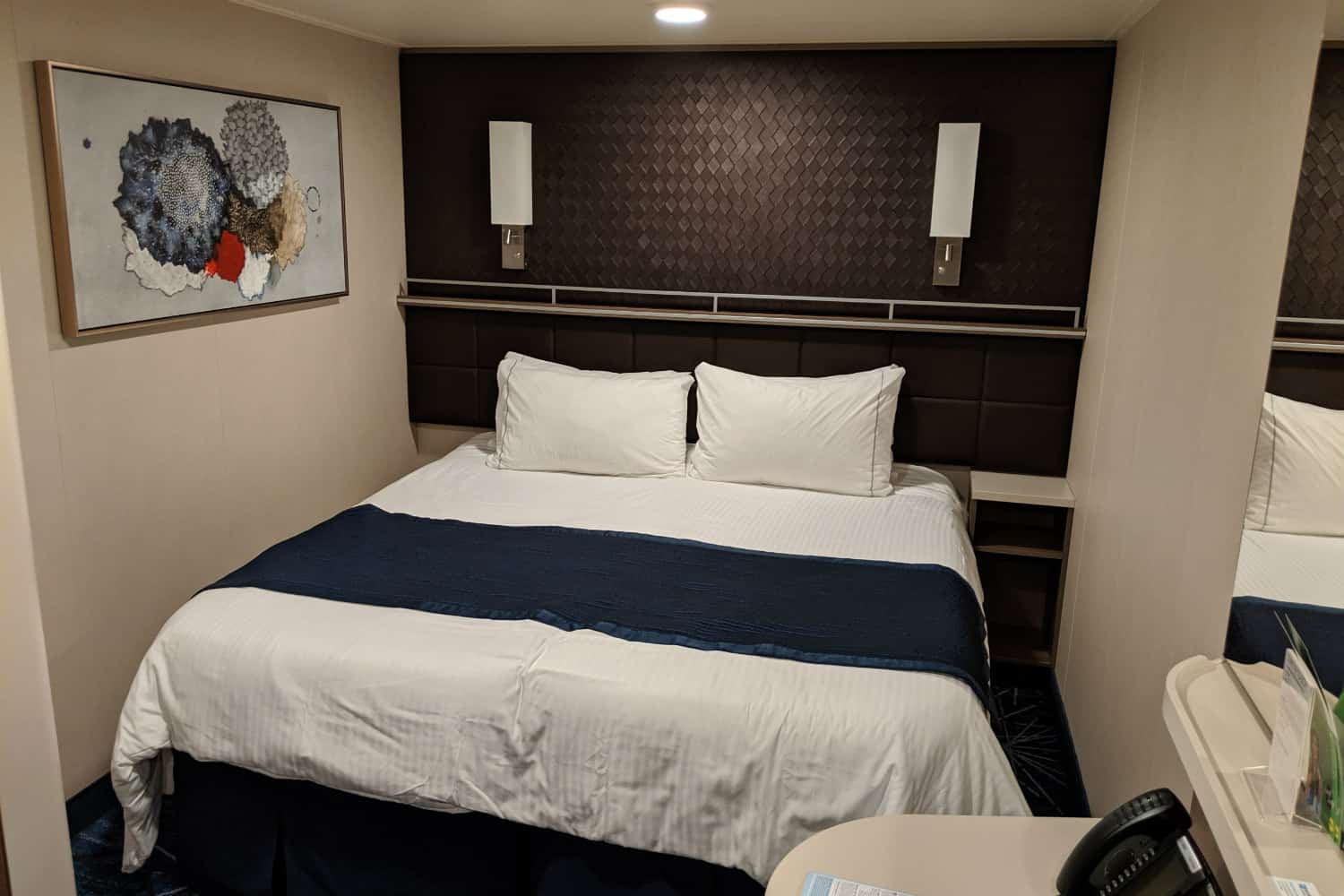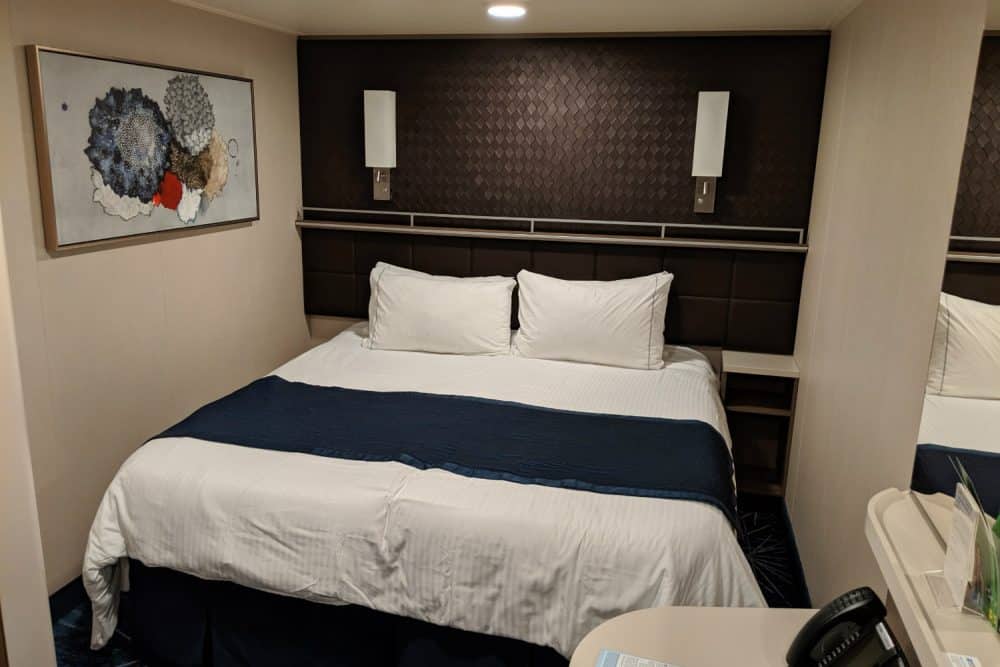 4. Compare prices before you purchase your cruise.
I touched on this above but this is worth repeating. Research, research, research! Look at all the prices for different cruise lines and different dates and different cruises. An interior Alaskan cruise in July might be more expensive than a longer Alaskan cruise in August.
Go to the different cruise websites. Compare the prices. Go to third party sites. Compare the prices. Sign up for cruise email alerts. Sign up for cruise newsletters. You can use a travel agent but you definitely don't need one to find a good deal.
All cruises will have great points about them – regardless of cost. So, compare the prices and decide what is worth your money and where you can save.
That leads me to my next savings tip.
5. Book your cruise through Rakuten and earn cash back.
Rakuten is a free online program that earns you cash back. When we went to book our cruise, I noticed that Norwegian's prices on their website were exactly the same as at Priceline. I started at Rakuten and booked through Priceline – and earned $177 cash back, simple as that, just for taking 5 minutes to research and one extra click. Plus, Priceline gave us a free $200 in cruise credit which Norwegian wasn't offering. Both were great perks! Booking our cruise through Rakuten (via Priceline) saved / made us $377. Again, Rakuten is a super easy way to save money on your cruise where every dollar counts!
You can sign up for Rakuten here. I use it for all my online shopping and baking hundreds of dollars back every year. (More about how I use Rakuten to make money shopping online here.) This tip may not work for all the cruises but it is definitely worth comparing prices to see if it works for you too!
6. Sign up for an airline credit card if you need to fly. 
If you are flying to a cruise like most people do, this is a very important way to save money. Sign up for an airline credit card. 
I am a firm believer in not carrying debt and only use credit cards if I can pay them off each month. That said, United (one of the most popular Seattle airlines if you are cruising to Alaska) has a great credit card program!
They offer a $0 fee for the first year (and it is easy to cancel the credit card after your flight, if you so choose). Plus, it gives you free baggage fees – which at $30+ per bag, per flight – saved us $120. In addition to that, it gave us two free United club passes where we were able to pass an enjoyable 2 hours in the Seattle airport, enjoying complimentary snacks, beer and wine as we waited for our flight home. That was another $100 plus value. Those benefits are available to all who apply for a United card.
At the time we signed up, they also offered a $100 credit on our first statement. This promotion varies. But we also were surprised with a free upgrade to business class on our flight out – another $100 free perk!
But the best perk of the United credit card? When we spent $2000 in the first 3 months of opening our account, we earned a bonus 40,000 miles to our United account! We simply booked our flights on the credit card and the remaining cruise balance and quickly met that amount for our free miles. These miles don't expire and translate to at least one free flight – depending on where you are flying. With perks and savings like this, it made signing up for the United credit card a no brainer and a great source of savings. 
Let's recap. This airline credit card saved us $320 instantly and earned us enough for one or two more free flights! It was an easy way to save money – even if you only use it for your cruise and cancel it afterwards. The miles will still be yours to keep.
I highly recommend looking into the United credit card (or a similar airline credit card).
You can sign up for the United credit card (with the bonus 40,000 mile offer) here.
7. Purchase cruise insurance from an independent company instead of your cruise company.
I don't always buy the extra insurance on appliances or airplane flights, but for a cruise? I've heard a couple stories of how beneficial the insurance. Yes, it was unlikely we would need it but it did give us peace of mind – even though we were spending extra for it. Sometimes, it is necessary to spend a little more money but you can still save when you do buy insurance.
Your cruise company will offer you travel insurance that is easy to buy. However, for a bit of time, you can save yourself a couple hundred dollars by shopping around for cruise insurance. We started by comparing prices at a Travel Insurance and ended up booking our insurance through IMG, which saved us over $200 from what the cruise company said and gave us a more robust policy.
8. Skip the specialty dining and drink packages.
We were absolutely amazed how many people on our Alaskan cruise had the drink packages! Maybe some of them got it as part of a special promo but if you didn't? It was $99 a day plus a 20% gratuity! Some people were paying as much for their drinks as we did for our cruise! We enjoy a drink now and then, but unless you get it as a part of special promo? Save yourself hundreds (or thousands!) of dollars and skip the drink package. If you really decide you want a special drink, you can always order one a-la carte.
We also had the option to pay more for specialty dining packages on the Norwegian cruise. We chose to eat at the 4 restaurants that were included for free. We did use some of our credits (from Priceline via Rakuten) to eat and drink at one of the specialty restaurants on our last night at sea. We were underwhelmed by the paid restaurant and once again, glad we saved our money. There are plenty of places to eat – and lots of different food options – without having to pay extra. 
9. Look for free excursions before you leave on your cruise. 
This is another great savings tip. Some excursions are worth paying for but there are also great free excursions available too. The White Pass train ride in Skagway was definitely our priciest excursion (at $149 each) but it was totally worth the money. It was by far our favorite excursion! Alaska is a once in a lifetime experience for many people so you want to take advantage of the unique opportunities before you. Prioritize what is most important to you and choose your excursions accordingly.
Be sure to compare the prices of excursions from your cruise line as well as with independent companies. The only time we bought directly from our cruise line was when the price was the same as what we found elsewhere. Otherwise, you can find good deals from local companies. They depend on cruise lines for their income so don't worry. They will bring you back on time!
As you are looking for excursions, keep your eyes open for all the free things to do. We like history so always looking for National Historic Sites as we travel. Skagway was full of them and had a fabulous, free Klondike Gold Rush museum. Any place that has a National Parks Service usually offers free lectures or tours with the park rangers. That is worth doing as well.
Make note of where all the visitor centers are in your ports so you can pick up free brochures and walking maps. We knew we wouldn't be paying for internet when at sea and just used our regular data plans to check in when we were on land. Before we left, we printed maps and directions and some pamphlets that we found online. We put everything we would need in a small binder to take along. This made it easy to pull out things for each port city, so we could maximize our time in port.
10. Plan, plan and plan some more!
Research. Read. Plan. The more work you do before hand, the more money you can save. It may take a bit of time, but you will be glad you invested the time when you see the money you saved.
I hope this gave you some new ideas of ways to save on your Alaskan cruise. If you have been on a cruise before (or are planning to go soon), I'd love to know some of your tips for saving money on a cruise!
Want some more practical cruise tips? Here are 21 things I wish I had known before our first Alaskan cruise – and some of these tips apply to all cruises, not just Alaskan ones!