I love to read – and so do my children. We spend time reading together every day because it is important. As a former preschool and Kindergarten teacher, I know the importance of early literacy.
In addition to all the story books we read, I make alphabet books part of our regular reading time. Alphabet books are an easy way to introduce your child to letters. Nathan (at 2 years old) can already identify many of his letters simply because we read lots of alphabet books.
This post may contain affiliate links. As an Amazon Associate, I earn from qualifying purchases. You can read more in

my disclosure policy.




There are so many fun alphabet books available to read! A quick search at your library will yield hundreds of results. In order to help you, I have compiled a list of 50 of the best alphabet books that we like to read. We don't own all of these and have checked many out from the library. There are a couple favorites that didn't make the list simply because they are a bit hard to track down. While this list is far from definitive, I hope you will find it helpful in choosing alphabet books to read with your child.
I've grouped the alphabet books by theme (non-fiction, humorous, board, etc) to make it easier for you to discover the best of the best. After you discover some favorites, I would recommend adding a couple alphabet books to your home library.
Classic Alphabet Books
1. Dr. Seuss's ABC by Dr. Seuss is a simple classic. It is one of the simpler Dr. Seuss books that rhymes perfectly. Young children are sure to enjoy the silly rhymes with the repetition of the letters. This book was actual the first book we read to our son in the hospital, as it was a gift to us during our NICU stay.
2. Chicka Chicka Boom Boom by Bill Martin Jr. is a staple in every early childhood classroom – and for good reason! The colorful pictures and clever rhymes tell of alphabet letters climbing up a coconut tree and then falling down. The rhyme and rhythm of this book makes it easy to read and easy to enjoy. After years reading this book to my preschool students, I have it memorized to recite to my son!
3. The Z was Zapped by Chris van Allsburg uses detailed black and white pictures to depict how each letter of the alphabet was changed. Chris van Allsburg is the talented Caldecott Medal winner of several books including The Polar Express. His illustrations make this alphabet book the delight that it is.
4. Alphabet Adventure by Audrey Wood is the story of all the lowercase letters. They are ready to head off to school when little i realizes her dot is missing and the other letters help her find it. For those of you who recognize the name, Audrey Wood is the famous author of the Napping House.
5. Alphabet Mystery by Audrey Wood is a follow-up to Alphabet Adventure. In this book, little X is sad that he's never used so he runs away. The other lowercase letters set off to find him. If your child enjoys this one, you can also check out Alphabet Rescue by Audrey Wood (the third and final one in this alphabet series).
6. A was Once an Apple Pie by Edward Lear is an adaptation of an old rhyme. It uses rhyming words (and some nonsense ones) to illustrate each letter of the alphabet. The illustrations by Suse MacDonald are hand cut paper illustrations, too.
7. Miss Bindergarten Gets Ready for Kindergarten by Joseph Slate was one of my favorites as a Kindergarten teacher! I read this book on all my yearly home visits. It's a clever alphabet story of 26 students in Kindergarten who have alphabet names. For example, "Adam Krupp wakes us and Brenda Heath brushes her teeth." Adam is an alligator and Brenda is a beaver. The simple rhymes, and colorful illustrations make this a delightful abc book!
8. Miss Bindergarten Celebrates the 100th Day of Kindergarten by Joseph Slate continues the Miss Bindergarten adventures. All those in Kindergarten know what a big deal the 100th day of school is. This book continues to teach the alphabet while celebrating this special day. If you like these books, there are several more Miss Bindergarten books in this series. I have – and love – them all. There are lots of clever details to find in these stories as the children learn the letters.
9. Animalia by Graeme Base is an incredibly detailed alphabet book. It tells an alphabet story with alliteration, starting with "An armoured armadillo avoids an angry alligator" and "Beautiful blue butterflies basking by a babbling brook". Not only do these pictures show the sentences but they hid dozens of other pictures that start with the same alphabet letters. Every time you read this book, your child is sure to discover something new!
10. Alphabet Soup by Scott Gustafson is a clever abc book. It tells the story of Otter who invites his 26 friends over to create a pot of soup together. From Armadillo who brings asparagus to Zebra brings zucchini, all the friends work together to make a big pot of alphabet soup.
11. The Letters are Lost by Lisa Campbell Ernst is a simple alphabet story of the letter blocks who go missing. Each black is surrounded by things that start with that letter. This is a good beginner's alphabet book for little ones. Lisa does her own illustrations which are soft and lovely.
12. Shiver Me Letters: A Pirate ABC by June Sobel is one of my son's favorites. It tells how the pirates are sent by their captain on a letter hunt. I like how they actually show each letter on the page as the pirates look for them. He goes around reciting, "R, said the captain. R's not enough. We need other letters to help make us tough!"
13. Alphabeep: A Zipping Zooming ABC by Debora Pearson is an alphabet book for transportation lovers. If you have a son or daughter who enjoys cars, trains, trucks or anything that goes, this alphabet book is perfect! The inside covers are filled with transportation signs, which my son finds just as interesting.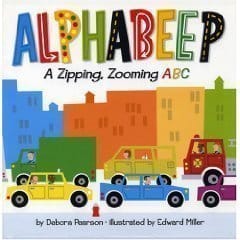 14. Alphabet under Construction by Denise Fleming shows little mice building the alphabet. This is a very simple alphabet book but if you have a construction lover in your family, check out this alphabet book.
15. The Sleepy Little Alphabet by Judy Sierra is a cute alphabet story of the Mom and Dad letters (the capital letters) putting together their kids (the lowercase letters). It also goes through the bedtime routines and delays that kids are sure to relate to.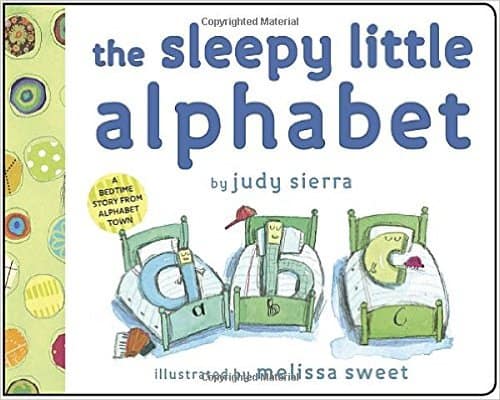 16. The Alphabet Parade by Charles Ghigna was another new discovery. It's a rhyming and alphabet book in one. I was actually pleasantly surprised at how nicely this book rhymes. We liked this book because it has some unusual and unique combinations such as K for Kinkajou.
17. The Three Bears ABC by Grace Maccarone is a cleverly written rendition of Goldilocks and the Three Bears – but it's told as an alphabet story! I loved how this combined the alphabet with a fairy tale. Not only can we enjoy this as learn the alphabet, but I added it to my fairy tale variation collection.
18. Alphabeasties by Sharon Werner was a newer discovery of ours. Each illustration is made with typography. It's a great way to show your children what the capital and lower case letters look like. Some pages fold out for very large illustrations, too. There are a couple odd ones (X for Xenops and I for Ibis) but the detail of these pictures is amazing. Nathan and I both really enjoyed looking through this book.
Funny Alphabet Books
19. Oops, Pounce, Quick, Run! An Alphabet Caper by Mike Twohy is a very simple (one word for each letter) alphabet book that manages to tell a funny story of what happens to a mouse when a cat comes upon him. The book is illustrated by Mike Twohy, who is a New Yorker illustrator, which add to the cartoon element of the book.
20. Z is for Moose by Kelly Bingham tells the story of a moose who keeps trying to jump in line, much to the exasperation of his friend, Zebra. Then, Moose gets his feelings hurt when he discovers that M is for Mouse (instead of him). It's a funny twist of an alphabet story.
21. AlphaOops! The Day Z Went First by Alethea Kontis is the story of what happens to the alphabet when Z decides he wants to go first. After Z gets out of order, several other letters decide to follow suit, much to the exasperation of A. What I like about this book is that even as the letters change places, at the bottom of the page, you can still see the regular alphabetical order.
22. What Pete Ate from A to Z by Marie Kalman lists alphabetical things that Pete (the dog) ate. From an accordion to bouncing ball, this is a funny book for dog lovers.
23. LMNO Peas by Keith Baker uses tiny green peas to illustrate and act out the alphabet. I think it's a clever way to get your child to like peas, too! If you like this book, there is a LMNO numbers companion book.
24. The Alphabet from A to Y with Bonus Letter Z! by Steve Martin is another funny alphabet book. This book has alliterative couplets for each letter and has detailed illustrations by another New Yorker illustrator. Parents will probably enjoy this book more than their children!
Alphabet Board Books
25. Alphabugs by David Carter is a pop-up that children will love! With boogie-woogie bugs, upside down umbrella bugs and witty wacky waffle bugs, Alphabugs is a fun alphabet book! There are tabs to pull, pictures to lift and all sorts of places to peek, which makes this book one that young children will love to read.
26. I Spy Little Letters by Jean Marzollo quickly goes through the entire alphabet. It's easy to just point out the letters, or you can play "I Spy" with the pictures around the letter. For example, look for the airplane by A and the bus by B. This is a great alphabet book for toddlers!
27. A to Z by Sandra Boyton is another great alphabet book for little ones. Each letter gets two words and a matching animal illustration. Aardvarks admiring, beavers ballooning, cats cleaning, dinosaurs dancing, and so on, make this book a perfect first alphabet book for babies. Plus, Sandra Boyton's illustrations are simply adorable!
28. Amazing ABC: An Alphabet Book of Lego Creations by Sean Kinney is a favorite of my husband as well as my son. It is a simple board book that has a Lego creation for each letter. We love the simple Lego creations – with the exception of the "G is for Goblin." I say "Green Guy" instead.
29. My First ABC by the Metropolitan Museum of Art introduces children to famous works of art for each letter of the alphabet. All the pictures are from the Metropolitan Museum of Art, featuring famous artists such as Cezanne. Each page has a letter and a word, accompanied by the picture. It is indeed a simple way to introduce young children to famous art pieces.
30. ABC Animals by the American Museum of Natural History is published by a museum. It has extra large letters, fun facts and vivid pictures of 26 animals for each of the 26 letters.
31. Penguins ABC by Kevin Schafer has beautiful pictures, taken by Mr. Schaefer. He's an award winning photographer and once you see the pictures, it is easy to see why. He has captured adorable, close-up pictures of penguins that coordinate with all the letters of the alphabet. The book includes extra facts about penguins at the back, too.
32. Alphablock by Christopher Franceschelli has cut outs of each letter that hide part of the picture so your children can guess what each letter stands for. This alphabet book is another unique one that kids will flipping through on their own – or with you.
Non-Fiction Alphabet Books
33. C is for Castle: A Medieval Alphabet by Greg Paprocki is part of a new series by the authors of Baby Lit. With simple concepts, it introduces the alphabet while teaching a bit of history. The concept is simple but the pictures help make this a unique alphabet book.
34. I Spy: An Alphabet in Art by Lucy Micklethwait uses art as well as the classic game "I spy with my little eye…"to introduce children to the letters. It is nice to have an interactive book like this because children will enjoy finding the alphabet items in the art pictures.
35. Museum ABC by the Metropolitan Museum of Art expands upon the simple museum board book I mentioned earlier. This book includes more than 100 works of art that correspond to the alphabet. If you love art and / or want to expose your children to classic works of art, check out this abc book.
36. Eating the Alphabet: Fruits and Vegetables from A to Z by Lois Ehlert shows healthy foods (fruits and vegetables) for every letter of the alphabet. You can use this book to introduce your children to new foods. After you read this alphabet book, pick up some new fruits and vegetables to try.
37. The Handmade Alphabet (ASL) by Laura Rankin is a beautifully drawn alphabet book. Each page is a hand signing an alphabet letter in American Sign Language. If you are interested in signing, you'll want to own this book! The close up views of the hands make it a good one for little hands to copy so they can learn abcs in writing and in sign language.
38. Firefighters A to Z by Chris L. Demarest is for all the children who want to become fire fighters when they grow up! This detailed alphabet book gives lots of information about what fire fighters wear and do.
39. Alphabet City by Stephen Johnson is a wordless alphabet book that features realistic watercolors of objects from around the city that look like letters. It's a 1996 Caldecott Honor book, too, for those of you collecting award winning books.
40. America: A Patriotic Primer by Lynne Cheney uses our nation's history to teach the alphabet. Lynne Cheney is known for her history books. This Patriotic Primer teaches our nation's history and some of the key founding elements, one for each letter of the alphabet. If your child is interested in history, add this alphabet book to your collection.
Alphabet Books for Older Readers
41. G is for Gold Medal: An Olympics Alphabet by Brad Herzog teaches about the highlights of the Olympic games, athletes and events.
42. A is for America by Devin Scillian teaches about American history, landmarks and important American events.
43. T is for Titanic by Debbie Shoulders tells the story of the Titanic by going through the alphabet.
44. P is for Passport: A World Alphabet by Devin Scillian takes children around the world by showing them currency, food and sites of countries around the world.
45. M is for Majestic: A National Park's Alphabet by David Domeniconi shows the mountains, rivers and glaciers that make up our national parks.
46. N is for Our Nation's Capital by Marie Smith highlights the sites and history of Washington DC.
47. H is for Honor: A Military Family Alphabet by Devin Scillian explores all branches of the military and looks at the sacrifices military families have to make – and why. Written by a career officer, it's an accurate military book that honors the men, women and families who serve.
48. M is for Melody by Kathy-Jo Wargin is an alphabet book for music lovers that teach about composers, instruments and musical terms.
49. One alphabet book for every sport possible in the "Sports Alphabet" series
50. One alphabet book for every state of the United States in the "Discover America State by State" series
I'd love to hear – what is your favorite alphabet book to read with your children?