Announcing the Arrival of Lily Grace
Babies have their own time tables, don't they? I know many of you have been waiting for this baby update, so we are excited to announce the arrival of Lily Grace Whirrett – born on Monday, March 12. Here's a bit of Lily's story (and pictures) from the past 10 days!
After 2 babies and 2 C-sections (for different reasons), I knew early on that baby number 3 would also be a C-section. My wonderful doctor confirmed that the risks were too high for me to deliver any other way.
All 3 of our babies have also been due right around the National Lutheran Grade School's Annual Tournament Weekend in Vaporasio, which my husband's team has been competing in (and winning some years) since our son was born.
Knowing these two things, we scheduled our C-section for Saturday, March 17 – so the new baby would share a birthday with her Grandma and her Great-Great Grandpa. Since I was scheduled only a day before my due date, and the previous two babies showed no signs of arriving early, I felt confident that we would be having a St. Patrick's Day baby.
But like I said, babies have their own time tables!
On Sunday, March 11, I started having contractions in the afternoon. They weren't too painful but after several hours of random contractions, the timing started increasing, so I called my doctor's office. They advised a trip into the hospital to get checked out.
At 10pm, Andy and I made the drive to the hospital…only to be sent home 2 hours later. My contractions were still continuing but the nurse and doctor on call didn't seem to think I was really in labor. We went home to bed, knowing that I had my 39 week check up with my doctor the next morning.
I sent Andy off to school at 7:30 and told him I would update him after my doctor's appointment. My mother-in-law was home from work that day so she stayed with the kids while I went to my 8:45 doctor's appointment.
When my doctor heard what was happening and checked me out, he told me I was definitely in labor and progressing and he wanted me to head over to the hospital. I asked, and since we only live 5 minutes from the hospital, he said I could run home quickly to get my bag (which I had just packed late the night before) and tell the kids goodbye.
I texted Andy to give me a call because I needed to head to the hospital and headed home. I gave the kids hugs and told them that their baby sister wanted to come earlier than we thought and that I was heading to the hospital.
We took one last family picture and I quickly gave my mother-in-law some random instructions (since we have been living together since July, she knows most of our routines). I got a little emotional, put on our Daniel Tiger and the new baby dvd for the kids, and grabbed another round of hugs and kisses before I left. Then, I drove myself back to the hospital and was checked in around 9:30.
When I checked in, I was under the impression that I was going to be monitored for a bit and then we'd probably have surgery that afternoon. Oh no. They were ready to start prepping me, and after seeing my contractions, said my doctor would be over at lunch time to deliver this baby.
I texted Andy again with the latest update, since he was already frantically writing sub plans for his junior high classes. I told him to hurry and get here as soon as he could since baby would be born around noon. Andy arrived around 11:25, and I was completely prepped for surgery. He signed a couple more forms and got his scrubs on. My doctor arrived 15 minutes later, and we headed back for surgery.
Once again, I have an amazing doctor, whom I trust completely. The nurses and anesthesiologist were great too. At 12:17, our daughter was born! We were overjoyed to meet Lily Grace and hear her loud cry.
At 8 lbs, 5 oz and measuring 20 inches long, Lily was actually our smallest baby, to many people's surprise.
Andy enjoyed holding Lily and I was eager, of course, to hold her once we got to recovery. Once there, Andy let our families know that Lily had arrived.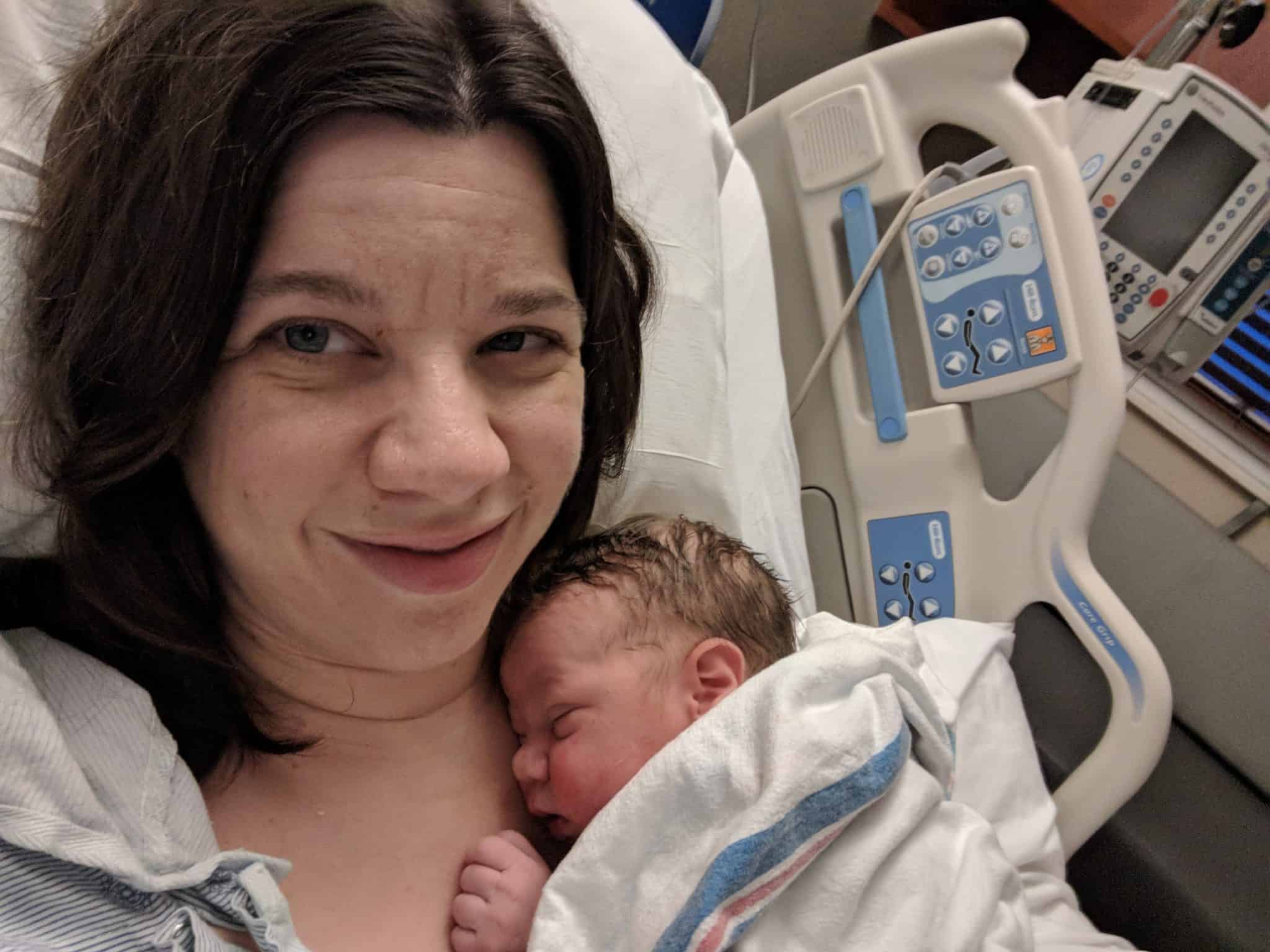 Due to the flu this winter, all that hospitals in Indiana were under strict visitor resctrictons which meant Nathan and Emma were not able to visit. Andy went home to put the kids to bed on Monday and we Skyped so the kids could see their new baby sister. I was allowed 2 other visitors my whole stay, so my in-laws came up the first night to meet Lily.
Andy came back to spend the night with Lily and me at the hospital. We had a typically short first night, and while we were enjoyed our time together, we also were grieving the death of Andy's uncle who had suddenly died that same evening. Needless to say, it was an emotional week.
The original plan was that my mother-in-law would watch the kids while I was in the hospital. She, obviously, needed to fly to Texas for her brothers' funeral, so we made other plans.
Andy stayed home on Tuesday and alternated his time between the hospital and home. Jolene flew out early Wednesday morning, so Andy took over all responsibilities. Thankfully, a dear friend watched the kids on Wednesday and another school mom watched the kids on Thursday. Andrea and Wendy were complete lifesavers, helping us out when we needed it most. Andy took the kids with him to school in the morning, for the Moms to get, and they brought them back at the end of the school day.
I was originally coming home on Friday, as I never hurry home from the hospital, making the most of my recovery time. But with Joelene flying back early Saturday morning, I decided to come home Thursday evening after school so I could be home with all 3 of my kids on Friday.
It was a surprise but the visitor ban was lifted on Thursday morning. Andy said he would bring the kids to pick us up around 5. The kids – Emma especially – were very excited to meet and hold Lily. Nathan was acting a little out of sorts but we knew the last few days had us all mixed up.
We loaded up the car and all our kids to arrive home for our first night as a family of five. We had been home only 10 minutes when Nathan, quite suddenly, threw up all over the kitchen floor. What a way to be welcomed home!
Andy took him up for a bath, while I took care of the girls and cleaned up. We weren't sure what was going on, since Nathan said his head and ears and throat hurt, but he wasn't running a fever. We decided it was best to keep Lily and me away from Nathan as we didn't want any germs getting passed around to our new baby. Andy helped me get the kids in bed for the night, then headed out the door at 8pm to fill my pain prescriptions and go write some more sub plans. We both agreed I needed his back up for Friday.
Andy spent a restless night in Nathan's room, as Lily and I spent a restless night in our room. Emma got a great night's sleep in her room!
The next morning, Nathan was acting a bit better and had not thrown up again. When he mentioned his ears hurting again, I called the pediatrician. Andy took him in while the girls and I took naps. It turns out that Nathan had a double ear infection (poor guy) and the doctor thought he most likely threw up from the pain. Andy went back to Meijer for more meds, which quickly got Nathan feeling better. We were just so glad it wasn't contagious!
Friday was also Emma's 2nd birthday, which we celebrated by watching a new Curious George DVD and letting her open a present of Duplos. We played it pretty low key and decided to do her birthday celebration on Saturday.
Oh, did I mention that my brother was on his way to our house on Friday night? Once Lily made her early arrival, we decided to move her baptism from Easter Sunday to this immediate Sunday. Our one set of sponsors were good friends from church, so we knew they could be there. My brother is Lily's other sponsor and agreed to make the drive up from St. Louis.
Joel arrived around 11pm, and Jolene got home around 3am. I made and frosted Emma's Daniel Tiger birthday cake while we waited for Joel to arrive.
The 5 in our family were up early on Saturday morning, so after breakfast, Andy cuddled a sleeping Lily, while Nathan and Emma enjoyed a special treat of Curious George shows in their pajamas while everyone else slept. I made sliders, Apple Snickers salad and homemade macaroni for Emma's birthday lunch. We had planned on serving that meal to friends on Monday night, but obviously that didn't happen since we were in the hospital.
We celebrated Emma's birthday, opened presents and all took naps. Nathan was on the mend but still a but fussy, as we expected. Joel, Andy and I even got in a couple quick board games together that night.
Sunday morning came early but we made it downtown to St. Paul's Lutheran Church for early church 10 minutes early! As Lutherans, we always believe there is no good reason to delay baptism, but this was still the earliest I have ever made it to church to baptize one of my children. Lily was only 6 days old for her baptism, and what a joyful day it was. Emma told everyone we saw, "Lily's baptized!"
Joel headed home after lunch, and Andy had to run to school to do some prep for the National Lutheran Grade School Basketball Tournament in Valparasio, which starts today.
It's been a whirlwind first week of Lily's life, and we are hoping that things settle down a bit now! We are already counting down the days until Spring Break, which starts on March 30 / Good Friday this year.
Thankfully, I am feeling good. My recovery has been another smooth one, for which I am exceedingly thankful! Yes, I am tired from the middle of night nursing sessions but that is to be expected. Lily loves to be held so I am trying to enjoy up the snuggles rather than think about everything else that can be done.
Nathan and Emma absolutely love Lily. We have been doing a lot of cuddling on the couch and reading stories, which we all love. I am trying to figure out how to do some things with each of them every day, while still taking a nap when Lily does, of course. The girls nap at the same time while Nathan does quiet time, so that is work out nicely.
I still have my up and down emotional moments, like any new mom does. I have decided it doesn't matter what number baby it is, but you will always feel overwhelmed by your hormones and emotions at times as you adjust to your wonderful, new life.
So, that should catch you up to our life at the moment. Thank you for your love and prayers as we welcome Lily to our family and adjust to our new life as a family of five. I plan on returning to my regular blog posting schedule in another month or so, after my self declared "blog maternity leave." Until then, feel free to follow me on Instagram for more updates!