Chocolate Chip Shortbread Cookies
Oh, yum. If I have to choose a favorite chocolate recipe, mini chocolate chip shortbread cookies would certainly be in the running. The appeal of this cookie? Few ingredients. Simple to mix and bake. Freezes great. Perfect shortbread taste with just the right amount of chocolate. Wows everyone.
When I bake chocolate chip shortbread, I almost always make a double batch – one for now and one for the freezer. This cookie defrosts so quickly, that I love to have them on hand for company. They are always a hit. My cousins will devour these cookies by the handful!
These cookies don't necessarily look like much, but bake them before you make your decision. I think it is a perfect chocolate twist on a classic shortbread cookie.
This post may contain affiliate links. You can read more in my disclosure policy. 
Here's the recipe for these easy Chocolate Chip Shortbread Cookies.
Chocolate Chip Shortbread Ingredients:
1 cup butter, softened
1/2 cup powdered sugar
1 teaspoon pure vanilla extract
2 cups flour
1 cup semi-sweet chocolate chips
Directions for Making Shortbread Cookies with Chocolate Chips:
Preheat oven to 350 degrees.
Cream butter and powdered sugar in large mixer bowl until creamy. Beat in vanilla.
Gradually beat in flour. Stir in chocolate chips.
Roll dough into 1-inch balls. Place on ungreased cookie sheet.
Bake for 10 to 12 minutes or until set and light golden brown on bottom. Cool for 2 minutes on baking sheet before removing to wire racks to cool completely.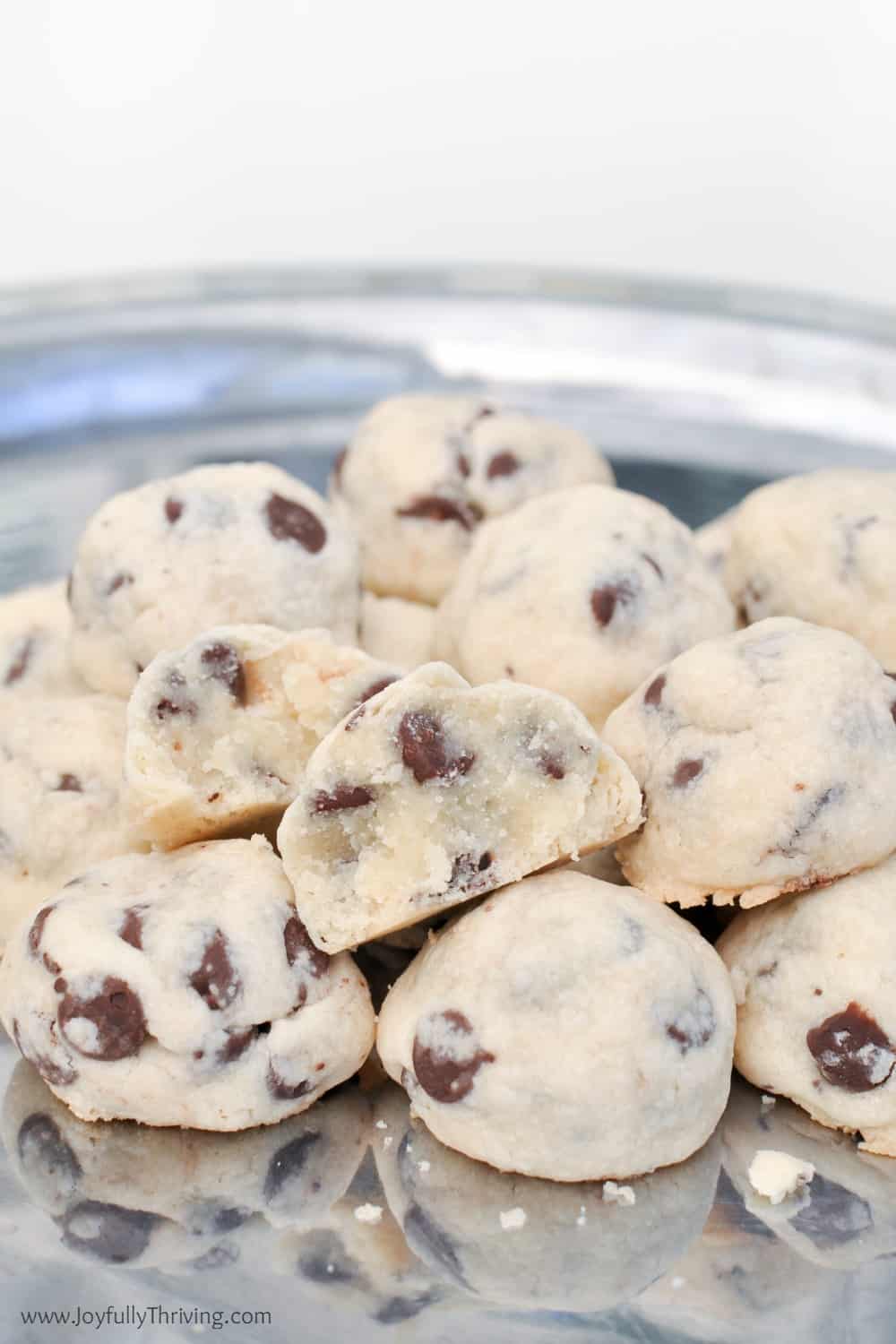 Additional Notes:
Use butter. While margarine can work in some cookies, shortbread needs to be made with butter. The flavor is worth it.
Do not melt your butter completely. Make sure your butter is softened, but NOT melted. The texture and shape of your cookies will not be the same if you melt the butter. Trust me. I've done it before when I was in a hurry. Oops!
I use anywhere from 1 to 1 1/2 cups of chocolate chips in each batch of cookies. It depends on how many bits of chocolate you want in your shortbread. I always use name brand semi-sweet chocolate chips, like Nestle, Tollhouse or Ghiradelli. Name brand chocolate chips are important.
Do shape these balls by hand. I love my cookie scoops but these cookies do best when rolled by hand. They will not spread much when baking, so I can fit 16 cookies on one baking sheet.
Be sure to share this recipe when you share the cookie, because you'll be asked for it!