Freezing Cinnamon Rolls: 3 Different Ways
Ah, cinnamon rolls. Is there anything better than a fresh cinnamon roll, dripping with frosting, hot from the oven for breakfast? The thing about cinnamon rolls is that they take time to make. I love them but I rarely make them (much less first thing in the morning) because of the time element. I knew if I could figure out the trick to freezing cinnamon rolls, so I could still have them fresh in the morning, it would make me quite happy.
Freezer cooking lover that I am, I decided to do some research on this precise topic. I happily discovered it is much easier than you might think to freeze cinnamon rolls. I am happy to share with you all that I learned today in this easy guide of How to Freeze Cinnamon Rolls! As I prepared another batch of cinnamon rolls for our family to enjoy on Thanksgiving, I realized this post needed an update with a bit of clarification from my experience from years of working with frozen cinnamon rolls.
This post may contain affiliate links. You can read more in my disclosure policy.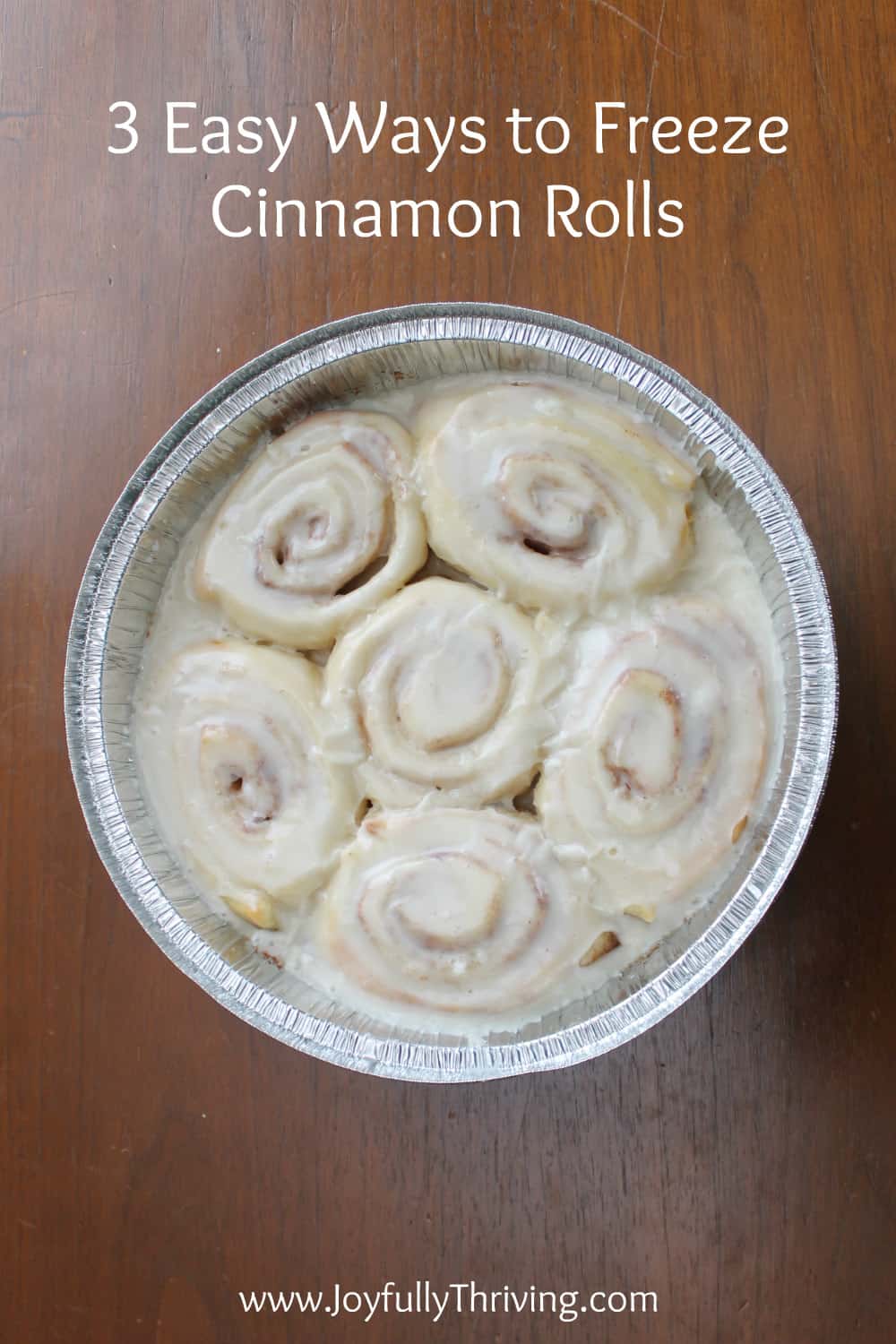 First of all, all three freezing cinnamon rolls techniques shared below can be used successfully with your favorite cinnamon roll recipe. The results should be similar.
My favorite cinnamon roll recipe is the Pioneer Woman's. Her recipe is delicious, although it does make lots of cinnamon rolls (between 40 and 50). This actually makes it a perfect freezer recipe. I will note that I do modify Ree's fabulous recipe slightly. Instead of using melted butter, I used slightly less butter and I only soften it. It eliminated some of the general oozing problems. Her frosting is delicious as well (even with vanilla instead of maple and coffee).
When I began my freezing cinnamon roll research, I discovered there were three variations of how to freeze cinnamon rolls. Over achiever that I am, I decided to try all three methods to see which I preferred.
Here are the 3 methods for freezing cinnamon rolls.
1. How to freeze baked cinnamon rolls with icing
The first method is what most people probably do. Simply bake and frost the cinnamon rolls as indicated in the directions. Allow to cool and wrap tightly for the freezer. Freeze. Take your pan of cinnamon rolls out of the freezer the night before you are ready to serve. Warm individual rolls in the microwave to serve.
2. How to freeze unbaked cinnamon rolls after a rise
The second method is to freeze cinnamon rolls in the pan – after a slight rise but before baking. In this method, take the pan out of the freezer the night before and allow them to thaw and rise on the counter overnight. Then, bake in the morning and frost as usual.
3. How to freeze raw cinnamon rolls before rising
In the final method, you flash freeze individual cinnamon rolls before rising or baking. Cut your cinnamon rolls and place them on a cookie sheet. Freeze them for 30 minutes or until firm. Remove the rolls from the cookie sheet and place in a large gallon freezer bag.
When ready to serve, remove the specific number of rolls you want and set in a baking pan. Cover and allow to thaw on the counter overnight. Bake and frost as specified.
What is the best way to freeze homemade cinnamon rolls?
For the sake of research, I tried all three methods and you will see them packaged for my freezer below. I also made my frosting ahead of time and froze it (hence the large yogurt container in the picture). Any of the three methods for freezing cinnamon rolls work, but here are my thoughts on the best way to freeze cinnamon rolls.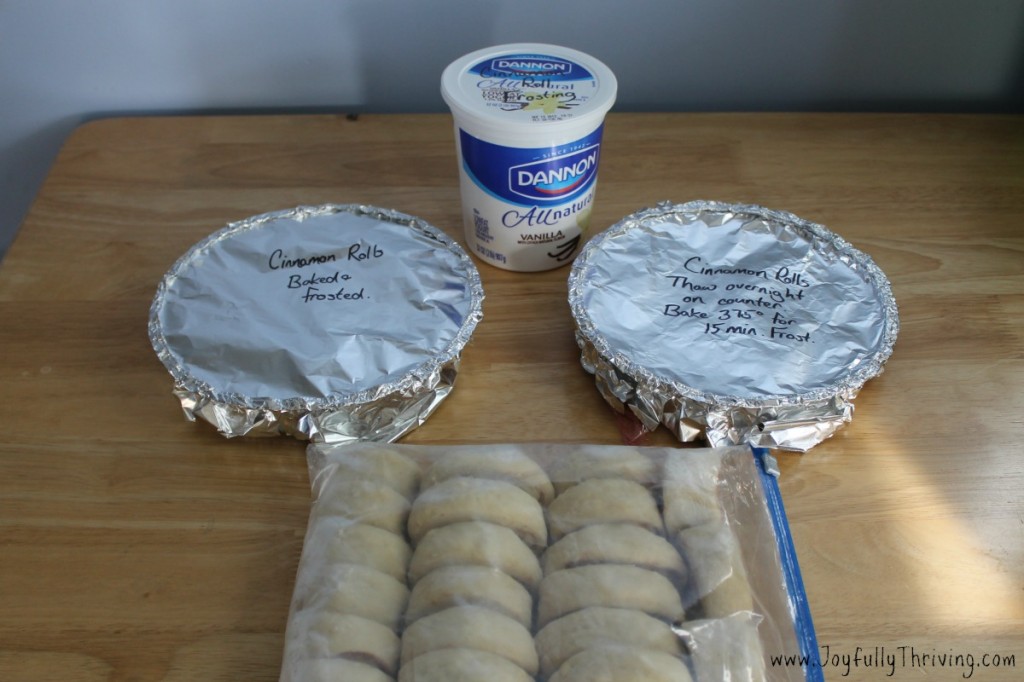 I started with my go to cook to learn about freezing cinnamon rolls according to the Pioneer Woman, who makes huge batches of delicious cinnamon rolls. Ree recommends the first method of baking and frosting them before freezing. This is the most convenient and easiest freezer method. Everything is taken care of already and you just rewarm the rolls in the microwave or the oven as you are ready to eat them.
Make sure you use disposable pans if you use this method. I like this method if you are serving a large crowd and need everything done early. Just bake and freeze until you are ready to serve!
Freezing your rolls in the pan before baking (method two) works well but it does take up more space in your freezer. Besides, if you don't have disposable pans, this ties up another pan as it will be in the freezer. It's easy enough to plan ahead a bit and pull the pan out the night before. The clear advantage to this method is that your cinnamon rolls are truly hot from the oven in the morning.
Jessica recommends the third method of flash freezing individual cinnamon rolls. This was the first time I had heard of this and was most curious about this method. This works especially well when you are baking a large batch of cinnamon rolls and don't want to tie up additional pans. It also takes up less freezer space.
With this method, not only do you get hot cinnamon rolls in the morning but you can decide exactly how many you want. Plus, there aren't leftovers…unless you want there to be!
One negative is that your cinnamon rolls may not rise quite as tall as they do with a traditional bake and rise. They still taste delicious but you should be aware of this fact when flash freezing your rolls.
The slight disadvantage to methods two and three is that you have to freeze the frosting separately or make it fresh that morning. A basic cinnamon roll frosting is not hard to make, since it is mostly powdered sugar. A traditional cinnamon frosting does freeze well so you can simply thaw the frosting when you get your frozen cinnamon rolls out of the freezer.
Whenever you are freezing cinnamon rolls, I highly recommend using disposable pans (like these) when you are baking your homemade cinnamon rolls for the freezer. These disposable pans that come with lids make it easy to stack the pans in your freezer. I keep a variety of disposable pans on hand at all times for freezer cooking and for sharing meals with friends. When you give someone a delicious gift of cinnamon rolls, you don't want them to worry about giving you back a pan!
So, there you have it. My analysis on three different methods of freezing cinnamon rolls. As I said earlier, there is a lot of flexibility with freezing homemade cinnamon rolls. My ultimate cinnamon roll recommendation?
Use your favorite cinnamon roll recipe and chose what method works best for you at the time.
If your cinnamon recipe is a small recipe, I would chose method one or two.
If your cinnamon roll recipe makes a lot (like Ree's), then I would chose method three.
If you are serving hot cinnamon rolls to a crowd on Thanksgiving or Christmas morning, I would stick with method one and rewarm them in the oven that morning.
It's so nice to have hot, homemade cinnamon rolls for breakfast! And when you utilize your freezer, it's just as fast – and so much better – than opening up a can.
For all my other freezer cooking recipes, check them out here. I just love freezer cooking. Don't you?