As we are going through our third time with an infant, I'm reminded that there is a lot of baby gear you don't need.
There are lots of practical things to do and buy to get ready for baby, but there are things you can skip, too.
I continue to simplify things more every time around and am here today to share my (updated) take on baby things you don't need to do or buy for your little one. I've revised my previous opinions on snaps and zippers. I still prefer zippers for newborns but then prefer snaps once they are a couple weeks old.
Babies really don't need as much stuff as the baby industry tries to sell you. In fact, you can get by with some diapers, onesies, sleepers and blankets, especially in those early days if you are going the simplest route or on a tight budget. I know most new Moms have been given lots of things and we are tempted to buy more than we need.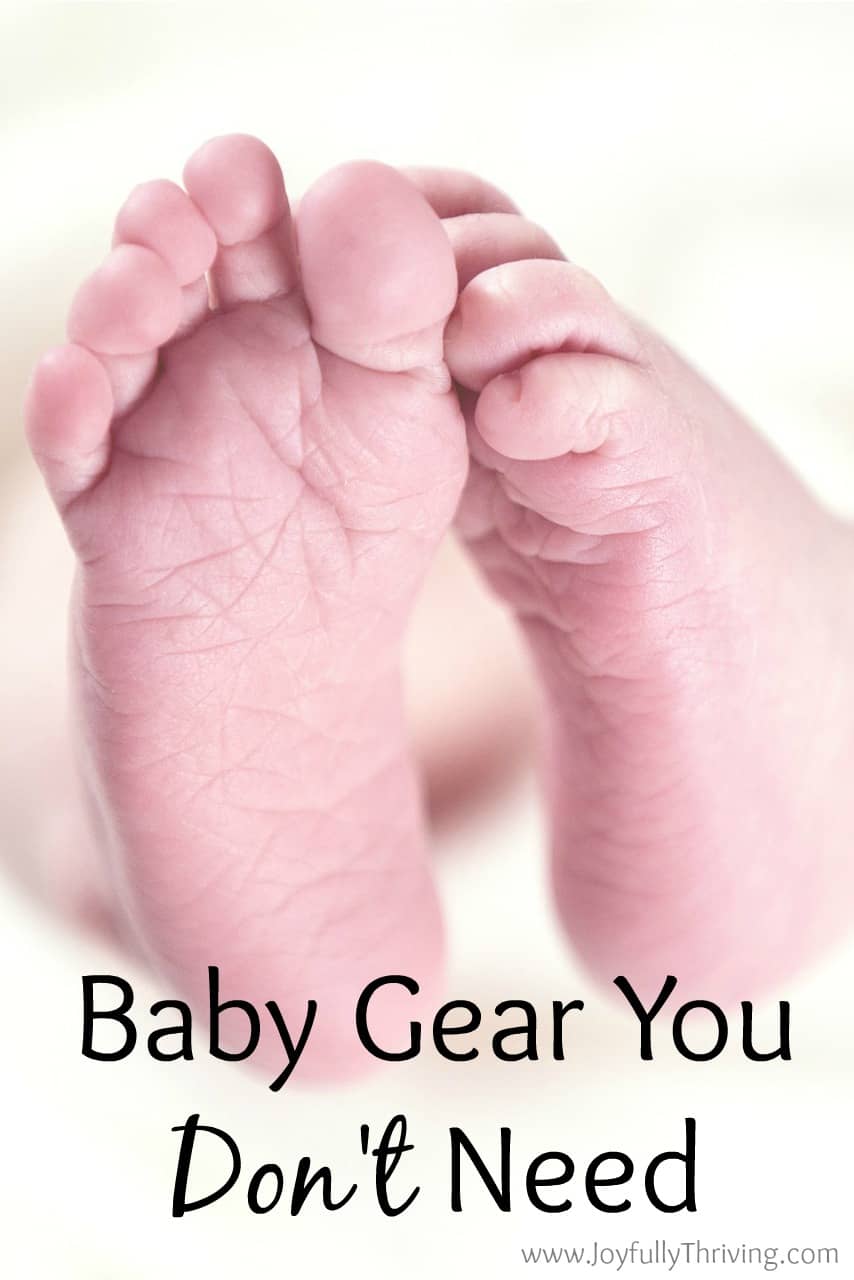 This post may contain affiliate links. As an Amazon Associate, I earn from qualifying purchases. You can read more in

my disclosure policy.




I know for a fact that things are much simpler with our second and third babies. Granted, we already had the big things (a crib, a basic but practical pack n play, and a carseat we love) that we can reuse from the first baby.
Every Mom has to make decisions of what is right for her and her baby. I know friends who absolutely loved their Rock n Play. For us? We bought a $3 bouncy seat at a kids resale that has served us just as well.
However, I know it can be overwhelming as a soon-to-be Mom to navigate through all the baby advice, so here is my list of baby gear that you really don't need. I'd love to hear your additions in the comments below – from new and experienced moms alike!
1. Waterproof mattress pad
I bought 2 of these before my first was born because it was suggested on all the lists to have one and a back-up for those middle of the night diaper leaks. Now, those middle of the night diaper leaks do occasionally happen but most crib mattresses today are already covered with a waterproof lining! I no longer use the waterproof mattress pad at all. When there is a diaper leak or sickness, I just wash off the waterproof crib mattress and put a new crib sheet on. Much easier and less laundry! Lesson learned. Check your crib mattress before you buy a waterproof mattress pad!
2. Baby laundry detergent
Unless your baby has incredibly sensitive skin, baby laundry detergent is not necessary. If no one else in your family has a sensitivity to laundry soap, then your new baby will most likely be fine. I start by using a free and pure detergent (All Free Clear and Purex Free & Clear were brands I used) when the baby was little just to be sure. Once I was sure that the laundry detergent was not irritating his skin, I quickly switched (within the first month) to washing baby clothes in regular laundry detergent with our clothes.
3. Expensive stain remover
Oh, yes, you need a stain remover but you don't have to spend lots of money on this! Stick to the old-fashioned bar of Fels-Naptha soap. It is cheap and very effective at getting out the toughest stains. Trust me. I've used this on many diaper blow outs and not a stain remains after giving the stains a quick scrub with this soap. It's the frugal stain remover I use for everything now.
4. Changing table
Our house was built in 1945 and has cozy (ie small) rooms. We didn't really have room for a changing table but I already knew I wouldn't head upstairs to the baby's room every time I needed to change a diaper. Instead, we use a changing pad and change the baby's diaper wherever we are. My Aunt and Mom actually sewed us some waterproof changing pads that I absolutely love. You can find similar ones on Etsy. Most of our diaper changes are done on these pads right in the living room. I keep a wicker basket of diapers, wipes and desitin right there for all the diaper changes.
5. Wipe warmer
Do you really want your baby to be dependent on warmed wipes for every diaper change? Your money is best spent elsewhere. Enough said.
6. Baby bath towels
These are so cute and like any first time Mom, I bought a couple sets. Then, I quickly learned how ridiculously small these towels are! They work just fine for a couple weeks but then you need 2 or more towels to cover and dry your baby. Save your money and use regular bath towels for baby. It's one less thing to store, too! The baby wash cloths are fine if you want them, but skip the baby bath towels.
7. Brand new fancy clothes
Yes, baby clothes are adorable. Yes, there are so many things you want to buy for your new little one! Just remember a couple things. First, babies grow quickly. Many of those newborn outfits will only be worn once so do you really need to spend $20 on an outfit that will be only worn once?
The best way to buy baby clothes is to buy them used or at garage sales. Since baby clothes are worn so few times, it is easy to find baby clothes in excellent condition for a fraction of the price when you buy them used. Besides, onesies and sleepers are the most practical for the first couple of weeks (or months) anyway.
8. Shoes
Baby shoes serve no purpose other than for looking cute. Plus, they are difficult to keep on! I saved myself the hassle and dressed the baby in cute socks but didn't start buying shoes until baby was walking. Even then, don't worry about buying the expensive baby shoes. Our pediatrician assured us that a $15 pair of baby shoes works just as well as $45 pair.
9. Baby mittens
Both my sisters used baby mittens with their children but we have never used them. I kept the baby's nails clipped short and we never dealt with scratches. It was one more thing that I didn't have to worry about.
10. Video monitor
A monitor is a necessity especially if your baby sleeps on a different floor than you do (like our babies do). However, our $35 Vtech audio monitor has served us very well! As long as I can hear the baby, I am fine. I don't need to watch every movement he makes during the night. Again, both my sisters love their video monitors but we chose to skip that item of baby gear.
There you have it. Those are 10 items of baby gear (I think) you don't need. I'd love to hear what is on your list of things that you really don't need for a baby! And if you want to consider the flip side? Be sure to read the ultimate list of all the baby things you SHOULD buy before baby is born!