Unique Diaper Gift for Baby Showers
If you are looking for a unique Christian baby gift, consider giving this diaper gift. It is simple to make these diapers and it is a gift that touch a new mom's heart – both with practicality and thoughtfulness.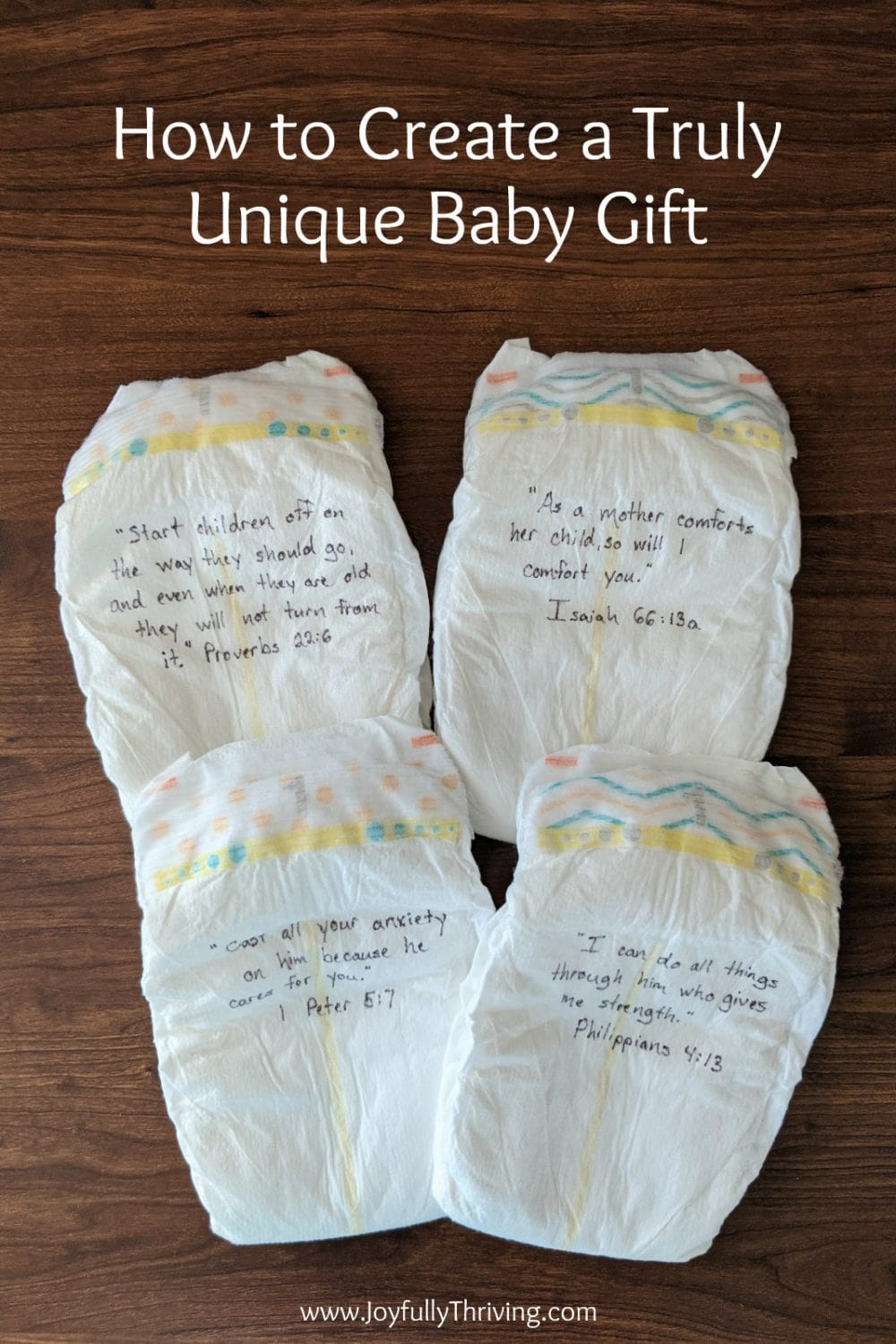 I always want to give thoughtful gifts – and that is especially true when giving gifts to a new mom. There are a lot of emotions that come with having a baby. There are the sleepless nights, the anxious questions, the overwhelming joys, the constant worries…
What if you could give a new baby gift that spoke to each and every one of these new mom emotions? 
This is where this simple – and thoughtful – baby gift idea comes in.
You can give a thoughtful baby gift by writing encouraging Scripture verses on diapers! 
I learned of this idea many years ago from one of my Mom's good friend, Susan. She shared this concept with me when my godson was born. 22 years ago, I made this baby gift for the first time and have thought of it ever since.
This year, I decided it was time to revisit this idea and expand it. I poured through the Scriptures and found Bible verses that spoke to the joys of motherhood and also provided encouragement for new moms. I wanted each Bible verse to be a quiet reminder that God is with moms, especially during the middle of the night diaper changes.
Having been a new mom four times myself, I remember those exhausting early weeks with a new baby. There is no time to do much except nurse, change and sleep with the baby – over and over again. These diaper verses provide a simple way to point new moms back to the comfort found only in Scripture. 
This is also a nice gift for those who are on a tight budget. Other than the cost of the diapers, you simply have to take the time to write the verses. Every mom needs diapers so every mom will appreciate this gift. The surprise addition of Scripture will touch their hearts as well.
It is one of the reasons I love giving new moms the beautiful children's book "Guess How Much I Love You" with Bible verses written on every page.
There is something beautiful about adding Bible truths to make a special gift truly priceless. 
This post may contain affiliate links. You can read more in my disclosure policy.
The idea behind this diaper gift is a simple one.
Take a carefully chosen Bible verse and use a sharpie marker to write the Bible verse on the front of a diaper. 
I spent a lot of time searching for just the right Bible verses for these diapers. I wanted verses that spoke to the heart of moms. I wanted Bible verses that were encouraging. I wanted Bible verses that reminded every mom she was not alone. I wanted Bible verses to comfort her on those sleepless nights.
I came up with 50 Bible verses from the Old and New Testament – many from the Psalms – that would speak to the hearts of new moms.
You can certainly choose your own Bible verses for this project – so many would work! If the new mom has a favorite Bible verse, be sure to use that one. Looking through the concordance of your Bible will bring to mind many encouraging Bible verses. 
For those who don't want to spend the time searching for the perfect Bible verses to use for this project, I decided to create a file with the Bible verses I used. This file comes in pdf format and is ready to print. The Bible verses arrive in your email, ready to download, within minutes of purchasing.
If you would like a copy, I have bundled all the Bible verses I used in a printable pdf pack for $5. It is available for instant download upon purchasing here.
Not only are there a plethora of Bible verses to choose from in this file, but I also provided 5 different translations of all the Bible verses. I know different people prefer different translations so I wanted to accommodate that.
The Bible verses are available in NIV (New International Version), ESV (English Standard Version), KJV (King James Version), NRSV (New Revised Standard Version) and NLT (New Living Translation). You get all 50 verses in all 5 translations bundled into one download. 
I also included a printable page of directions, as well as a picture example of these diapers, to help make the diaper creating process as simple as I can.
Once you pay, you will receive instant access to the download – as well as a download link via email.
Once you have the Bible verses you want to use, here is how to create this unique baby gift.
Supplies Needed:
Diapers (Size 1 recommended, although Newborn can be used too)

Sharpie Marker, Ultra Fine Point

List of Encouraging Bible Verses for New Moms
Directions:
Buy a pack or two of diapers for this gift. Babies go through so many diapers and I love that you can give a practical gift – as well as a thoughtful one.
Choose the Bible verses you want to use for this project. You are free to repeat Bible verses or use a variety of different ones. If you want to use the Bible verses I used, the complete list is available here.
Start writing the Bible verses. I recommend using an ultra fine tip Sharpie marker (like this one). The marker will slightly absorb into the diaper as writing, but it will not smear when the diaper gets wet. (I tested this fact with diapers that I wrote on for my own baby to make sure!)
Repeat the Bible verses as often as you choose. I like using a wide variety of verses. Most size one packages of diapers come in 32 to 40 count. If you are using the list of 50 Bible verses, you can easily use a different verse for each diaper. If you buy two packs of diapers, simply start repeating. I promise you that the Mom will not mind a Bible verse repeating when it is chosen especially for her.
When you are finished writing the Bible verses, bundle the diapers together in a big gift bag or a cute basket or even a diaper caddy. However you package the diapers, your thoughtfulness – and the Bible verse reminders – will encourage any new Christian mom. 
Additional Notes:
Any brand of diapers can be used, although diapers that have plain space to write, such as Pampers, Up & Up (Target brand) or Comforts (Kroger brand), work best. Many Huggies diapers have pictures on the diaper which make it difficult to see the Bible verses.
Any size of diapers can be used but I personally recommend size 1. Not all babies wear newborn diapers – or stay in them very long. Using size 1 ensures that your baby gift is practical and thoughtful, and will definitely be used.
Spending the time to create a special gift like this will leave a lasting impact on any new Mom. It is a simple way to care for Mom and baby.
Note: If you want to buy all 50 Bible verses I used, the Bible verse download (in 5 different translations) is available for instant download for $5 in my Etsy shop. All the Bible verses are typed in one pdf file for your convenience! Buy the pack here.