10 Best Charcuterie Books to Teach & Inspire You to Build Beautiful Boards
If you are looking for the best charcuterie books to help you build your own boards at home, check out these charcuterie cookbooks for great inspiration!
Charcuterie has taken the world by storm in the last couple of years. One only has to see a beautiful charcuterie tray or a cheese board, to be awed and inspired. Plus, there really is something so amazingly fun about eating with friends and family around a beautiful board of food!
What is charcuterie, some may still wonder? While it begin as a unique way to serve artisan cheeses and meats, charcuterie has developed into a popular serving trend. The basic premise remains the same. Use a board or platter to serve a variety of finger foods to be enjoyed by many. Is that a simplified definition? Yes. But can it work for your purposes? Also yes.
I have tried my hand at creating boards, but creating gorgeous boards takes practice – and lots of inspiration! I have enjoyed creating different boards for gatherings with friends. While my boards aren't the fanciest I have seen, the boards are always enjoyed by everyone. But I still feel like I have a lot to learn about charcuterie! It is the reason I turned to charcuterie books. I searched through dozens of books to find the absolute best charcuterie books around.
I wanted to see beautiful boards with vibrant pictures. Of course, I also wanted tips for easy charcuterie boards that didn't require too much time to put together. I also wanted board-friendly recipes, with expert advice on how I could recreate the beautiful boards I saw. It seemed a tall order, but I have found some absolutely amazing charcuterie books that have me so excited to create amazing boards at my home!
Some of these books are worth browsing from the library, and some are definitely worth adding to your cookbook collection. Several of these would make a great gift for a charcuterie loving friend or sister-in-law!
This post contains affiliate links. You can read more in my disclosure policy.
Whether you are new to the charcuterie scene, or are already a board aficionado, the following books have plenty of inspiration for everyone!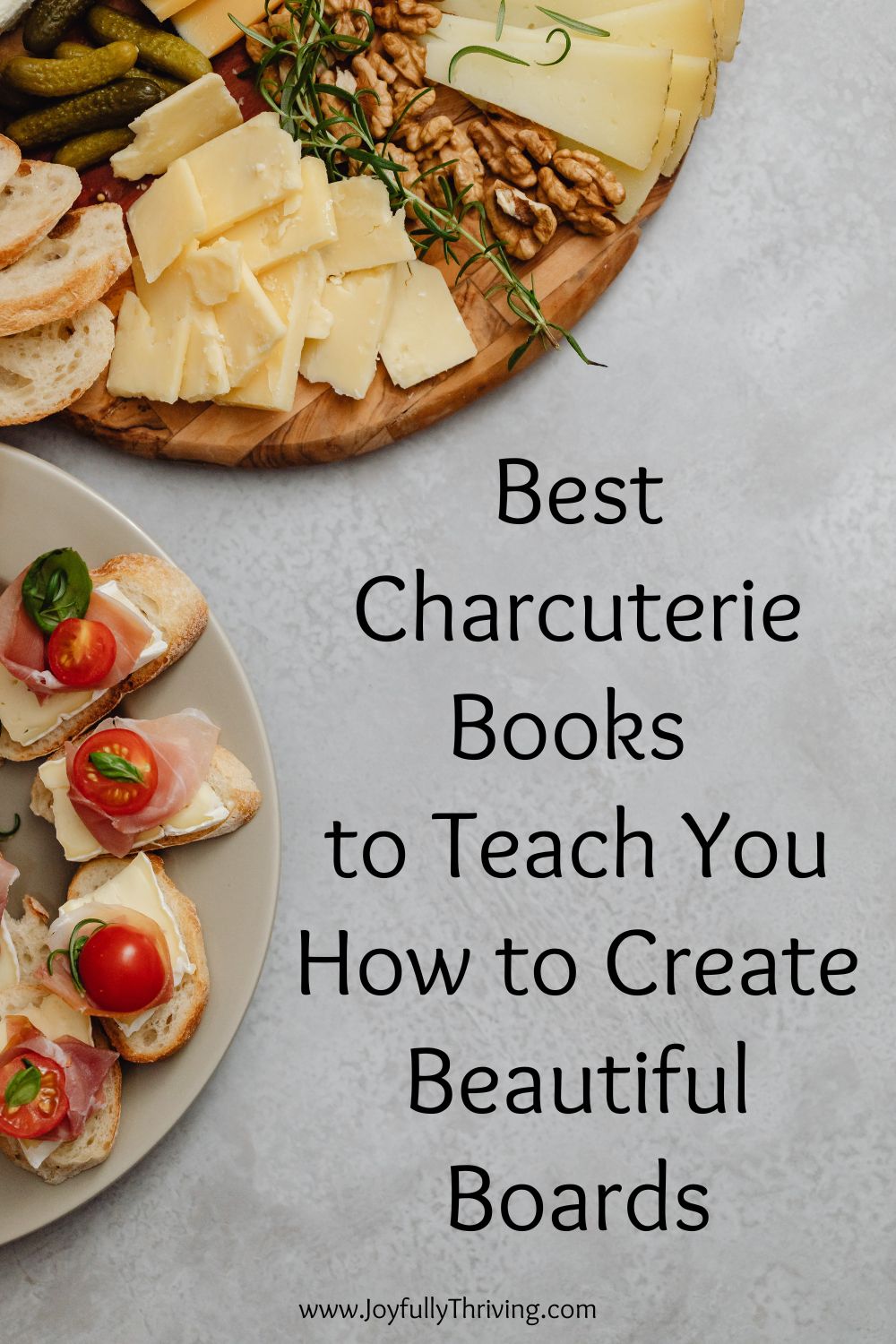 Here are the best charcuterie books to teach and inspire you.
I have included a description of each charcuterie book, as well as a picture of one layout from the book, so you can get a general idea of the style of the book. Plus, I include my personal recommendation of whom the book would be best for. You can learn more about any book below on Amazon by clicking on the title.
Around the Board begins with a great introduction about all the different types of meat as well as picture instructions on how to fold your salami. Sometimes the basics need to be seen with pictures! There are also pictures and directions on all the different cheese forks you may need, which is helpful as well.
This charcuterie book is broken down into seasons. Each seasonal section begins with a list of the pantry items that fit with the season – produce, cheeses and an assortment of other ingredients. There are also a couple pages included on drink pairings for beer and wine so you know exactly what cheeses to serve with what. Each board picture is accompanied by a number diagram so you can easily identify the ingredients needed to build that board. There are a handful of recipes that add to the boards, but the focus of this book is really on building a basic board yourself.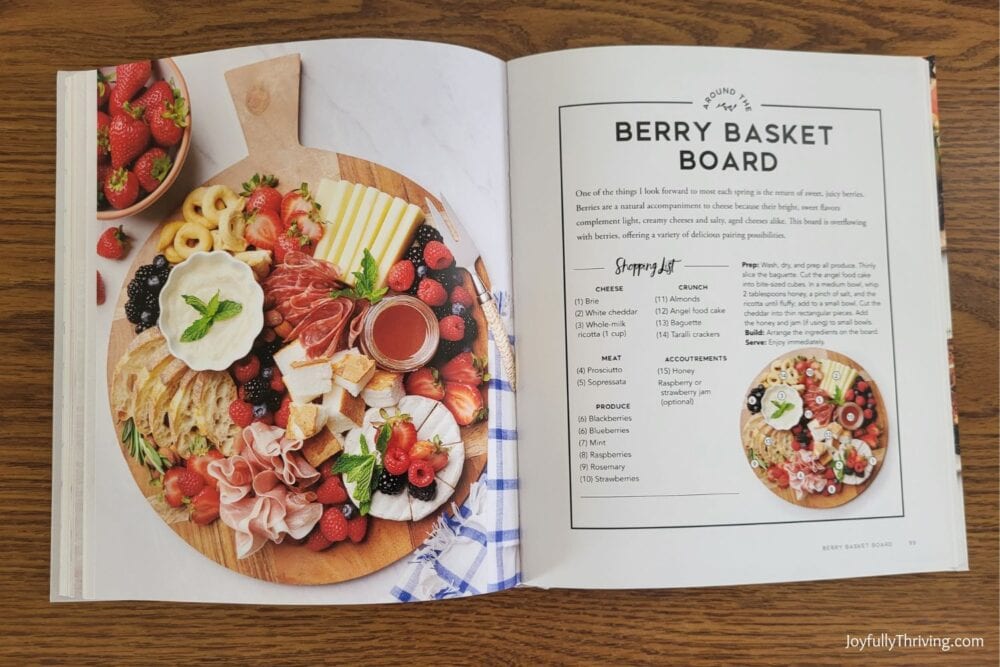 If you want to focus on seasonal produce and cheeses when building charcuterie, Around the Board is for you.
This charcuterie book is one that should be in everyone's home. The brilliance of this book is that you see a beautifully built board, followed by fully-illustrated instructions. You see step by step instructions for how to build your cheese plate which is incredibly helpful.
Whether you are starting with basic boards or want to build a more complicated board, Marissa's detailed directions will help you build a beautiful board. Consider this useful book a cook by numbers type of book. This is definitely one of the best books for beginners. It would also make a perfect gift book to one of your charcuterie loving friends!
If you are a beginner to charcuterie or want simple step by step instructions, That Cheese Plate Will Change Your Life is the charcuterie book for you.
This charcuterie book is produced by the talented food editors of America's Test Kitchen. One of the best things about any cookbook by America's Test Kitchen is every recipe has been tested multiple times. You will also get lots of details in this book! Elle is a food stylist who focuses on presentation of entire displays. In this book, you get a beautiful inspiration picture, followed by all of Elle's set up tips and tricks. There are quite a few delicious recipes included in this book, as these boards are more involved than a simple cheese board.
If you want a charcuterie books with lots of explanations and tips, Boards is a great choice for you.
Here is another charcuterie book based around the seasons. As with any good charcuterie book, you will get lots of beautiful board pictures to inspire you. One of the unique things about this book is that each board includes a Difficulty Level – Easy, Intermediate and Difficult. (Difficult simply meaning more time involved).
Olivia also gives you a general price estimate for each board. Of course, this varies greatly depending on where you live or shop. There are also "Hopeless Hostess Tips" sprinkled throughout the book. Olivia deemed herself hopeless at cooking, but has learned she can entertain – and wants to help you do the same. She also includes several pages about different serving boards and accessories, as well as a crash course in meats and cheeses.
If you feel overwhelmed by entertaining in general, but want to join in the charcuterie fun, The Art of the Board can help you get started.
This charcuterie was created to help you build beautiful plant-based snack, meal and dessert boards. Kate does a good job of making charcuterie accessible if you follow a vegan diet – or just want to focus on healthier, all natural foods. It's different because you won't see any meat on these boards. If that is something you are looking for, Kate has you covered with a variety of boards you can make. This charcuterie book would also be helpful if you entertain regularly and have friends who are vegan or vegetarian, and want to include them in your charcuterie fun.
If you are vegan or simply want to focus on building beautiful plant-based boards, Vegan Boards is for you.
Lisa is another food stylist who knows a lot about creating memorable boards. On Boards focuses on giving you lots of visual inspiration. There is a section of recipes at the end of the book, which includes dips, sauces, relishes, jams and savory additions. These recipes are great for a home cook who wants to do just a bit more homemade wise. Each board recipe includes a list of ingredients, preparation steps and bonus tips.
If you want a more minimalist charcuterie book which focuses on the pictures with straight to the point directions, On Boards is for you.
If you've been around the cookbook world, Taste of Home is a name you know well. They are known for their accessible recipes that every day cooks can make and enjoy. Now, Taste of Home has jumped into the world of charcuterie as well! In this book, you get a beautiful picture followed by ingredients and steps to assemble. The difference is that several homemade recipes follow each display for a more traditional cookbook feel. If you like the idea of using less store bought ingredients, you will enjoy the different boards Taste of Home creates.
If you want a cookbook approach to charcuterie, with lots of homemade recipes to make for your boards, this book is for you.
This charcuterie book was written by a mom (of Baker Mama fame), who loves to make truly beautiful boards in her own kitchen. This book is full of inventive boards that will give you so many ideas! Every board in this book is truly beautifully. Even my kids had fun flipping through this book! You will want to flip through this book multiple times to enjoy the vibrant photography. Any recipes needed for these boards are included in the back. Since this book is written by a mom of 4, these fun boards focus on personal taste and include down to earth ingredients than some fancier boards. This book is definitely going on my wish list!
Beautiful Boards is the best cookbook for moms who want beautiful charcuterie inspiration to make boards in their own homes with their own families.
Once you have mastered the basic charcuterie board, Spectacular Spreads helps you design a counter full of food for when you are entertaining a crowd. If you enjoyed Maegan's style in Beautiful Boards, this is the book that makes even bigger spreads (hence, the title!). This book is set up more as a cookbook, with a picture of the amazing spread, items needed and directions, followed immediately by a lot of great recipes. There are also some decadent desserts included in this book – like a build your own ice cream sandwich and build your own milkshake.
If you want to take your charcuterie to the next level, Spectacular Spreads is a great choice for you.
This book takes everything to the next level with epic boards designed to feed a large family or a crowd. Much of the emphasis in this book is on actual meals arranged on boards. Sandy's belief is that everything is elevated when served on a board. Serving a big board for your family suddenly makes a regular meal seem special. This book is full of different board ideas – from breakfast and snacks, to lunch and dinner, and of course, dessert, too! Big Boards proves there is no right or wrong way to serve a board.
If you want to serve a crowd with themed board ideas, Big Boards will give you lots of ideas.
There are some of the best charcuterie books in 2023. I hope this gave you lots of ideas about which books you want to add to your collection! What are your favorite charcuterie books?