Best Rhyming Books for Kindergarten
If you are looking for the best rhyming books for Kindergarten, check out these book recommendations from a former Kindergarten and Preschool teacher, and a mom of four.
As a book-lover, an early childhood educator and a mom to four little ones, I am passionate about early literacy. I firmly believe reading aloud to our children is one of the greatest things we can do for them. Not only do you get the cozy time to snuggle and bond with your child, but you are enriching your child's brain for years to come.
My first teaching job was 5 wonderful years teaching Kindergarten. I also taught third and fourth grade, Pre-Kindergarten and preschool during my 10 years of teaching, before I started staying home with our own kids. As much as I loved all of those levels, Kindergarten was definitely my favorite to teach.
I loved exposing my Kindergarteners to great books, and developed the extensive library – that I continued to add to as I had children of my own. It's where I came up with this list of books. These are the rhyming books that I have read as a Kindergarten teacher, a preschool teacher, and a mom.
But before we dive into all the books, let's talk a bit about why reading rhyming books is so important for young kids.
This post contains affiliate links. You can read more in my disclosure policy.
Some of the earliest books we begin reading to our babies are rhyming board books. Babies are fascinating with language and the sounds we (their parents) make to them. Rhyming has a rise and fall pattern that is intriguing to babies. You can almost see their little brains working to figure out the patterns.
As babies grow into toddlers, rhyming is just as important. Playing with words and hearing how words relate is a key component of emergent literacy. Long before your child is actually reading, they need to be immersed in words to build a strong foundation of literacy. They are developing phonological awareness by hearing words.
By the time a child enters Kindergarten, they need rhyming more than ever! Rhyming is an important part of phonemic awareness as they listen for similar sounds. Rhyming is so much fun, but it is also a great way to teach children how to read. Maybe you didn't know it, but reading books to your children is the best way to teach them how to read!
Want to help your children rhyme? Read more rhyming books! This is the perfect place to start because as children hear more rhymes, rhyming becomes more natural. Yes, they will make up silly rhymes and nonsense words. That's great! It is actually part of emergent literacy and early childhood teachers like myself look for children to play with language that way. We want to hear them make up their own rhymes. It's all part of the process!
Now, let's dive into the rhyming books. There are so many great rhyming picture books! I should note that I am particular about the books included on this rhyming book list. I don't like rhyming books that don't flow well or where the rhymes feel forced. There are so many excellent rhyming books available, you should spend your time reading those. That said…
Here are 36 rhyming books that are some of the best rhyming books for kindergarten.
Note: Click on the titles to be taken to Amazon for more details on the books.
Let's start at the beginning with some storybook classics. This is a simple story of silly sheep who get into all sorts of mischief. The beauty of this book is that the rhymes flow effortlessly to tell a simple but cute story of a sheep in a jeep on a hill that's steep. If you like this story, there are many others in the sheep series by Nancy Shaw, that Kindergarteners simply love!
Mother Goose is one of the easiest ways to introduce to the concept of rhyming because almost all nursery rhymes do just that – rhyme! I tried to spend a couple minutes every day reading nursery rhymes to my students and my own kids because it is such a good way to help with phoenemic awareness. There are many marvelous Mother Good books, but one of our favorites is this collection illustrated by Scott Gustafason. The illustrations are so beautifully detailed of animals acting out the nursery rhymes.
Here are 8 of my favorite nursery rhyme books, if you want a couple more options. I have multiple Mother Goose books so I can rotate through them with my children.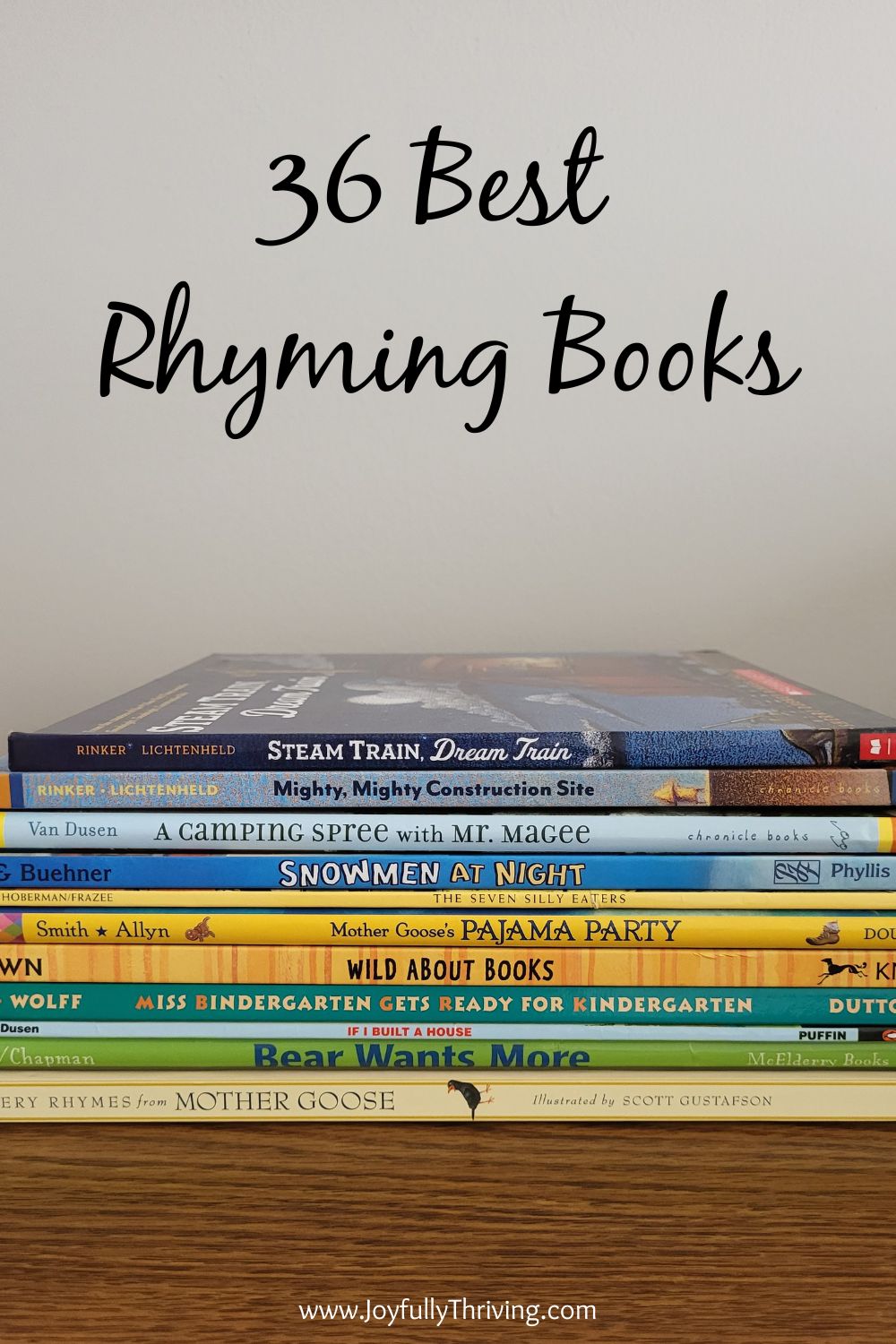 This book is a cute rhyming story with hidden pictures. It tells the story of animals who can't find things. The missing object is cleverly hidden within the picture for your child to find as they hear how "Goat can't find his boat" and "Bear can't find his pear." This one can be a bit harder to find now but if your library has it, check it out!
Jamberry is the classic story of berry picking told in rhyme. This book does include some silly rhymes and nonsense words like, "Hatberry, shoeberry, in my canoeberry," which is also a part of emergent literacy. Many Kindergarteners make up nonsense words when learning to rhyme and that is good and to be expected!
Silly Sally is a delightful book by the author of Napping House fame. Personally, I think Silly Sally is much more engaging to read than the more famous Napping House. This simple book is the story of Sally who attempts to go to town "walking backwards upside down." On the way, she encounters different animals who do different rhyming things. This book is a silly rhyming book that young readers love.
Drummer Hoff is truly a classic. It received the Caldecott Medal in 1968. This was one of my favorite books as a little girl and my kids love it too. The bright illustrations have a unique stained-glass look to them that I haven't seen anywhere else. Not only is this a rhyming book, but a rhyming book with great repetition. By the end, you will all be able to tell how "Drummer Hoff fired it off."
This book is another classic rhyming book, but I have to admit it isn't one I enjoy. However, many children have probably heard this as a bedtime story. It is a simple story with simple rhymes, which is why I am including it on this list.
Madeline was published in 1939 and has stood the test of time! It's the rhyming story of Madeline, one of 12 little girls, who live together in Paris. It rhymes as it tells the adventures of this brave little girl. I think it's good to read a classic rhyming book or two along the many newer rhyme books, so children are exposed to a variety of styles.
No rhyming book list could be be complete without the great rhymes of Anna Dewdney. All the other Llama Llama books are equally as enjoyable – and they all rhyme. This is the first book in the series, and although we have read them all, this is still our favorite. Parents and kids relate to the adventures of little llama, especially as he gets ready for bed in this book.
This book is the adorable story of a little blue truck who stops to help his friends. The addition of animal sounds (still told in rhyme!) is brilliant for little ones. It's a good introduction to onomatopoeia (beep, moo, cluck) which is fun for Kindergarteners to play around with. If your children like this book, be sure to follow it up with Little Blue Truck Leads the Way.
5 little monkeys is another classic picture book. This version puts lively pictures with the classic rhyming poem. This is such a fun book that all young children love! If your child enjoys this one, be sure to read Five Little Monkeys Sitting in a Tree!
This rhyming book was a book order find. It tells the rhyming story of a Mommy mouse and her baby, going through the house and naming all the colors. "Can you find some red things, in our teeny tiny house, said the teeny tiny Mommy to the teeny tiny Mouse?" This rhyming story provides a good review on colors, and would be a great rhyming book for the beginning of the school year.
Here's a clever book that tells of all the nursery rhyme characters going to Mother Goose's house for a sleepover. You'll see Little Miss Muffet, Little Bo Peep, and the Cow Who Jumped Over the Moon, among many others. At the end of the book, the original nursery rhymes are included to read aloud too. After you have spent time reading lots of nursery rhymes, this is a great follow up rhyming book to read.
There is a full collection of Bear books and they are not to be missed! When bear wakes from his winter hibernation, he is hungry so his friends help him find more to eat. Bear Wants More is the first in this series and a great place to start. Jane Champman's adorable illustrations only add to the beauty of these rhyming books.
Who doesn't love Brown Bear? This predictable book makes it simple for little readers to read along with you. This is a story that many children have hopefully heard at home when they were younger, but it's still a great one to practice rhyming with in Kindergarten. You can also do many spin off activities and create a similar predictable class book after reading this one.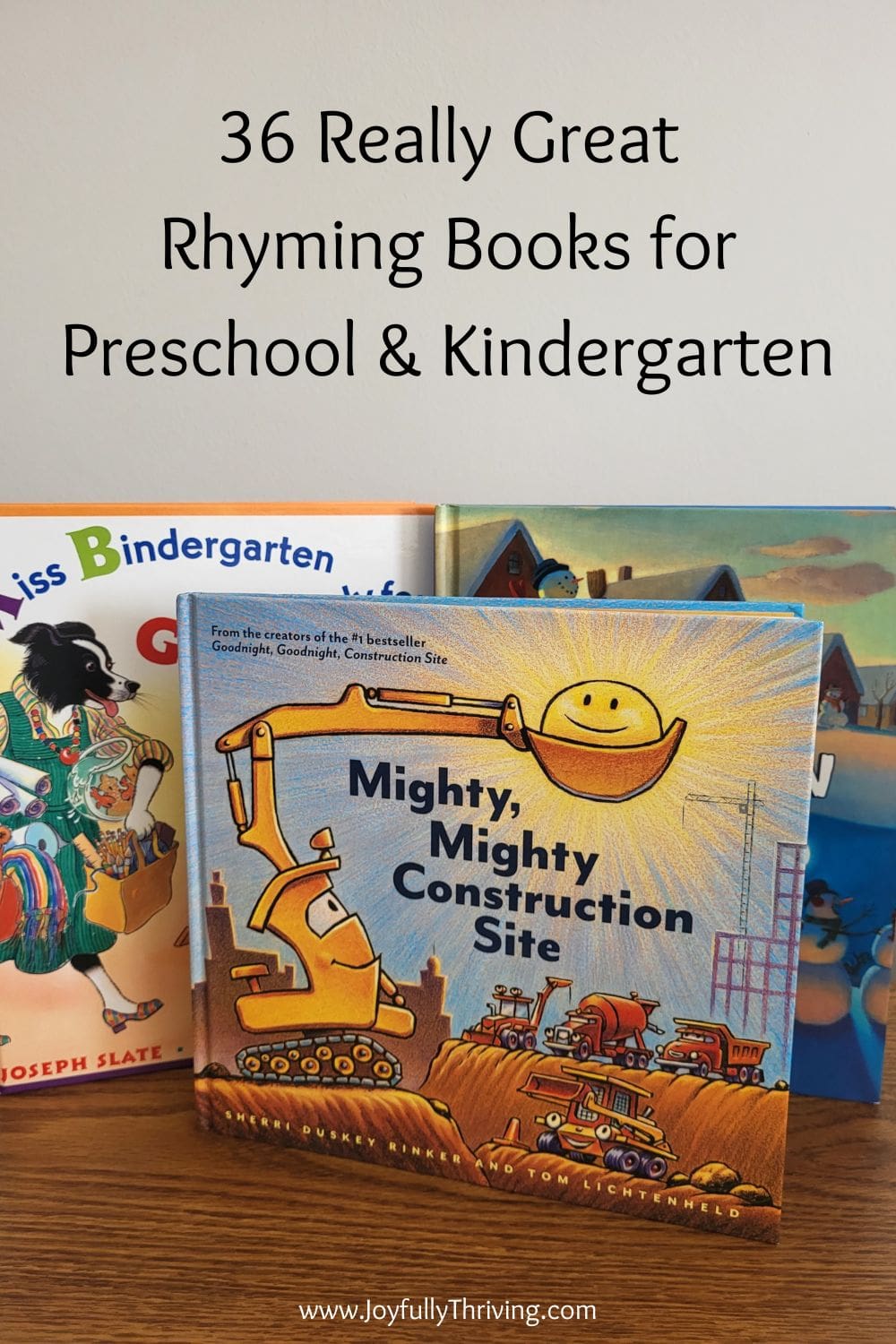 Dr. Seuss books are classics when it comes to teaching rhyming words to children of all ages. This book is a good introduction to rhyming for young children who are learning the alphabet because it is gives several words for each letter that all start the same – and they rhyme too. Plus, it is shorter than many of Dr. Seuss's other books.
This is one of my favorite rhyming books for kindergarteners because it is filled with short rhyming phrases throughout the entire book. Hop on Pop focuses on rhyming word families, which not many other rhyming books do. This is a great rhyming book that most Kindergarteners can read on their own.
Yes, another Dr. Seuss because he is a master of rhyme! While this is a longer Dr. Seuss book, it is truly a classic rhyming story. It's a great way to introduce your children to new foods, as Sam-I-Am tries to do. How many of us can recite this book from memory? "I will not eat them here or there. I will not eat them anywhere!" It's a catchy book indeed.
This book is a great one for all the truck lovers out there. It cleverly shows all the trucks wrapping up their work for the night. It names all the trucks and the work they do, which is a good addition to the story. My two boys and my two girls both enjoyed this rhyming book!
This clever rhyming book, by the same Construction site author, tells of animals loading a train for the night. You will learn all the different train cars as the rhyming story unfolds.
This is a shorter rhyming book with different looking illustrations – but the concept is brilliant! There is a rhyming thief who steals things and exchanges them words that rhyme. For example, "Arnie's comfy chair was switched for a…bear." Children will have fun guessing rhyming words that could have been traded.
When you are looking for a good story that just happens to be told in rhyme, read Giraffes Can't Dance. This a beautiful rhyming story that reminds us it's okay to be different! When Gerald the Giraffe can't dance, he learns that sometimes "you just need a different song."
Chicka, Chicka is an early childhood classic. Not only is this a delightful rhyming book, but Chicka Chicka Boom Boom introduces your child to all the letters of the alphabet as they hide up a coconut tree. Many Kindergarten teachers (myself included) create a coconut tree in the classroom, and help the children make their own alphabet tree after reading this book.
This silly book tells of a group of animals who are terrified by the idea of an imagainery animal called a Gruffalo. The littlest animal – a mouse – manages to trick all the bigger animals, in this funny rhyming picture book. Kindergartners will enjoy what happens when a Gruffalo actually appears!
You can and should certainly read this rhyming book in the winter, but my kids enjoy reading this clever rhyming book any time of the year. This book creatively imagines what snowman might do at night when people are asleep. The rhyming story is excellent and the illustrations are so creatively detailed! There are several other enjoyable books in this snowmen series, but we especially like Snowmen at Christmas and Snowmen at Work.
This rhyming folk song is a classic one for kids. I recommend this version by Pam Adams. There are holes cut in the pages so you can see each animal. The holes grow throughout the story, as the animals grow. If your Kindergarteners like this song, there is a whole spin off series of The Little Old Lady books. They are fun to read but the rhyming doesn't always flow as nicely as in the original.
If you have remember the popular jump rope rhyme, you will want to read this book with all the rhyme and repetition that children love. I recommend this version with the illustrations by Nadine Westcott. It's so much fun to read! We actually wore this book out and all the pages started falling out because we read it so many times!
This funny book is about a frog who changes the rules of where everyone sits. Dogs sit on logs, Bears on stairs, kittens on mittens and cheetahs on fajitas. The book ends with a long list of stilly rhyming pairs that are sure to make kindergarteners laugh. After reading this book, it will be fun to think up different rhyming pairs for the animals!
Here's another unique rhyming book! Zin, zin, zin uses rhymes to introduce different instruments and the sizes of a musical group (trio, quartet, quintet, etc). As a music teacher, I used this book regularly for the musical concepts. The rhyming is a bonus!
This new rhyming book is a wonderful story for Kindergarten. I love this book because it is an inclusive children's book focusing on kids with different physical abilities. The young boy in the story is missing a hand, so there are many great discussion points in this book. The boy and his mom are attempting to make cupcakes when the ingredients begin to rain from the ceiling or sink or several other unusual ways. It's a great new rhyming book to add to your collection.
I absolutely love this series! Miss Bindergarten is a dog, getting ready to teach her classroom of animals, from A to Z. You have Adam the Alligator, Brenda the Beaver, Christopher Cat, and so on. Plus, the story rhymes perfectly as it shows Miss Bindergarten setting up her classroom, and the children at home getting ready for the first day. I used to read this book every year on home visits to my Kindergarteners. If you teach Kindergarten, the entire series of Miss Bindergarten books makes great additions to your classroom library!
This book is a fun story of animals in the zoo who want to read. The illustrations are by the talented Marc Brown, of Arthur fame. You will enjoy hearing all the different books the animals like to read (Llamas read dramas, of course), and how the story unfolds after "Molly McGrew, by mistake drove her bookmobile into the zoo." This is a very well written rhyming story.
This one is another catchy rhyme book by the talented pair of Judy Sierra and Marc Brown. Sam loves to read, and it starts with his mother reading to him. This book tells the story of all one can do when you read!
This is one of three books in the Mr. Magee series. Mr. Magee and his little dog Dee go camping in this book. The mishaps are told in clever rhymes that will have you and the children smiling at the misadventures of Mr. Magee.
My kids and I absolutely love this story by Chris Van Dusen. It tells how students might design a school if they could. You won't want to miss the creative imaginations of this fun school. The story rhymes brilliantly and the illustrations are incredible! Chris has two other rhyming books in this series that are definitely worth reading – If I Built a Car and If I Built a House. If I were still teaching Kindergarten, I would use these books in my lesson plans as a way to teach rhyming while also encouraging the students' imagination. These books could be great journalling prompts!
There are so many wonderful rhyming books but this is definitely one of my favorites. It rhymes perfectly and tells a great story with amazing illustrations. This is the story of Mrs. Peter's and her seven children who each only want to eat one particular food. The detail of Marla Frazee's illustrations, as the children grow throughout the story, means there is always something new to see. Kids will laugh and moms will relate to this rhyming story. This is a great read for young and older children alike!
There you have it! I hope this rhyming book list gave you lots of ideas of new rhyming books to read with Kindergarteners and Preschoolers. What's your favorite rhyming children's book?
More Book List Recommendations