Practical Ways to Help Baby Sleep
All new parents have been there. We've all had those early days and weeks where the time spent sleeping is limited. Do you remember when you first realized that that time between feeding sessions for a newborn starts at the beginning of one feeding till the next? When this is only a 2 to 3 hour stretch initially, it's easy to understand why new parents become so exhausted.
Yes, we hurry to sleep when the baby is sleeping but that's much easier with the first one than it is with any children that come after. I'm already thinking about that since when we bring this baby (number 2) home from the hospital, I'll have an active 2 year to keep up with as well!
For that reason, I've started to think about strategies for newborn and baby sleep as well as best practices. I am a mother who firmly believes in the importance of sleep – at all ages and stages. I also believe in the value of developmentally appropriate routines and schedules.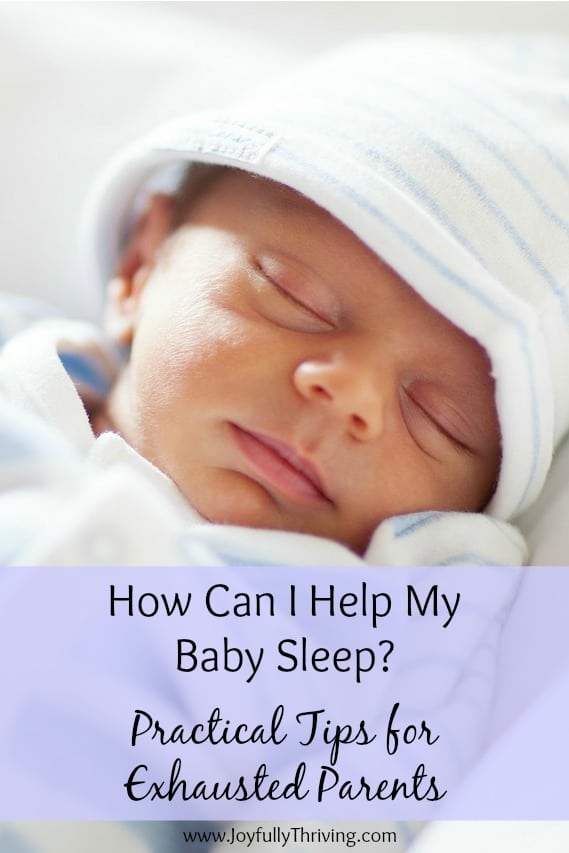 Let me start with this disclaimer. I am by no means a sleep expert. I am simply a Mom who tried to help her baby sleep. This is for all the exhausted moms who are wondering, "How can I help my baby sleep?"
Nathan was a pretty good sleeper from early on. Oh, we still had plenty of 2 hour sleep breaks between nursing sessions in those early weeks, don't you worry! Yes, some of it may just be luck (as some parents say) but I like to think some was also due to the habits we tried to institute from an early age. Of course, we found the strategies and tools that helped Nathan sleep – and used them! Here are the some of the practical ways we helped our baby sleep.
We kept baby in a bassinet in our room for the first 2 to 3 months. I actually can't remember specifically when we moved him upstairs to his crib but it was nice those first months to have him so close for night feedings. We were very thankful that a friend loaned us her bassinet so it was one less baby item to purchase. I know some parents sleep better with baby in his / her own room from day one. If that is what works best for you and baby, do it!
When baby was hungry, I fed him. I nursed on demand and through the night until he was around 9 months of age, when we dropped the last middle of the night feeding. I knew this was what baby needed so I just did it. From the beginning, we kept the room dark so Nathan never thought it was time to play. He nursed and went back to sleep…until the next feeding, of course!
We used a pacifier to help baby self-soothe at night. We actually bought a WubbaNub which was very helpful in those early nights when Nathan couldn't reach out and find the pacifier on his own. The WubbaNub allowed him to reach out and have something more to grasp onto so he could get the pacifier back in his mouth on his own. If you have a pacifier baby, I highly recommend these ingenious little pacifiers!
We swaddled for the first four months. We started with the Halo sleep sacks, as Nathan was born toward the end of an Indiana winter. Those were easy to zip up, kept him warm and swaddled his arms for less jerking movements during the night. Later, we discovered that our baby slept better when he was swaddled tightly and we started using the SwaddleMe swaddlers. They were thinner (perfect for spring time) and very reasonably priced. Plus, they were easy to slide the baby into at night and the velcro kept the swaddle cozy throughout the night. Swaddling with a blanket worked for naptime but I never mastered the trick of a secure blanket swaddle for nighttime sleep. It was well worth the money to purchase the SwaddleMe swaddlers!
We bought a sound machine. We did this after the first couple months and I wish we had done it sooner. Not only did this simple sound machine help block out the trains and barking dogs for Nathan, but it also helped me by blocking out all the little baby sighs and noises that they make in the early days. I could still hear Nathan just fine over the baby monitor but the sound machine actually helped me to sleep better, too! As a bonus, the sound machine is great to take along when you are traveling to a different place or in a hotel with different sounds.
We relied on the encouragement of other moms that this season of sleepless nights will pass. I had a friend who had a baby 6 months before me and Alison was a constant source of help and encouragement. Mom friends are the best at empathizing over the sleepless nights! Once they pass for you, you can empathize with other new moms and comfort them with the knowledge that the memory of sleepless nights fades.
I read lots about best sleep practices for babies. Of all those, I'd like to highly recommend this one. It's a new book called Help Baby Sleep: The Exhausted Parent's Guide to a Restful First Year. It's written by mom, Janeen Maxwell, who has 5 children of her own. In this handy book, she shares her encouragement and resources for helping baby – and mom – sleep the first year. (Janeen also blogs at Loving Littles about raising her family in Alaska and saving money in the process.)
I loved this book! Help Baby Sleep was easy to read and took me less than an hour to read. That's very helpful when you are a new parent who's already tired and wants some quick help. This book was written just like you were talking to your best girlfriend. Janeen totally understands the exhausted and sleepless nights. One of my favorite pieces of advice? Don't worry about cooking and cleaning! Just do what you need to do to survive. I try to stock my freezer with freezer meals before the baby is born so it's one less thing I have to worry about when the baby is born. (Here are some of my favorite homemade freezer meals but store bought ones work too. Do what you need to do to survive those sleepless nights!)
It was also helpful that Janeen talked through sleep practices at every age. She does not advocate any particular sleep practices but rather encourages you to do what works best for you and your baby. She also gently reminds you that every baby is unique!
Help Baby Sleep is a book that every new parent should read. I'm thankful I read this before baby number 2 is due! It's given me lots to think about and kindly reminded me that it is possible to sleep with a newborn.
What practical tips, resources and strategies for helping your baby to sleep would you add to this list? What worked for you and your baby? Please share your advice in the comments for other exhausted parents!