Tips for Travel with a Toddler
This Fall, when I was 5 months pregnant, I took my 18 month old son on his first plane trips. We flew on 6 planes over the course of 2 weeks to attend 2 different weddings in Texas and Nebraska. I was initially nervous about traveling so far and by myself but all went smoothly. Nathan loved flying on planes and I learned a lot during the experience. These are some tips for travel with a toddler to help others learn from our experience.
Travel with a toddler doesn't have to be stressful. There are many simple things that you can do to make travel with kids a good experience for everyone involved. I was very thankful for a couple things that I did to make our trips go smoothly.
I tried reading online to pick up some advice from other parents but didn't find much available. This is the reason I am compiling this tips as a resource for other parents who are traveling with toddlers. These travel tips also apply to children of all ages!
While I am focusing most of these tips on airline travel, a lot of these hold true for car travel as well. We do a lot of car traveling, and have since Nathan was a baby. Car travel is a little easier to control since you can stop when you need to do so. That said, with a bit of planning, any time of travel is possible with little ones!
This post may contain affiliate links. As an Amazon Associate, I earn from qualifying purchases. You can read more in

my disclosure policy.




1. Be overly prepared. Wherever you are traveling and however old your child, be more prepared than you think is possible. The last thing you want is to be 500 miles from home and realize you forgot something important. Start planning early and prepare more than you think possible.
2. Dress comfortably – both yourself and your child. Pack a light blanket. (These are our absolute favorite blankets, for babies and toddlers.) Don't wear restricting clothes. If you are flying and your child is sitting on your lap, dress in layers. The temperature on planes varies dramatically. Plus, if your child falls asleep on you, you want to be comfortable.
3. Get to your gate early but don't board the plane right away. You don't want to be the last one but you also want to let your child move around as much as he / she is able before sitting. I know there is differing advice on this but I found it better to board in the middle. We wanted to be situated without holding anyone up, but when you are already looking at a 3 hour flight, even 30 more minutes of sitting is difficult for little ones!
4. Let your schedule go out the window. Nap time may not happen when it normally does. You may be traveling in different time zones which will impact bedtime and wake-up time. It's vacation so just adjust as best as you are able! Don't stress yourself out by holding to a rigid schedule. I'm a firm believer in schedules but on vacation? Just go with the flow.
5. Pack lots of snacks and a sippy cup. My son is always happier when he has a snack! That is true for me as well. Have lots of different options available and pack them in individual sized bags.This also saves you money if you pack your food as airport food is expensive! Some of our favorite snacks are below.
Goldfish
Animal crackers
Cereal
Granola bars
String cheese
Craisins
Anything in individual pouches
Mini packages of M&Ms (as a special treat)
6. Take a pacifier (if your child takes one). We had previously only been using the pacifier at night but it was a life saver on our travels! I let Nathan have it anytime he was fussy, but especially during take-off and landing. Our pacifier clip kept it securely attached. (This is truly the best pacifier clip I have ever found. We love it!)
7. Pack plenty of books. Nathan loves his books (just like his mama) and we spent more than half of each flight reading. I packed some of his favorite books as well as some new ones. I opted for all paperback bags (instead of board boards or hardcovers) simply because they were lighter and I could pack more. If you have a tablet, consider downloading your favorite children's book from the library. This allows you to have even more books in a limited amount of space. Make sure to have a book downloaded for yourself that you can read in case your child falls asleep on you and you can't move to do anything else!
8. Download apps for your child to play. We try to limit screen time in our household but as I said before, when traveling, anything goes! I downloaded several apps that even my toddler could play and enjoy. The Daniel Tiger at Home app is my son's favorite as well as any of the Daniel Tiger apps. Duplo has a free train app that is age appropriate for a toddler, too. If your child has a favorite character or show on PBS, search for any apps that include them. Coloring or puzzle apps are handy to have too – and there are countless free and paid versions available!
9. Pack lots of different activities. When traveling, you need to keep your child sitting and occupied for long periods of time. For that reason, pack lots of different age appropriate activities that your child enjoys. Pack somethings that are favorites as well as some new activities. Here are some of our favorite travel activities.
The Melissa & Doug Water Wow books are amazing and my new favorite travel project because they are reusable water colors and simply require water. Nathan loves painting with them! Crayola Color Wonder has a nice travel set so you don't have to worry about the mess of markers when you are traveling – or at home. I bought lots of stickers at the dollar store and at Michaels. I also save address labels as stickers because toddlers don't really care what is on the stickers – they just want to peel and stick them.
10. Be kind to the flight attendants and speak up if you need something. They are more than happy to help, especially if you need a refill of water for your sippy cup.
11. Pack a bag of diapers, wipes and a changing pad in a large gallon size ziploc bag. You want to keep all your diaper changing supplies together in a way that they can be easily accessed. By using a large ziploc bag, you can quickly pull out what you need, when you need it. Change diapers (if you are able) at every layover and airport so you (hopefully) don't have to do so in a tiny plane bathroom.
12. Pack an extra change of clothes in case you have a spill or accident. No one wants to be traveling all day in wet clothes! I packed a long sleeve onesie and extra pair of pants and put them in a quart size ziploc bag. It didn't take much space but I'm glad I had them – just in case!
13. Let your child walk and move as much as they are able to in airports. Perhaps you will even stumble upon a play area for kids! More and more airports are including them. This is a great time to get all the movement and wiggles out that you can before you are sitting. If you are driving, stop regularly to allow your child to stretch legs too.
14. Pack a carry-on bag with pockets. I did not bring my purse on the airplane but instead, tucked my wallet and cell phone into outside pockets on our travel bag. There is plenty to carry already so simplify things as much as you are able. I absolutely love my 31 Bags Organizing Utility Tote for this reason! It has 5 outside pockets (that are very deep) and 2 additional mesh pockets. I was able to put my wallet, sippy cup, snacks and lots of other things in these pockets for easy access and to stay organized.
15. Be polite to your fellow travelers and thank them for allowing you to sit by them. I was very blessed in that everyone we sat next to was very understanding and kind about being seated next to a baby. Nathan is a people person so he enjoyed waving at everyone which made my life as Mom much easier. Whew. Lots of prayers were said ahead of time about this one!
16. Take your stroller and check it at the gate – especially if you are in a large airport. Strollers are free to check on all airlines. With a short layover in small airports, I didn't always bring the stroller. However, I was very grateful I had it with me when we flew through Chicago O'Hare and it took us almost a half hour of walking just to get to our next gate. It was also helpful to carry our bags as we moved through the airport.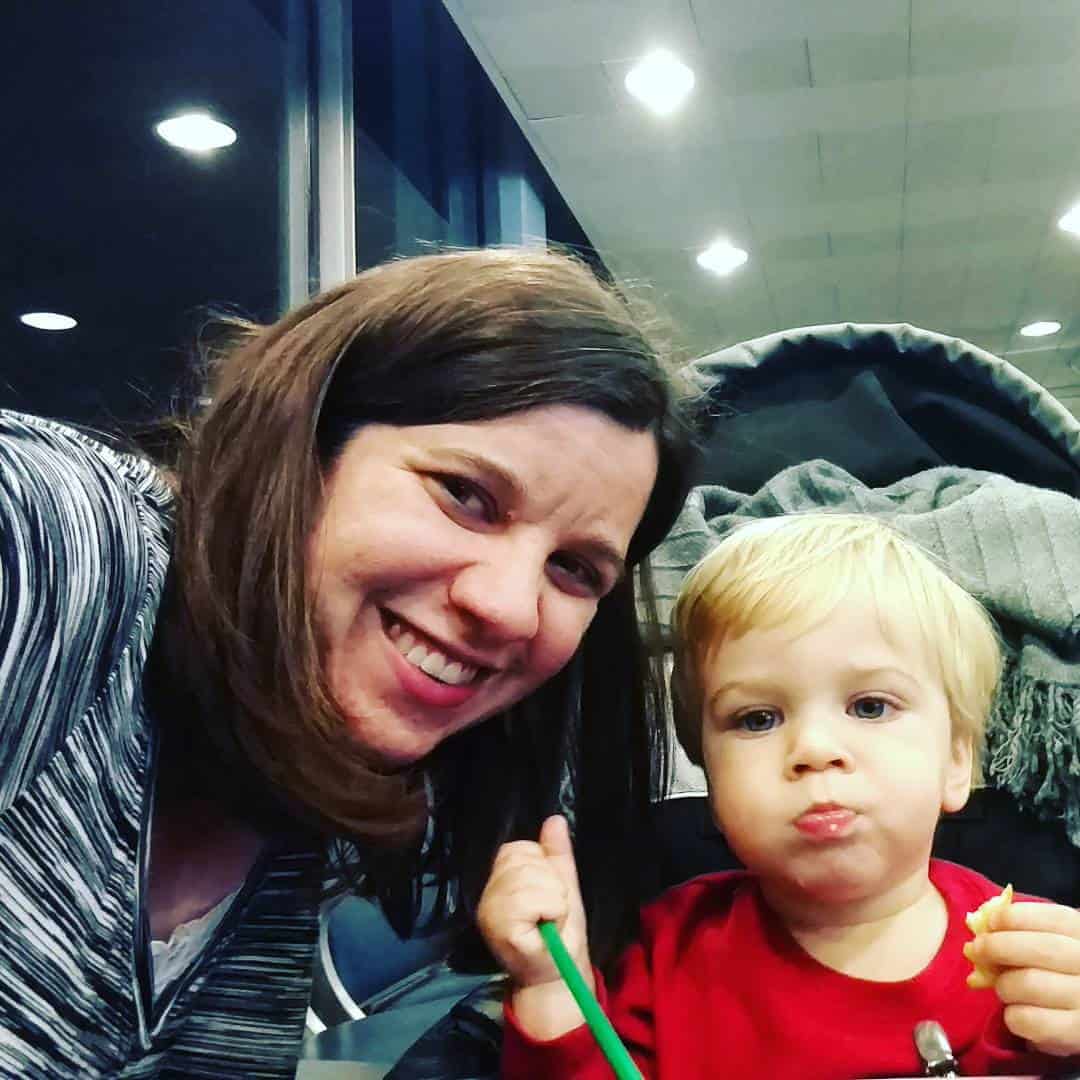 17. Be patient with yourself and your child. Changes are, this is a new experience for both of you! Your child might get overwhelmed with all the activity. It can be exhausting to keep your child confined on your lap for 3 hours. Naps may not happen as usual and meal times may go out the window. There may be delays in your airplane schedule or traffic as you drive. There is only so much you can control. Be patient! Remember that your child feeds off your emotions. If you are calm and patient, chances are that they will be too.
18. Make the best of whatever happens and enjoy the experience. If you are well-prepared, traveling with a toddler can be a positive experience for both child and parent…even if you are traveling by yourself!
These are some of the tips and strategies I used when traveling with a toddler. Nathan and I navigated many an airport successfully thanks to these hints. What tricks do you use for successful travel with little ones?