Frugal and Practical Baby Gifts under $15
Are you in the time of your life when babies are being born all around you? While it's a wonderful time to celebrate, baby gifts can add up! Being the frugal new mom that I am, I came up with this list of practical baby gifts under $15. In fact, some of these ideas are so far under $15, that you can choose more than one! This makes it easy to celebrate new babies without breaking your budget.
The baby gift ideas I've shared are just that – ideas. I think it would make a helpful baby shower gift list. These are things that as a new and second time mom, I have enjoyed having. I try to keep things as simple as possible but there are certain baby conveniences that it is nice to have at home or in the diaper bag. I think this list is also helpful for parents who already have "everything" they could need for the new baby because there are some ideas that most people don't think to give as baby gifts.
Here is my list of frugal and practical baby gifts all under $15.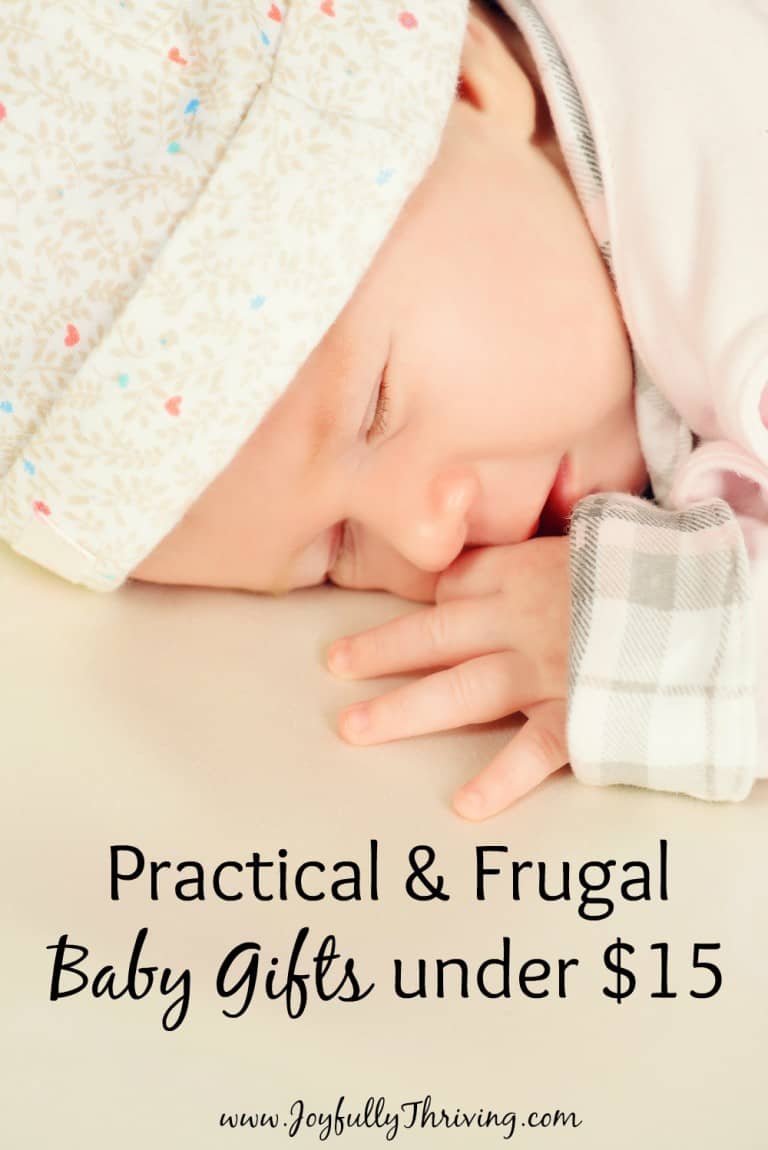 This post may contain affiliate links. As an Amazon Associate, I earn from qualifying purchases. You can read more in

my disclosure policy.




Diapers and wipes
Every mom will appreciate this very practical baby gift! By watching for sales and using coupons, you can pick up lots of packages of wipes and / or diapers for under $15. I've bought lots of diapers in the past couple years and share all my secrets for finding a great bargain on diapers here.
Baby shampoo and baby wash
You could add Desitin diaper cream to this list as well. This is a very practical gift idea and one that will surely get used. Frugal moms will appreciate saving money of their own with this useful gift. I recommend skipping lotion and baby powder as gifts because not all babies tolerate them well. With baby wash and shampoo, you can't go wrong! The Johnson & Johnson brand is popular for a reason, but the Target version works very nicely as well. Watch for sales and you should be able to find some great deals on baby bath products, stocking up for under $5.
Booginhead pacifier clip
If you know the baby is taking a pacifier, you'll need a pacifier clip. It saves you so much time searching for fallen pacifiers. Don't waste your money on other ones. Booginhead pacifier clips works amazingly well! It doesn't tear clothes but it pinches so securely that the clip won't come off until you remove it. I've tried over clips and the same can't be said. You can find a style or two of these at Walmart, but there are countless colors available on Amazon! At $6.50 or less, it's a frugal investment that will serve all Moms who use a pacifier well.
Wubbanub
I smiled in amusement the first time I saw these but we ended up buying one for our first born, and I was sold! If your baby takes a pacifer, you need one of these. Wubbanub's are cute stuffed animals attached to a pacifier. When the baby is little, the animal weights the pacifier down so it stays in their mouth. As they get older, a Wubbanub allows baby to find their pacifier on their own in the middle of the night – which allows Mom and Dad to get some more sleep! You can wash the entire Wubbanub in the washing machine to keep it clean. Our son loved his puppy, and we bought a giraffe for our daughter so she would have one of her own. There are dozens of adorable Wubbanub options from which you can choose, all priced right around $12.95. The other thing? When you are ready to wean them from the pacifier, you can clip it off and keep the stuffed animal as a keepsake.
Mesh lingerie bag
This might sound odd, but a $2 lingerie bag was a game changer for me as a mom. I keep it right by our changing pad and store all of the baby's socks in this bag. It keeps everything together and there is no hunting for lost socks. Best (and most frugal) baby investment ever! Just be sure to explain to the new mom why you are giving her this gift! 🙂
Changing pad
We may be unusual but we don't have a changing table in our house. Rather, we rely on a simple changing pad for all our diaper changes. Whether you have a changing table or not, a changing pad is a great way to change diapers – wherever you are! You can certainly buy changing pads at Target or Amazon. For this, I actually recommend something smaller and lighter than store bought changing pads. My Aunt and Mom sewed changing pads for us, which I love, because they are waterproof but yet can be thrown in the washing machine. You can find similar versions on Etsy for only $12.95. The waterproof changing pads most like mine are sold by Kidzcraftz, and I'd recommend either the medium or large size.
Disposable paper bibs
I know it sounds funny but these were a lifesaver! I loved keeping these in diaper bag for when we were eating out. It was so handy to be able to throw away a bib when we were done. A box of disposable bibs lasted us for a long time. Priced at around $5 to $8 per box, it's a handy gift.
Table-topper place mats
Along similar lines, consider giving a box of disposable table topper place mats. We had a friend give us some leftover ones they had and my husband was especially impressed! Yes, you can buy a mat to rewash every time you are out in public but it just isn't practical. These table topper place mats are large sheets of plastic with adhesive on the back so you can stick it directly to the table. I like to wrap them over the edge of the table, too. Then, I can put baby's food directly on the table without worrying so much about germs! Note that some brands only have adhesive on the long two sides. That is what we currently have and they work fine, but aren't the stickiest. When we run out, I'll replace them with these Neat Solutions ones that have adhesive on all 4 sides. They are currently right at the $15 mark on Amazon but you get 60 place mats at that price. It's another good product to keep in the diaper bag!
Disposable silverware
A teacher friend and mom gave me a set of disposable spoons and told me to keep them in the diaper bag. Much like the disposable cups, you can reuse them but when you are out and about, it's so nice to always have a baby spoon on you when you need one! And if it's messy or drops on the floor of a restaurant? Just throw it away. You can get 16 pieces of silverware for under $5. You can buy a set of just disposable silverware or buy a whole disposable feeding set for not much more.
Take and Toss feeding set
As with the disposable silverware, I've found this 28 piece feeding set to be a great purchase! Not only does it include disposable silverware, but snack cups and sippy cups, too. Although technically disposable, I have yet to throw any of our containers or cups away! I won't feel guilty if or when I do. The snack cups come in two sizes which is great for kids snacks – and my husband even takes these in his lunch sometimes! The sippy cups are surprisingly sturdy. The other nice thing is that this 28 piece feeding set on Amazon regularly goes on sale for almost half off. Still a bargain at $15, I snatched it up for $7 and am so glad I did!
Board books
Board books are such a great gift to encourage early literacy! You can always opt for classics such as The Very Hungry Caterpillar or Little Blue Truck. If you already have little ones, give board books that your child personally loves. If you are looking for ideas, here are 15 of my favorite board books for babies to choose from. I watch for sales on board books on Amazon and stock up so I am able to give several board books to a new mom – all for easily under $5 a board book.
An encouraging book just for Mom
New moms always need a bit of encouragement! Two of my absolute favorite mom books are priced right around $10. I read Surprised by Motherhood: Everything I Never Expected about Being a Mom by Lisa-Jo Baker and it was exactly what my first-time mama heart needed. With my second baby, I read Hope Unfolding: Grace Filled Truth for a Momma's Heart by Becky Thompson. Both of these books are the perfect blend of real-life, grace-filled, honest, heart-to-heart encouragement that every mom should read.
A frozen meal
Whether homemade or store bought, no mom will turn down the delivery of a meal she doesn't have to prepare. Another option? Prepare a basket of snacks for her to enjoy when she's up at all hours nursing the baby. Granola bars, dried fruit, animal crackers, some chocolate…anything that you think she would enjoy!
What practical baby gifts would you add? I'd love to keep adding to this list!