How to Freeze Hamburger and Chicken
Freezer cooking applies to so much more than just meals. Do you know that you can freeze cooked meats to save you time on your meal prep later? I always keep cooked meats in my freezer and it makes a huge difference in the amount of time that I spend in the kitchen. Prepping meats for the freezer is one of the best – and easiest – ways to start freezer cooking.
I feel like I should also add the disclaimer that meat is difficult to photograph but I do hope the pictures will help show exactly how I freeze meats!
This post may contain affiliate links. As an Amazon Associate, I earn from qualifying purchases. You can read more in

my disclosure policy.




How to Freeze Ground Beef
When I spot a great deal on ground beef, I stock up on enough to last me for several months. Buying meat on sale is a great way to reduce your grocery budget! I used to freeze much of my hamburger raw until I realized how much time that was wasting me. Why not cook it so it is ready to use in a recipe? Now, I rarely freeze my ground beef raw but cook most of it instead. Here is exactly how I freeze ground beef.
When I buy ground beef on sale, I often buy 10 pounds or more. I bring it home and brown it right away. I try to always brown a couple pounds of ground beef at a time – to maximize my time. I love to cook, but I also want to make the most efficient use of my time. Since most of my recipes with hamburger call for onions, I often add diced onions. You can add onions or not as you prefer.
Cook several pounds of hamburger until it is browned and then drain your grease. Let it cool before getting it ready for the freezer.
I like to package the cooked hamburger in 1 pound increments using sandwich bags. It's not an exact science, so I reference the package before dividing. If it was 3 pounds, then I try to divide the hamburger as evenly as I can between three bags. I don't weigh it, but you are certainly welcome to do so if you own a kitchen scale! Kitchen scales really aren't that expensive so maybe someday I will buy one.
Once the hamburger is divided into sandwich bags, I lay the hamburger flat to freeze, so I can stack several bags on top of each other. Then, I store the sandwich bags inside a gallon bag before putting it in the freezer. This keeps my meat together as well as protects it from freezer burn.
Now, when you have a recipe that calls for cooked hamburger – you are one step ahead of the game!
You can use this cooked hamburger to make countless casseroles, chili, tacos, soups, enchiladas…anything that calls for hamburger!
Note: If you want to freeze raw ground beef, I still recommend dividing it into one pound increments and freezing it flat in sandwich bags. It thaws much faster this way and you always know how much meat is in each bag.
How to Freeze Hamburger Patties
One of my husband's favorite meals is hamburgers. It's not hard to make hamburger patties, but I used to dread thawing pounds of hamburger to make it into patties I could grill.
Then, I got smart and started making hamburger patties and freezing them that way so I just have to thaw them and cook!
It's really simple. Make your hamburger patties whatever size you want. You can season them or just leave them plain.
To freeze, stack your hamburger patties in a stack. The important thing is to place a piece of waxed paper in between each hamburger patty so it doesn't stick together.
Then, simply decide how many patties your family typically eats at a time. I currently freeze hamburger patties in stacks of 6 because my kids don't eat a whole hamburger yet and this often leaves one or two for leftovers.
Once you have your stack of hamburger patties, wrap the whole stack in foil and freeze.
Again, this is such a simple thing, but it makes dinner time much easier now when I just have to thaw and grill my hamburger patties!
How to Freeze Chicken
I have lots of recipes that call for cooked chicken – diced and / or shredded. Like with the hamburger, it makes sense to cook some chicken of time to pull together these recipes quickly.
For the longest time, I always bought boneless, skinless chicken breasts. Then, I discovered that chicken on the bone was a $1/pound cheaper and was just as easy to work with once I cooked it in the slow cooker. You can read all the details about how I save time and money by cooking my chicken in the slow cooker, but here is a summary.
When bone-in chicken goes on sale, I buy enough to last me for a couple of months. I bring the chicken home and place it straight in the slow cooker. I add a bit of water, and cook on low for 8 to 10 hours. At that point, the chicken falls off the bone for me to shred. If you need shredded chicken, this is a very easy way to do it.
If I buy boneless chicken breasts, I roast them in the oven at 350 degrees for 45 minutes to 1 hour. I let the chicken cool and dice it for the freezer. If you prefer diced chicken, I recommend this way. Slow cooker chicken is incredibly moist and doesn't hold up enough to dice.
Once the chicken is cooked – which ever method you prefer – I bag it for the freezer.
I tend to freeze chicken in 2 to 4 cup Ziploc bags. I measure out the chicken and write on the outside how much chicken is inside. For example, I know my poppy seed chicken recipe takes 4 cups of diced chicken, so I freeze bags of 4 cups for that recipe. The half gallon Ziploc size is perfect for this amount of chicken! Otherwise, I have found 2 cups a good size for many different recipes. Just make sure to label the number of cups so you are not guessing when you take it out of the freezer!
Now, I have cooked chicken in the freezer so I am ahead of the game for my chicken recipes as well.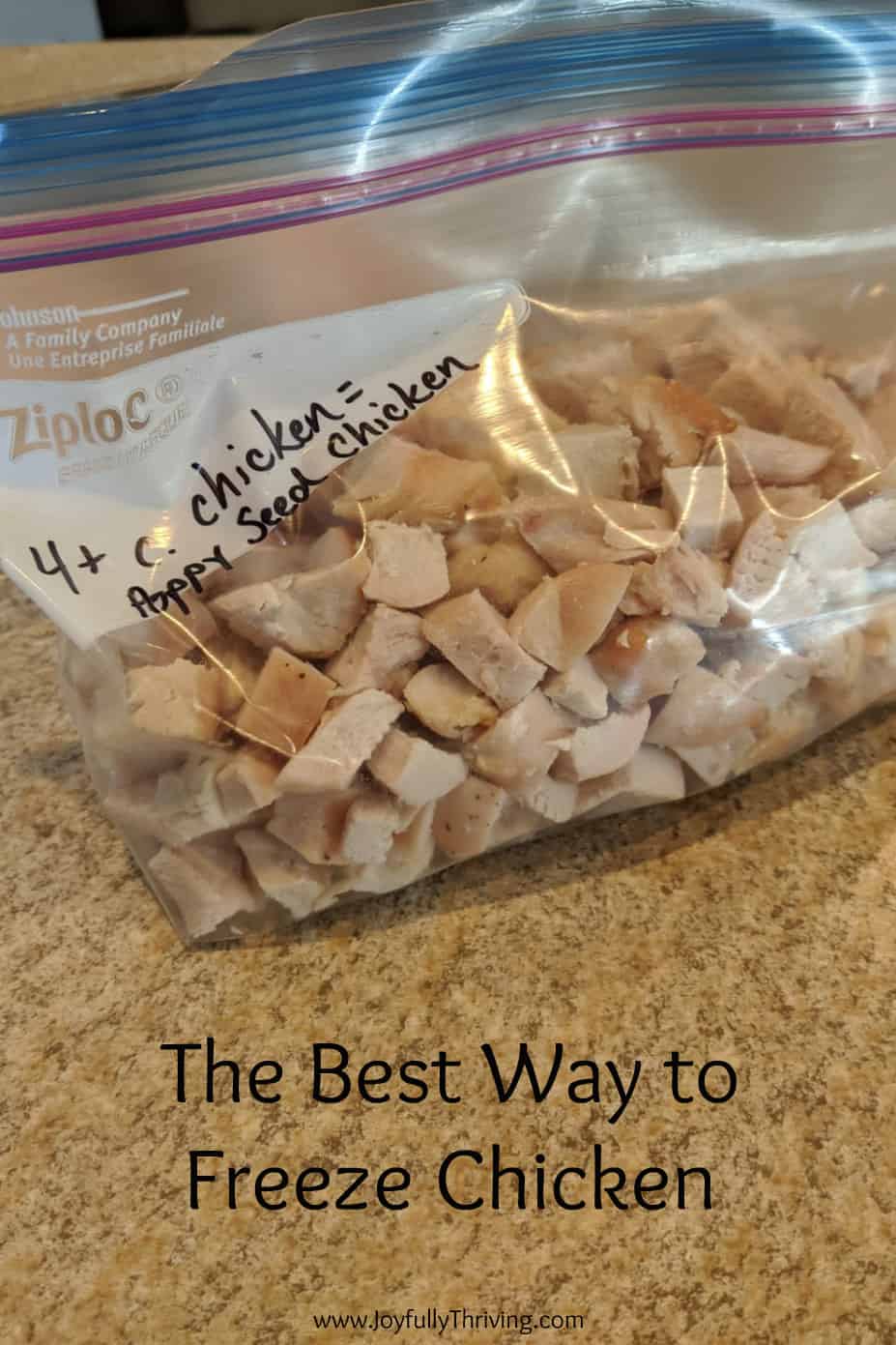 How to Freeze Raw Chicken
If you want to freeze raw chicken, I recommend dividing it into smaller pound increments or prepping it as you will need it. 2 pounds of whole chicken breasts is much easier to thaw than a 5 pound package.
Most of the time, if I am freezing raw chicken, I try to prep it for the recipes I will cook.
For example, I cut 1 to 2 pounds of chicken into bite size pieces of homemade chicken nuggets and freeze it that way.
If I am making chicken fajitas, I cut and season 2 pounds of chicken breasts in small strips and freeze it that way.
For chicken stir fry, I cut and season the chicken breasts and again, freeze it that way.
If your raw chicken is already cut (and seasoned), you simply have to thaw and cook. Just make sure to label the bag with the amount and the name of the recipe so you remember what meal you are making!
Once again, a bit of prep time spent at the beginning will save you a lot of time down the road!
If you need to start somewhere with freezer cooking, freezing ground beef and chicken is an excellent way to start!
It's basic but these techniques will save you so much time in the future, especially when you do several pounds of meat at once. It really is the best way to start freezer cooking.
Do you cook your hamburger and chicken ahead of time like I do? Are you ready to start?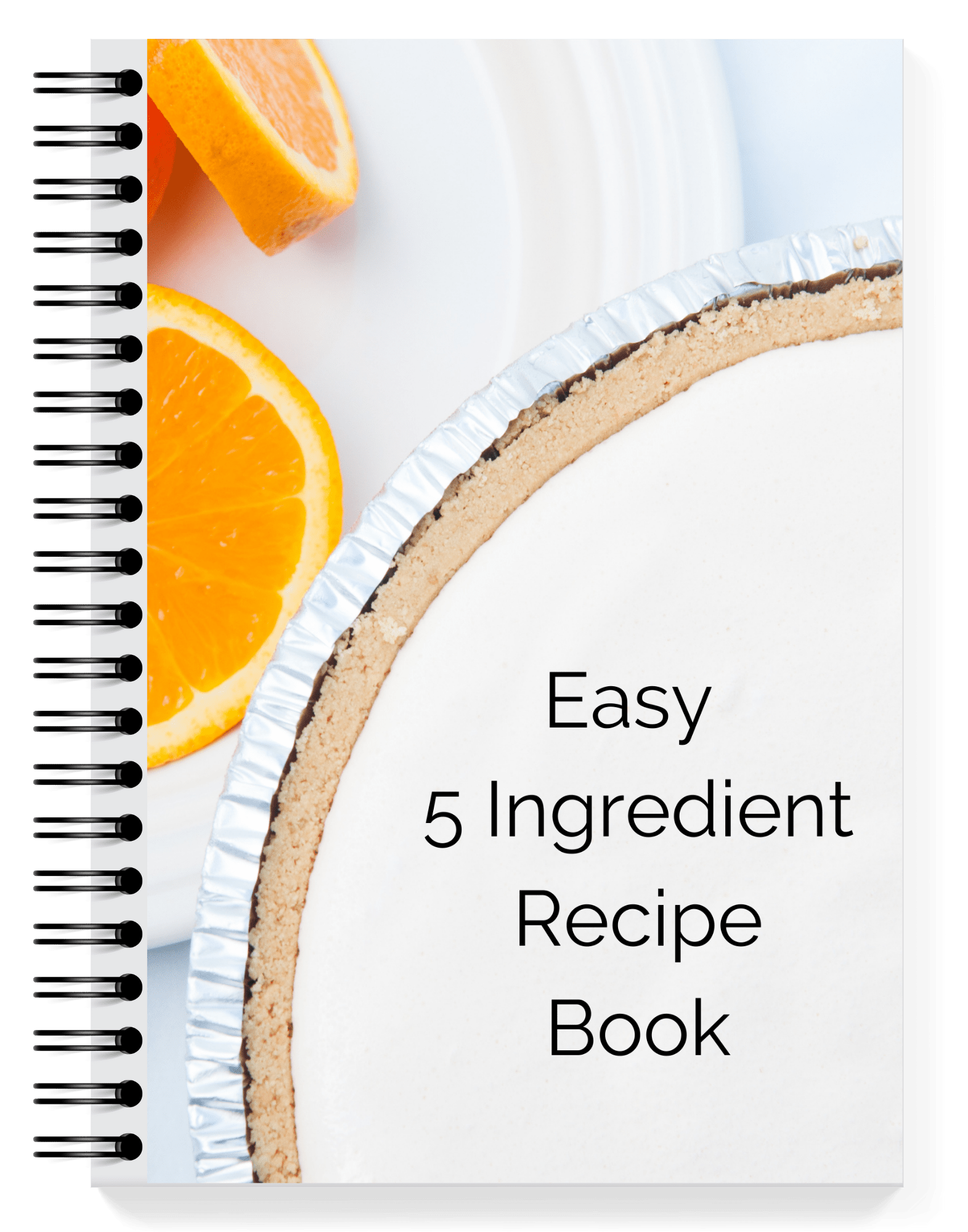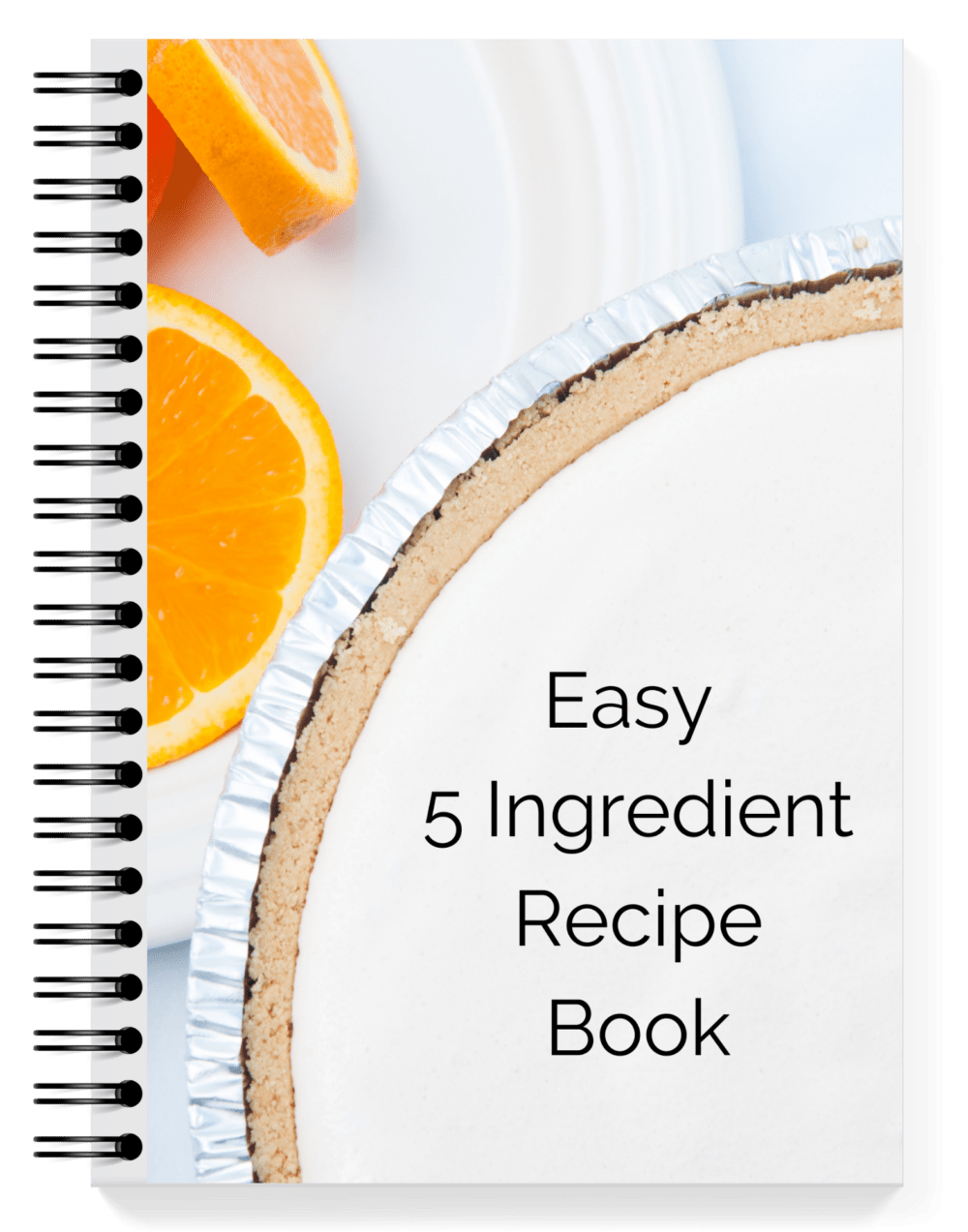 Want more easy & delicious recipes?
Sign up for our newsletter & get your free recipe book!