The Cheapest Grocery Store – A Massive Price Comparison
Do you want to know what is the cheapest grocery store? Which grocery store will save you the most money? Take a look at this massive price comparison of 4 of the biggest grocery store chains to see how they rank. Is Walmart or Aldi cheaper? How do Meijer and Kroger compare? What store really is the cheapest grocery store?
I have always been a frugal shopper who loves shopping for the best deals. As a one-income growing family, I need to stretch our pennies. I recently noticed that some of my favorite grocery stores didn't seem as cheap as they used to be. Naturally, this sent me on a quest to discover the cheapest grocery store.
I live in northern Indiana so compared Meijer and Kroger to Aldi and Walmart. I love Meijer for their convenience to get everything. I like Aldi for the quick and frugal shopping experience. I love the sales at Kroger! And Walmart? Walmart isn't my favorite grocery store to shop but I am willing to shop there if it will save me money.
This project might be one of my biggest grocery shopping projects yet and I was honestly amazed at what I discovered in my search for the cheapest grocery store. I am so excited to share all the details with you here today!
Settle in. Get ready. There are a lot of details and prices and statistics coming at you! Ready? Let me tell you how I found the cheapest grocery store.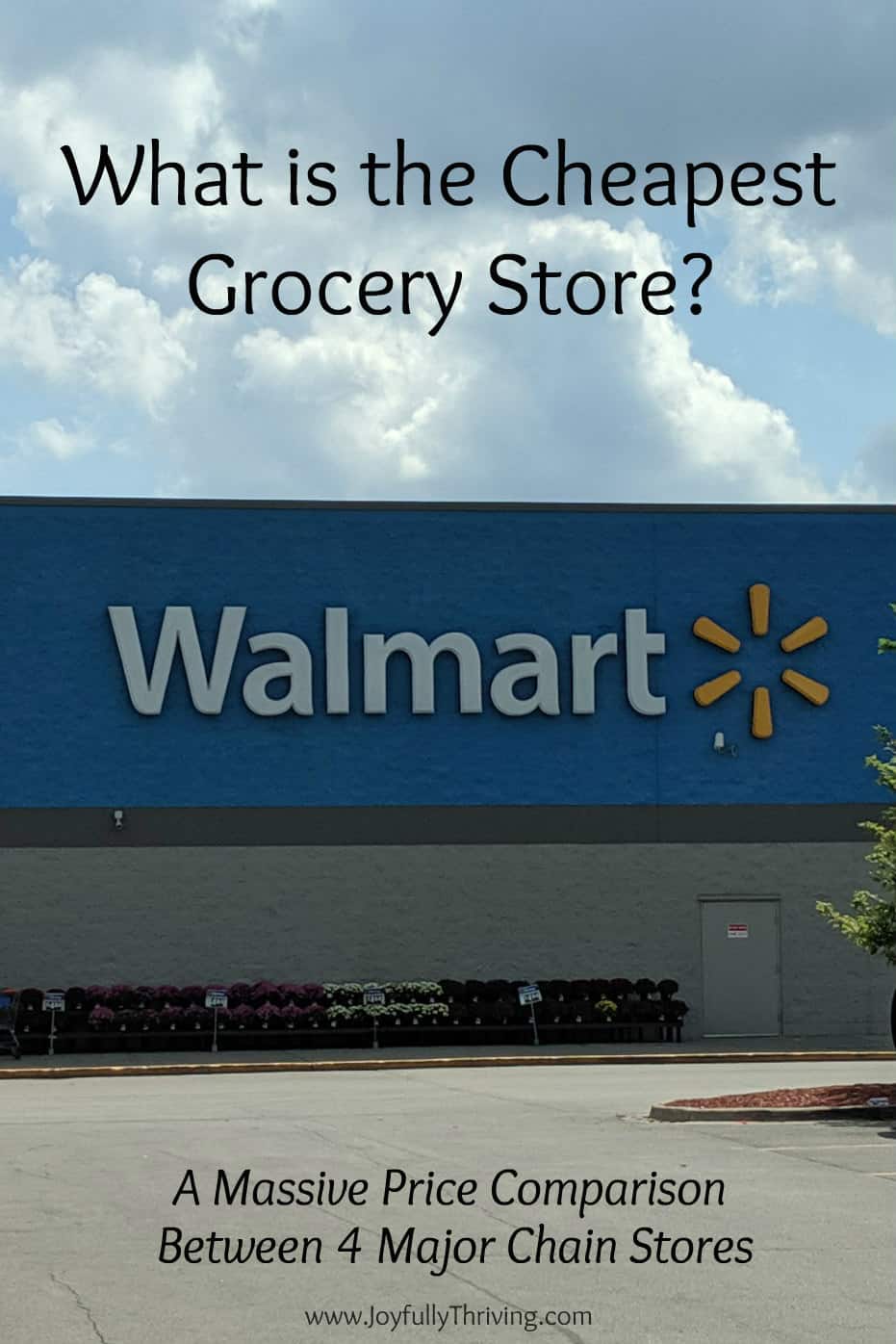 How did I search for the cheapest grocery store?
I looked at the stores that had the biggest reach. Walmart is national chain that boosts low prices. Is Walmart really the lowest? Aldi claims to beat Walmart but do they really? Meijer and Kroger are considered higher end grocery stores, but they have a large reach with great sales. For the sake of this price comparison, these were the four stores I chose to compare.
I started by making a list of the most common grocery items any household would use. Then, I added some more specific items that our family uses regularly. Finally, I asked the Joyfully Thriving Facebook page for their feedback and got a lot of great requests for items to add to the list.
I wanted a fair representation of various areas of the grocery store so I focused on 10 different shopping categories. The categories I used were:
Dairy
Pantry
Canned Goods
Condiments
Baking Goods
Meat
Frozen
Paper
Personal Products
Diapers
I came up with a list of 183 items in 10 categories that I compared at all 4 stores. 
I made a huge spreadsheet with all the grocery items and then I began comparing prices at the stores. I went through the store and wrote down prices for everything on my list. Some products were name-brand specific but many were simply for the cheapest generic version available at the store. I did not include fresh produce in this price comparison since it varies so much by season.
For the sake of best comparison, I used everyday prices and did not factor sales into this list.
Note: The prices may vary in different parts of the country. These prices are Northern Indiana prices as of August 2021. 
What are the cheapest grocery store results?
After multiple store shopping trips and researching through various store apps, my list was finally done. Once I found the price totals, I went through and started comparing price to see which was the cheapest grocery store.
First, I went through and highlighted the absolute lowest price for every item. If there was a store that tied on the price, both those stores were highlighted.
As I was comparing results, I realized that several stores were within pennies of each other. If you were already shopping at one store, it makes sense to pick up other items that are still a good deal. Keeping that in mind, I went back through the lists and highlighted every price that was within 5 cents of the lowest price. This gave them a mark for the second lowest price.
Then, I tallied up the totals – both in numbers and percentages (out of 183). Here is what I found.
| | | | | |
| --- | --- | --- | --- | --- |
| 2021 Results | Aldi | Meijer | Kroger | Walmart |
| Lowest Price | 114 | 15 | 16 | 52 |
| Second Lowest | 4 | 12 | 4 | 45 |
| Total Lowest | 118 | 27 | 20 | 97 |
| Lowest Price | 62% | 8% | 9% | 28% |
| Second Lowest | 2% | 7% | 2% | 25% |
| Total Lowest | 64% | 15% | 11% | 53% |
As you can see, Aldi had the most lowest prices and Kroger had the least.
Aldi had the lowest prices on two-thirds of the items on my master comparison list. That is a lot! This is making me start shopping there, even though the Walmart shopping experience is not necessarily my favorite.
Meijer used to be my go-to store to stock up at everything at a low price – but not anymore! I was truly surprised by how few of the lowest prices Meijer had. Meijer really does not have the best deals on very many things at all.
Aldi was the cheapest in almost a third of the categories. What I found interesting was that they had the lowest prices on over 100 items but the second lowest on only 4. If Aldi is not the lowest price, they really aren't in the running at all for being the cheapest. Also, since Aldi does not carry everything, there were several items on the list that could not be compared at Aldi.
Kroger is definitely the most expensive if you shop without sales! Kroger also has many amazing sales which beat Aldi's every day low prices. This chart does not take sales into account so it is difficult to see that represented. Kroger also has gas rewards and more digital coupons, both of which Aldi and Walmart do not. That definitely is worth considering.
The price differences really were staggering. For example, I used to always buy potato chips at Aldi. The Aldi price for potato chips is now $1.69. Kroger beats that at $1.25, where I have been buying my chips ever since Aldi raised their prices. Walmart is only $1.12 for chips, so that is a savings even on Kroger. And Meijer? Meijer clocks in at $3.49 – no where close! This is just one example of the differences in prices. There were a few categories where all 4 stores have prices within a dime, but only a few.
What is the absolute cheapest grocery store?
If you are going by the everyday low prices at the store, the clear winner to the cheapest grocery store in 2021 is Aldi. Walmart is a runner up, with Meijer and Kroger trailing behind.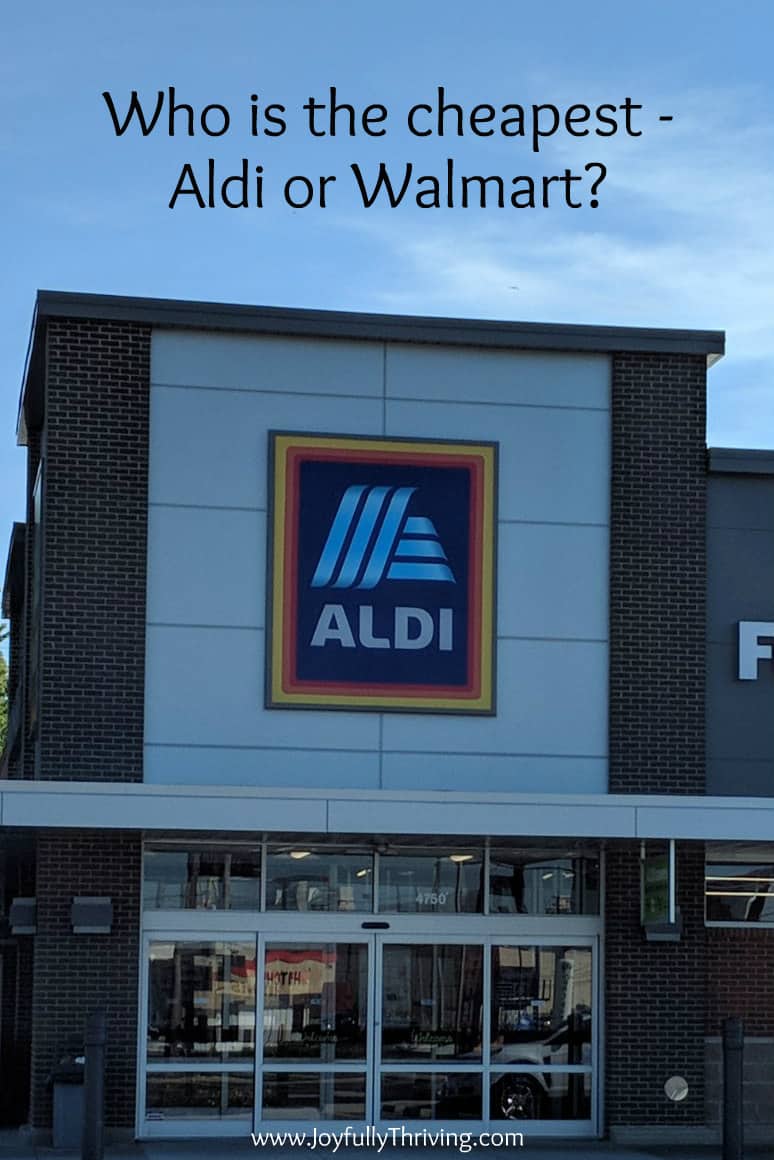 How have prices increased at the grocery store?
I did this price comparison 2 years ago in 2019. In 2019, Walmart was the cheapest grocery store, with Aldi trailing by quite a bit. I think Aldi has upped their game since then! Here were the results from 2 years ago.
| | | | | |
| --- | --- | --- | --- | --- |
|  2019 Results | Aldi | Meijer | Kroger | Walmart |
| Lowest Price | 56 | 15 | 26 | 97 |
| Second Lowest | 3 | 11 | 16 | 32 |
| Total Lowest | 59 | 26 | 42 | 129 |
| Lowest Price | 31% | 8% | 15% | 54% |
| Second Lowest | 2% | 6% | 9% | 18% |
| Total Lowest | 33% | 15% | 24% | 72% |
Two years ago, the results changed me from an Aldi shopper to a Walmart shopper. Guess what? Now I'm going back to be more of an Aldi shopper again!
I will always go where the prices are lowest to stretch our money the farthest.
There is much more to say about prices increasing, but this is already a lengthy post so stay tuned for more on the price increases next week!
How do I use this information to grocery shop?
It's good to know what is the cheapest grocery store because now it can influence how we shop.
Now, I have a list of what I should buy at Aldi and what items I should buy elsewhere. I also used these prices to create a stock-up list of the best prices for each item – so you can watch for sales at any store to beat those every day prices.
If you are going to mainly shop at one store – make it Aldi.
My plan? I plan to go back to shopping at Aldi more regularly and supplement with sales at Kroger – and occasionally the meat sales at Meijer. Walmart will still be my go to when I need a low price pick-up because their prices are close to Aldi on quite a few things.
It's funny, because 2 years ago, when I did this research for the first time, I switched from being an Aldi shopper to a Walmart shopper – to save money. Now? I'm switching back because I am a frugal shopper. I will shop where the prices are the lowest to save me money.
I will also be using the store apps more regularly to check prices. That is incredibly helpful and convenient! I've already done it a couple times in the aisle of Kroger to compare prices at Walmart to see which if I should buy it at Kroger or wait until Walmart. It's gone both ways but sometimes the price difference is quite substantial!
Want more information on the cheapest grocery store?
Want to see all the actual numbers and compare the prices yourself?
I compiled way too much information to share in one blog post. This blog post is already quite long, but there is still more I could share. If you want a copy of all my charts with prices and statistics, you are welcome to it! I compiled all my research into a 51 page ebook – with lots of detailed lists!
What lists are included in the ebook?
Master Price Comparison (with all 4 stores and their prices)
Lowest Prices
Lowest and Second Lowest Prices
Prices from 2019 and 2021
Stock Up Prices (Category)
Stock Up Prices (Alphabetical)
Best Places to Buy (Category)
Best Places to Buy (Alphabetical)
Aldi Shopping List
Meijer Shopping List
Kroger Shopping List
Walmart Shopping List
Just enter your email in the box below, and I'll send you a download link to the whole pdf file right away! It will also add you to my weekly newsletter list, so I can share other money saving tips and findings with you!
So, are you as surprised as I am by this price comparison? How does this change your shopping habits? Will it change them at all?