25 Best Things to Stock Up at Sam's Club
If you have a membership to a warehouse club like Costco or Sam's, you may be wondering if the prices make the membership worth it. After several years of shopping at Sam's Club, I have found more deals than I expected. I recently took a close look at the prices to find the absolute best things to stock up at Sam's Club.
Shopping at a warehouse store can be overwhelming, but it can also be exciting when you find some great deals. The best way to shop at any warehouse store is to be particular about what you buy there.
You can buy lots of items in bulk at a warehouse store like Sam's Club, but just because it comes in large quantities does not mean it will be a good deal. Sam's Club can be a great place to quickly add to your stockpile, if you choose the best things to buy at Sam's Club.
Due to inflation, grocery prices are seeing big increases. Buying the best deals at Sam's (and sticking to those), while building a stockpile, is a good way to stretch your budget.
If you want to learn even more about stockpiling, I have a printable ebook called "The Quick Start Guide to Building a Stockpile on a Budget." It is full of helpful tips, handy checklists and more to help you build a stockpile – even with inflation increasing! More information here.
Want to know what I think the best deals at Sam's Club are? Here we go! This list is to help all of you who are wondering what to buy at Sam's Club.
Note: This post is written with current Sam's Club prices from March 2023 in northern Indiana. Your prices may vary slightly. Sam's has a great website where you can check all your local prices, whether you are a member or not.
This post may contain affiliate links. You can read more in my disclosure policy.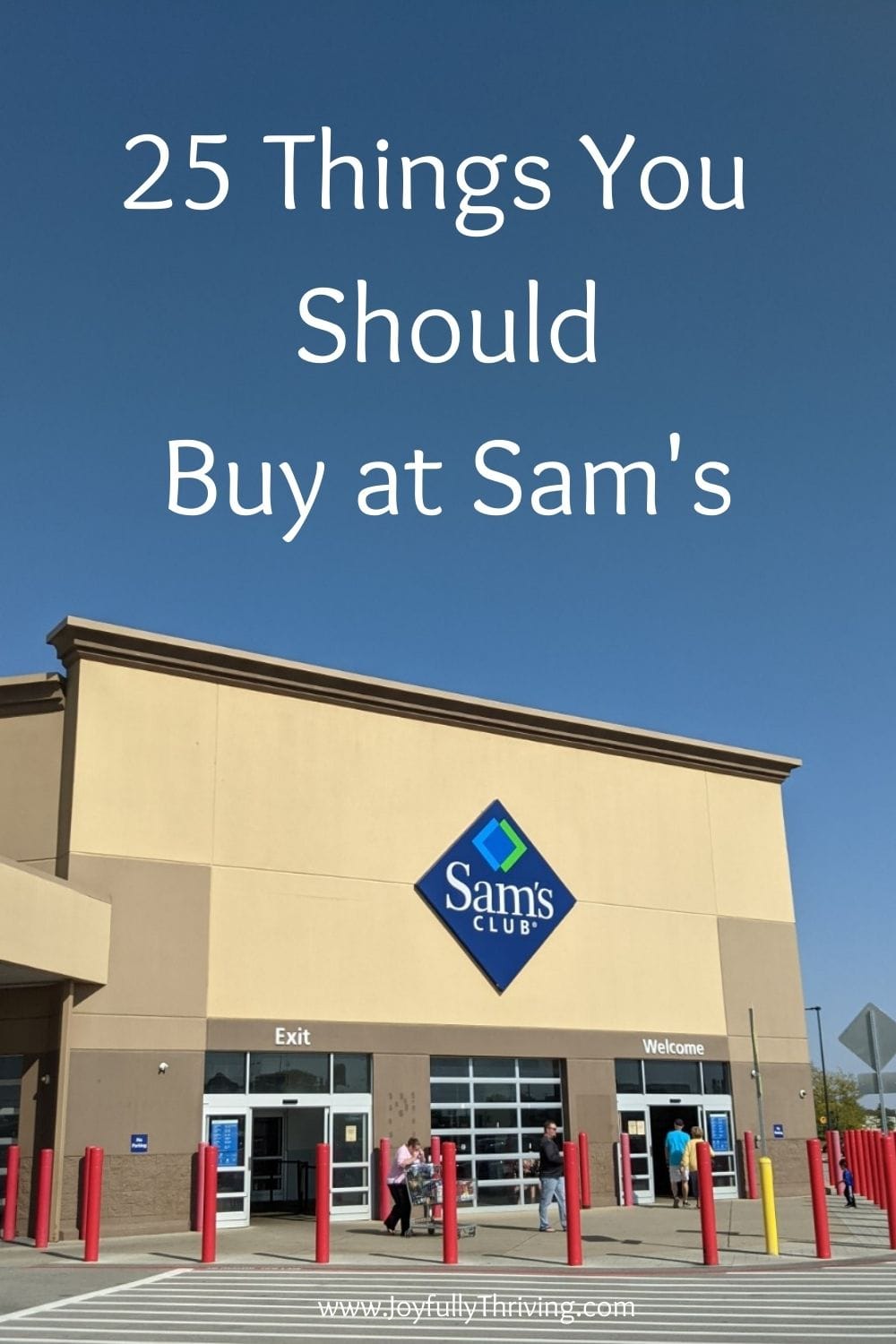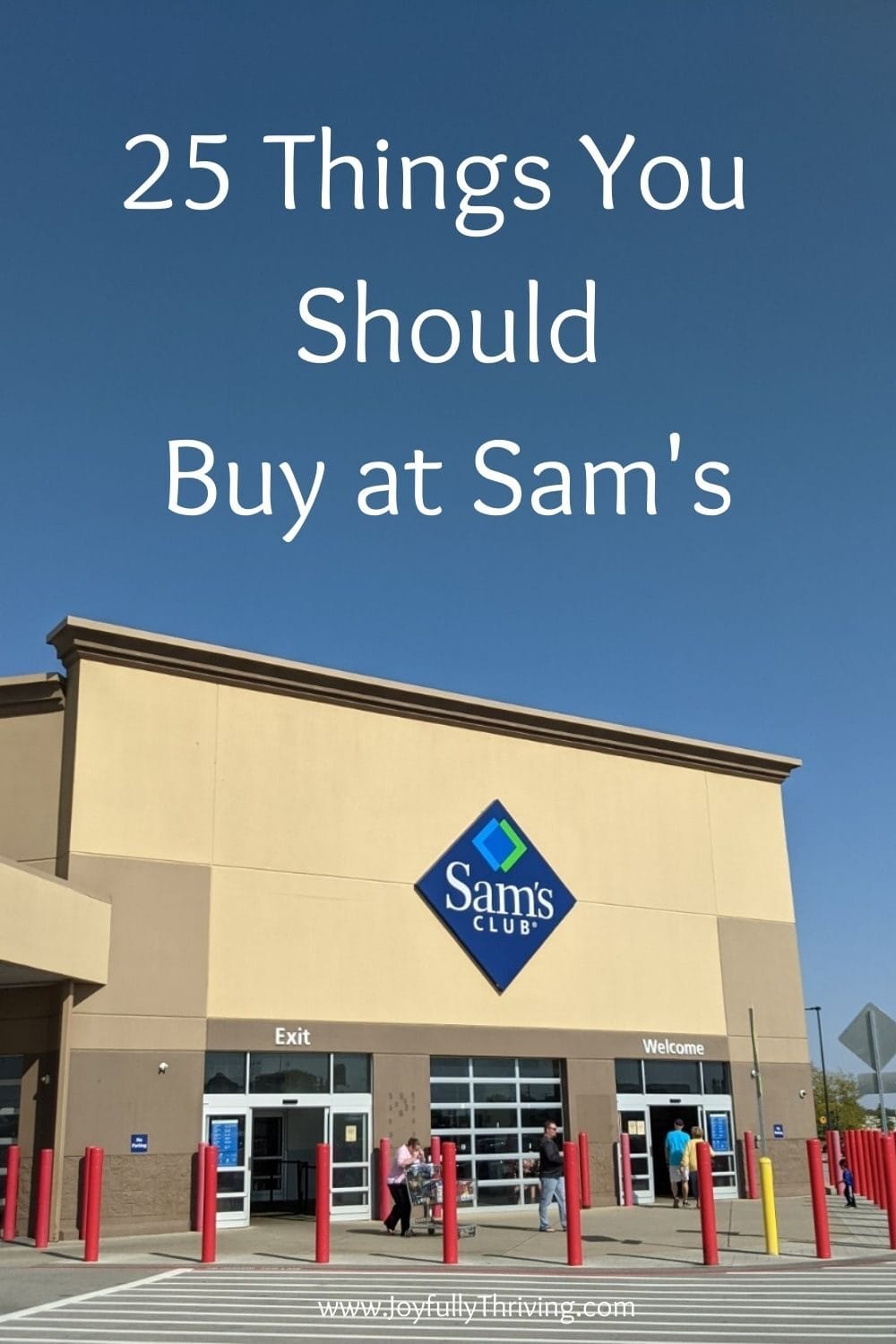 Sam's Club does require a membership to shop there, which is a great reason to check out prices first. If you are NOT a member, check out this amazing deal.
Right now, you can get a Sam's Club membership for only $30! This is a great deal of 40% savings on a membership. This is an incredible deal and a great way to stock up at Sam's. Click on the banner below to sign up or learn more!
Now, if you are ready to find the best deals at Sam's Club, let's get started!
Best Foods to Stock Up on at Sam's Club
If you are starting to build your stockpile, or simply want to find good bargains on food prices, there are several great deals to be had at Sam's Club. These are some of the best foods to stock up on at Sam's.
1. Yeast
If you bake at all, you need to buy your yeast at Sam's Club. This is the absolute cheapest place to buy yeast! Yeast comes in a 2 pack container for $5.38 or $2.69 per pound.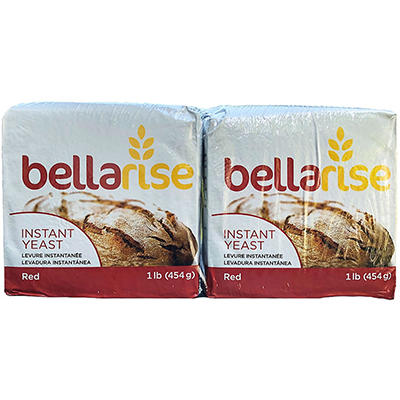 2. Butter
I always have butter in my fridge and freezer! When the holiday sales come around, I stock up. If I ever run out, Sam's is my go to place for reasonably priced butter. Butter comes as 4 pounds for $13.68 or $3.42 per pound.
3. Nestle Chocolate Chips
This may seem odd to some, but name brand chocolate chips are one of my non-negotiables. A giant bag of chocolate chips (72 oz) at Sam's Club is equal to 6 regular bags (12 oz). Nestle's Semi-Sweet Chocolate Chips are $9.98 or $1.66 per 12 oz bag or $0.14 per oz. Would you believe this is one of the few items at Sam's Club that has not increased in price in almost 2 years? This is definitely my favorite thing to buy at Sam's Club!
4. Sugar
This may vary, based on the time of the year if there are baking sales available, but Sam's does sometimes have the best price on sugar. Most grocery stores sell sugar in 4 pound bags now so you will have to compare price per pound. At Sam's, you can get 10 pounds of sugar for $6.48 or $0.64 a pound.
5. Flour
Flour is another thing that may be a good purchase at Sam's Club. If you like to bake and go through flour quickly, you watch the price of flour closely! Again, you will have to check pounds because I can still get flour cheaper at Walmart if I buy the 10 pound bags for $3.98 or $0.39 a pound. At Sam's Club, a 25 pound bag of flour is $11.48 or $0.46 per pound.
Get Member's Mark All Purpose Flour (25 lbs.) here.
6. Honey
Honey is going up in price! It has doubled since summer of 2021. Have you noticed that? Did you also know that unopened honey has a shelf life of basically forever? If you find a good deal on honey, it is definitely worth adding to your stockpile. At Sam's, you get a 2 pack of honey (40 ounces each, 80 ounces total) for $19.34 or $9.67 per container or $0.24 per ounce.
Get Member's Mark Bee Proud Pure Honey (40 oz, 2 pk.) here.
7. Lindsay Black Olives
My kids and I love black olives! We love to snack on them or eat them on our pizza. I used to find sales on store brand olives for $1. Once I realized I could get name brand olives (that tasted even better!) at Sam's Club, we haven't gone back. A 6 pack of large black olives is $10.68 or $1.78 a can. Do you know black olives have an incredibly long shelf life of 3 or more years? Good news if you are an olive lover!
8. Vinegar
Vinegar is handy for so many cleaning and cooking purposes. It also does not have an expiration date and basically lasts forever. At Sam's Club, you get two 1 gallon bottles of vinegar packaged in 1 box. A 2 pack of white vinegar is $5.68 or $2.84 per 1 gallon.
Buy Hotel and restaurant quality vinegar here.
9. Bottled Water
Sam's is my go to place for bottled water! A 40 pack of Member's Mark water (16.9 oz bottles) is $3.98 or $0.10 per bottle.
Interestingly enough, one 40 pack of bottled water is actually 5.26 gallons of water, which makes it $0.60 per gallon of water. If you are interested in storing water for your family (like I recommend in my stockpiling baby steps), this is a cheap and easy way to do it, since the packs of water bottles stack well. Remember, 1 gallon per person per day is the recommendation with 3-14 days being the minimum amount recommended to store.
10. Whole Nuts
If you buy whole nuts, Sam's Club is a great place to do so! A 3 pound bag of whole Member's Mark almonds is $10.98 or $3.66 a pound or $0.23 per oz. See Member's Mark Natural Whole Almonds (3 lbs.) here.
If you like cashews, those are a bit a more pricey but still a deal. Cashews are $12.98 for 33 ounces of whole cashews or $0.40 per oz. See Member's Mark Lightly Salted Whole Cashews (33 oz.) here.
Pistachios are a bit more, but still a deal compared to other stores. A 3 pound bag of unshelled Member's Mark pistachios are $14.98 or $4.99 a pound or $0.31 per oz. See Member's Mark Roasted & Salted Pistachios (48 oz.) here.
11. Pasta
My kids love pasta! I normally stock up at Kroger when it is $0.49 a box / per pound. At Sam's, they have some good low prices on pasta if you don't have sale prices like that. Spaghetti or angel hair pasta is sold in 6 pound boxes (6 packages, each 1 lb) for $5.48 or $0.91 per pound.
If you prefer a different type of pasta, there are other choices as well! The other good deal on pasta is Member's Mark elbow noodles which also sells in 6 pound boxes at $5.48 or $0.91 per pound.
12. Pancake Mix
I make my pancakes from scratch…because my kids eat pancakes several mornings a week. I like to make a double batch of Saturdays and freeze the leftovers for a quick pancake breakfast on school mornings.
If you do buy pancake mix, Sam's Club has a 10 pound bag of Buttermilk Pancake Mix for $7.42 or $0.74 per pound. This is a good price, especially since you only have to add water – no milk or anything else. I love baking mixes like this, and the pancakes do taste good too!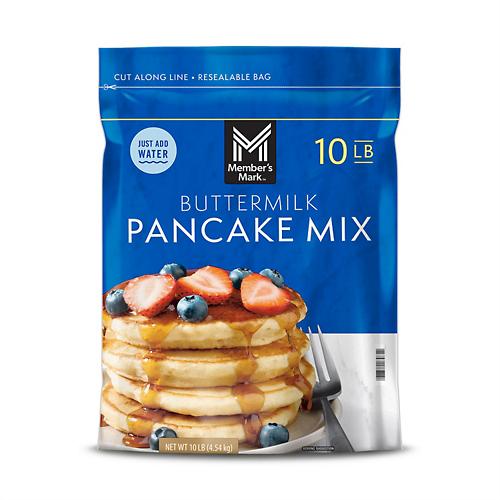 13. Canned Tuna
If you eat tuna, you have two options at good prices at Sam's. Both kinds are sold in 5 oz cans, stacked in a pack. Starkist tuna comes in a 12 pack for $10.98 or $0.92 a can. See Starkist Chunk Light Tuna 12 pk here. Member's Mark tuna comes in an 8 pack for $12.98 or $1.62 a can. See Member's Mark tuna here.
14. Canned Chicken
I admit, this was something I never thought I would buy. However, I bought and tried the Member's Mark canned chicken and was really impressed! It was all white chicken breasts stored in water, with actual big chunks of meat – and it tasted delicious! I will be buying more of it, especially since it has a 3 year shelf life, and is a great way to keep some meat in my stockpile that isn't stored in my freezer.
Member's Mark canned chicken comes in a 6 pack of small cans (12.5 oz each) or $15.98 or $2.66 a can or $0.21 per ounce. You can also buy a large can (50 ounces) of canned chicken at $10.28 or $0.20 per ounce.
See Member's Mark Premium Chunk Chicken Breast (12.5 oz, 6 ct.) here.
15. Boneless, Skinless Chicken Breasts
Sam's has a great price on fresh boneless, skinless chicken breasts. Chicken breasts are now priced at $2.68 per pound. Occasionally, I find a better sales price but this is becoming my go to stop for chicken. I like to buy several packages and freeze it in smaller sections like this.
16. Rotisserie Chicken
This may not be something you can stockpile, but it is worth adding to the list because you can get a 3 pound, fully cooked and delicious rotisserie chicken for only $4.98. Eat what you can for one meal, and pull it off the bone for another meal.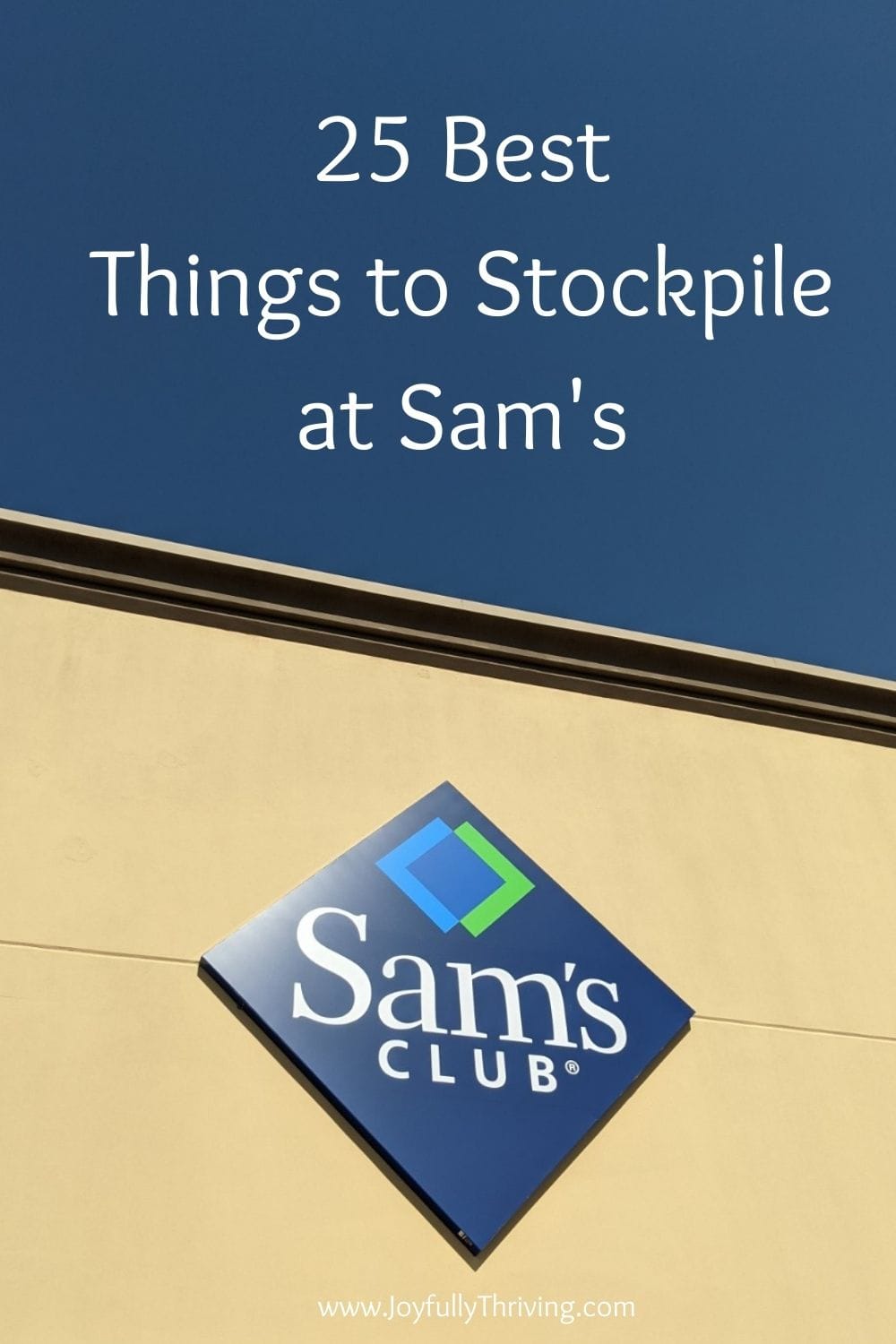 Paper Products to Stock Up at Sam's Club
Sam's Club isn't all foods. They have some other great deals as well! Here are some great deals to stock up on paper products at Sam's Club.
1. Toilet Paper
If you are not picky about name brands, and don't want to watch for sales, consider giving the POM toilet paper at Sam's a try. You get a 45 pack of POM toilet paper for $25.18 which works out to $0.56 a roll.
If you have a particular brand you are loyal to, compare those toilet paper prices as well. Sam's may be cheaper than your grocery store!
2. Paper Towels
Sam's Club has become my go to place for purchasing paper towels. Member Mark's Premium Paper Towels are $19.98 for a mega pack of 15 rolls, or $1.33 a roll. Each roll has 150 sheets, in the smaller tear size (which I prefer) and they really are great paper towels! They are thick, and individually wrapped so you can store them wherever you can fit a few rolls.
3. Paper Plates
I'm not talking about the cheap, super thin paper plates where you need 3 to actually hold food without spilling. If you want a decent quality paper plate, go to Sam's. Member's Mark Ultra Dinner Plates (10 inch size) sell for $19.48 for a 204 count package or $0.10 a plate. Member's Mark Ultra Lunch Plates (8 inch size) sell $21.98 for a 300 count package or $0.07 a plate. These often go on special as well to make them even cheaper. They really are a great deal for when you need good paper plates.
See Member's Mark Ultra Lunch Paper Plates (8.5″, 300 ct.) here.
4. Disinfecting Wipes
Disinfecting wipes are one of those things that still can be hard to find, so I try to stay stocked up on them now. I keep a package of disinfecting wipes under the kitchen and bathroom sinks, for cleaning up those quick messes. You can get the Member's Mark brand of wipes as a 4 pack (78 count each) for $10.94 or $2.74 a package or $0.04 per wipe. See Member's Mark Disinfecting Wipes, Variety Pack (4 pk, 78 ct. each) here.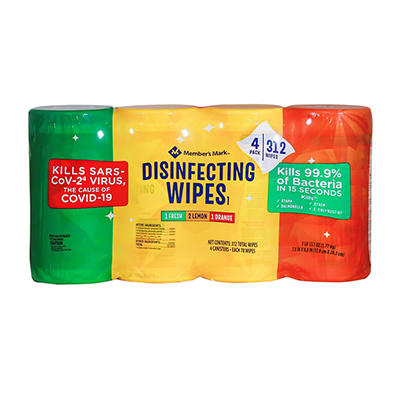 5. Trash Bags
If you need trash bags, check them out at Sam's. You get 90 Member's Mark large trash bags for $17.48 which is $0.20 a bag. See Member's Mark Power-Guard Drawstring Bags – 33 gal. – 90 ct here.
If you prefer the smaller bags, Member's Mark kitchen trash bags (13 gallon) are $17.98 for a 200 count box or $0.09 a bag. See Member's Mark Power Flex Tall Kitchen Drawstring Trash Bags (13 Gallon, 2 Rolls of 100 ct, 200 count total) here.
Toiletries to Stock Up on at Sam's Club
Toiletries can be hit or miss at Sam's Club. If you have a Kroger nearby, you can often get your toiletries as part of their amazing sales for cheaper than at Sam's Club. This is why it is important to know what is the cheapest grocery store. Whether you do or don't, there are still some good deals on toiletries at Sam's. As with everything, remember to compare the prices to save the most!
1. Deodorant
Surprisingly, Sam's Club can be a great place to buy deodorant! Old Spice Men's Deodorant is $9.48 for a 5 pack or $1.90 each. Secret Women's Deodorant is $9.48 for a 5 pack or $1.90 each. To make the deal even better, watch for when deodorant goes on Instant Savings for another $2 to $3 off a package. That is when I stock up!
2. Razor Blades
Sam's Place is an excellent place to buy razor blades! For example, a 16 pack of Venus razor blades runs $35.98 or $2.25 a blade. Even better, razor blades often go on Instant Savings for another $6 off a package. Men's razors are also a great deal, such as 20 Gillette Mach3 for $38.48 or $1.92 a blade.
3. Vitamins
If you take vitamins, compare the Member's Mark vitamin prices. For example, you can get a 400 count bottle of Vitamin D for only $6.98. Kid's vitamins often go on sale too. Compare the prices and counts of vitamins at Sam's Club to save money. See Member's Mark Vitamin D here.
4. Baby Wipes
After comparing all the different brands of diapers at 8 different stores, I found it was cheapest to buy diapers at other stores instead of Sam's (see results here). However, you can still get a good deal on wipes!
I know several people who love the Member's Mark wipes! You can get a 1152 count box of baby wipes at $20.48 or $0.02 a wipe.
Interestingly enough, Huggies wipes are $16.27 on Amazon for a 704 count box which also works out to $0.02 a wipe. They are even cheaper if you subscribe and save, which is what I do!
Those you have it! Those are 25 of the best things to stockpile at Sam's Club, that I like to buy! What do you buy at Sam's Club?
What to learn more about stockpiling?