How to Get Water Out of Little People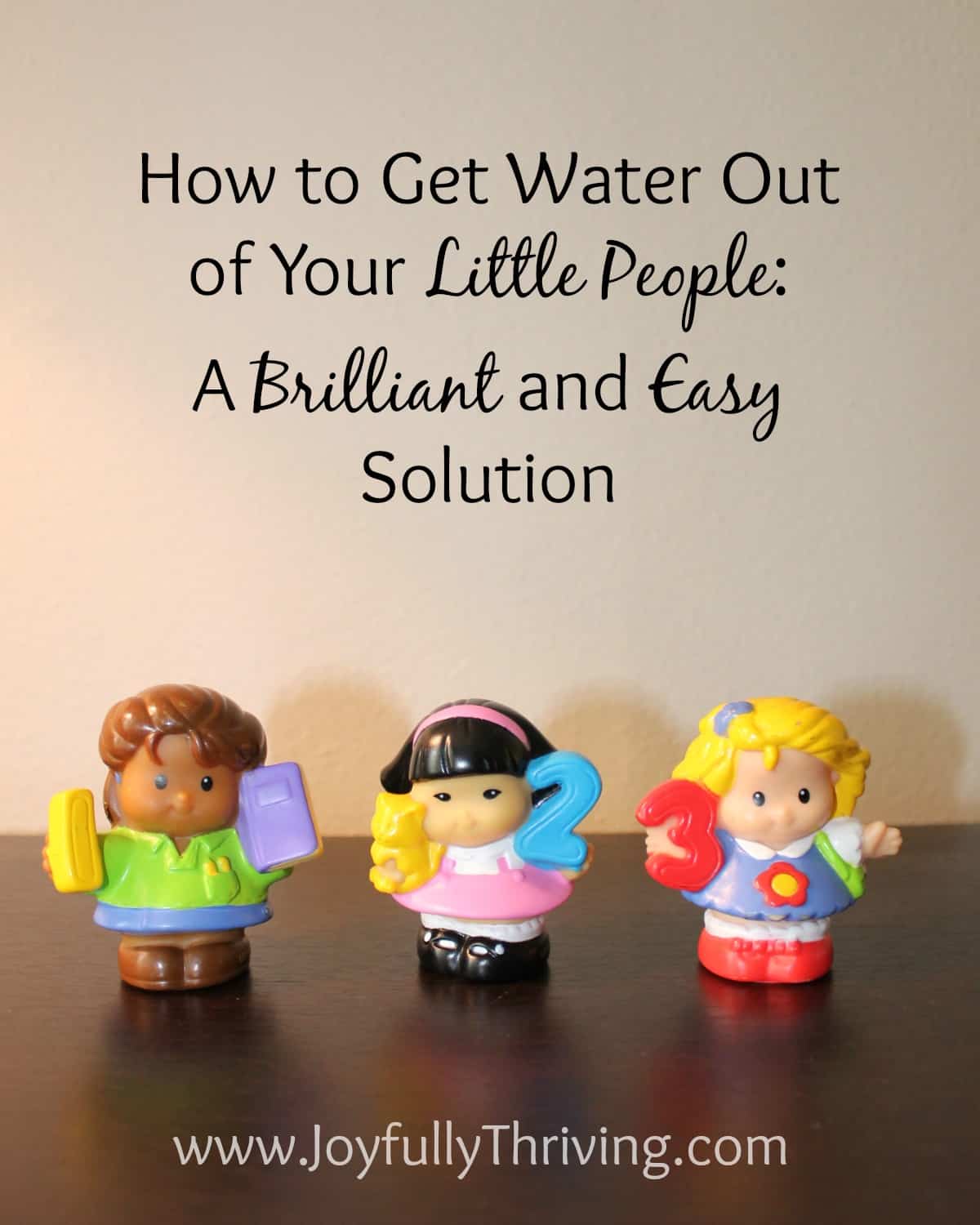 When I taught preschool, I quickly discovered that my preschoolers loved playing with the Fisher Price Little People. They didn't care so much for the play sets (and neither did I), but the Little People themselves were always in demand.
They loved lining them, counting them, putting them in their Lego houses and block creations. I had a box of Little People for my students to play with and it was used every day.
For that reason, I started watching for Little People bargains. I wouldn't pay full price for them so I always watched garage sales for them. My target price was a quarter – maybe $0.50 – per person. I also put out the plea to the parents of my preschoolers and when they cleaned out toys, we added some Little People to our classroom. The parents also helped me scour garage sales for them.
When we were given "new" Little People for our classroom, I always gave them a good cleaning first. I wanted to make sure that the dirt and germs were gone before the kids started playing with them.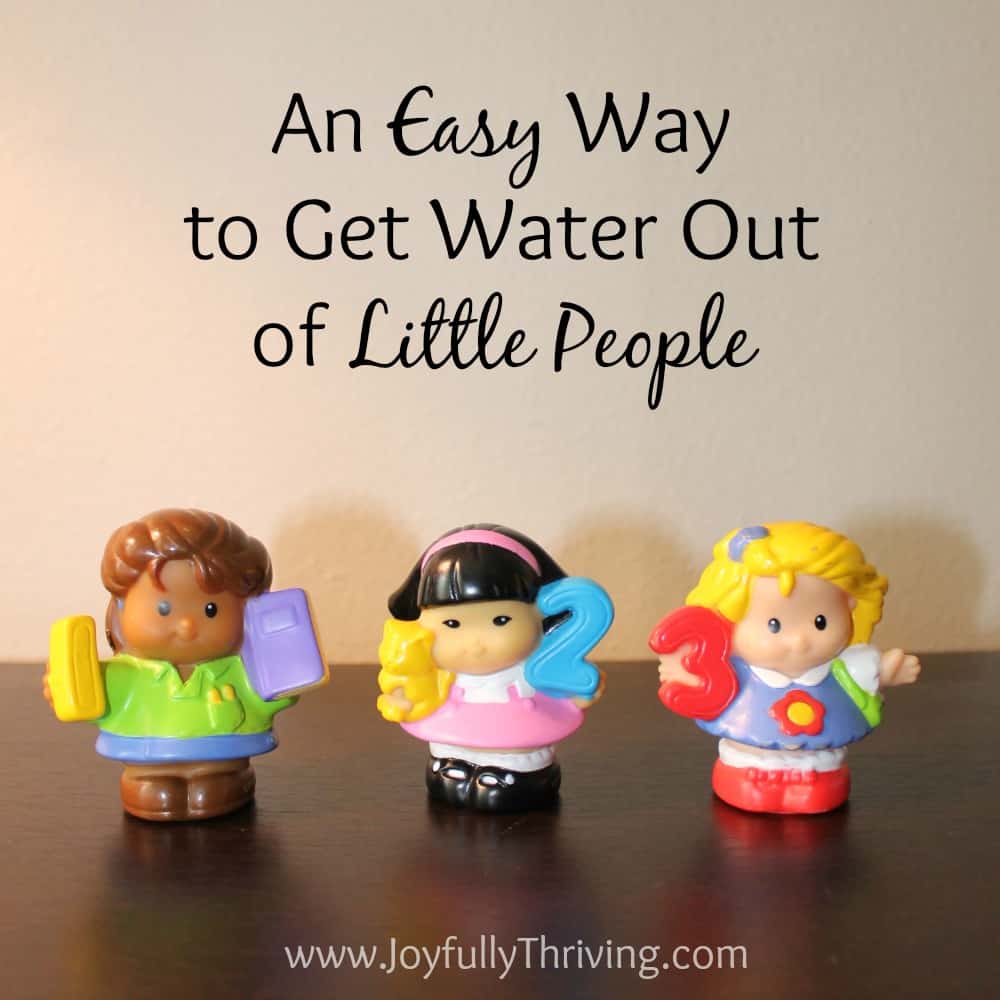 Little People are easy enough to clean but if they soak in hot water, we ran into a problem. Those of you with Little People know what I am talking about. Those little holes at the bottom let water in! I didn't want them molding so I tried everything to get the water out.
I tried leaving them out to air dry. A week later, there was still water in them.
I tried shaking them out. As hard as I shook them, there was still water left inside.
I tried sitting them in a cup of rice to draw the water out. Nope. That didn't work either!
I Googled it and some said to throw them in the dryer but others cautioned that the paint would chip. I didn't want that so I skipped that idea.
Finally, I stumbled across a sure proof way to quickly and easily get all of the water out of my Little People. Are you ready? It's so easy, you'll be amazed.
Blow dry the air out! Simply stand the Little People on their head and hold the blow dryer very close to the hole. Turn the air on and aim it directly at the hole for about a minute. This is how it looked as I was working my way through my latest set of Little People. Hold the blow dryer as close to the Little Person for a minute or two.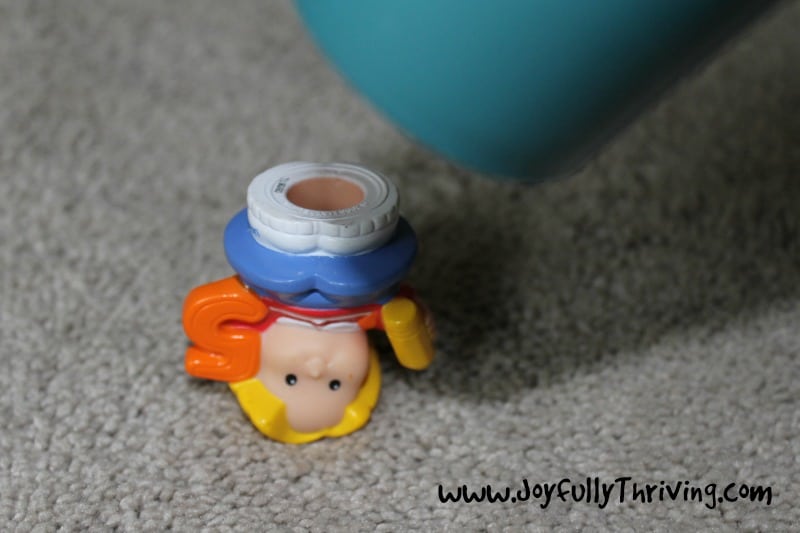 When you pick up your person, you will notice that the blow dryer has warmed the feet of your Little People enough that the plastic is moldable. Squeeze it tightly and the hole will open wide enough for you to shake every last bit of water out! I recommend shaking it over a towel because those few drops are always more than you expect.
Now, I know you are probably thinking that it's a great solution but you don't want to warp the plastic. Amazingly, it won't!
After you squeeze the feet and get all the water out, the plastic quickly returns to it shape and hardens exactly as before. I was truly amazed. You would never know that I had squeezed all my little people flat. The best part? There is not a single drop of water remaining in any of my Little People. That makes me very happy!
When it comes time to clean your Little People, give them a good soak in hot soapy water with no fear. Take the people out of the sink and use your blow dryer to quickly get all the water out.
Now that I know how simple it is to clean – and dry – Little People, they remain at the top of my garage sale list. Give it a try! I hope you'll be as pleased as I am with this easy and effective solution!