Free Mother's Day Printable Questionnaires
If you are looking for a thoughtful Mother's Day card idea, check out this free grandma questionnaire printable, as well as this printable mom questionnaire. The moms in your life will adore them!
Sometimes the simplest ideas are the best ones. I find that especially true when it comes to making special mother's day gifts – for Mom and Grandma!
My favorite thing to do is ask my litte kids to tell me about Grandma. Their honest perceptions will make you smile. I've done the same activity for Dad, and Grandpa too. When I taught preschool, I always did this activity as a mother's day craft. It was only natural that I continued this project with my own kids.
This post may contain affiliate links. As an Amazon Associate, I earn from qualifying purchases. You can read more in

my disclosure policy.




If you are looking for a quick and yet thoughtful grandmother gift, this grandma questionnaire printable is just what you need. This is the perfect gift for any Grandma on Mother's Day – or their birthday!
These are the type of handmade gifts that every Grandma absolutely loves. It's an inexpensive mother's day gift that Grandma (or Mom!) will love receiving.
Little kids often say the funniest things, so this Grandma questionnaire is a great way to capture everything cute your child says. The trick is to use fun questions and write down your kids' answers word for word. You will hear them say all kinds of things about Grandma. Yes, you can do a bit of editing if needed, but it is so much fun if you leave your child's answers exactly as they tell you.
I love doing this so much with my own kids that I created these mother's day printables to use with them, and share with others.
The concept is really simple.
Print off the free mother's day printable for your kids to complete. It's an instant download you can print and use right away!
You can fill in the blanks for young kids while older kids can write in their answers to all the blank questions about Grandma. It's a fun activity and won't take long to complete! Once again, the important thing is getting your kid's answers for all their thoughts and memories of Grandma.
After you have filled in all the blanks, have your child color the border for an extra special touch, or draw a picture on the back of the interview.
Put the completed questionnaire in the mail or deliver it in person the next time you see Grandma. It is sure to make her smile!
You don't have to wait for Mother's Day to use this printable. It's the perfect way to surprise Grandma for her birthday, on Grandparents Day, or just because. It's such a special and fun way to let Grandma know what kids think about her.
Here is the Grandma questionnaire printable I created. You can download a free digital copy by clicking on the link below this picture.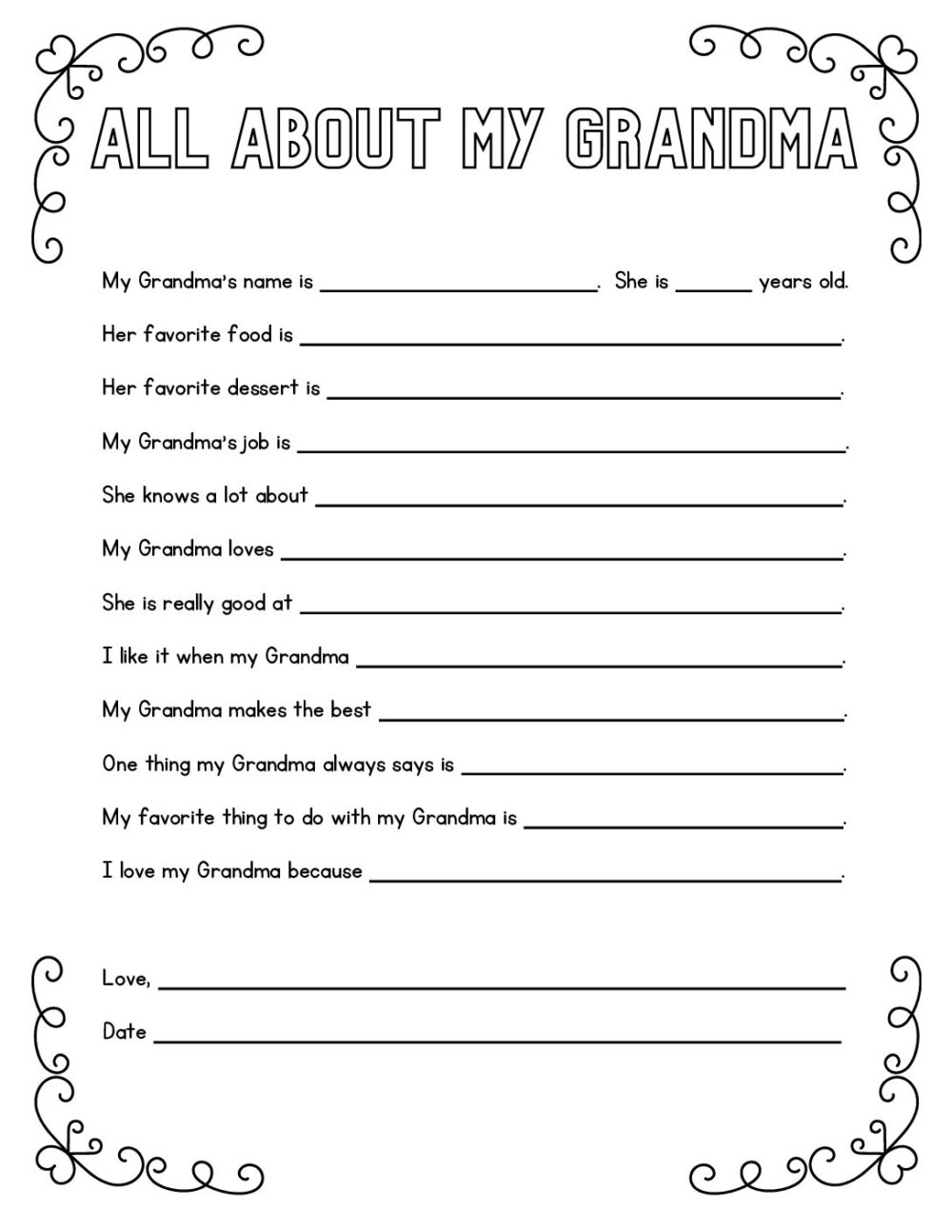 I also have a similar free mother's day questionnaire available to download. If you are looking for a priceless Mother's Day card idea, this mom questionnaire is one any mom will absolutely love!
You follow the same process for Mom. Ask your kids to share their perceptions of Mom (age is always a good one!) and write down exactly what they say. It is always fun to hear exactly what kids think of their mom.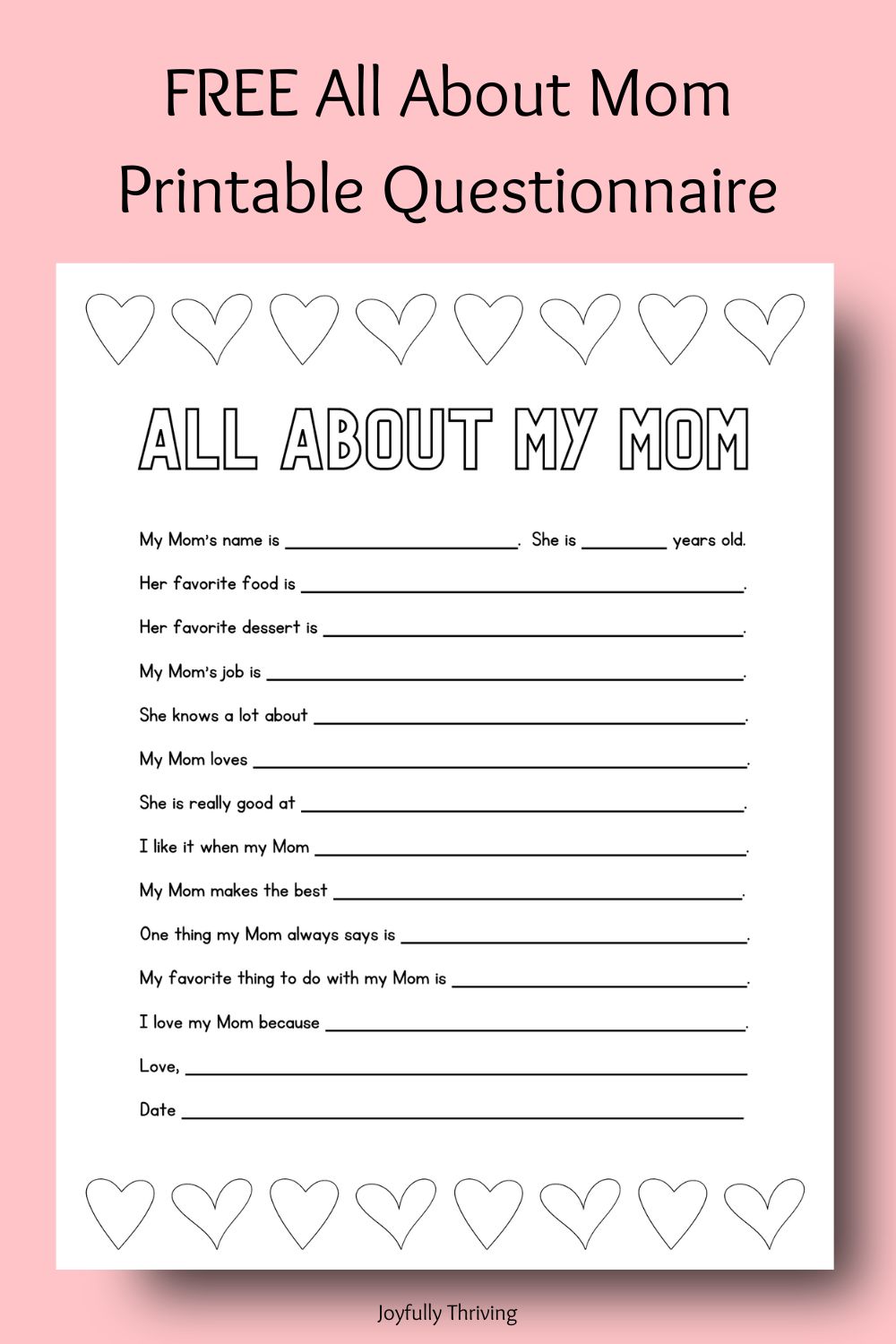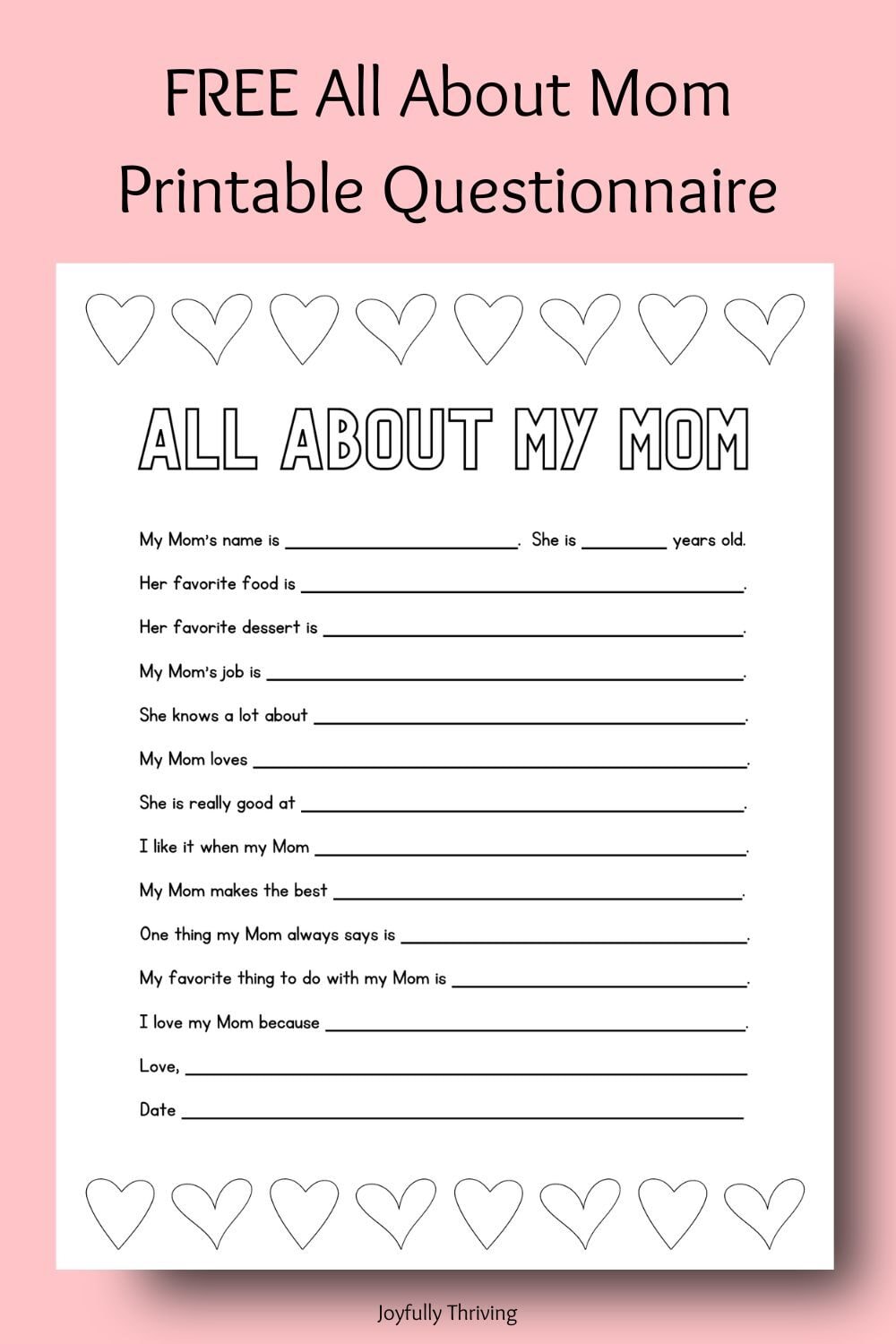 If you need more printable questionnaire options, I have a printable packet available for purchase on Etsy with 11 different name options, plus 3 border options for each name. If you need a different download for another special person in your life, this Etsy set is for you.
The Etsy set includes 11 different name variations – for all the moms in your life. Names include: Mom, Mommy, Mother, Step-Mom, Mama, Nana, Grandma, Gram, Memaw, Oma and Abuela. All variations are included in this Etsy purchase.
View the complete Mother's Day Questionnaires printable set on Etsy here.
If you are looking for similar Father's Day printables, check out this Etsy listing.
I hope this Grandma questionnaire printable makes your special Grandma smile…as much as it did ours!