How to Build and Maintain a Well Stocked Pantry and Freezer
I have long believed that having – and maintaining – a well stocked pantry is one of the best ways to save money. There is no more running out to the store because you forgot an ingredient. You can easily pull it out of your pantry instead. You simply fill your pantry when items are on sale and you will be amazed at how much time and money your pantry can save you.
Over time and by consistently shopping the sales, I have built a well stocked pantry that works for our family. Yes, it might be classified as a stockpile by some because I don't just have one or two cans of some of these things. I have dozens. However, having a well stocked pantry allows me to cook almost any typical recipe (especially our family favorites) whenever I want. My pantry also allows me to go several weeks without grocery shopping and still prepare a variety of meals.
The recent panic and shortages in grocery stores made me realize again the importance of a well stocked pantry. I spent some time figuring out exactly what to keep in our pantry and am sharing my lists here to help you build a well stocked pantry too.
These items are the things you will find in my pantry on a regular basis. I've broken the list into several categories – pantry, baking, fridge and freezer. Yes, my freezer is an important part of maintaining a well-stocked kitchen. For example, when meat shortages hit this summer, I was not that concerned because I already have meat in the freezer.
This post may contain affiliate links. You can read more in my disclosure policy.
I have two basic premises that help me build and maintain a well stocked pantry.
When there is a sale, buy 1 for now and 2 (or more) for later. This allows me to build my stockpile on a tight budget and to save a lot of money on my groceries by not paying full price. I try to buy most things in my kitchen on sale. If I can't find a sale, I make sure to shop where I know the prices are the lowest!
Never get to the last item. This applies for everything! After watching the recent food shortages and seeing how long it took for stores to restock, I am more determined that ever to hold to this principal. If I open my last jar of peanut butter, several more jars go on my list. Before I use my last bag of chocolate chips for baking, I am already buying more.
Using these two principals, I am always watching for sales to add to my pantry shelves and keep them well stocked. Personally, I want to have enough of an item on hand to last me 1 to 3 months, or until there is another good sale.
Also, remember you don't have to have a large space to be prepared! As you can see in all these pictures of my pantry, I have a few things in my basement with my canning jars, some food items by the art supplies and my large kitchen appliances, and others in my actual (small!) pantry.
I store some of my bulk food items (crackers, pasta, oats, popcorn) in large canning jars and Anchor jars. These are the jars I like the best because they keep food fresh and look nice too. I use both the quart and the gallon size. I have bought them at Meijer and Walmart, and you can also buy them on Amazon.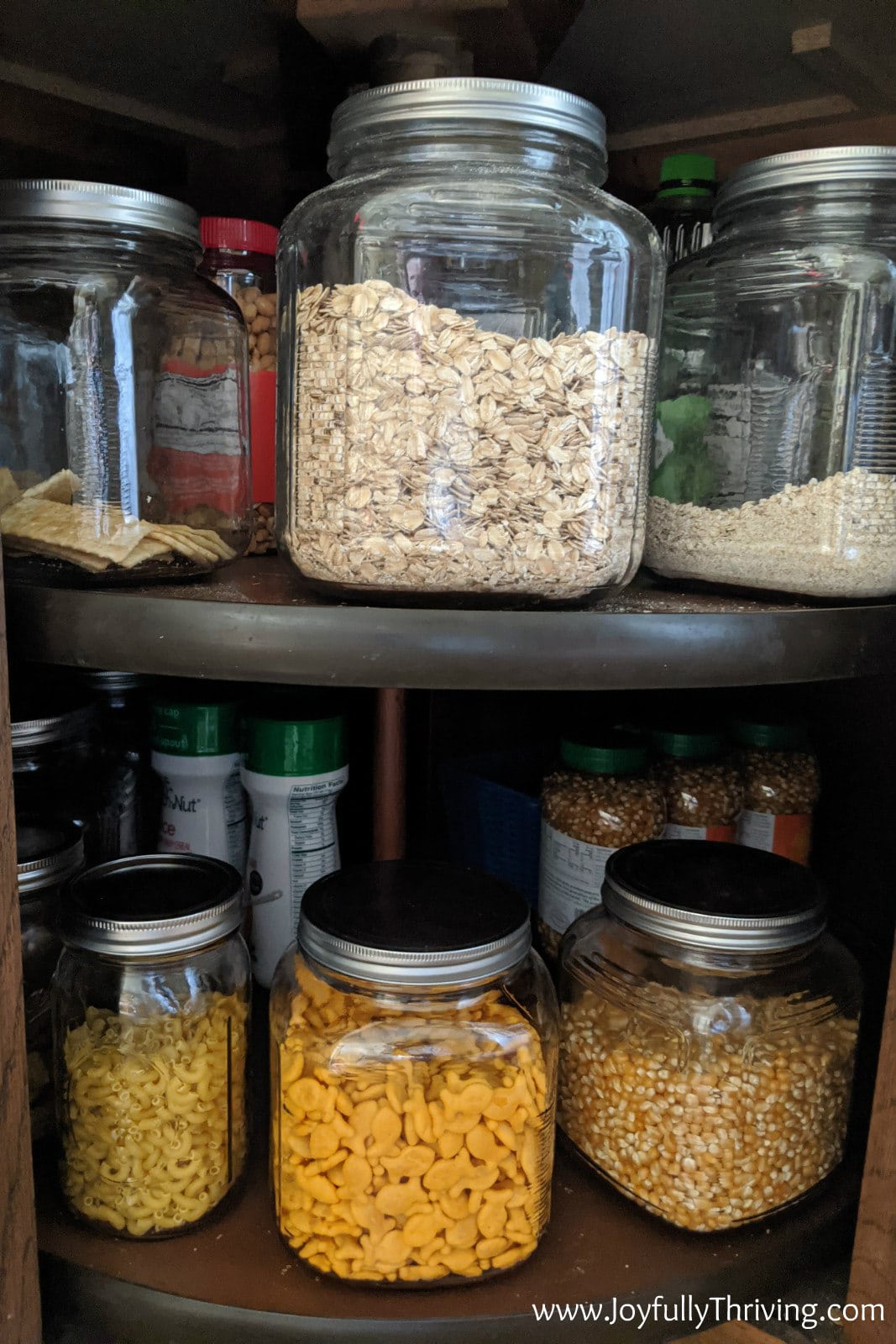 Here is what my well stocked pantry looks like. You can use this list to determine the things you use regularly, and build your own pantry stockpile to fit your needs.
A Well Stocked Pantry | Pantry Staples
Pasta
Rice
Crackers – Graham crackers, Triscuits, Ritz
Almonds
Oats – Quick and Old Fashioned
Cereal
Peanut butter
Canned tomatoes – Petite diced and crushed tomatoes (both in 28 oz and 15 oz cans)
Tomato sauce and tomato paste
Spaghetti sauce
Canned vegetables – Mainly corn and green beans
Canned beans – Black, pinto, kidney, etc.
Canned fruits – Peaches and pineapple
Canned soups – Cream of chicken and tomato
Refried beans
Enchilada sauce
Syrup
Olives – Black and green
Macaroni and cheese
Canned pumpkin
Applesauce – Unsweetened jars, cups and pouches
Chips – Tortilla chips and potato chips
Tortillas
Popcorn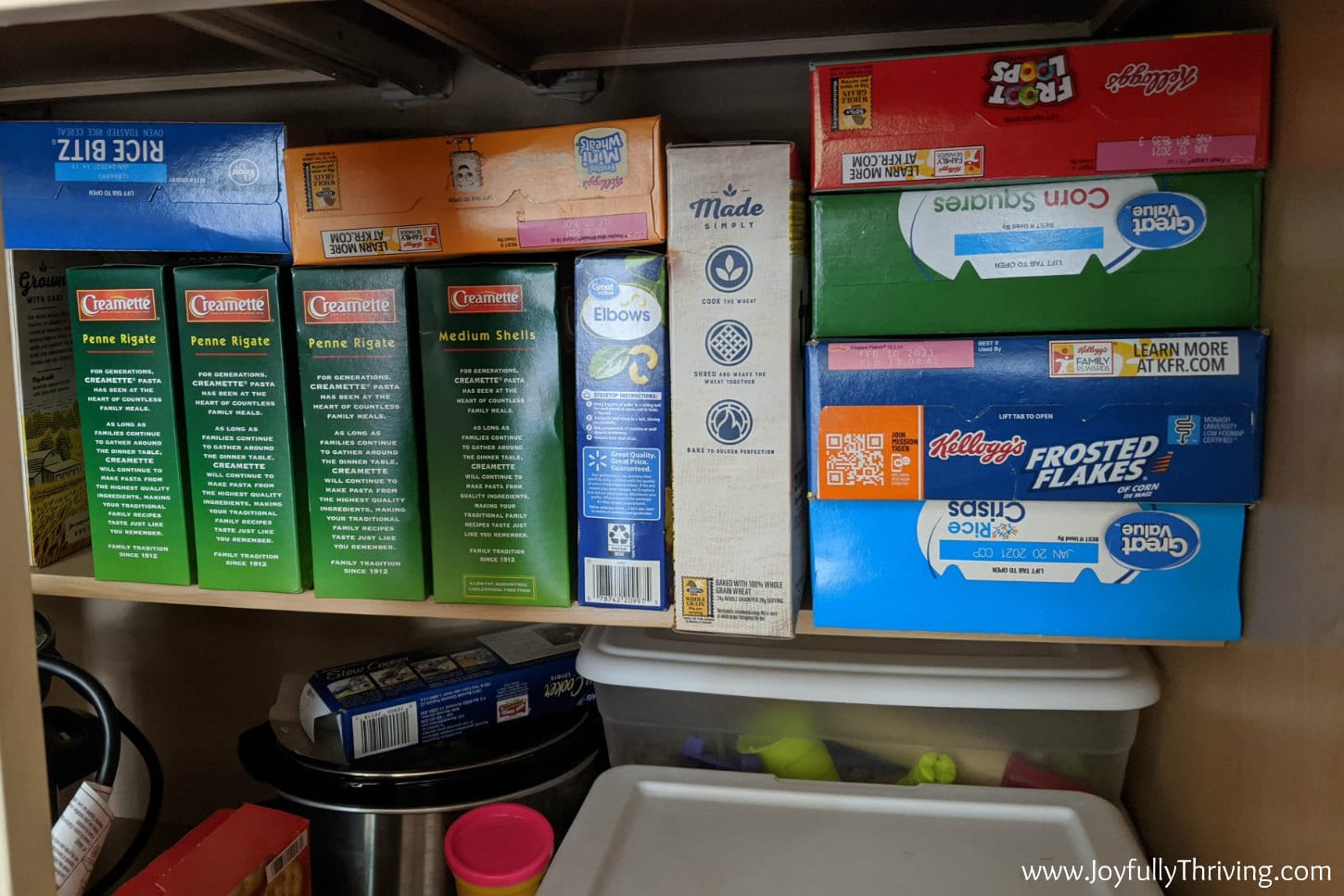 A Well Stocked Pantry | Baking Staples
Flour
Sugar
Brown sugar
Powdered sugar
Yeast
Vital gluten (for making homemade bread)
Cocoa powder
Baking powder
Baking soda
Semi-sweet chocolate chips
Vanilla and almond extract
Canola oil
Olive oil
Nonstick baking spray
Vinegar
Sweetened condensed milk
Evaporated milk
Powdered milk
Shortening
Honey
A Well Stocked Fridge | Fridge Staples
Milk
Butter
Cheese – Mostly bars of medium cheddar, as I grate my own cheese
Cream cheese
Parmesan cheese
Sour cream
Yogurt
Eggs
Juice
Semi-sweet chocolate chips
Condiments – Ketchup, mustard, salad dressing, salsa, pickles, mayo, jam, etc.
Pure maple syrup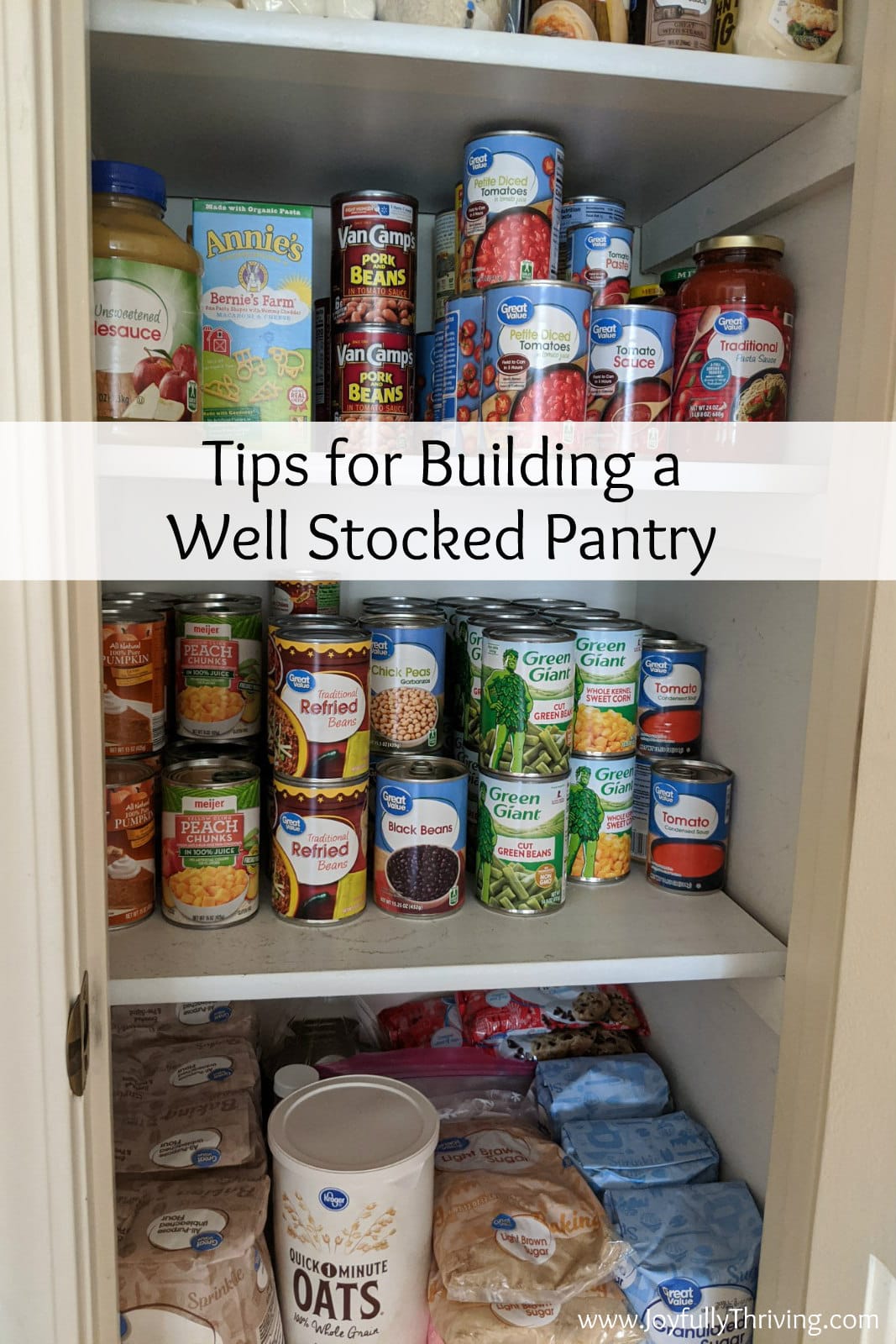 A Well Stocked Freezer | Freezer Staples
Frozen vegetables – Corn, broccoli, cauliflower, peas, brussel sprouts, green beans, etc.
Frozen fruits – Blueberries and raspberries
Butter
Frozen juice concentrate
Baked goods
Assorted meats – Pork, chicken, sausage, hamburger, etc.
French fries and tater tots
Hash browns
Frozen pizza
Vanilla ice cream
You can download a printable checklist of these well stocked pantry items here.
More Stocked Pantry Ideas
If you are like me and love looking inside other people's pantries, here are some more insider tips to maintaining a well-stocked pantry.
Here's how Iowa Girl Eats keeps her pantry stocked.
Here's how Ree Drummond (aka The Pioneer Woman) stocks her pantry.
Here's how Edie Wadsworth maintains a well stocked pantry.
My Well Stocked Pantry Minimums
Remember, having a well stocked pantry and stockpile is really a practical emergency fund. When money is tight or there are limits at the grocery store, you don't have to worry if you have a well stocked pantry. Having a well stocked pantry allows your family to be prepared for whatever may come. I believe this is more important than ever right now.
These are general numbers, but the following are the minimum numbers I try to have in my pantry at all times. This is enough to last me for at least a month, without shopping. Some of these will last me longer but this is a number I am comfortable with having in my pantry, to be prepared for whatever comes. If I find a great deal that I know I can use before it expires (many of the following have a long shelf life), then I will certainly buy more.
For example, one of the most important things for me to always have is baking ingredients, especially since I bake our bread. It is still difficult to find yeast here, 6 months after the shortages started. Thankfully, my mom found me a large bulk package and brought me yeast from Texas when I saw her this summer. She also brought me two large jars of Mexican vanilla again. If you don't bake regularly, you probably don't need 25 pounds of flour. Instead, adjust the numbers to what your family realistically uses. Do that with all of the pantry items I share!
I have thought about these numbers for the past couple months and these are the amounts I have come up with for our family. This is what I am most comfortable with having on hand, and I try to have this number in my pantry at all times – so I never get down to my last item. I share these numbers to give you a real life look inside my pantry. It's a work in progress but these numbers should give you a starting point for your pantry.
Here are my pantry goals.
Pasta – 6 pounds
Crackers – Graham crackers, Triscuits, Club – 4 boxes
Oats – Quick and Old Fashioned – 2 containers (48 ounces each)
Cereal – 4 boxes
Peanut butter – 4 jars
Canned tomatoes – 6 to 12 cans
Tomato sauce and tomato paste – 6 of each
Spaghetti sauce – 3 jars
Canned corn and green beans – 12 of each – 24 total
Canned beans – Black, pinto, kidney, etc. – 6 to 12 cans
Canned peaches – 6 cans
Canned soups – Cream of chicken and tomato – 12 to 24 cans
Refried beans – 6 cans
Macaroni and cheese – 6 boxes
Canned pumpkin – 12 cans
Unsweetened applesauce – 10 jars
Tortilla chips – 4 bags
Apple juice – 5 gallons
Popcorn – 4 pounds
Flour – 25 pounds
Sugar 16 pounds
Brown sugar – 4 pounds
Powdered sugar – 4 pounds
Yeast – 2 pounds
Semi-sweet chocolate chips – 6 pounds
Canola oil – 4 jars
Olive oil – 3 liters
Nonstick baking spray – 2 cans
Butter – 5 to 10 pounds
Cheese – 2 to 5 pounds
Meat – Assorted meats (hamburger, chicken, pork) in freezer at all times. 20 plus pounds
If you are ready to start building your own well stocked pantry, download a printable checklist of these pantry items here.
Now, what items are imperative to you in your pantry? Do you have a food item or two that didn't make my list? I'd love to know what is in your pantry!