1st Birthday Book Themed Food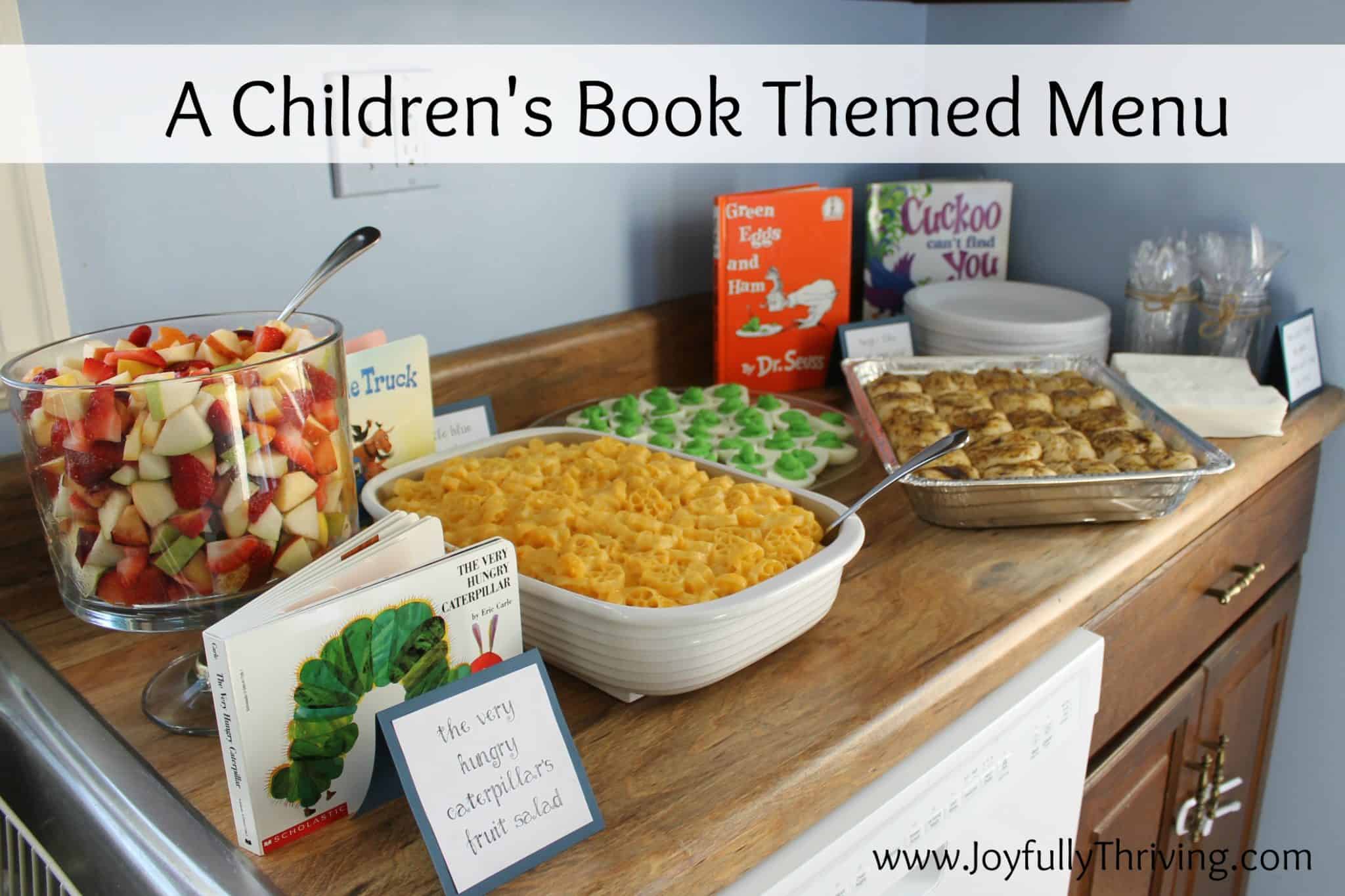 I loved planning this children's book themed party for Nathan's 1st birthday! I got to combine my (our) love of books and food. What a perfect combination for a fun party! All of the books I chose really are books that Nathan loves to read. On average, he and I probably spend an hour reading throughout our day. Nathan loves any good rhyming book right now. He's also started picking out the books he wants and bringing them over to me to read. Since Nathan loves books so much, it was an easy party for me to plan. Here's what I served for Nathan's 1st birthday with our book themed food menu.
This post may contain affiliate links. As an Amazon Associate, I earn from qualifying purchases. You can read more in

my disclosure policy.




For each food item, I displayed the book along with a place card with the actual quote / description to tie together the food and book. I typed the cards in Word using a decorative font. You can download a free copy of my birthday menu cards here if you'd like to use them yourself. I simply trimmed them with a 1/2 inch margin and mounted them on folded pieces of navy blue cardstock.
I set out the actual book by the corresponding food, and tried to use a board book when possible. I love board books because they are so durable! Plus, they take up less space on a buffet and are much easier to stand.
Our buffet started with the book Cuckoo Can't Find You by Lorianne Siomades. It's a short one I never read in preschool but I am glad I saved it because it really is cute. Each picture is a hidden picture with the rhyming phrase. We used "Loon can't find his spoon. Stork can't find his fork," and set it by the silverware, plates and napkins.
The food started with Nathan's favorite Green Eggs and Ham by Dr. Seuss. I'll never forget the day Nathan brought me "Green Eggs and Ham" seven times to be read during the day. And at 9 months of age? That's a long book! It wasn't one of my favorites but Nathan really enjoys it.
Of course, I made green deviled eggs. One of my best investments earlier this year was the Wilton food dye made specifically for icing. I don't know why I've tried to color with liquid food dye for so long! This dye is amazing. Simply dip a toothpick in the gel and stir into your food. You get a vibrant color without having to mix and match for a weak color resemblance. Plus, you barely have to use any! Look how green my eggs are. Incredible, isn't it? Seriously. Go buy some. It's amazing! I used a decorators page with a tip to pipe the filling into my eggs. Quick and easy!
For the ham aspect of the book, I made mini ham and swiss sliders with the recipe found here. This ended up being the most expensive part of my meal because you need deli ham and swiss cheese. Still, it was well worth it to see how much they were enjoyed! We made a double batch of 44 rolls and almost all of them were eaten. You can make the sandwiches ahead of time and simply boil the delicious glaze before heating the sandwiches. As our guests began to arrive, I simply poured the glaze over the rolls and put them in the oven to warm. 15 minutes later, we were ready to eat these delicious sandwiches. I don't really care for ham but even I like these sandwiches!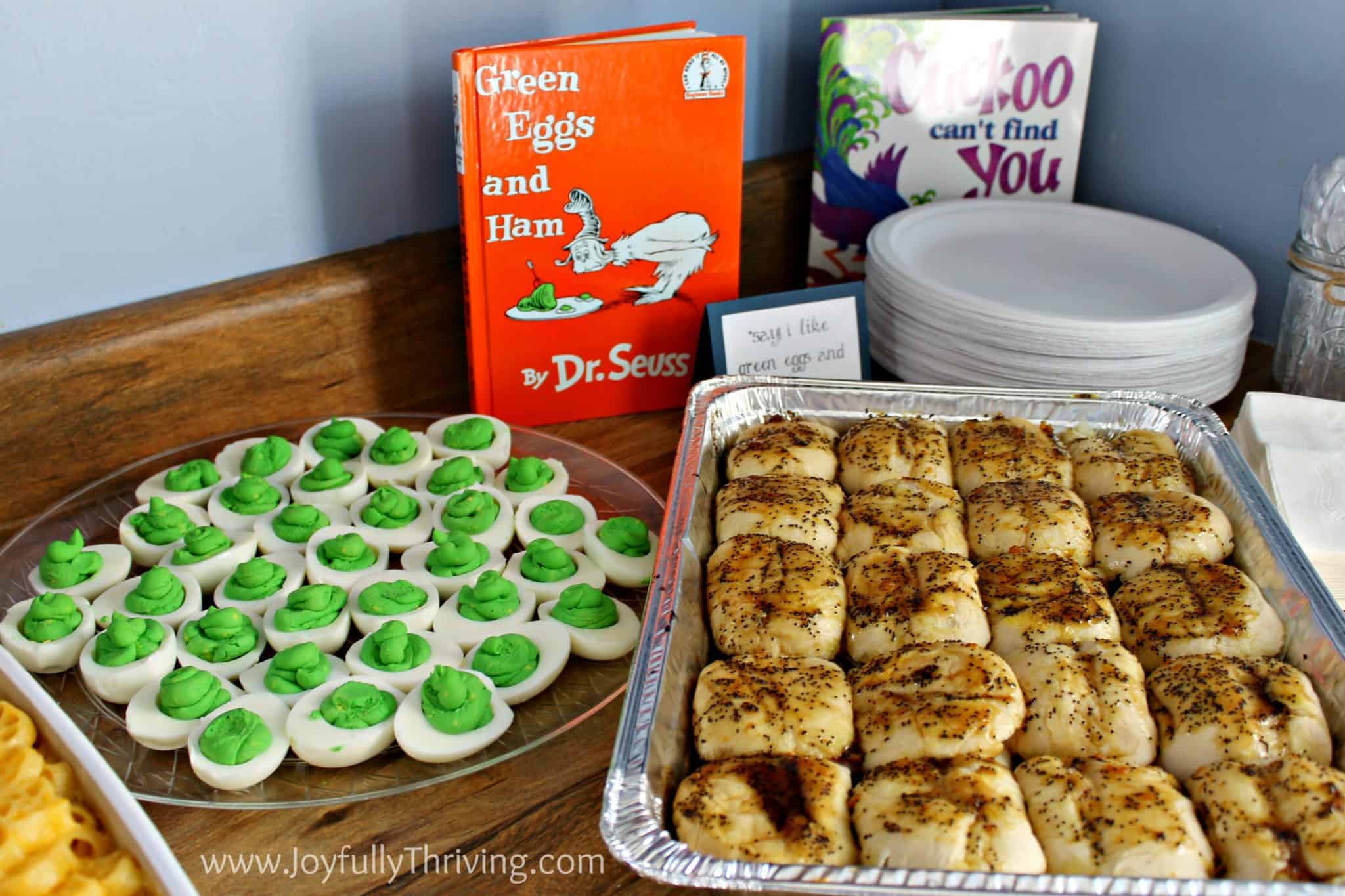 Nathan and his Daddy both share a love of The Little Blue Truck by Alice Shertle. There are no foods mentioned in this cute book but I adapted it and made Little Blue Truck's Macaroni made with wagon wheel pasta. It was a bit tricky to find wagon wheels but I finally found them at an Amish bulk food store. I wish I had thought to simply order wagon wheel pasta from Amazon pantry!
I used the Pioneer Woman's recipe for macaroni and cheese. It's delicious! My brother grated all the cheese for me and I mixed it up earlier in the afternoon so it could reheat in the oven with the ham sliders. Again, it's great to be able to make the bulk of your themed food ahead of time.
Next up was the Very Hungry Caterpillar's fruit salad. Eric Carle wrote a lot of beautiful books but The Very Hungry Caterpillar is my favorite (along with Brown Bear, Brown Bear). I made sure we had all the fruits the caterpillar ate – apples, oranges (I used mandarin oranges instead of regular ones), plums, pears and strawberries.
Once again, my brother and sister helped out by chopping all the fruit for the salad. Mikaela and Joel were a huge help to me in the kitchen, while Andy finished cleaning up the house and my brother-in-law kept an eye on the babies. Actually, we all took turns entertaining Nathan and his cousin, Zeke. It was a beautiful fruit salad that I'm sure the caterpillar would have enjoyed as much as we did.
The easiest food of the party was the cheese puffs for the Llama, Llama, Mad at Mama book by Anna Dewdney. Nathan absolutely loves all the Llama, Llama books – both the board books and the full length ones. In this particular book, for those unfamiliar, Llama is mad at his Mama for having to go to the grocery store when he wants to be playing. He throws a fit and "Out go socks and cheezee puffs…Llama, Llama! That's enough!" Nathan always smiles when I say that, like he knows Llama's in trouble now. I bought a big bag of Cheese Puff balls and poured them into a bowl. We don't buy them often but they are a tasty treat on occasion!
Since Nathan enjoys all the patterns and repetition of nursery rhymes (great for building phonemic awareness), I set out one of his Mother Goose books. He has – and we read – several. The Classic Mother Goose board book is nice for the old-fashioned pictures. Can you guess what nursery rhyme and food? Yes, indeed! Little Miss Muffet's curds and whey! Cottage cheese is one of Nathan's favorite foods, so this was another easy food to chose and serve.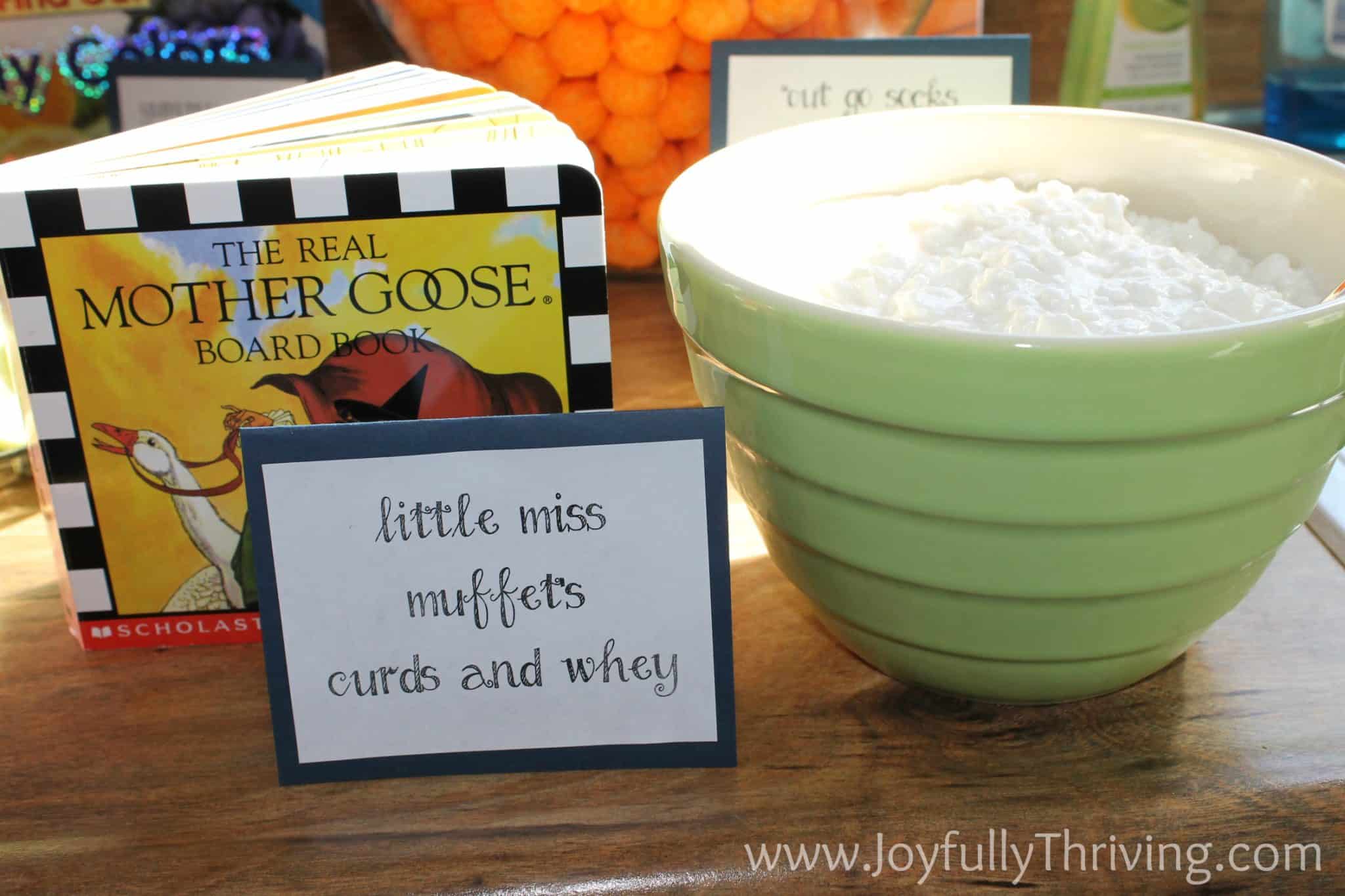 The final item was a veggie tray (with dill dip) that went with the Yummy Color's book. Unfortunately, the evening sun was shining through the windows as I quickly took the pictures before we ate, so I don't have a good picture to show you. It was a regular veggie tray (carrots, cucumbers, celery, green peppers, tomatoes and black olives) and I know you've seen them before. Just pretend there is a picture following below!
For drinks, we served six varieties of soda (plus water). Why soda? When we were in the NICU, Nathan was given the book Dr. Seuss's ABC's. It was the first book we read to him (outside the womb, of course). He still likes hearing that book. So, we had six different sodas for the S page and "Silly Sammy Slick sipped six sodas."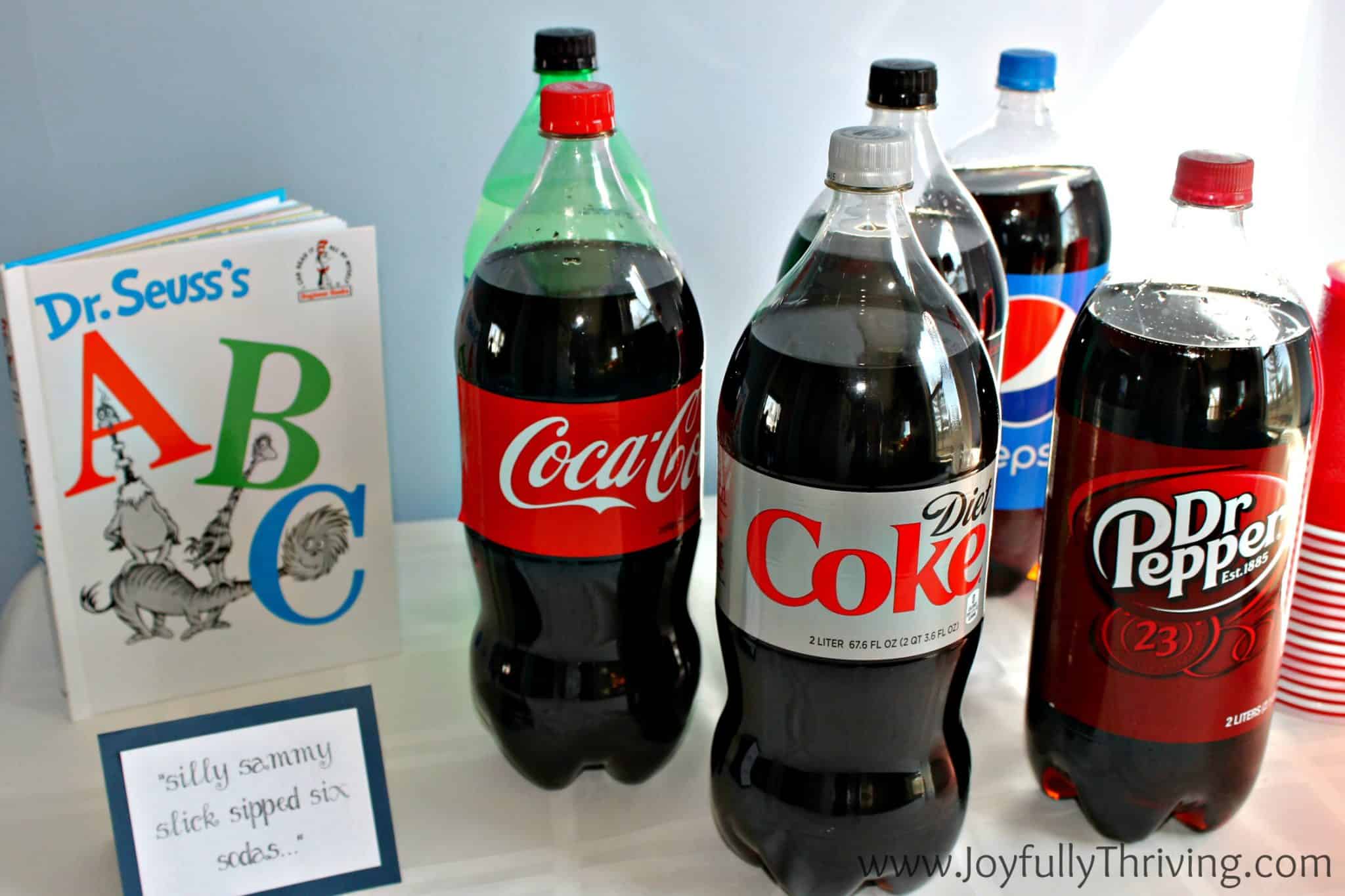 Finally, I made Little Blue Truck cookies using this easy roll out sugar cookie recipe. I didn't have a pick up truck cookie cutter so I made a paper template and cut them out with a knife. I used my Wilton food dye again to get a vibrant blue on the pick-up trucks and coordinated the number one's in bright red. I have since found the perfect truck cookie cutter on Amazon and wish I had found it before the party. That would have made my life so much easier!
We had a birthday cake and ice cream as well but enjoyed the cookies, too. By the cake, I simply displayed the board book (with flaps) of Where is Baby's Birthday Cake? by Karen Katz. Nathan enjoyed reading that book in the weeks leading up to his birthday.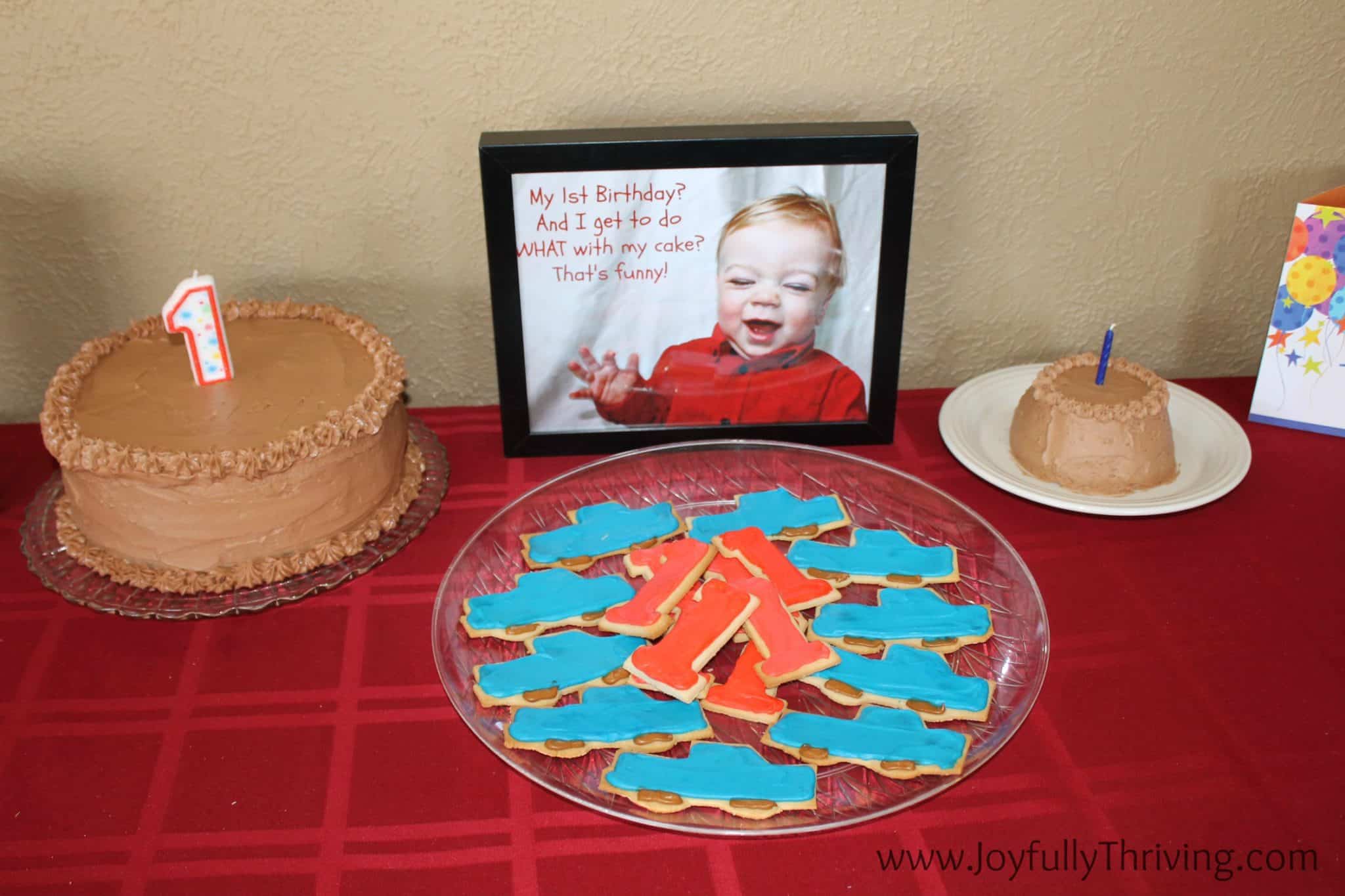 There you have it! That is the book themed menu that I planned for Nathan's 1st birthday party. We all had fun celebrating with some of Nathan's favorite books. I hope you enjoyed the glimpse into the party!
If you are planning a book themed party, I hope this helps you give some food ideas. There are so many possibilities for so many books! Feel free to pin for future reference as you plan your own children's book themed party!