Thoughtful and Frugal Gifts Under $5
Looking for thoughtful but frugal gifts under $5? Here are 40 gift ideas to use year round!
There are so many times throughout the year when you want to give a gift to someone – and Christmas is one of those times. When you start thinking of all the teachers, friends, babysitters, coworkers and so many others, it can really stretch your budget.
Gift giving is never mandatory but if you want to give gifts, you can do so frugally. Buying an inexpensive gift doesn't mean you are cheap. You can give a thoughtful gift and be frugal too. This is why I started compiling this list of frugal gifts under $5. Best of all, these frugal gifts aren't limited to Christmas. You can use these gift ideas year around!
This post may contain affiliate links. As an Amazon Associate, I earn from qualifying purchases. You can read more in

my disclosure policy.




What are the best tips to find thoughtful gifts under $5?
One of the important things in giving thoughtful gifts is to match the gift to your recipient. While certain gifts (homemade cookies) can be enjoyed by all, others are better customized. Put a little thought into your gifts and it will be greatly appreciated.
I am someone who loves to bake and always enjoy giving baked goods. I show my love for others by baking. It's just who I am. At Christmas, you can find me spending countless evenings rolling and dipping buckeyes or stirring batches of caramel corn. Anyone who tries my buckeyes agrees they are the perfect gift – and for under $5 for a full batch, too. If baking isn't your thing, there are still so many ways to give thoughtful and frugal gifts to others!
Bonus baking tip: If you are giving baked goods, stock up on cute tins or containers from the Dollar Tree, which look nicer than paper plates. You can also buy a large pack of smaller aluminum boxes with cute Christmas lids, if you are doing a lot of cookie giving at the holidays.
Another important aspect of giving frugal gifts is to start early and watch the sales. If you want to find gifts under $5, you will be surprised how nice of gifts you can get when shopping sales.
Have a coffee lover in your life? Watch for gourmet bags of coffee to go on sale at the grocery store.
Want to give gifts to all of your children's teachers? Consider stretching your money by buying a set of the same items (such as chapsticks or bath bombs) and splitting them among several people.
Most of the gifts listed below are regularly under $5 but if you pair your gift shopping with sales, you can stretch your budget even further.
When you find a good deal, consider buying a couple of those gifts and storing them away until you are ready to give them. It's nice to have a couple gifts on hand that you can give in a pinch. By shopping the clearance sales after Christmas, you are bound to find some gifts to give for birthdays or other occasions throughout the year.
Where can you find frugal gifts under $5?
You can find a lot of nice gifts at your regular grocery store, especially if you are watching sales. Other stores that are great for finding hidden treasures are Marshalls, TJ Maxx, Trader Joe's, Michael's, Hobby Lobby, Aldi and Five Below. Yes, even Walmart and Target have frugal gift options if you look around! You can find great deals on gifts under $5 just about anyplace – including online at Amazon!
If you are buying on Amazon, look for bulk purchases and items that qualify for the Shop and Save discount to stretch your money further. For tips and cheap Subscribe and Save items, check out the 50 Best Items to order from Amazon Subscribe and Save.
Bonus frugal tip: Another way I stretch my gift giving budget is to earn free gift cards through out the year, and then I set them aside for Christmas shopping. This has really been a blessing to our budget for several years now! Here are 4 quick ways I earn gift cards and that you can too.
Finally, remember that homemade gifts and a thoughtful note are appreciated as much as a generic, more expensive gift. A gift doesn't have to be expensive to show you care.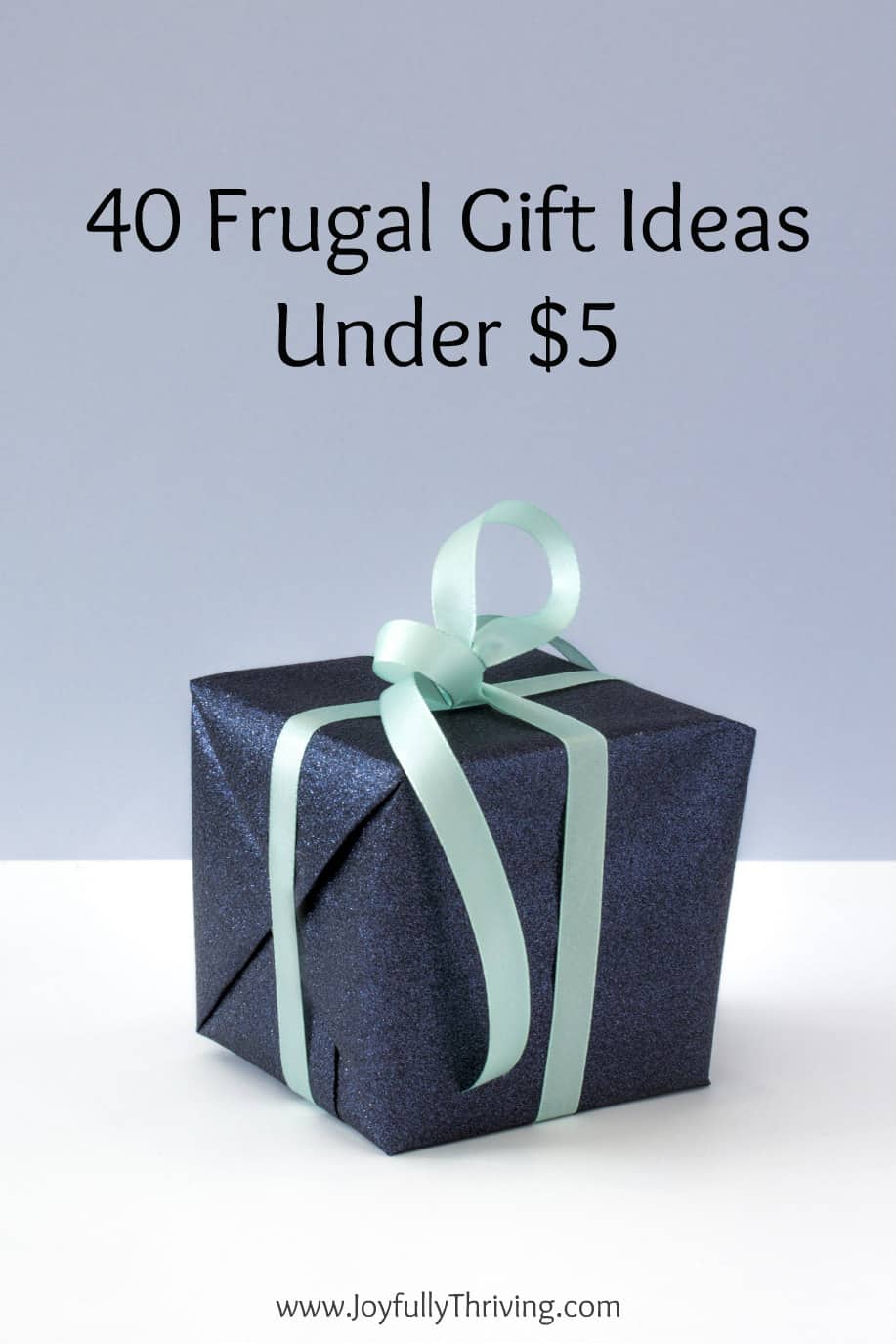 Here are 40 thoughtful and frugal gifts under $5.
Note: Some of the links below are for a collection of items which cost more than $5, but when you break them into gifts, they fall under the $5 price tag that was my goal. Also, remember to watch the sales around you for year round deals!
A favorite bottle of foaming Bath & Body works soap. Bath and Body Works runs great sales in store too.
A cheaper but still just as nice scented foaming hand soap. Mrs. Meyer's is another favorite soap brand!
A plate of your special homemade cookies with a cute printable Christmas gift tag
A bag / box of Popcorn and a Redbox code
A tin of homemade buckeyes will always delight your recipient
A small scented candle (Walmart has great scents at great prices)
A stack of themed paper plates, cups and plastic utensils – to give the gift of fewer dishes
A $5 gift card with a handwritten note
Homemade jam with a loaf of homemade bread
A local, specialty food item
An tin of hot chocolate or box of seasonal tea (depending on your recipient)
A variety sampler of homemade Chex mix (perfect if you want to make gifts for several people at once)
Homemade puppy chow in a cute tin
A tin of homemade caramel corn
A cd of Christmas music
A bag of coffee for the coffee lover in your life
Wine stopper and a bottle of wine from Aldi or Trader Joe's
Fuzzy slipper socks
A good spatula tied with a favorite cookie recipe
A family friendly game like Monopoly Deal or Quixx (if you find a good sale)
Homemade spiced pecans
Super cute Today's Plan notepad – perfect for teens, teachers or moms
Homemade peanut butter sauce or hot fudge sauce for ice cream topping
A small plant like a Christmas cactus
Dehydrated soup mix or a homemade soup mix in a jar
Homemade hot chocolate with homemade marshmallows
Summer sausage
Usborne little books
An adult coloring book and a fresh box of crayons or markers
A cute mug with seasonal tea (or hot chocolate)
A homemade ornament
A simple but delicious freezer meal so your friends can enjoy a night off from cooking
Hopefully this will help you think of some good gift ideas! What would you add to this list? Do you have any go-to gifts under $5 that you enjoy giving, and know are appreciated?