I like simple and festive projects children can do for the holidays. When my sister shared her idea of making this pine cone Christmas tree craft, I knew it was an idea I wanted to do myself – and share with others. Thankfully, Liesl shared her pictures of her adorable kids with their trees. These pine cone Christmas trees are a festive decoration that are simple enough for kids to make. That's what makes a winning project in my book!
Side note. Does anyone else stumble over whether to spell pinecone as one word or two? I looked it up in the dictionary and learned it is actually correct both ways. I can't decide which one I prefer, so if you see me flipping back and forth, do forgive me. The teacher in me is having an internal struggle with this word. Whew. Now onto these adorable pine cone trees!
This post may contain affiliate links. As an Amazon Associate, I earn from qualifying purchases. You can read more in

my disclosure policy.




Pine Cone Christmas Tree Craft Instructions:
Pine cone Christmas trees really are a simple project to make. The first step is to collect (or buy) some pine cones. You are looking for pine cones that are decent size. Although, you could make them as miniature ones but you won't end up with as many decorations.
If you live down South and don't have pine cones following in your back yard, most craft stores will sell them – especially around the holidays. If you are buying pine cones, I recommend buying pine cones that are at least 3 inches tall, like these pine cones.
After you collect your pine cones, paint the tips of the pine cones. You can do this in a couple ways depending on how you want your finished trees to look.
Spray paint the entire tree.
Roll the pine cone tips in white paint for a snow effect.
Hand paint the tips of the tree in green, white and / or any color you prefer.
I personally like the white snow effect because it leaves some of the natural element showing. I recommend using a craft paint like this for this project. Craft paint comes in small bottles so it is easy to pick up a variety of colors if you decide to go that route.
However, if you are doing this project with kids, I recommend using a washable tempera paint. The Crayola tempera brand is my favorite. It will dry just as nicely but you don't have to worry about your kids ruining their clothes. On second thought, maybe everyone should use tempera paint for this project!
If you want to add glitter for sparkle, add a dusting of glitter while the paint is wet so you don't have to add it later.
After you paint them, let the trees dry on waxed paper or parchment paper. This will keep them from getting stuck to the paper as the paint dries.
Once the trees are dry, you will want to add a base so your trees stand up. Once again, you can do this a couple ways. The simplest is probably to use air hardening clay like this one. It's easy to mold so you can make a base and stick the tree in the middle. Within 24 hours, it will dry hard to the touch. This clay is cheaper than Crayola Model Magic (which is so much fun for kids) but it is basically the same thing.
You can also pour a bit of plaster of paris to create your mold. This is a good option because you mix the plaster yourself as you need it, and it hardens within minutes, rather than waiting overnight or longer for the base to harden.
Now comes the fun part – decorating!
You can decorate the trees with any decorations you have on hand, or find decorations that would be perfect for little trees and little fingers.
Some decoration ideas include pipe cleaners or ribbons, tiny pom poms, buttons, and sequins. I really like this Christmas color assortment of buttons, which comes with plenty for this project and several others. As for pom poms, your best bet is to look at your craft store for the size to fit your tree. I think the mini 1 cm size (like these) would work on most pine cone Christmas trees but you might want to buy them bigger, if you choose.
To attach your decorations, use a tacky glue which will hold more securely than regular Elmer's glue. Mod podge can work too. You can hot glue larger items if you wish. There really are so many options for this project!
After you have assembled all your decorations, this is the part where you can turn the kids loose and let them have fun decorating their trees.
Wouldn't these pine cone Christmas trees look adorable lining a bookcase or window sill? These pine cone trees would be a great class project too, if the painting were done ahead of time for little ones. They would also make a thoughtful gift to residents in a nursing home, for a small bit of Christmas cheer.
That really is all there is to these simple pine cone Christmas trees! Collect. Paint. Decorate. Display!
Pine Cone Christmas Tree Supplies Needed:
To recap, here are the supplies you need to make your pine cone craft.
Yes, these trees take a little bit of planning due to drying time but as you can see, this pine cone Christmas tree craft really is simple – and absolutely adorable – when all is said and done. I love how unique each miniature Christmas tree turns out. And if you wanted to go absolutely simple, you could skip the decorating completely because the painted trees are also darling.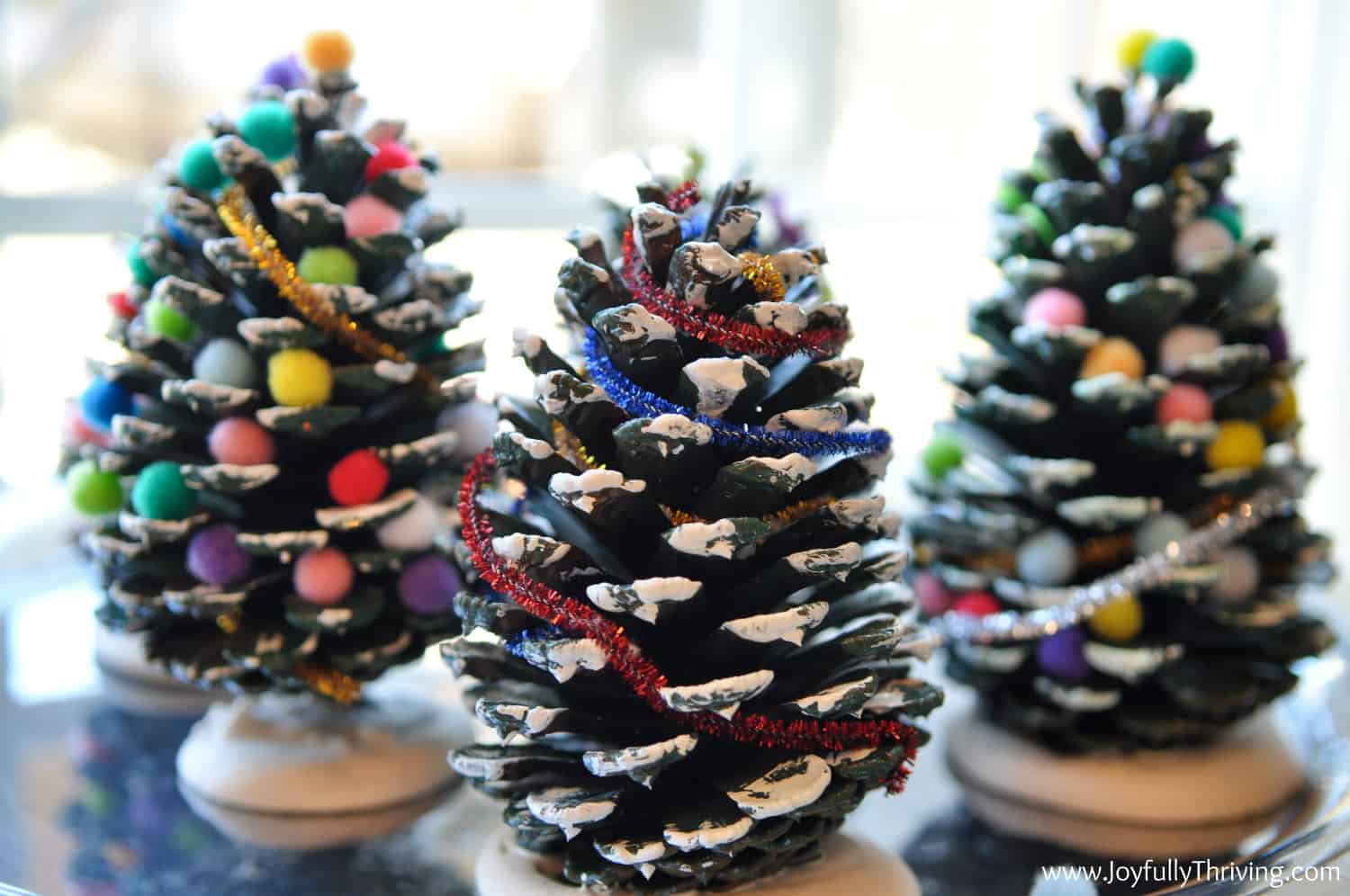 Whether you decorate these pine cone Christmas trees for your own home, or to give away, they will brighten up any room with a touch of simple Christmas cheer. Do you have any other simple Christmas projects you like to do with kids?